It's finally happened. You've made it through the engagements phase, the hens/bucks parties phase and the wedding phase—and now suddenly all your friends are falling pregnant and throwing baby showers while you're over here still killing pot plants. After scanning the invite (to the co-ed shower, because this is 2021), you realise with horror that there's no gift registry, the saviour of all clueless, childless friends who haven't even been blessed with nieces and nephews yet. What are you going to wrap up for the present table?
Don't panic, because Metro Baby is here to make you look like the most thoughtful friend ever. This baby goods site curates gorgeous (and often exclusive) items hand-picked by actual mums who've already been through the overwhelming process of choosing the best products a baby needs. If one Google search of 'baby shower gift ideas' was enough to leave you wondering if you should RSVP your regrets, just have a browse of their collection.
To help you out even further, we've narrowed it down to 7 perfect gifts that are useful, thoughtful and will also look great in your friend's new nursery.
Swaddles
There is no such thing as too many swaddles in the house of a newborn, so contributing to the pile is definitely going to get you into the good books. Able to be used as a light blanket, pram cover, privacy blanket for breastfeeding, sleep wrap or just being on hand to catch a bit of drool, they are an absolutely essential item, and you can bet any soon-to-parent doesn't have enough. Go simple with these organic muslin swaddles in a variety of soft shades or elicit an 'oooohhhh' as they open their gift with this stunning French-made Parisian illustrated number.
Cloud Mobile
Unless you've subtly asked what the nursery theme is going to be (and yes, there will be a nursery theme—something far more baby-friendly than your own 'Ikea chic'), you probably want to steer clear of any decor items that may not fit with whatever jungle/rattan/farm animal vibe they've got going on. This gender-neutral cloud mobile is a pretty safe bet though and looks adorable to boot. Can we have one over our bed?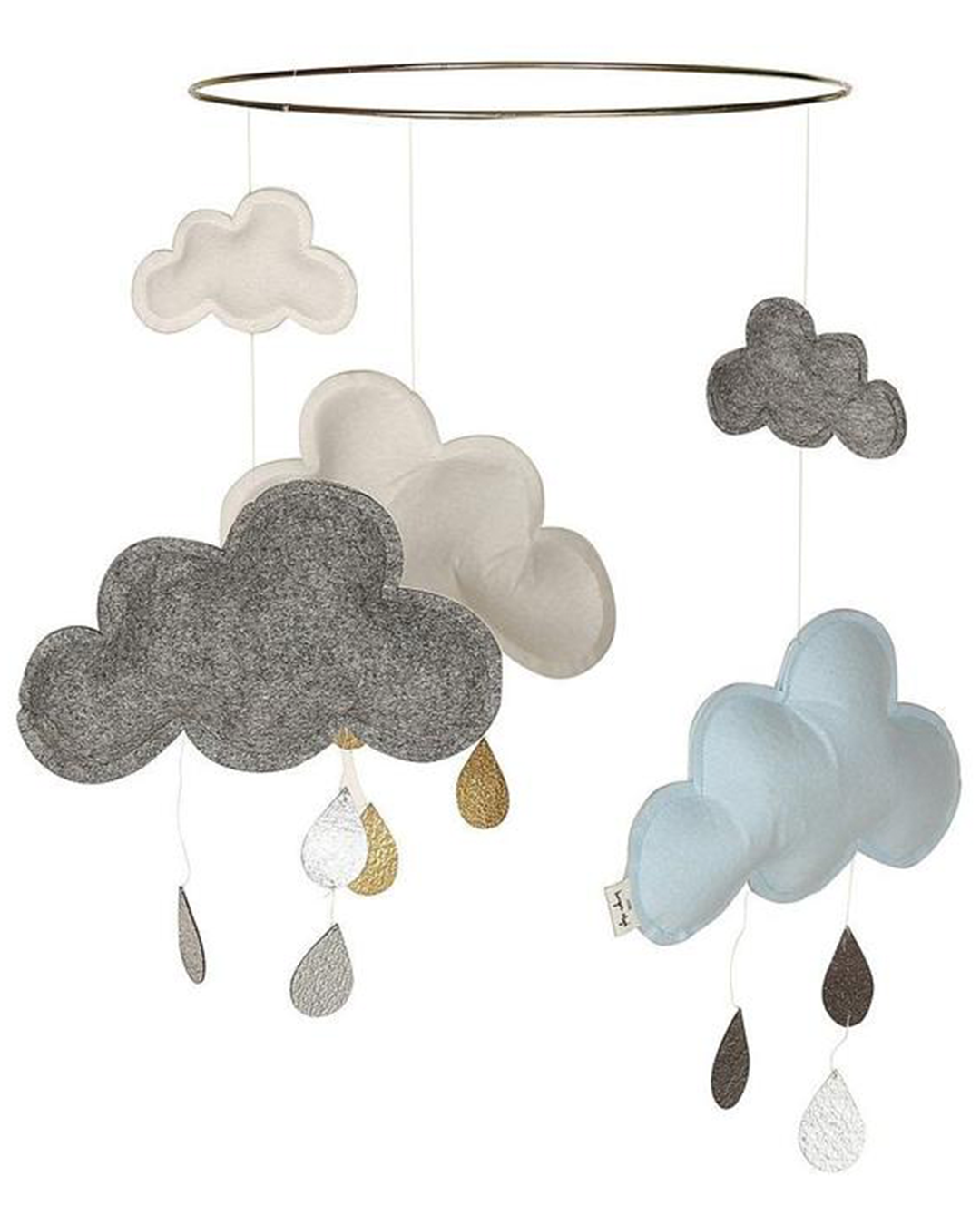 Baby Jersey Wrap And Beanie Set
Every new mum wants that adorable newborn Instagram shot with their new bub wrapped up in a swaddle with a matching beanie, trust us. This snuggly jersey wrap and beanie set will ensure they can capture just that—you might even get credited in the caption. Made of a soft, stretchy jersey, it's cosy, suitable for all seasons and can be used in a myriad of different ways once 'the shot' is captured.
Sensory Water Mat
Unlike your pot plants, which would probably benefit from being left alone, babies need to engage in a variety of sensory experiences to help them develop, and this colourful water mat is just the kind of activity that will help them 'upskill'. Great for encouraging tummy time and teaching cause and effect, it might even keep the little one entertained for long enough for the parents to sit down and enjoy a coffee.
Tiny Activity Toys Gift Set
Ribbons, tags, strings and bangles—run of the mill for us, the most interesting thing in the world to anyone under a year old. And of course, fascinating to put in their mouths, so any toys need to be baby-safe, just as this tiny activity set is. It features three different toys aimed at different ages and stages, making it the perfect baby shower gift idea that will keep giving long after the sleepless nights have made them forget who ate the last cupcake from the dessert table (we know it was you).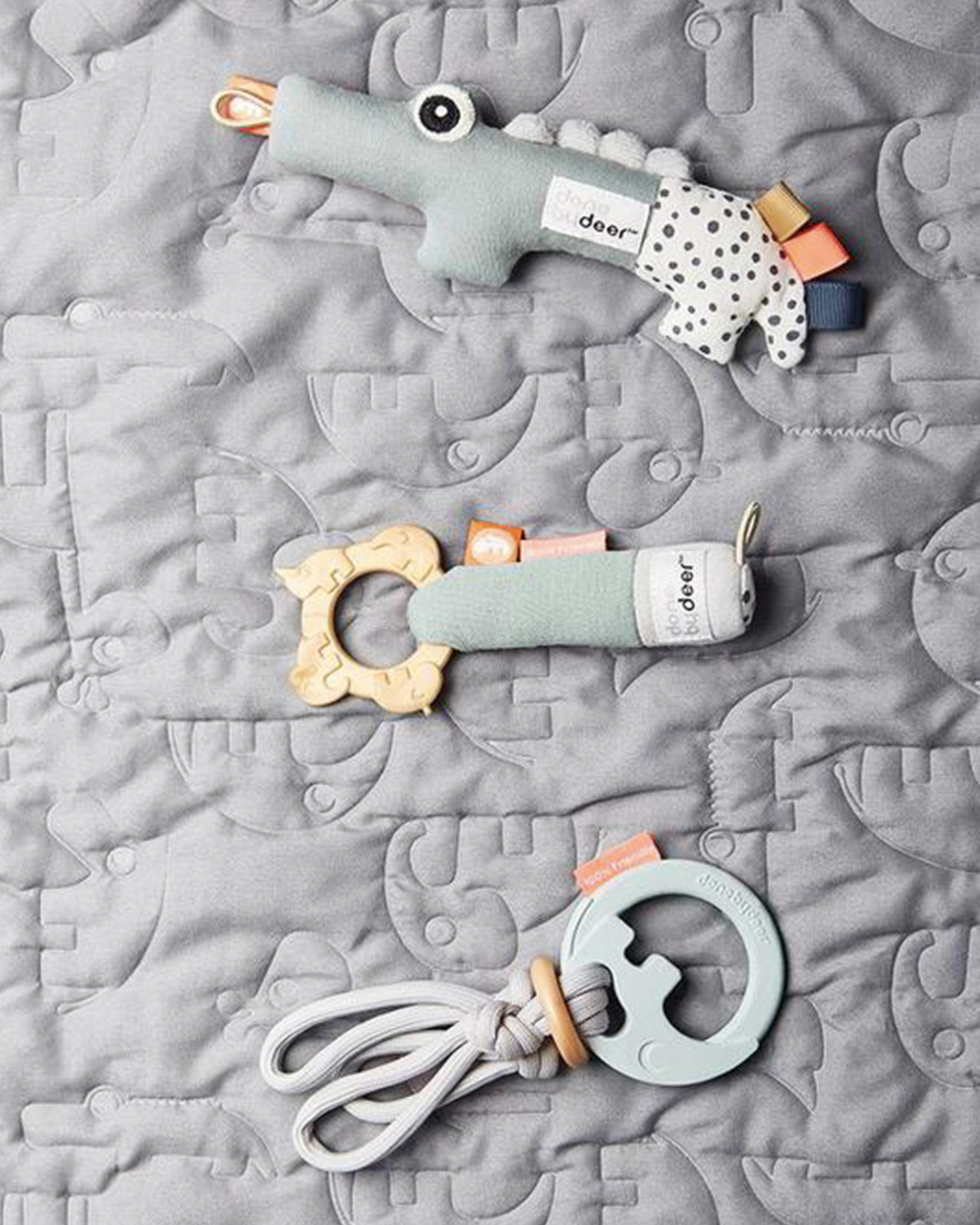 Hooded Baby Towel
Why aren't hooded towels for grown-ups a thing, honestly? Linen is another item you really can't have too much of when there's a baby in the house, so turn their bath time into adorableness hour with a couple of these fluffy hooded towels in various colours and animal designs. Even better, throw in a set of animal-themed washcloths and you've got a whole set to wrap up for the gift table.
Portable Nappy Changing Station
By now the parents-to-be would have bought themselves a changing table and mat for home—but a portable version for the back of the car/middle of the shopping centre/everywhere else probably hasn't yet crossed their mind. This Pronton Changing Station packs up everything they'll need (even a pillow) into a sleek looking package that will fit into a nappy bag or the bottom of a pram.
You can scope out everything else in Metro Baby's range that might be on the wishlist, including necessities like prams, furniture and feeding essentials, right here.
Image credit: Metro Baby
Editor's note: this article was produced in partnership with Metro Baby. Thank you for supporting the partners who make Urban List possible. To read our editorial policy, click here.