Victoria is home to some spectacular attractions, and when it comes to caves, they're in abundance. Whether it be trekking through the Grampians or exploring the Otways, these are the best caves Victoria has to offer.
Hollow Mountain
Grampians National Park
The Grampians National Park is a goldmine of opportunity when it comes to places to explore. Hollow Mountain is a popular sight within the park and is home to one of the best caves in Victoria. The 2.2km return hike is of medium difficulty, so make sure you're prepared. Offering otherworldly visuals, the reward is seeing this majestic cave in all its glory.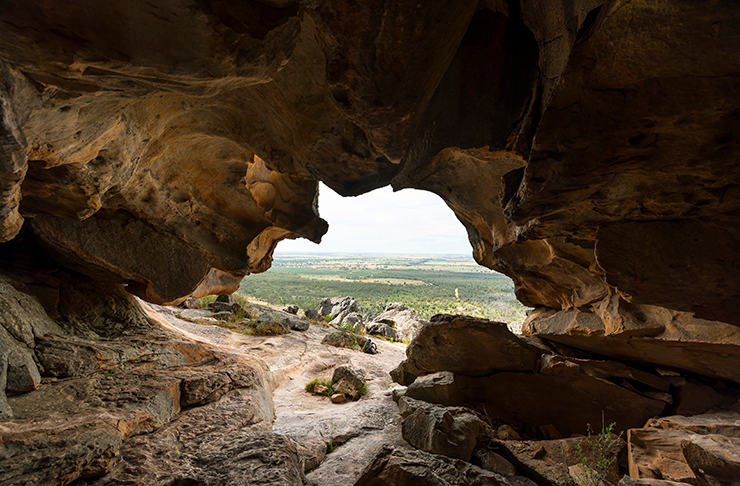 Byaduk Caves
Byaduk North
Now, the term "lava tunnels" might sound alarming, but we promise you won't melt into a puddle if you head in there. The Byaduk Caves were formed when lava flowing from the volcanic crater was quickly cooled by outside air, forming a crust with hot liquid lava flowing beneath. The largest caves are 18 metres wide, 10 metres high and extend 20 metres below the surface. Walking tracks follow cave edges and have a number of viewing points to observe flora, fauna and other cool stuff.
Lower Kalimna Falls
Otways National Park
Hidden away in the Otways National Park, you'll find Lower Kalimna Falls, and the naturally impressive cave behind the cascading water. Beautiful doesn't even begin to describe it, as you peer out onto the lush forest greenery and the soothing noises of nature. It's not the easiest walk to get there, but it's absolutely worth it. Do your research of the area prior to visiting so you know what you're up against.
Princess Margaret Rose Cave
Mumbannar
This one takes some dedication, but the rewards are great. Princess Margaret Rose Cave is definitely amongst the best caves in Victoria, if not Australia. Existing in a subterranean environment, the enormous limestone caves are showcased in their sheer majesty. First discovered in 1936, this 700,000-year-old cave is utterly spectacular and well worth the drive.
The Big Culvert
Yarra Ranges National Park
Built in 1870, The Big Culvert is a granite and bluestone arch located on the Yarra Track. Surrounded by lush greenery, it's a unique cave-like experience in gorgeous surroundings. Be sure to bring your phone, this is one gram opportunity you don't want to miss.
Buchan Caves
Buchan
This one's in the far eastern corner of Victoria, so you'll want to make a weekend of it and stay in the area. Those willing to make the trip will be treated to the largest cave system in Victoria which holds great significance to the Gunaikurnai Traditional Owners due to its remarkable Aboriginal cultural heritage. Explore either the Fairy Cave or Royal Cave—both are full of stalactite and stalagmite forms, pillars, shawls, rim pools and flowing streams.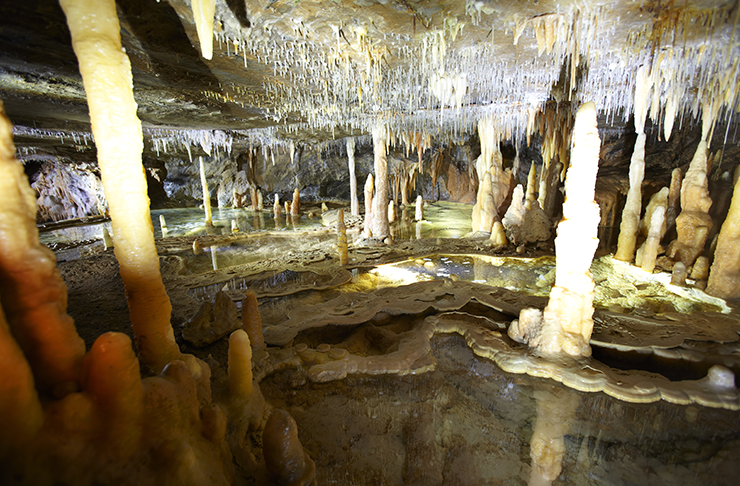 Karrs Reef Goldmine
Yackandandah
This one's only accessible via a tour, which will take you into central gold mining country and into the heritage-listed goldmine. Your host, Greg will take you in and give you a full rundown of how this man-made cave was used during the by-gone era. Find out more here.
Tarragal Caves
Cape Bridgewater
Tarragal Caves (of the limestone persuasion) can be seen from the roadside on Bridgewater Lakes Road, opposite the entrance to Bridgewater Lakes. If you are brave enough to climb the steep 50 metres to the limestone caves or rock shelters, you will be rewarded with an excellent view towards Discovery Bay.
Once you're done with the caves, check out Victoria's best hikes here.
Image credit: Cafuego, Visit Victoria