Getting dizzy doing laps of the tan and feel like something a bit more scenic? Well, luckily Melbourne is surrounded by many more beautiful walks that you may never have even heard of.
We've uncovered 10 of the best walks near Melbourne that will take you from the beaten city paths to beautiful bush trails running through some of Victoria's highest calibre scenery. They're all within a few hours drive of Melbourne, so pack a day bag, make a date with your mates and discover these walking trails. They will blow your mind, and they're also pretty good for your Instagram cred.
Point Nepean Walk
Mornington Peninsula
With Bass Straight on one side & Port Philip Bay on the other, the Point Nepean coastal walk is a great way to explore the very tip of the Mornington Peninsula.
On route to the Rip lookout—which marks the halfway point of the round-trip—you'll pass Cheviot Beach, a number of gun turrets & Fort Nepean. There's plenty to see on this epic coastal walk, but be prepared for some windy conditions on certain days. Find out more here.
Bushrangers Bay Walking Trail
Mornington Peninsula
Walking into Bushrangers Bay is a stunning coastal adventure just over an hours drive south of Melbourne on the Mornington Peninsula.
You'll get to stride it out while taking in the views of Bass Straight from the cliff tops, before meandering down through the bush trail to arrive on the beautiful white sand beach of Bushrangers Bay. Find out more here.
Werribee Gorge Circuit Walk
Daylesford & Macedon Ranges
Up for a challenging bushwalk a stone's throw from Melbourne? This is it. At just one hour's drive north-west of Melbourne, the Werribee Gorge Circuit walk has it all; on-trail, off-trail, lookouts, descents, climbs, river crossings, cable climbs, wildlife spotting & rock hopping.
This tough walk provides an awesome sense of adventure, that's why it's without a doubt one of our favourite bushwalks within an hours drive of Melbourne. Be careful though - this one's for the exerienced hikers. Watch your footing and always keep a safe distance between you and the gorge itself. You can find out more here.
Toorongo Falls Circuit Walk
West Gippsland
A road trip from Melbourne to Noojee encompassing the Toorongo Falls / Amphitheatre Falls circuit walk is a day well spent.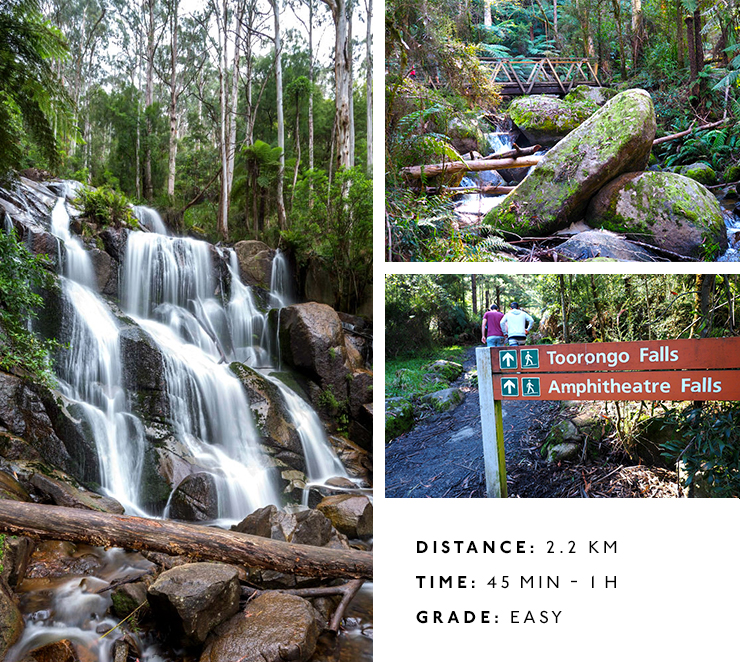 While Toorongo Falls is the more spectacular of the two, both falls are quite unique and will impress. Waterfalls aside, the Toorongo Falls Reserve is great fun to explore! Find out more here.
Den Of Nargun Circuit Walk
East Gippsland
This hidden gem is tucked away in the Mitchell River National Park and is a must-see if you're exploring East Gippsland on a weekend away or road-tripping through.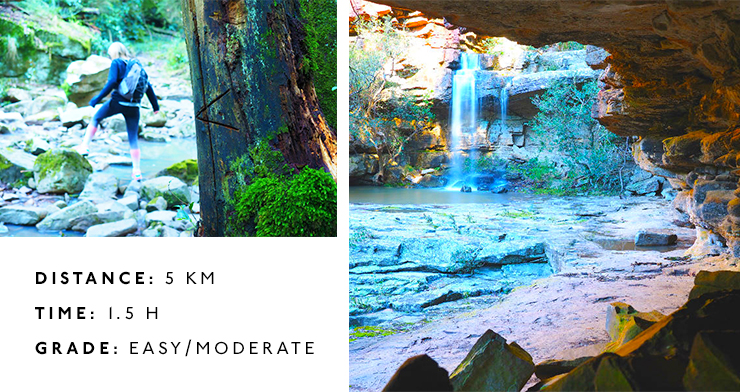 Highlights include vista views of the national park, lush gully trails, river access, waterfalls (when flowing), pools and of course the Den of Nargun. Legend has it a fierce being, half-human and half stone lives there. Are you game to explore the lair? Find out more here.
Tongue Point Walking Trail
Wilsons Promontory
A brilliant coastal walk to the tip of Tongue Point, where giant boulders tower above and the ocean drops away into the deep blue just meters from the edge.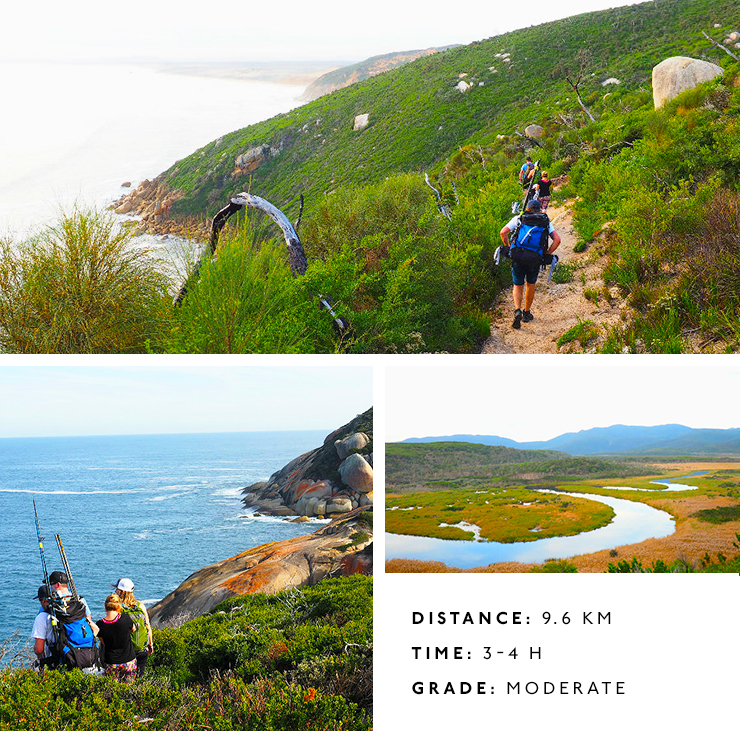 The environment is weathered, yet beautiful, and the wildlife isn't shy, often seen foraging close to the walking trails. Yes, the Tongue Point walk is one of many on Wilson Prom, but it's truly unique and definitely worth adding to the adventure list. Find out more here.
Mount Oberon Summit Walk
Wilsons Promontory
Are you up for taking on an early morning mountain walk to witness an epic sunrise? The Mt Oberon summit walk needs to be on your list.
Getting the perfect sunrise takes a little planning and a bit of luck on the day, but it's well worth the effort. The sunrise from Mt Oberon's summit is stunning, and as the light brings your surrounds to life, you'll be blown away by the magnificent 360-degree views of Wilsons Promontory National Park. Find out more here.
Ironbark Basin Walk
Great Ocean Road
Tucked away between Bells Beach and Point Addis, Ironbark Basin is a beautiful bushed inland basin that runs down to the beach. Along the Ironbark Basin walk you'll enjoy stunning ocean views and if you're lucky, spot a few echidnas, reptiles and native birds.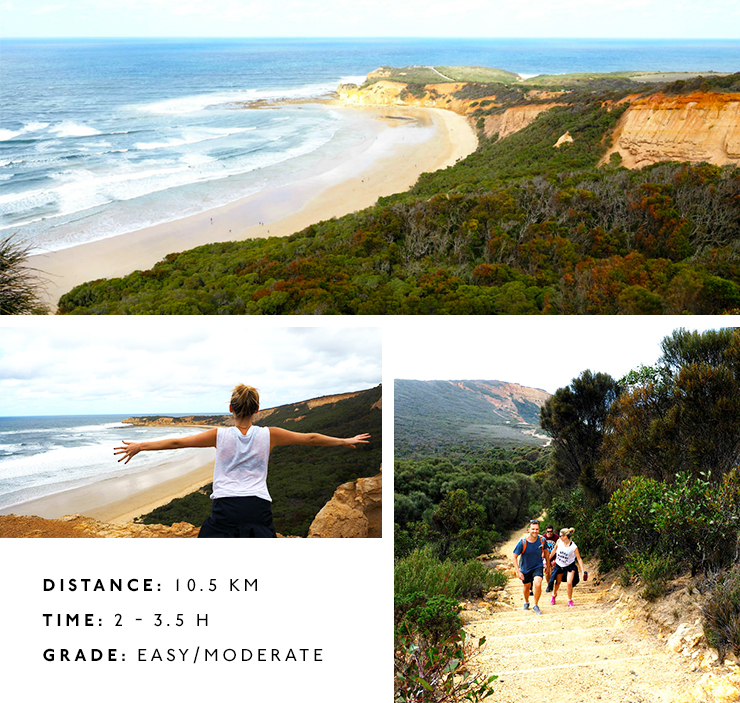 This section of coastal trail is part of the greater Surf Coast walk and well worth a visit. Find out more here.
Warburton Redwood Forest Walk
Yarra Valley & Dandenong Ranges
Entering this forest is like stepping onto the set of a fairytale. The redwoods rise high into the sky and the densely planted forest muffles the noise of the outside world, creating an airy silence that's only broken by the crack of a twig or the call of a bird.
It's beautiful, but strange at the same time—making it a fantastic place to explore, picnic, walk around and get epic Insta-fodder. Find out more here.​​
1000 Steps Walk
Yarra Valley & Dandenong Ranges
The 1000 Steps Dandenong Ranges walk is extremely popular with tourists, locals and fitness fanatics alike, and there's good reason for it.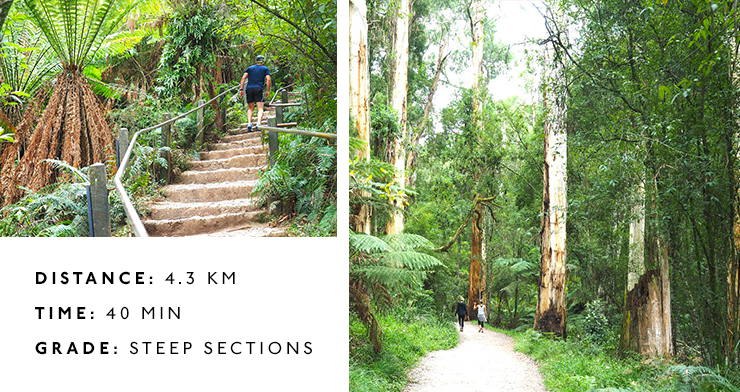 The trail is a beautiful winding bushwalk that follows a creek up a luscious valley in the Dandenong Ranges National Park, giving you a sense of being embraced by nature while you get the heart rate up! The well known for being used as a pre-season training location for a lot of football clubs, but you definitely don't have to go that hard. Find out more here.
If you're interested in finding out more about these particular walks—or if you're feeling even more adventurous—be sure to visit AdventureMe.
Still got the taste for adventure? Here are Victoria's best camping spots.
Ready to go but need some tips on gear? Here are 11 essentials for your next day hike.
Image credit: AdventureMe