You don't have to travel far in Melbourne for a good walk. That's part of the city's charm. No matter where you sit in the urban sprawl, you're generally no more than 60 minutes from misty alpine forest, giant Tree Ferns, tannin-stained rivers and some of the best walking trails in Victoria.
It's hard to pick just 10 of Melbourne's best walks—we've left plenty of great trails off this list—but these are our favourites. Some are further away than others, but we've tried to draw the line at four hours from the CBD. Some are quieter than others, too. The 1000 Steps might be wall-to-wall active-wear on Saturday mornings, but you should have the Den of Nargun Circuit Walk more or less to yourself—strap on some comfy shoes and grab the trail mix. These are the best walks near Melbourne.
Point Nepean Walk
Mornington Peninsula
It's really a shame that so many day-trippers stop at Sorrento or Rosebud. With Bass Straight on one side and Port Philip Bay on the other, Point Nepean Coastal Walk is a great way to explore the very tip of the Mornington Peninsula.
En-route to the Rip lookout—which marks the halfway point of the round-trip—you'll pass Cheviot Beach, a number of gun turrets and the crumbling remains of Fort Nepean. The track itself winds along the coast, up through twisted Moonah woodlands, but it's pretty easy going most of the way. History buffs can check out the old gun placements and Shepherd Hut, one of the oldest limestone buildings in Victoria. Conditions can get pretty wild down here: the south-westerlies get blown all the way from Antarctica, and they can really howl off Bass Strait.
Bushrangers Bay Walking Trail
Mornington Peninsula
Bushranger's Bay has always been one of Melbourne's favourite day-hikes, and it's only an hour's drive south of the city. The bay itself was named after two escaped convicts. It's a narrow strip of gravelly sand, surrounded by dark basalt cliffs, with jagged rock pools and some pretty scary rip currents (swimming at Bushrangers isn't illegal, but it can be super dangerous. Best to avoid).
The Bushrangers Bay Walking Trail runs for 6 kilometres along the cliffs, all the way from Cape Schanck carpark. It's arguably got the best coastal views in all of Victoria: you'll get to see Cape Schanck Lighthouse, Main Creek, rocky, windswept beaches, and groves of shady Banksia trees. Allow about 4 hours for this one, and bring plenty of water.
Werribee Gorge Circuit Walk
Daylesford & Macedon Ranges
One of the weird things about Werribee Gorge is how far away from actual Werribee it is. Instead of heading south-west, down the M1, you drive north-west, up towards Ballarat. After about 60 minutes, you'll hit Werribee Gorge State Park: a tinder-dry network of sandstone canyons shaped over 500 million years.
There are a few different walking trails inside the Gorge, and most of them link up with one another. There's a bit of everything here. On-trail, off-trail, lookouts, descents, climbs, river crossings, cable climbs, wildlife spotting and rock hopping. The circuit walk is not for the faint-hearted. It's a gruelling 10km circuit with rock jumps and cable climbs. It also gets baking hot in summer. Pro tip: start the The Quarry and walk anti-clockwise. That'll mean you finish on the gentler riverside track.
Toorongo Falls Circuit Walk
West Gippsland
Most Melbournians have heard of Triplet Falls or Erskine Falls, but you won't find many who have hiked Toorongo Falls in West Gippsland. You'll find this little circuit trail about two hours' out of town, in the wilderness north of Noojee. You can easily do this as a daytrip, but we highly recommend an overnight stay at Toorongo Falls Campground.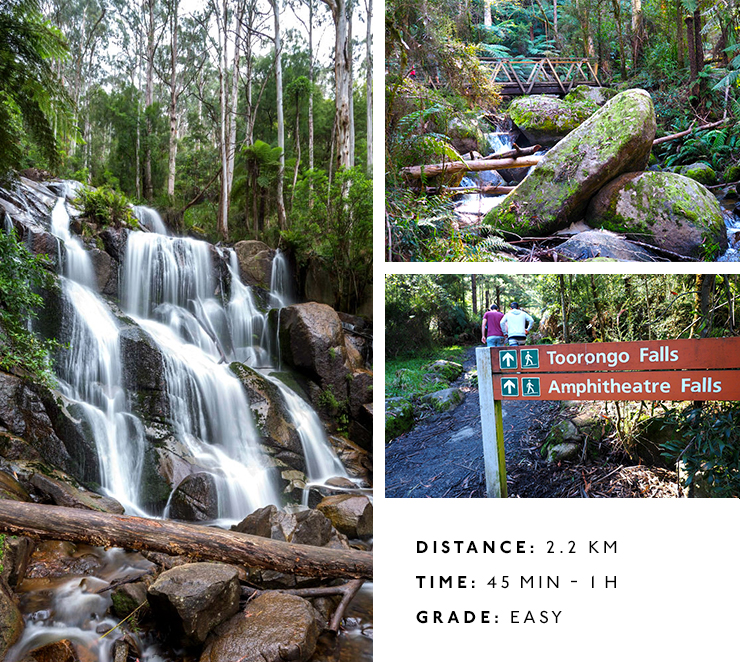 Toorongo Falls Circuit Walk actually includes two waterfalls: Toorongo Falls and Amphitheatre Falls. The trail starts near the camp ground and runs alongside the river. It's pretty easy-going. Even kids shouldn't have too much trouble. The total length is around 2.2 kilometres and the whole thing should take about 90 minutes. Definitely a great option if you've already done some of the more popular Melbourne walks. Find out more here.
Den Of Nargun Circuit Walk
East Gippsland
The Den of Nargun is a bit further from Melbourne (just over three hours), but trust us, it's worth the drive. It's a beautiful forest loop trail that runs 5 kilometres through the Mitchell River National Park. This whole area is technically part of the Bataluk Cultural Trail, which explores the culture and history of the Gunaikurnai people.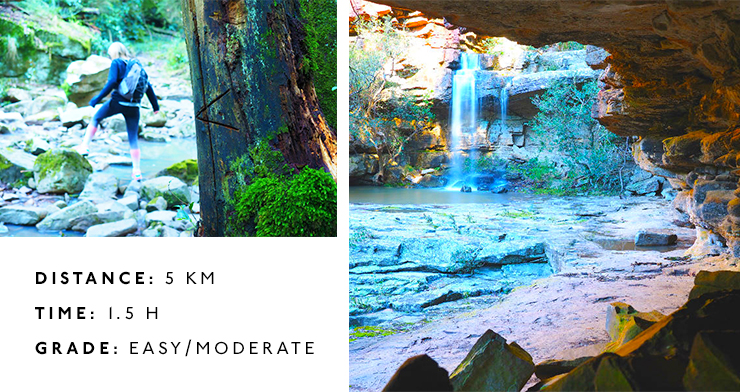 The Circuit should take about an hour and a half. There are a few steep scrambles, but it's mostly an ambling forest trail, winding past moss-covered boulders, little river gullies and several waterfalls. The halfway point is the Den itself. The Dream-story of Nargun speaks of a cave "inhabited by a fierce creature that was half human and half stone." You'll spot the cave beyond a small waterhole, but please be respectful—don't climb inside.
Tongue Point Walking Trail
Wilsons Promontory
One of our favourite walks at The Prom. One of our favourite walks in Victoria, really. The Tongue Point Walking Trail follows the headline to the tip of Tongue Point—a lick of shrub-covered land, poking out into the Darby Bay. Giant boulders tower over your head, and you get some truly epic views of Darby Swamp, Cotters Beach and the Vereker Range.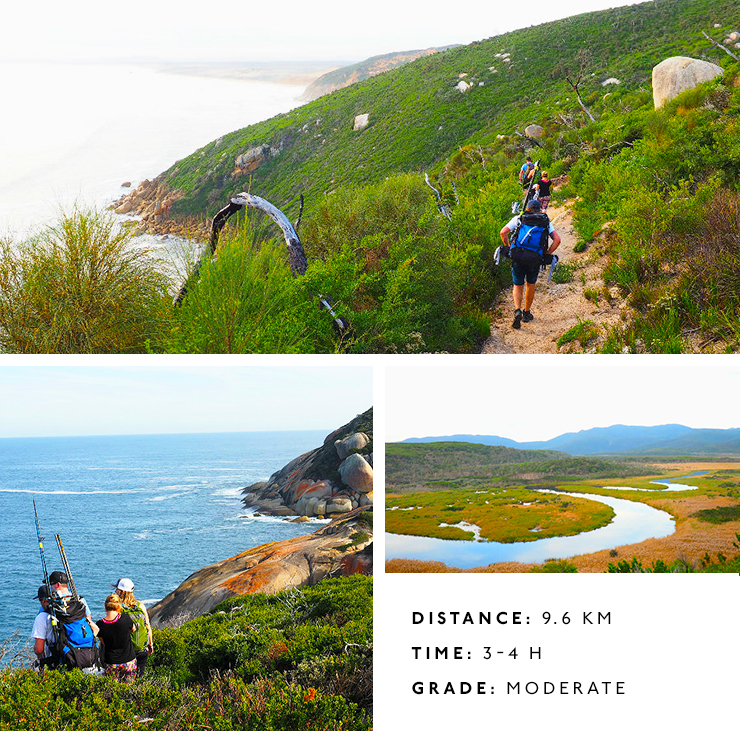 Tongue Point is a serious hike. It's 9.4 kilometres—one way. The whole thing should take around 4.5 hours. The landscape here is weathered coastal heath, classic Prom country. The wildlife isn't shy either: you can often spot echidnas and wombats snuffling across the path. If you have the time, make sure you take the short detour down to Fairy Cove (you'll thank us later).
Mount Oberon Summit Walk
Wilsons Promontory
Any walk with 'summit' in the title is going to hurt. But Mount Oberon Summit Walk is definitely worth the sore thighs. Kicking off from the Telegraph Saddle carpark, Oberon is a steep slog, but it's still one of the Prom's shorter hikes (about 3.4 kilometres, one way). The 'mountain' is only 558 metres high, don't forget.
You generally want to do this one at sunrise. If you time it right, you'll get insane 360-degree views, just as the sun sweeps in from the eastern Prom. The waters sparkle turquoise. Look west and you can see past Little Oberon Bay, Norman Bay and Picnic Bay. If you're hiking Oberon Summit at sunset (which is also a great idea) don't forget to bring a torch. The nights get dark on the Prom.
Ironbark Basin Walk
Great Ocean Road
Ironbark Basin Walk runs from the south-western end of Bells Beach all the way to Point Addis, snaking inland around Jarosite Mine and the Point Addis Marine National Park. Depending on the tides, you can start at Point Addis carpark and walk east along the beach—or do it in reverse. Either way, you get views over a sweeping basin that runs all the way down to the coast. If you're lucky, you might spot a few echidnas, too.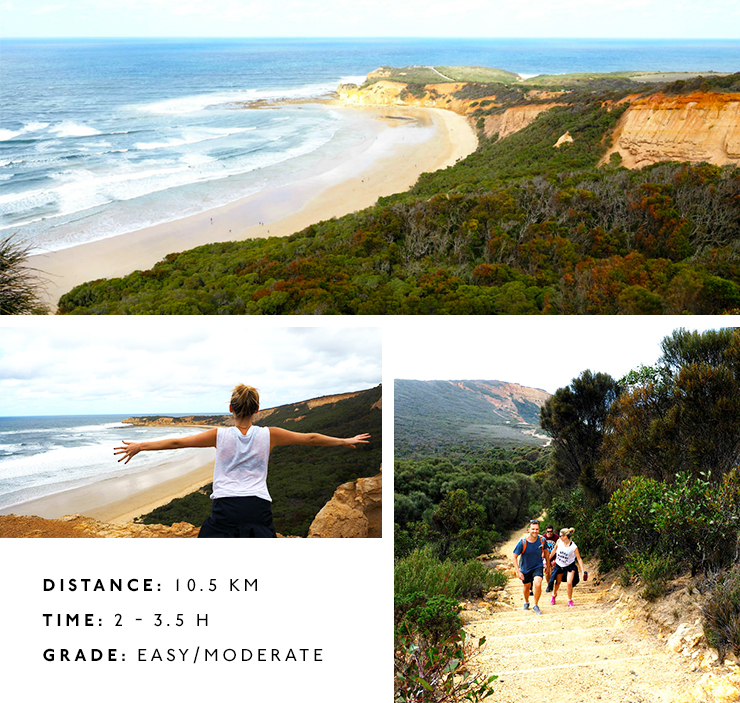 Ironbark isn't a strenuous hike. Most of the trail is packed earth and gentle gradients. Just keep in mind a few things. Dogs aren't allowed on the trail (there's a lot of native birdlife at Point Addis, and the rangers are pretty keen on keeping it alive). Also, watch out for cliffs and landslips. Jarosite Headland, in particular, can get dicey after rain. Stay well back from the edge.
Warburton Redwood Forest Walk
Yarra Valley & Dandenong Ranges
The walk that launched a thousand Instagrams. The Warburton Redwood Forest got so popular after the COVID lockdown—when people were desperate for anything resembling a tree—that police had to shut it down. It's back open now, but for best results, try and avoid the weekend crowds.
It's easy to see why the Cement Creek Redwoods are so popular. The trunks rise 55 metres into the sky all around. The forest floor is a soft blanket of needles. Everything is quiet and muffled and still. The place practically screams Insta fodder. You'll find this grove of California redwoods, Douglas firs and Bishop pines (1476 trees all up), about 14 minutes outside Warburton.
1000 Steps Walk
Yarra Valley & Dandenong Ranges
If the Kokoda Track Memorial Walk was ever a secret, someone let it slip years ago. Come Sunday mornings, every active-wearing person east of the CBD descends on the '1000 Steps' to huff and puff their way up the 3km track. Some puff more than others. If we had a dollar for every time we got lapped on this trail…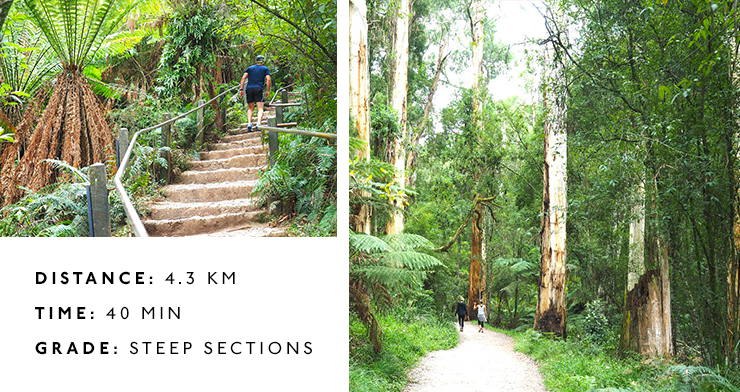 Forged in the early 1900s, the '1000 Steps' climbs through the Dandenong Ranges National Park. As the name suggests, it's steep. You'll definitely feel it in your quads the next day. Most of the steps are hand-cut timber or big slab stone. There are little rest stops here and there along the trail, too. These are good for wheezing, stretching and admiring the surrounding Manna Gums.
If you're interested in finding out more about these particular walks—or if you're feeling even more adventurous—be sure to visit AdventureMe.
Still got the taste for adventure? Here are Victoria's best camping spots.
Ready to go but need some tips on gear? Here are 11 essentials for your next day hike.
Image credit: AdventureMe