Melbourne has some of the best sushi going around and we're not talking about a food court hand roll here. The city's esteemed restaurants and takeaway storefronts are here to remind us that sushi is not only a traditional Japanese cuisine but also an honoured art form.
Whether you like your sushi in a brown paper bag to enjoy on the move or part of a decadent feast at the chef's table, we've got an experience for you. This is a guide to the best sushi in Melbourne for 2022:
Bincho Boss
CBD
While Bincho Boss is a modern Japanese eatery their menu intends to honour the refined and elegant flavours of the cuisine. Here you can order a banquet of fresh oysters, wagyu nigiri, aburi salmon maki sushi or teriyaki corn ribs, aka miso duck. All these dishes are designed to be shared amongst good company and washed down with one of Binhco Boss' curated cocktails, maybe treat yourself to a Roku Yuzu-infused Negroni.
Komeyui
SOUTHBANK
The Komeyui name and logo symbolises a group meal where family and friends gather together and sit around the table to enjoy a traditional Japanese meal. This remains at the heart of the restaurant and executive chef's mission. Mr Motomo Kumano has brought his Japanese culinary training right to Melbourne's doorstep. The chef's selection of sushi and sashimi features 10 pieces that each individually the level of intricacy and flavour balancing involved in curating perfectly mastered the artform, hands down some of the best sushi in Melbourne.
Kisumé
CBD
This Melbourne institution is armed with a restaurant, chablis bar, private dining rooms and their chef's table. Kisumé is offering pure Japanese cuisine with an Australian sensibility. Here the chef's want to inspire your tastebuds with familiar and unknown dishes. They've got the dumpling and tempura offerings covered but it's their sushi menu that hits the spot. Get a seat on the bar and be close to the action as uniformed sushi masters craft their beauty right in front of you.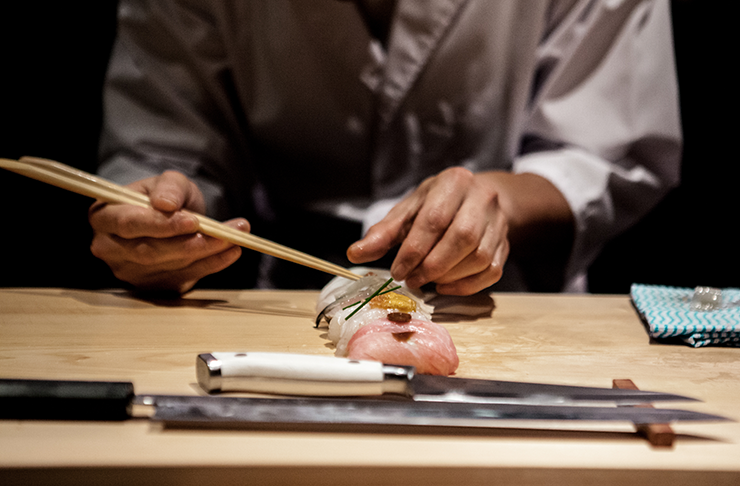 Izakaya Den
CBD
A little challenge to find, but once you spot the iconic stairwell on Russell Street, you know you're walking down into a seriously good time. Like a basement straight out of Tokyo, Izakaya Den has nailed traditional Japanese decor, and of course, the sushi roll, which is almost always served by impeccably attentive and knowledgable floor staff. Put this sushi hotspot of your list, it will not disappoint.
Gaijin Japanese Fusion
SOUTH YARRA
Gaijin has fired up the grills and is serving up refreshing contemporary Japanese cuisine. Their fusion menu spans from light to medium with edamame, seaweed salad, bibimbap and panko salmon. But that's not all because Gaijin has sushi handrolls for days with options ranging from a cheese sensation, avo delight, crunchy scallop to spicy tuna. One dose of sushi at Gaijin Japanese Fusion will leave you wanting to come back for more.
Kenzan
CBD
Kenzan first opened its doors back in 1981 and has maintained a traditional Japanese dining experience to this day. Try to snag a seat up at the sushi bar to watch the highly trained sushi chefs wield their knives and prepare your meal right before your eyes. if you can get your hands on the Jyo sushi, a deluxe platter curated by the chef and some of the best sushi in Melbourne.
Tsukiji Restaurant
PRAHRAN
Tsukiji Restaurant is one of High Street's best hole-in-the-wall spots, part Japanese grocer, part sashimi counter. We recommend taking the bento boxes for a spin, choose from chicken teriyaki, flame salmon and king fish-themed boxes. But there's something to be said for their flame-seared sushi; flame salmon, flame scallop, flame eel and flame prawn. It's a quick pick, pay and slice set up but the sushi is high quality.
Minamishima
RICHMOND
Prepare yourself for a Japanese sushi omakase experience prepared with meticulousness, precision, technique and exquisite produce. Minamishima is not playing games when it comes to sushi, Chef Minamishima shapes each piece of nigiri and presents it as an extension of his friendship. Here sushi is an art that can be experienced in one perfect bite. You're basically taking a fleeting trip to Japan without ever having to leave Melbourne.
Suzuran
CBD
Suzuran is a leading purveyor of sushi and the go-to takeaway spot for locals. Go big or go home with the nigiri deluxe platter with thirty-six pieces or the maki supreme with sixty-six small sushi rolls. But if you're in need of a quick meal on the go they've got plenty of sushi sets for one. While you're there, maybe pick up some ingredients from their grocer to try your hand at making your own sushi and or sake too.
Nobu
SOUTHBANK
There is a good reason for Nobu being one of Melbourne's premier restaurants. Chef Nobuyuki Matsuhisa, better known as Nobu, has put his own personal spin on traditional Japanese cooking and will make you call into question everything you thought you knew about sushi. You'd be foolish to not test run the fine diner's selection of scampi, wagyu, white fish, Tasmanian salmon and tofu, proving quite assuredly it's some of the best sushi in Melbourne. Wine and dine on a feast of extraordinary sashimi while appreciating the adjacent river views from the Southbank location.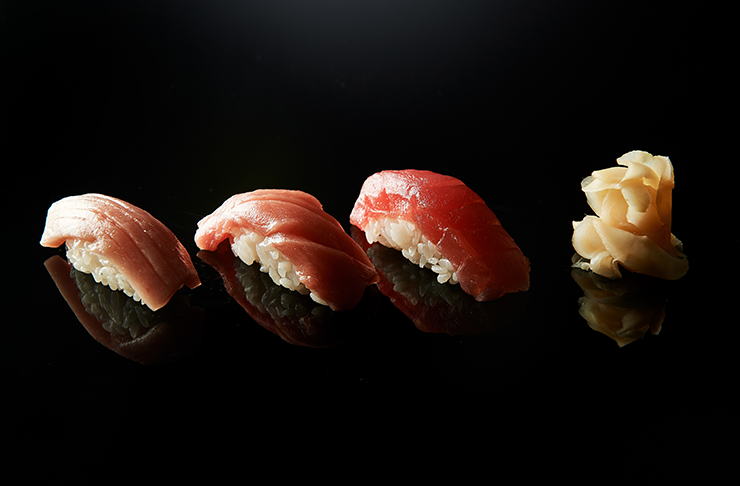 Mr Ryu
South Yarra
Mr Ryu is offering up guests their personal rendition of Japanese gourmet cuisine with an added modern gastronomic take. The menu shows off an eclectic variety of Asian flavours all made from Australian ingredients. Their signature dishes include the now famed tuna sashimi tacos, as well as salmon ceviche and coconut kingfish. Just when you think you've tasted the best sushi Melbourne has to offer, try Mr Ryu.
Saké Restaurant & Bar
SOUTHBANK
The Saké Restaurant & Bar makes the perfect pre or post-theatre dinner date with its restaurant straddling two light-flooded levels that look out onto the Southbank promenade. Every dish on the menu is crafted with premium produce and precise craftsmanship and their sushi are made-to-order by meticulous in-house sushi masters. However, a big highlight of the Saké Restaurant & Bar highlight is the "také no hana" set menu which includes an entree serve mouth-watering nori crisps, hiramasa kingfish, snapper tail nigiri then dives right into the bigger stuff with miso-glazed ora king salmon and cape grim short rib. It will be almost impossible to not want to devour every morsel and savour every bite.
Hinoki Japanese Pantry
CBD
Hinoki Japanese Pantry is Fitzroy's local sushi bar and Japanese grocer. The range of sushi offered at Hinoki's counter is beyond impressive. You certainly won't be hard-pressed for options with endless iterations of nigiri, inari, sashimi, maki and California rolls. You can also browse a wide range of Japanese snacks while you're waiting, think green tea Kit Kats, pocky sticks, packaged teas and ramen.
Tokui Sushi
CBD
Tokui Sushi is simplistic in the best way possible, stop by to eat in or take out. This is a quaint storefront where you can find all your sushi faves without the frills. They stock unagi, handrolls, sashimi, salmon and teriyaki chicken. The perfect place to get your time-pressed sushi pang.
Sakura Kaiten Sushi
CBD
If it's sashimi you're after, it's sashimi you'll get over at Sakura Kaiten Sushi. Take your pick from salmon, tuna, yellowtail, scallop, scampi and snapper sashimi. Or better yet, don't pick and try them all. Sashimi is a delicacy that Sakura Kaiten Sushi prepares with the highest precision to make sure that every piece is as delectable as the last.
Check out the best Japanese restaurants in Melbourne over here.
Image credit: supplied (Kisume)