It's always important to set aside a little 'me-time' so let's all get into the treat-yo-self spirit and hit the spas. With some of the best spas in Melbourne and beyond with Mornington Peninsula, Daylesford and Hepburn Springs bringing the goods. We're pretty lucky to have such an awesome selection of spas all within driving distance of the city.
There's really no excuse to drown in stress ever again with these tranquil, blissful oases all around us. So breathe out, relax your shoulders and get booking. Here are the best spas in Melbourne and wider Victoria for 2023:
Peninsula Hot Springs
FINGAL
Of course, we're starting with Peninsula Hot Springs. This place is no stranger to Urban List and for good reason. Their mineral springs and stunning retreats, plus the new glamping tents and outdoor cinema make this place the ultimate day trip (or overnight venture) from Melbourne. Our tip: go on a winter morning to avoid the crowds and warm up in the most luxurious way. Book in here.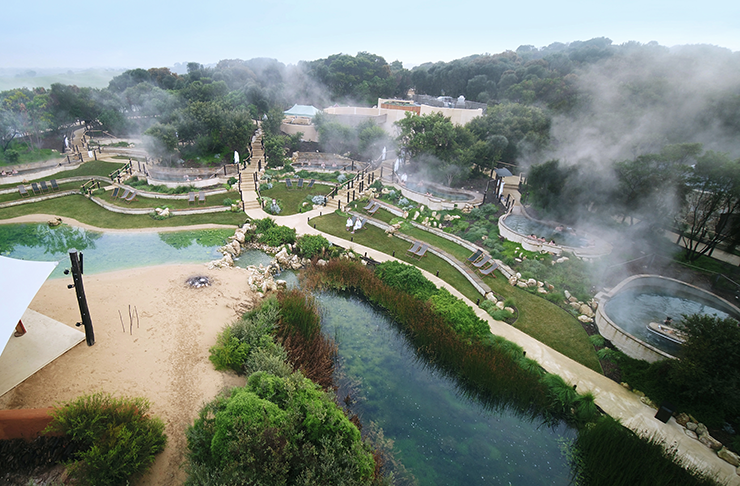 Norbu Infrared Sauna at The Olsen
SOUTH YARRA
Norbu is more than just a little bit luxe. It's the in-house spa facility at The Olsen Hotel in South Yarra, though it's also open to the public if you book ahead. Norbu offers an infrared sauna treatment, dubbed The Detox Box a departure from your run-of-the-mill steam room.
It's the perfect treatment for those of you that find regular saunas just a touch too hot to comfortably enjoy—the trick is it's heated to a slightly lower temperature than regular saunas.
Sense of Self
COLLINGWOOD
Tucked away on Stanley Street, Sense of Self is a red-hot contender for the best spa in Melbourne. They've got a big focus on self-love and self-care, with every treatment designed to help you feel your best. The space is super dreamy too—the neutral tones and soft linens are relaxing just to look at. Step inside this urban oasis, leave the city and your worries at the door and indulge in their glorious bathhouse and massage treatments.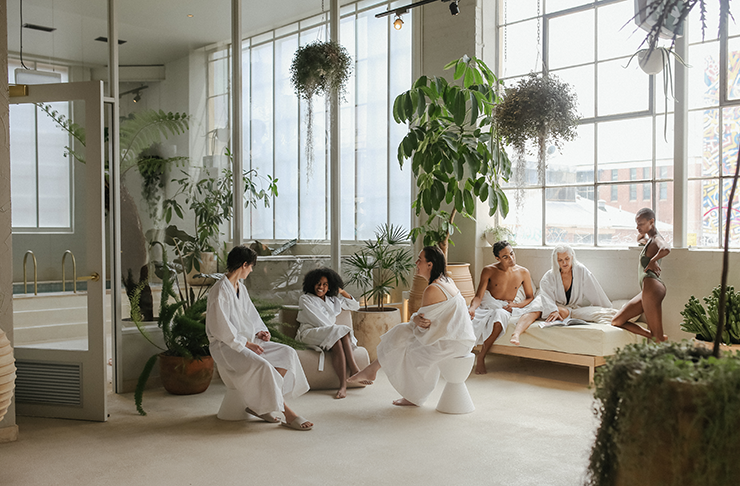 Hepburn Springs Bathhouse and Spa
HEPBURN SPRINGS
It's called Spa Country for a reason. Hepburn Springs and Daylesford are like one big day spa, just search 'best spa in Melbourne' on Google and a flurry of them will pop up in the area. Hepburn Springs Bathhouse and Spa is one of the most indulgent offerings in the region. They offer both private and communal bathing in their mineral pools, and the spa list is extensive.
The Mineral Spa
HEPBURN SPRINGS
Also in Hepburn Springs, The Mineral Spa is a beautiful retreat nestled amongst nature at the Peppers Mineral Springs Hotel. The architect-designed facilities will make you feel at one with the gorgeous surroundings as you look out across the gardens from the mineral bath. They do private bathing, couples' massages and facials and loads of treatments to up your zen.
The Lake House Spa
DAYLESFORD
Combine fine dining or high tea with your spa experience at the iconic Lake House Spa in Daylesford. Choose from their long list of treatments that use natural exfoliants, clays and oils to pamper your skin. We'd recommend the 'Tree Top' soaks, set in an idyllic treetop location overlooking the lake using 100% mineral water.
Lancemore Spa
WERRIBEE
Set within the Werribee Park Lancemore Mansion, the Lancemore Spa is suitably swanky. They've got treatments to spoil you quite literally from head-to-toe body treatment, with facials, soaks, massages, manis and pedis. Their traditional Turkish Hammam experience is a signature of theirs, with mud and oils available for you to lather yourself in, they've also got an ultra-relaxing hot stone massage on the cards.
Miss Fox
CBD
Our friends over at Miss Fox are well-versed in all things pampering and relaxation, touted as the best spa in Melbourne. But there's more to this beauty salon on Little Collins Street than manis and facials—they'll fix you up a sensational soak session faster than you can say bubble bath. The 1001 Roses milk bath is our pick for something a bit different (and decadent).
Metung Hot Springs
METUNG
Metung Hot Springs has been designed to be a more intimate experience compared to its Peninsula counterpart. The secluded 25-acre site features a full range of geothermal bathing pools split between two sections; the bathing valley and the hilltop escarpment, both provide sensational vistas of the surrounding native bushland and the neighbouring Gippsland Lakes.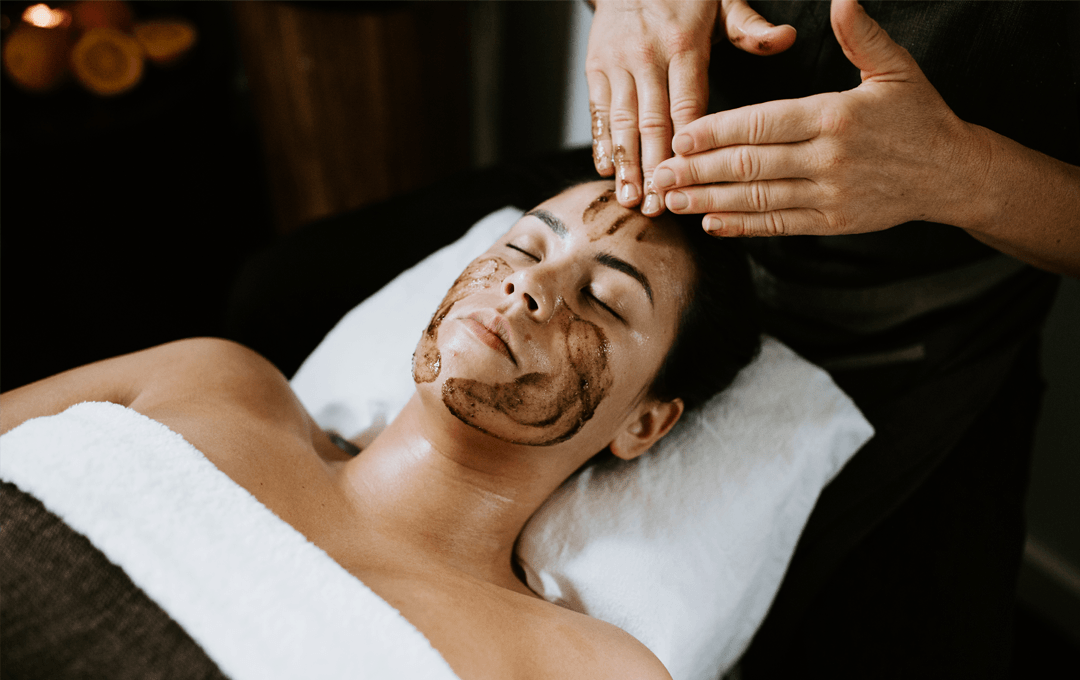 Gravity Floatation Centre
NORTHCOTE & ARMADALE
It's not your usual soak or steam session, but loyal regulars swear by the wellness benefits that flotation has to offer. Gravity Floatation Centre, which has locations in Northcote and Armadale, offers sci-fi-esque looking pods that you may be hesitant to climb inside upon first inspection, but rest assured they're only filled with skin temperature water and Epsom salts—the ultimate combo for a deeply relaxing float.
The Japanese Bath House
COLLINGWOOD
The Japanese are really onto something with their bathing traditions, and it's no wonder—the ritual has been around for over 1000 years. The Japanese Bath House in Collingwood is the original bathhouse of its type in Melbourne, operating since 1999.
Affording Melburnians the ultimate relaxation, The Japanese Bath House is run as a traditional Sento and is segregated into men's and women's areas. As with all traditional Japanese bathhouses, it's kit off, rinse with a handheld bowl, and then jump in for a relaxing, long, hot soak. Don't judge this place by its website.
Sunlighten
SOUTH MELBOURNE
Sunlighten is a favourite with those that enjoy the heat, but not humidity. There's no steam or any of the moisture that comes with a regular sauna at Sunlighten, meaning that you're safe to take your iPad or Kindle and settle in for an hour or two.
Instead of the sweats, you'll be treated to a gentle, soothing warmth in one of their pristine timber cabins, with fresh towels galore. You'll find it in the heart of South Melbourne, on Clarendon Street. It's not only a unique day spa but one of the best spas in Melbourne if you're looking for a slightly different experience.
Alba
FINGAL
Alba leaning on the geothermal springs across the 15-hectare property with over 31 stunning pools—some of which can be booked privately.
Alba has 22 expansive spa treatment rooms, including a steam room, Vichy shower, and single or double massage rooms. Visitors can choose from more than 30 spa services encompassing facials, full-body massages and water-based treatments. Book a spa package here.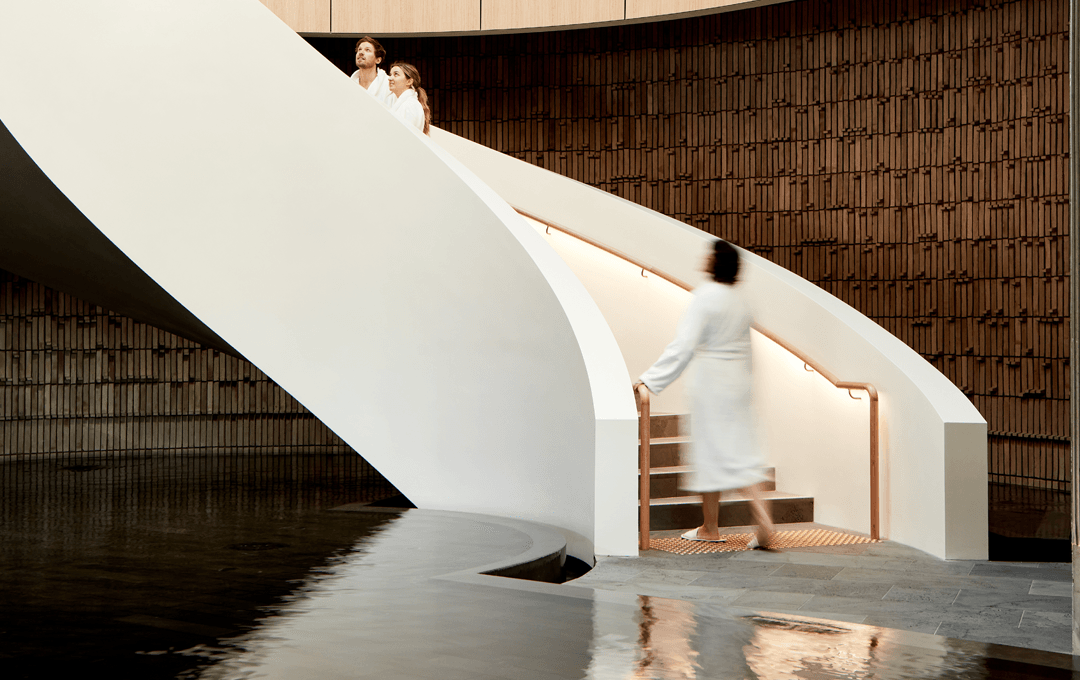 Chuan Spa
SOUTHBANK
Another day spa offering situated inside a hotel, Chuan Spa at the Langham's Tri-Bathing ritual is well worth a look if you've got some time to spare. Kick things off with the spacious saltwater jacuzzi then continue on to the traditional style sauna before enjoying a river stone snail shower. Intrigued?
The conceptual shower design forces 12 jets of water onto separate muscle groups while invigorating you from above with a generous rain shower and steam.
Nimbus & Co.
CREMORNE
Nimbus & Co is the first infrared sauna studio in Australia. With locations in Bondi Beach, Byron Bay and Melbourne, Nimbus & Co's state-of-the-art infrared saunas will have you melt into a puddle of pure relaxation without all that water-and-hot-stones situation.
Botanica Wellness Spa and Clinic
PORT MELBOURNE
If you're looking for a luxury spa that leads with innovation, mindful ingredients and active results we'd like to introduce you to Botanica Day Spa.
The mother-daughter duo behind the clinic value their client's mental health and has designed their spa treatments to help you discover both confidence and self-worth. Nothing says self-love quite like booking yourself a trip to the day spa.
Aurora Spa & Bathhouse
SORRENTO
Rounding out the incredible drawcard that already is The Continental Sorrento, Aurora Spa & Bathhouse is the all-new day spa experience coming to the coast. The luxe new addition accommodates up to 60 people and features hydro-therapy and magnesium float pools, thermal experiences like a Nordic-style sauna, halo therapy salt suite, and even a glacial mist room.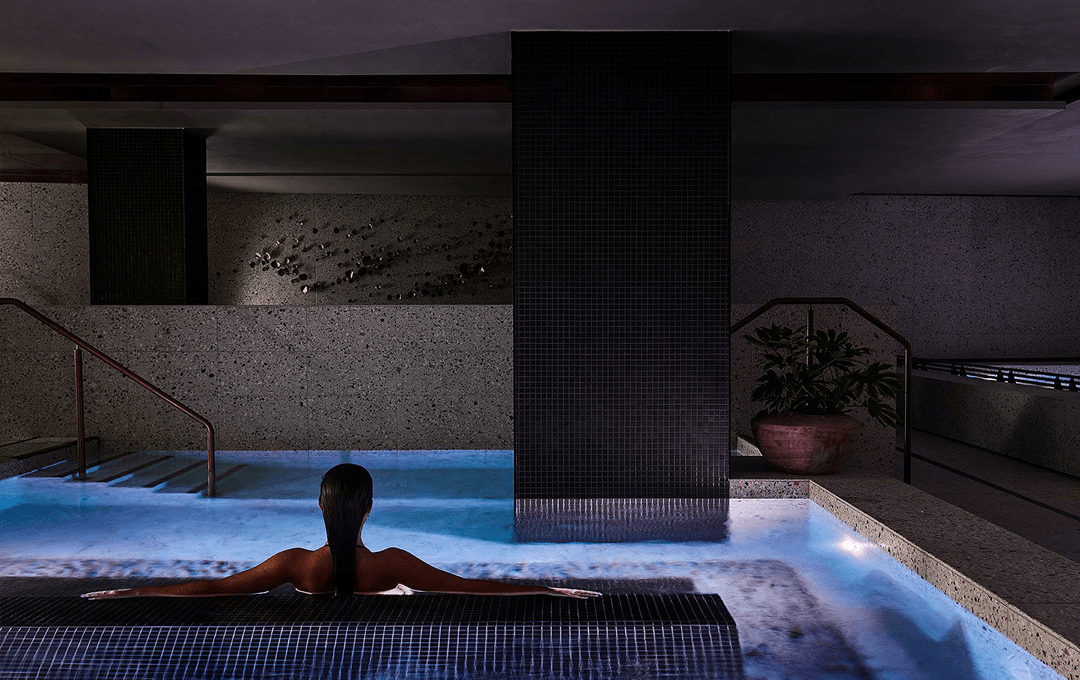 Willow Urban Retreat
ARMADALE
Willow Urban Retreat has melded Eastern and Western philosophies to ensure they're offering clients a three-hundred-and-sixty-degree approach to wellness. You'll find yourself breathing deeper almost immediately upon stepping inside the immaculately designed day spa. Willow Urban Retreat is tucked away on High Street in Armadale.
Holism Retreat
CHADSTONE
Sink into the Holism Retreat experience with one of the many wellness packages on offer. Treat yourself to the feel-free philosophy package to unwind and release or book yourself in for the reset package to switch off and create balance.
Holism Retreat knows we are more than the sum of our parts and they've designed the perfect sanctuary to help you achieve holism. Indulge in one of their facials or massages, or better yet, make a day of it and book in for both.
Amara Wellness Centre
BRUNSWICK
Amara Wellness Centre combines health science with the ancient healing rituals of traditional Hammam. Here you can seek treatments like Endermotherapie, LED Phototherapy, Huber Motion Lab and therapeutic Hammam steam therapy to help manage and treat your pain.
Take your pick from the lengthy list of packages on offer and discover the benefits of an ancient bathing ritual from thousands of years ago.
Now you know where to go for a soak and steam, check out Melbourne's best spots for a massage.
Image credit: Metung Hot Springs (supplied)
Urban List editors independently select and write about stuff we love and think you'll like too. Urban List has affiliate partnerships, and if you purchase something through the links in this article, we will earn a commission from those partners. To find out more about who we work with and why read our editorial policy here.