Melbourne is home to several dishes iconic as the venues and chefs they come from. There's the seminal lobster roll from Supernormal, the build-your-own beef rib bao over at Windsor's Tokyo Tina, and that vodka pasta—more affectionately known as Rigatoncini—coming out of Capitano's kitchen each and every night, warming diners' hearts en masse. And now, Capitano co-owner and Executive Chef Casey Wall is offering up an at-home recipe for the cherished dish so you can have it whenever you please.
Chef's notes: head for the top shelf when selecting your vodka.
Ingredients
Pasta And Sauce
400gm conchiglie or similarly shaped pasta

750ml (3 cups) basic tomato sauce or sugo of your choice

250ml (1 cup) pouring cream

80ml vodka
Onion-Garlic Butter
100gm of butter

250gm of onion, thinly sliced

2 garlic cloves, thinly sliced
Method
Step One
For your onion-garlic butter, get started by melting the butter in a saucepan on low heat. Then, add thinly-sliced onion, garlic along with 2 teaspoons of salt. Cover the saucepan and cook while stirring intermittently until it's soft; this should take around 25 to 30 minutes. Once cooked through, transfer into a blender and puree—handle with caution at this point. Hot butter will spit.
Step Two
Cook your pasta in a saucepan of boiling water, lightly salted, until al dente, which usually takes around 10 to 12 minutes. Drain with a bowl below your siv so that the pasta water is reserved.
Step Three
While your pasta is cooking, combine your tomato sauce or sugo, onion-garlic butter, cream and vodka in a saucepan on high heat to begin then simmer. Stirring occasionally until reduced by one quarter and the sauce is emulsified—this should take 8 to 10 minutes.
Step Four
Mix your pasta into the sauce and add a dash of pasta water if the sauce needs thinning out. Serve immediately and grate some parmesan on top to taste.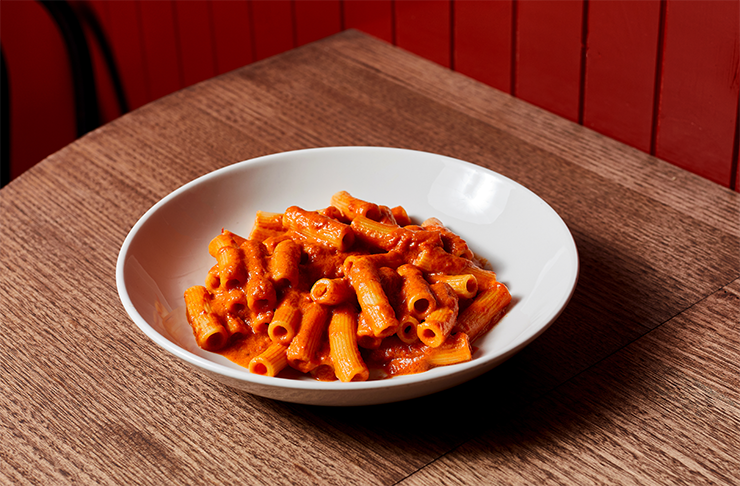 Italian on the mind? Check out the very best in Melbourne here.
Image credit: Capitano