If you've ever made your way through Central Victoria, you would have likely spotted the towering silos adorned with massive-scale murals. There's also a fair chance those who made it deep into the lesser-seen regions of our state would have stopped by the photogenic lake Tyrell.
Now, you can combine the regional marvels into a luxe weekend away thanks to Visit Vic and Contained. If you're not familiar with Contained, they're the people who brought you those spiffy container hotels across the state such as the Wine Down Pop-Up—they almost always sell out, and this activation is set to do the same.
The accommodation itself sits along Lake Tyrell in the bucolic town of Sea Lake. There are two containers to choose from, the first being the Adnate Suite and the second The Drapl & Zookeeper Suite which both feature never-before-seen works by the respective artists. Whereas the third container has been converted into a heated, open-air pool.
While you can stare in awe at the works within your container, you'd be remiss not to take off on the 200km odd stretch of the Silo Art Trail. As you would have guessed, both Adnate and The Drapl & Zookeeper have had their way with the gargantuan roadside silos, though they're not the only ones. Keep driving and you won't be able to miss the likes of Smug, Rone and more.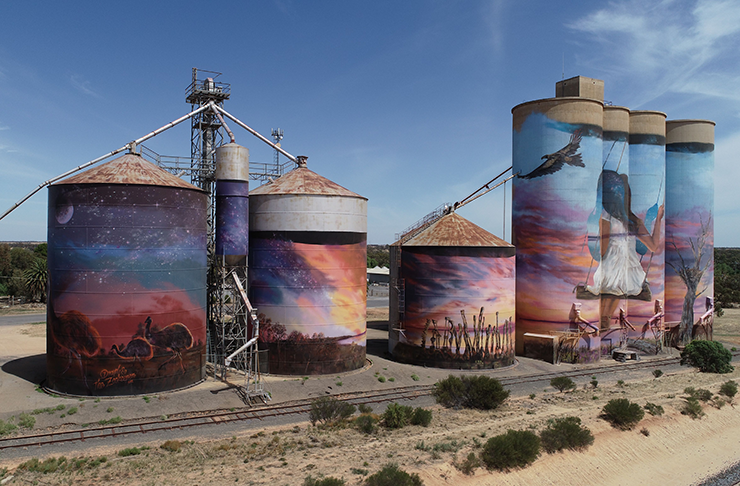 Bookings are now open and available for early June to Mid July for a weekend away of a truly different kind. Lock in your stay here.
Explore more of Victoria and check out these Airstream Hotels at Mitchelton Estate.
Image credit: supplied