After a stint cheffing on luxe yachts in Europe, five years in the catering scene, and time in Melbourne's San Telmo kitchen, Nicki Morrison has gone all-in on her own establishment, the flame-driven Flint.
Positioned in a familiar spot on the Fitzroy side of Smith Street, Flint is unlike any other locale found along the strip. Here, Nicki's obsession with fire, flame and charcoal takes center stage, where her and sous-chef Yukio Endo (who came across from San Telmo, too) cook without ovens, and instead champion the charry, smokey capabilities of their open furnace.
You'd be remiss not to pay a visit to Flint with your intentions on the skirt 5+ Wagyu, both Nicki and Yukio have the credentials to cook and serve it to perfection, after all. That said, it's their collaboration on more inventive dishes that make this moody spot one of the city's most exciting openings.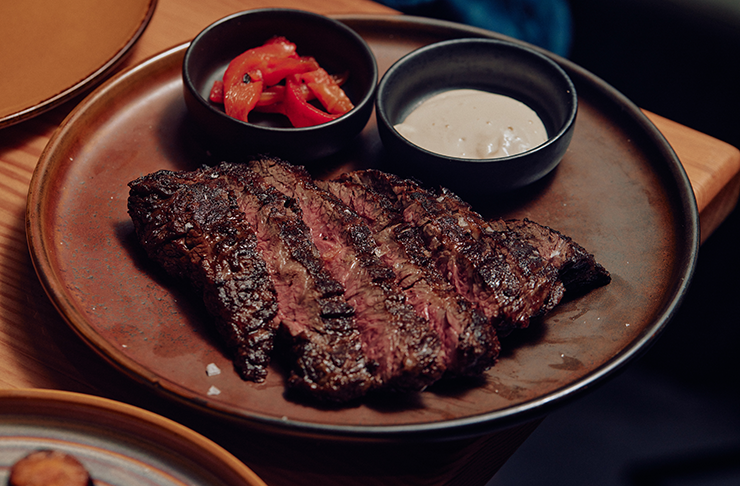 "I've given him [Yukio] complete creative freedom. We've both got experience around the world but his Japanese influence just marries so well with what I already had in mind," Nicki said.
And you'll see Yukio's influence across the menu. The venison tartare with fermented beetroot, pickled kohlrabi and crispy buckwheat is finished with a nori cracker and a little Szechuan—it's an exercise in beauty on the plate and in your mouth, which is something the pair hold to equal importance.
"In my opinion, it's just as important. Yukio and I completely agree on this. It's colour, it's presentation, it's more rustic in plating. I hate that word, but it's pretty, it has be pretty."
Nicki and Yukio don't miss here, with every dish served as aesthetic as the next, however, if you've heard or seen anything about Flint since its opening, you've likely heard of or seen those carrots.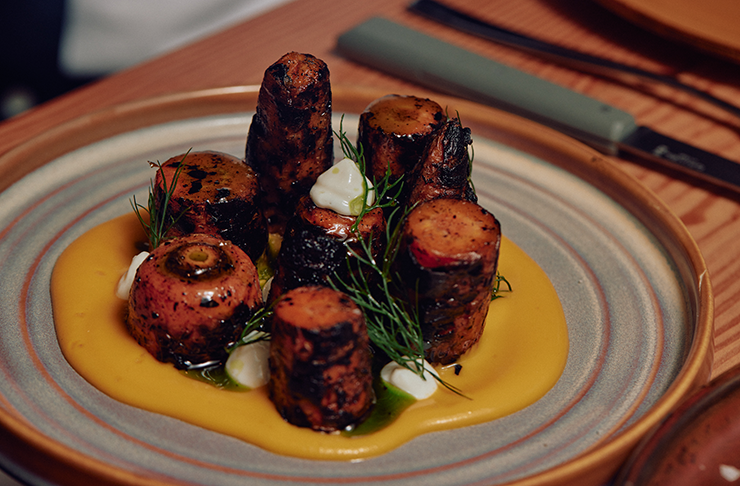 A masterclass in the hearth, charred carrots sit atop a fermented and pureed version of the vegetable which is complemented by a house labneh. It's become Northside's new "it" dish, and when you see it—and taste it—it'll absolutely make sense.
Just as the menu is so meticulously thought out, so is this booze list. With such a specific type of cooking comes the need for a deep understanding of what plonk pairs best, and Nicki's worked closely with her somm, Patrick, to bring 24 different drops, each matching in some way to the fiery, charcoal-heavy and fermented offering.
It was a six-month process bringing Flint to its current form. The hearth had to be built, the menu tried and tested, and the interior reimagined entirely after taking over from the understated Japanese spot, Peko Peko. Now, almost unrecognizable, the space is a contrast of khaki and moody darker hues that envelope the handmade bar and private mezzanine dining room—for those feeling a little bit fancier than usual.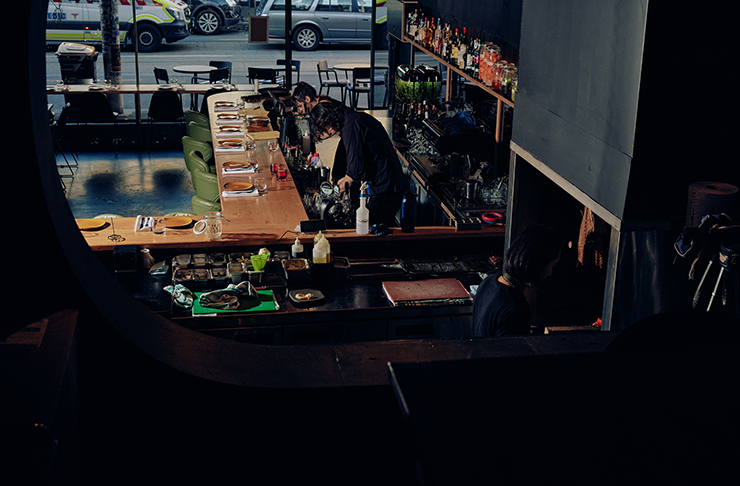 It's recommended you go all-in at Flint, just like Like Nicki and Yukio have. Order the steak. Don't forget the venison, and, in case it slipped your mind, the carrots are a must.
Catch up on more Melbourne food and bev news here.
Image credit: Annika Kafcaloudis