Any road trip worth talking about is made up of at least a few elements; you're going to want some decent scenery, artisanal produce (including booze) and good company. And while you're going to need to source the latter on your own, we can point you in the right direction for the rest with this itinerary covering off the ever-charming Heathcote and surrounds around an hour and a half out of Melbourne.
Stop One: Heathcote Pink Cliffs Reserve
Distance from Melbourne: 1 hour 34 minutes | 118km
The mini gorges and fine pink clay cliffs may look like a natural wonder from the land before time, but this phenomenon comes as a result of gold mining back in the 1880s. The clay and smooth ironstone create a unique volcanic aesthetic for you to wander through; there are also several walks throughout the reserve which make for a perfect leg-stretcher after your drive down the Calder Freeway.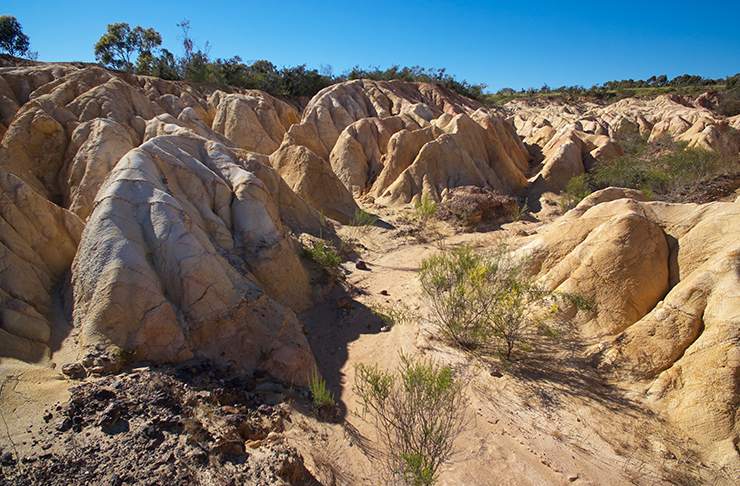 Stop Two: Provisions
Distance from Melbourne: 1 hour 52 minutes | 162km
A little further north up the dusty track and you'll arrive at Shiraz Republic, the multi-award winning cellar door, winery and brewery. You can get cosy here for an hour or two with a pizza and a glass of your choice, though considering the name, you'd be mistaken not to try the Shiraz. Drink responsibly, though, as this road trip is far from over.
Should you be stocking up for later, the Heathcote Wine Hub is worth a look in with its extensive range of locally produced wines, gin, beer and cider.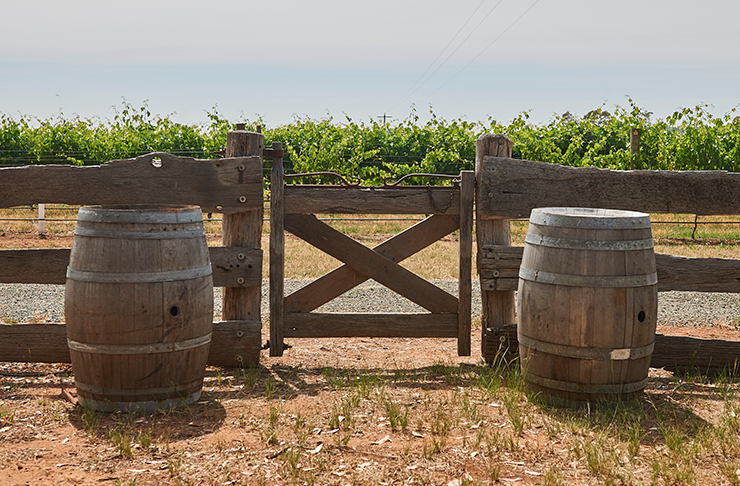 Stop Three: Peregrine Ridge
Distance from Melbourne: 1 hour 55 minutes | 163km
The red soil and warmer summers create a climate ideal for producing robust wines with both weight and texture, and you should stop by at least a few of the wineries out these ways for the quality of the drop alone. Wine aside, Peregrine Ridge offers a unique location with the winery being built over 250 metres above sea level. Stop by for a tipple and make sure you take in the views across the vines and sprawling farmland.
Stop Four: Nagambie
Distance from Melbourne: 1 hour 36 minutes | 138km
How's the serenity? Head towards Nagambie from Heathcote and stop off at Mount Wombat Lookout. You can drive to the top or take a pleasant stroll, which is more than a walk but not quite a hike, to the top. Once you're up there, you'll be treated to 360° views of High Country.
Once you've taken it all in, finish off your day at Nagambie Brewery and Distillery. The former police camp is set on the edge of the Nagambie Lake and has a menu stacked with smoked dishes, country-style burgers and pizza.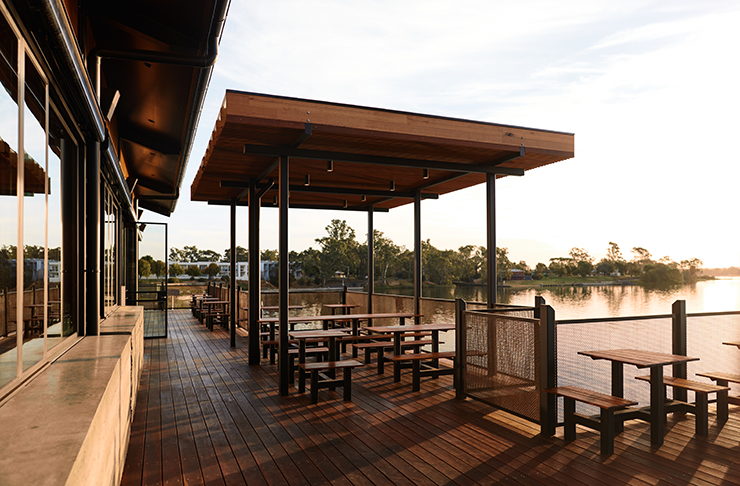 Accommodation
There are several guest-houses, hotels and spas for those blocking out the whole weekend. Park up at Heathcote II for the luxe villa experience, each with their own cellar. The Michelton Hotel should also be considered for a leisurely overnight stay in the Goulburn Valley. Read this for our picks of the best hotels in regional Victoria.
Once you've done the rounds through Heathcote, why not check out
The Grampians
?
Image credit: Visit Victoria