Despite all the current doom and gloom, there's plenty of good news stories, especially if you happen to reside in the surrounding regions of South Melbourne. Hector's Deli, the long-running Melbourne deli sandwich landmark in Richmond will be swinging open its doors to a second fresh-faced sandwich store just off Coventry Street, South Melbourne in August.
They're one of the first deli sandwich outposts to put a serious chef and kitchen focus on the handheld food category. After opening in 2017, their tucked-away lunch haunt quickly rose to fame for their inventive and quality-made sandwiches in Richmond.
We spoke to Dom Wilton, one of three founders, who spilled the beans about the miracle of the first store "Hector's Deli is in itself a fucking anomaly, it shouldn't work, there's no foot traffic, there's no public transport it's in the backstreets of Richmond, it shouldn't work," said Dom. But work it did, largely to their community and local focus which is what's behind the team's vision for the second iteration in South Melbourne.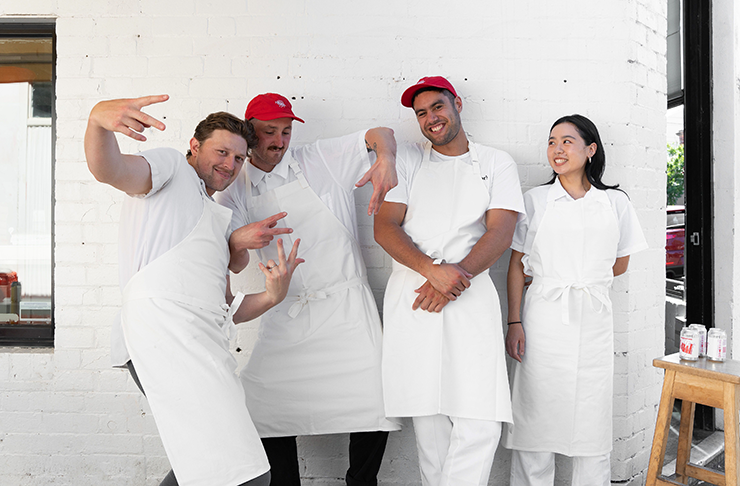 In a space that is almost seven to eight times the size of the original store, Dom and the team were drawn to the authentic charm and history of the building and the South Melbourne area, "South Melbourne, much like Richmond gives us that awesome opportunity to integrate our way into what is an old strong Melbourne community," said Dom.
With the bigger space there's more of a focus on creating things in-house, with a team of chefs helmed by Jack Muir-Rigby formerly of Embla and Etta experimenting with some pickling and curing of their own. The menu will keep the five long-standing Hector favourites like the incredibly photogenic 'chicken' with a crumbed schnitzel that escapes out of both sides of the steamed potato bun with tarragon butter, iceberg lettuce & house-made pickle mayo.
In addition to the five core hot sangas are five new fresh ones, all based around Hector's new signature sourdough Turkish bread recipe that they've developed in partnership with Flywheel. You can expect to see a rare roast beef sanga with horseradish mayo, French's mustard, pickled white onion, and parsley and vinegar salad on the white sesame seed top bread as well as a couple of classic salads.
There'll be more space in South Melbourne to sit in and will have more of a laid-back dining experience, especially alongside a couple of' Lunchtime Lagers' a beer Hector's has developed with Stomping Ground Brewery. Hector's has plenty in the pipeline with a pop-up in Sydney happening later this year as well as plans for a third store that'll put a flag in the ground in the northside of Melbourne, spreading their sandwich love across all of Melbourne. You can expect to see Hector's Deli start slinging sandwiches when it open on Coventry Street, South Melbourne in August
Feel like a beer? Have Moon Dog deliver a couple of cold ones.
Image credit: supplied