An institution is a word that gets tossed around too often nowadays however there are only a select few bistros, bars, diners and delis around Melbourne who have truly earned this accolade.
The Institution Status is a collective of the city's venues that have made their bones with consistency, excellence and tradition—not reliant on trends, changing tastes or fads, but an ever-popular and lauded destination.
Cue, Rocco's Delicatessen.
Rocco's Delicatessen has been looking after Yarraville locals since its founding back in 1977. The Westside deli is managed by mother and son duo Chris and Louise who have made it their business to be the purveyors of classic Italian food offerings.
While the storefront and Italian heritage has remained the same, the food offerings have certainly evolved to meet Melburnians' shifting appetite.
It's no secret that the deli-style sandwich has been taking over the Melbourne food scene of late however the almost 50-year-old Rocco Roll formula is still coming in as a top contender. Their secret sauce you ask? No sauce at all.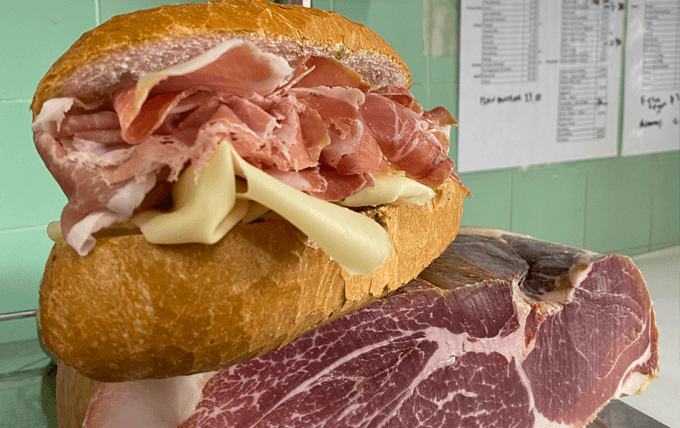 There is no menu but the ordering process is simple. First, you pick your bread with the choice of a soft or ciabatta roll, then select between the multitude of deli meats, followed by your choice of cheese and antipasti. Or, you can leave the flavour profiling and filling combo up to the sandwich connoisseurs and go with the daily special.
Every Rocco Roll is prepared right in front of the customer so you can witness the care and ingredients being packed into your to-go lunch.
"It's good value, it's good quality, it's made to order– it's simple food done fresh," says owner, Chris.
This is where preserving the family-run businesses' Italian heritage comes in. Rocco's ethos around food is high-quality fresh ingredients prepared simply. No corners are cut as everything is prepared daily and always made fresh to order. If you're anticipating your first Rocco's experience it's hard to go wrong with their infamous ciabatta roll packed with prosciutto and hot salami.
Rocco's monthly meatball day has quickly become a fan favourite and guaranteed sellout. The sub is understated but packed with goodness–meatballs, Napoli sauce and topped with parmesan cheese. Of course, Nonna's meatballs are made from a passed-down Italian recipe to keep the familial tradition alive. With subs literally flying out the door, the deli prepares roughly five thousand meatballs on the day in an attempt to meet the hype.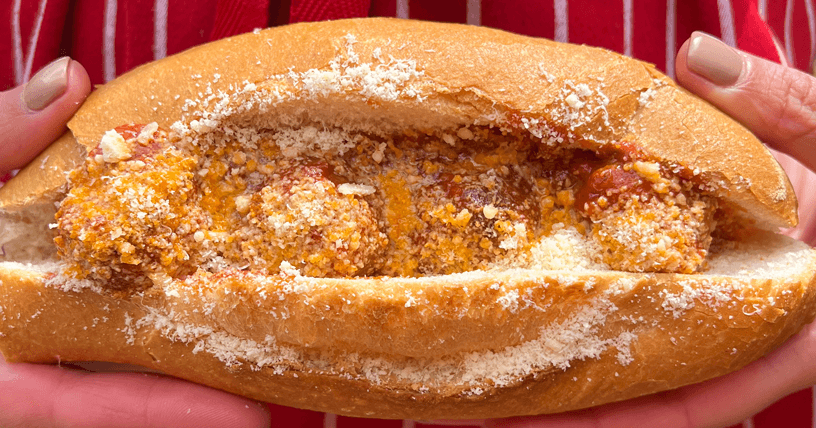 Also offering a range of take-home meal options, the Rocco's team has a selection of house-made lasagne and gnocchi, as well as grazing boxes for larger crowds and events which are laden with a cluster of cold cuts, cheese, antipasti perfectly arranged and thoughtfully paired. Reaching into their bag of region specialities the famed Sicilian cannoli is also a must-purchase during a Rocco's—all made daily onsite using a traditional Sicilian recipe.
"We aren't on a high street, we don't have foot traffic. For people who are coming to Rocco's, it's a destination, they are coming out of their way to see us," says Chris.
It's a takeaway-only affair at Rocco's delicatessen but if you need a place to sit down and devour your Rocco Roll you are welcome to utilise their outdoor seating. The Yarraville hotspot has been known to sell over a thousand sandwiches a day, so if you're worried about missing out you can pre-order over the phone to secure yours.
Check out more of Melbourne's best sandwiches over here.
Image credit: Rocco's Delicatessen (supplied)