Melbourne burgers had their time in the sun, but there's only so much magic you can make with beef, cheese and brioche. Sandwiches are much more interesting. Oozy tuna melts on dark rye, dripping hoagies stuffed with roast lamb and garlic yoghurt, triple-stacked Reubens that hurt your jaw, crunchy alfalfa sprouts and fluorescent beetroot—there's a lot you can do between two slices of bread.
The votes on this one were fiery, and judging by the sheer amount of them coming in, it's clear the sandwich scene in Melbourne has reached critical mass. Here are Melbourne's 10 best sandwich joints according to you.
Hifi
Collingwood
A newcomer to what could unofficially be known as Melbourne's sandwich strip, Hifi know their thing or two around a sandwich (as well as a shake and coffee). You can't go wrong with anything on the menu here, though you'd be silly to skip past that hefty mushroom ragu number, or their fancy take on a fillet-o-fish.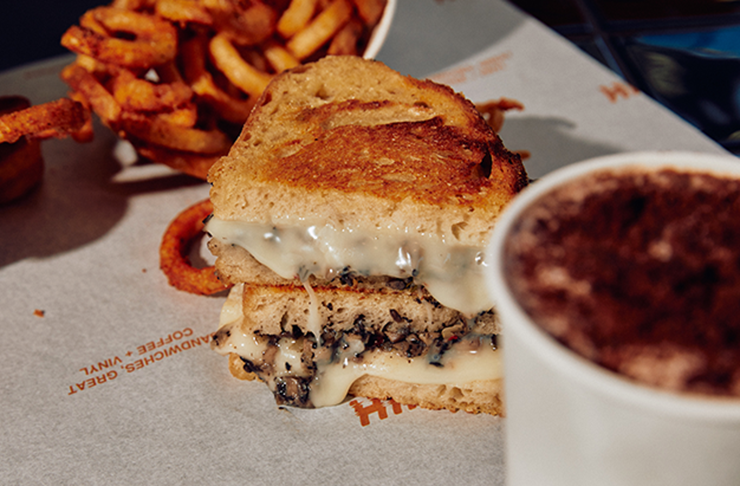 Kelso's Sandwich Shoppe
Abbotsford
Want a big slice of retro? One bite of the Tuna Melt from Kelso's in Abbotsford and you're back in the 1970s reading Kafka next to a lava lamp. Owners Jon Farrell, Brendan Kennedy and Kitty Kelso have created something special throughout the entire menu, but there's one sanga that people just won't shut up about: the tuna melt. Think tuna, mayo, house pickles, red onions and cheese, grilled between two slices of yeasty dark rye. It's the rye that makes this one of the best sandwiches in Melbourne.
Stan's Deli
Malvern
Stan's is best described as a modern all-day American diner that leans on New York-style delis of the old world for both the eats and aesthetic. OG luncheon meats like mortadella is folded comfortably alongside olives and artichokes within your sandwich, while there are also more contemporary offerings like the pork and fennel sausage muffin—available in the AM with a hot coffee, of course. No doubt some of the best sangas on the southside.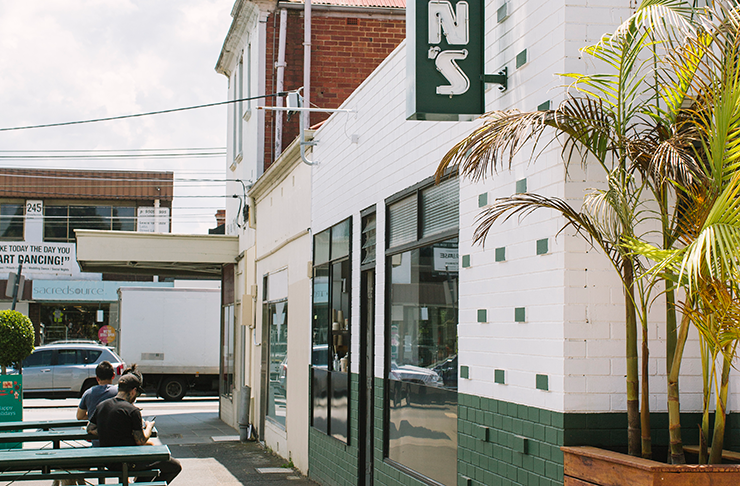 Black Gold
Richmond
Black Gold specialises in the art of toasted sangas, and damn do these things slap. They're the type of toastie that when it's handed to you, you question if you've been given two with how heavy they are. Crowd favourites like the spicy tuna melt and Rueben can be found splattered across the Instagrams of Richmond locals, and when they look this good, you can understand why.
Hector's Deli
Richmond, South Melbourne
When Hector's Deli opened in Buckingham Street, some people (okay me) wondered if anyone would notice. Buckingham Street is not exactly Times Square. How good could these sandwiches really be? Turns out: very good. People queue on Sunday mornings for the Chicken Schnitty, which has become Hector's signature stack. One crumbed free-range chicken schnitzel, homemade tarragon butter, iceberg lettuce and 'secret mayo' (probably aioli) on a Baker's Delight steamed white bap. That's it. Nothing flashy or fancy, but the fresh-fried chicken and that tarragon butter fuse into some element unknown to science, I'm telling you. Get in early: they tend to sell-out by 1pm.

Greta
CBD
Turns out this charmer of a wine bar also does a mean sandwich. At Greta, several European-style sandwiches are on offer, including rare roast beef, mortadella and three cheeses. You'll find the tried and tested Axil Coffee by the machines, though the bold will pair their sandwich with a glass of something light and bright no matter the time of day.
Nico's Sandwich Deli
Fitzroy, CBD
Nico's was never not going to be voted in. Since opening their rollerdoor down a Fitzroy side-street, it's clear their sangas have become as iconic as that glary, royal blue facade. It's far from smoke and mirrors at Nico's though, the owners have a long lineage in the hospo scene which comes out in their creations. The chicken schnitty is a no-brainer, but those who align with the flexitarian lifestyle should certainly give the mushroom sub a run.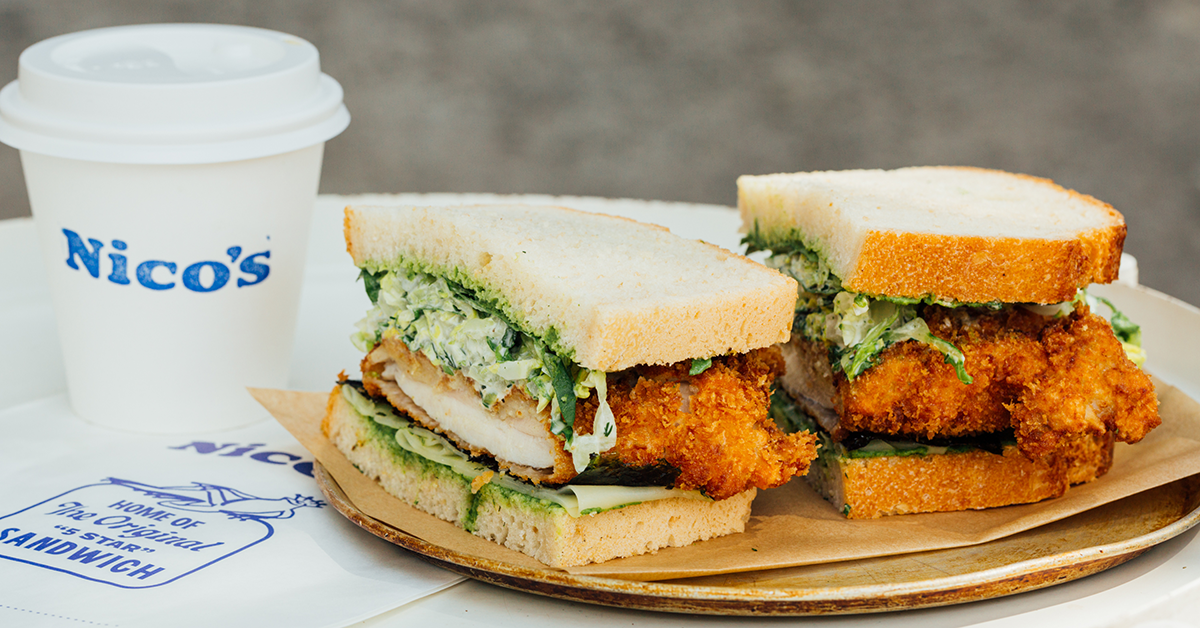 Saul's Sandwiches
Bentleigh, Hawthorn, Carnegie
We aren't sure when Saul's will stop opening new stores, and with sangas like below, we wouldn't be complaining if we saw that iconic logo on a corner of every inner-city Melbourne suburb. The menu differs slightly depending on which locale you're visiting, but you could and should keep an eye out for their Philly cheesesteak and their take on a chicken parma—in bread, of course.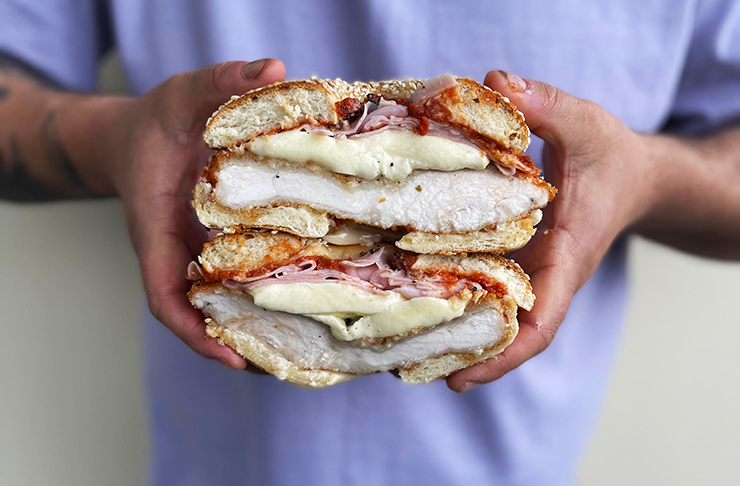 Bala Sanga
Balaclava
Born out of a desire through COVID to get a tasty sanga within their 5km radius, owners Mike Byard, Benny Britton, and Chef Mikey Harrison came together to convert this unused space at the back of their prized restaurant Pretty Little. On the menu at Bala Sanga is plenty of sanga variations like a poached chicken number to a reliable salad sandwich with pickled vegetables, thick-cut aged cheddar and tahini.
Ollie's Deli
Footscray
Making noise from their Footscray stronghold, Ollie's Deli is bringing a bite of Melbourne's heaving deli-sandwich scene to the Western suburbs. While the menu might be light, the sandwiches are anything but. The current heavy hitters flying out the door are the BCF (Buttermilk fried chicken) with a thick piece of buttermilk panko-fried chicken on a milk bun with pickles and house-made sauce. Another clear fan favourite is the pastrami a homage to the traditional Reuben with thick-cut rye bread, sauerkraut, American cheese and Ollie's secret sauce,
Want more of the best Melbourne has to offer? Head to our Best Of Guides section.
Image credit: Annika Kafcaloudis