After a false start when lockdown hit back in March, and a brief reopening between lockdown one and two, Nico's has moved camp from their city locale to a pop-up behind a roller door in Fitzroy. And boy, their sandwiches slap in all the right ways.
The concept comes from Tom Peasnall and co. of Peaches, Dexter and Cheek while co-owner Leo Thompson jumped ship from Seven Seeds' coffee house Brother Baba Budan. It's a helluva lot of pedigree within one hole-in-the-wall, and it shows in everything they do.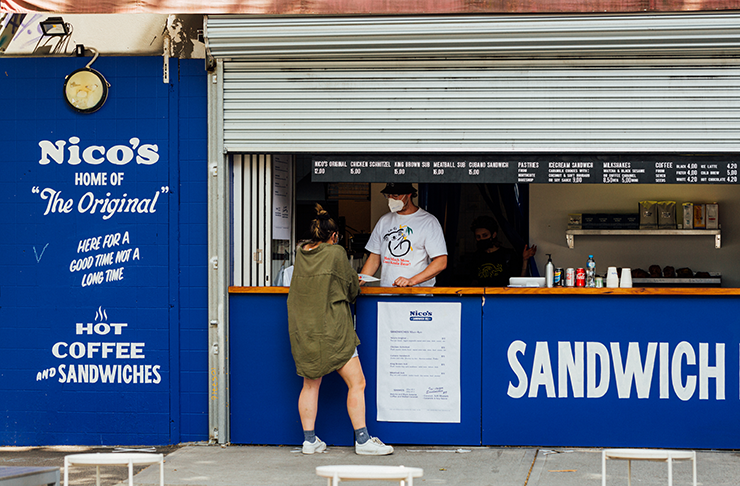 You'll find the roller door lifted from 8am to 4pm Wednesday through Sunday along with a line that's growing week by week. That's happening for a few reasons, one being Melbourne's newfound love affair for the humble sandwich, and the second is surely Nico's not so humble panko-crumbed chicken schnitzel sanga.
The sandwich in question will likely just fit within two medium to large-sized hands. It's stacked with a hefty slab of panko-crumbed chicken breast, then layered Nico's original creme, basil, a dash of lemon, some housemade Koji chimichurri and some nori crisp. If the latter two ingredients raised a brow, it's because Nico's have a slight Japanese bent to their mostly Italian-style sandwiches—a combination that synthesizes far better than you'd imagine.
We're not here to talk about just one sandwich, though, and the rest of the menu is deserving of your time. There's Cubano number that heroes a smoked pork belly, a meatball sub which is very much a vibe in Melbourne right now and a couple of vegetarian options: a sub that replaces meat with mushrooms and the Nico's Original—a salad sandwich full with vine ripe tomato, buffalo mozzarella, original salad creme, herbs, sesame and nori. This one, no doubt, is set to become as iconic as the aforementioned chicken sanga from earlier.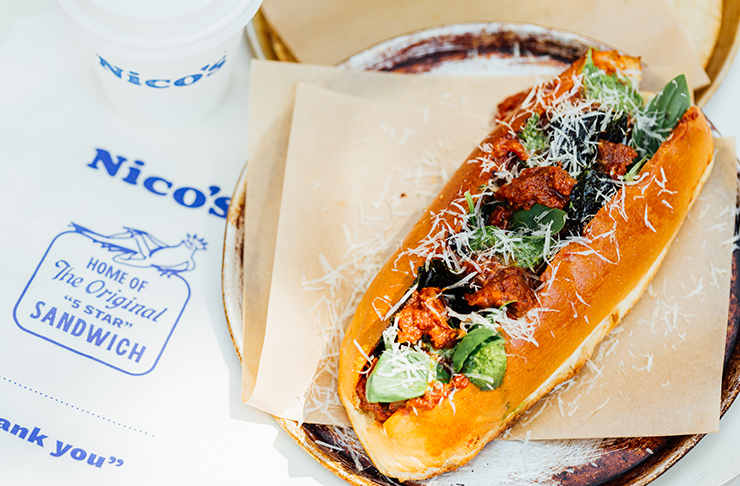 Nico's is more or less takeaway only, but there are plenty of stools out front for the rest of the line to eye off as you rightfully take your seat. Coffee, as you'd assume, comes from Seven Seeds, but they also do a mean milkshake should you want to double down—most are made with soy ice cream, so you'd feel slightly lighter than you would otherwise. The malted caramel is a no-brainer here.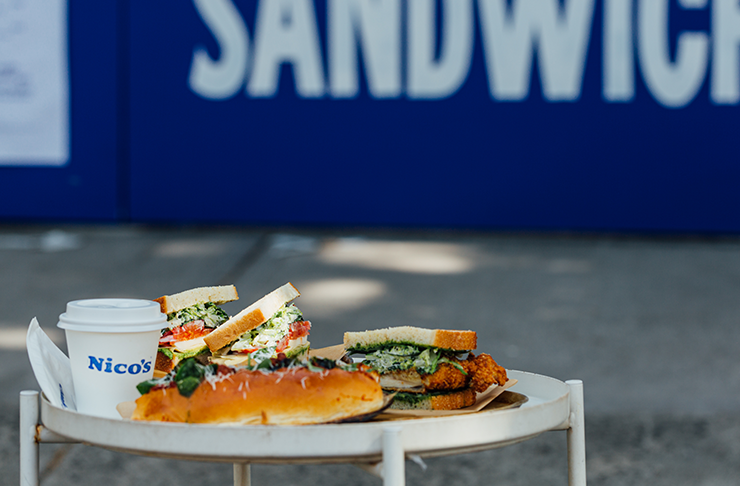 For the next few months, Nico's can be found on Fitzroy's Kerr Street. Get down early to nab one of those stools—and a panko-crumbed chicken sandwich, of course.
Check out more movements in Melbourne's hospitality scene here.

Image credit: Annika Kafcaloudis