The bagel is near and dear to many hearts. An ideal option for both breakfast and lunch. the brilliance of the spherical bread-type is in its versatility—allowing almost anything, sweet or savoury to be sandwiched in between. Across Melbourne we're lucky enough to have some real primo outlets, dishing up tasty bagels on the daily across both south and north of the river.
In no particular order here are the best bagels in Melbourne for 2022.
Northside Challah
Northern Suburbs
Another booming business born out of lockdown.
Northside Challah
was the brainchild of Daniel Chamravi—A Jewish bakery and deli goods delivery service across Melbourne's North and North-Western suburbs. Daniel who shifted to the north in lockdown struggled to find quality Jewish food. Separated by travel restrictions, and cut off from his family he launched the new venture. Delivering Glick's bagels, babkas, challah (a braided-style bread) as well as Jewish deli goods like fried fish balls, dill pickles, tahini, and more. Daniel's aim for Northside Challah is to introduce the area to the cuisine and help create a broader community for people to enjoy Jewish food; "we're here for everybody, we're not just for the Jewish community," says Daniel.
Mile End Bagels
FITZROY, BRUNSWICK
You could argue Melbourne's demand for bread doesn't have room for another bagel-specialised bakery, but owners Ben Vaughn and Michael Fee aren't scared of a little competition. There are no shortcuts here: Mile End Bagels are baked in a wood-fired Canadian stonemason and boiled in honey water for a slightly sweeter aftertaste. We've got a lotta love for the egg salad combo with tasty cheese, green tomato chutney, rocket and dijon mustard. Now operating in Fitzroy and Brunswick there are plenty of bagels for everyone.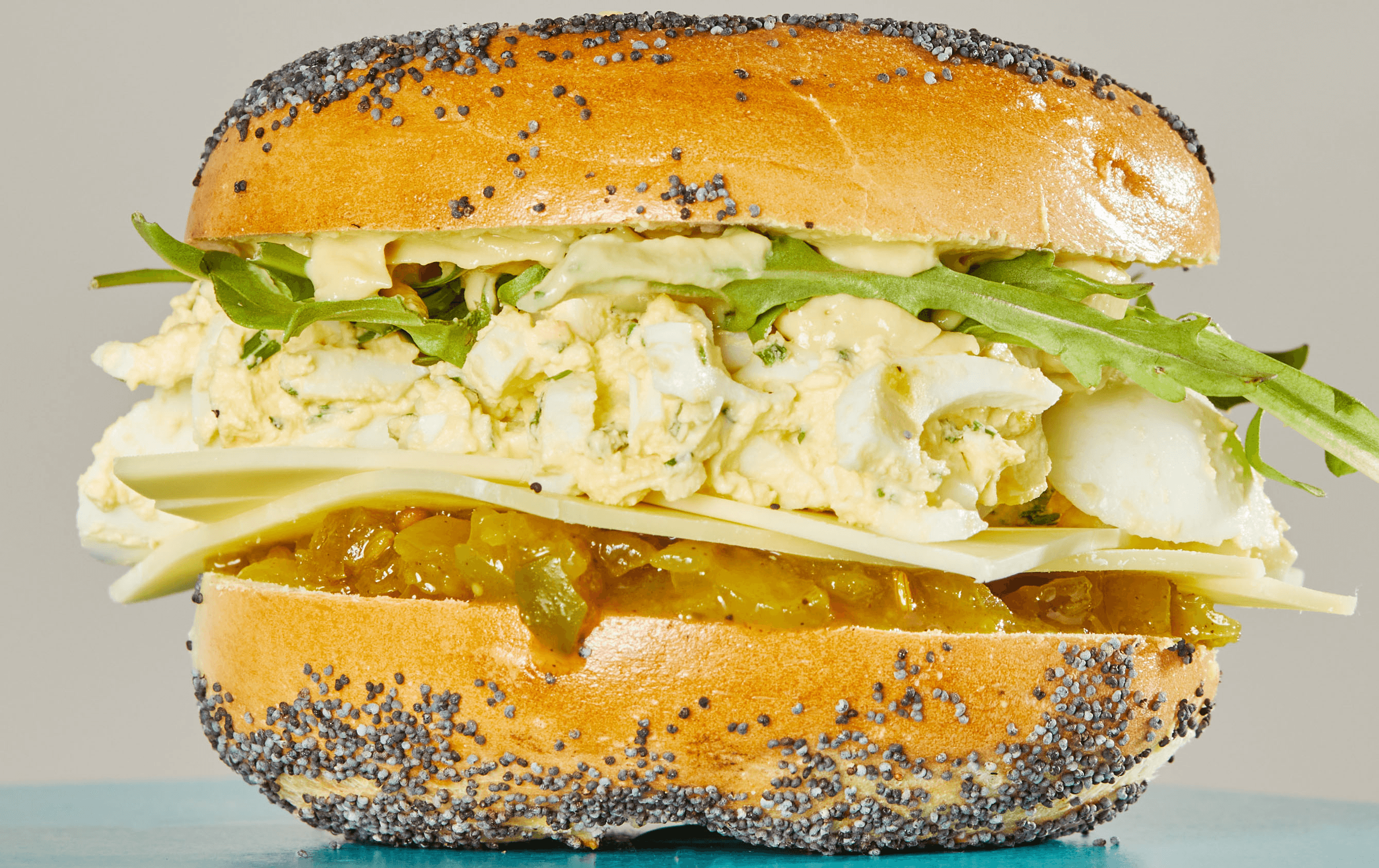 Stan's Deli
MALVERN
The Malvern deli-sanga favourite also has some of the best bagels in Melbourne. The neighbourhood friendly cafe on Glenferrie Road has a range of bagels on the menu which they source from 5 & Dime. You simply cannot go past the star of the show—the whipped ricotta on a toasted poppy and sesame seed bagel. Get it if you can, it sells out bloody quick.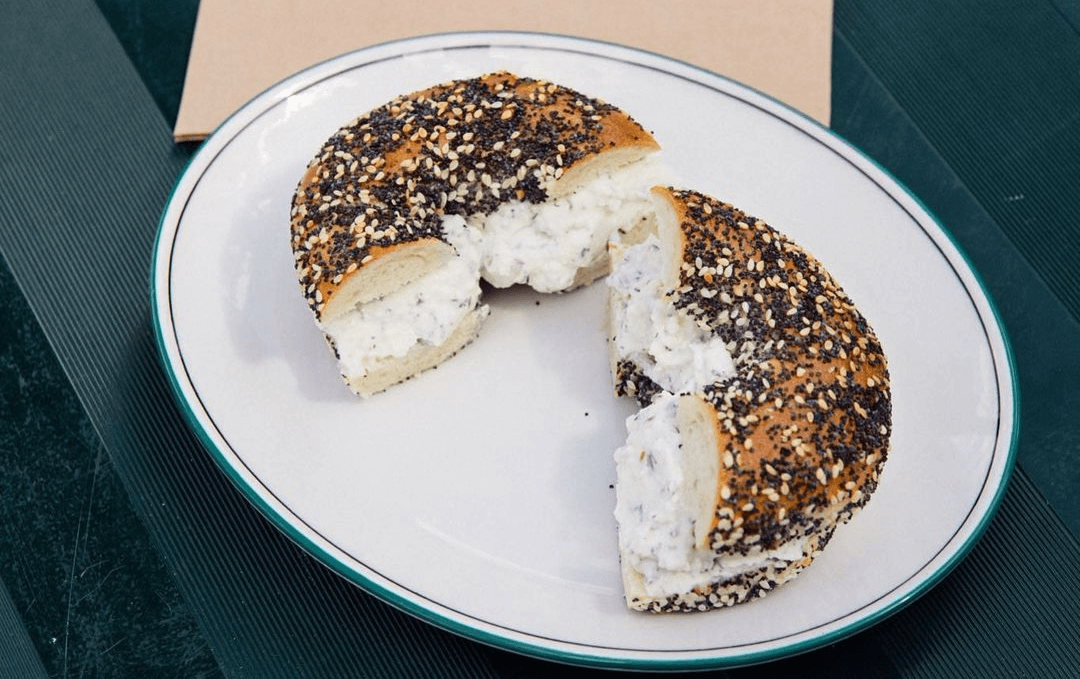 Bissel B.
RICHMOND
If the lines out front of Bissel B. are any indication, these may just be the best bagels in Melbourne. Perched up the top end of Bridge Road, Bissel B serve up a range of spanking New York-style bagel combinations, which are all named after landmarks and streets of the city—including the 'Wall Street', with a fried egg, bacon, sausage patty, house-made hashbrown and melted American cheese.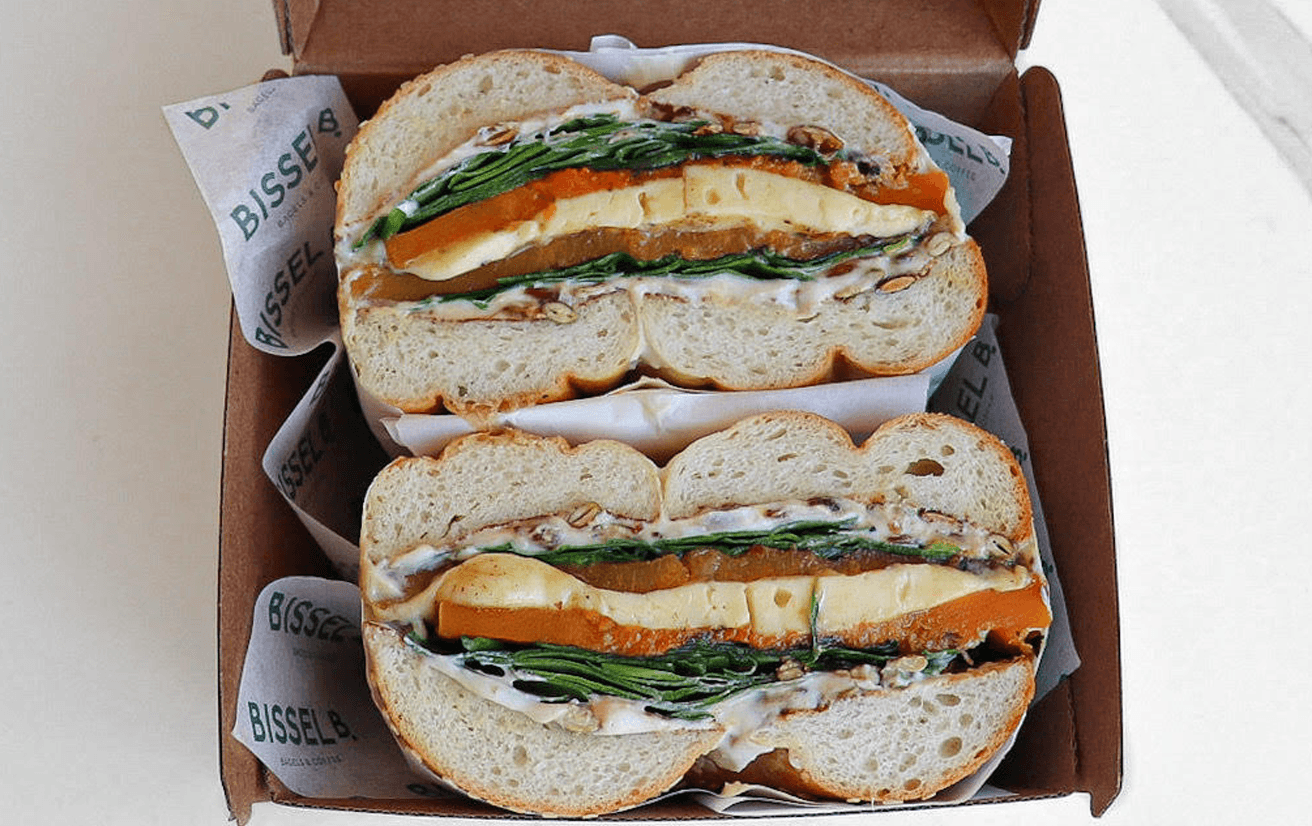 Glick's Bakery
BALACLAVA, BENTLEIGH, CAULFIELD SOUTH & MALVERN
Glick's Bakery produces some of the best bagels in Melbourne, hands down, full-stop. Operating for over 40 years, their five locations (and persistent lines) are a testament to Melbourne's love for the glorious baked good. Prices will barely make a dent in your purse, but if you're too lazy to gather bagel supplies, head to Five Points Cafe in the CBD for Glick's Bakery bagels with ingredients like pulled pork, Asian slaw and tangy BBQ sauce.
Bowery To Williamsburg
CBD
If you require a hump day morning boost, make a beeline for Bowery To Williamsburg. Home to the inaugural breakfast Reuben with pastrami beef brisket, swiss cheese, sauerkraut, Russian dressing, and a fried egg, no one can have a bad day when it starts off this delicious. DIY bagels like pumpernickel and the "everything" bagel are also available, with a widespread of schmear options.
Migrant Coffee
WEST FOOTSCRAY
The bagel and coffee pride and joy of the western suburbs, Migrant Coffee fuse the timeless pairing with their own refreshing spin. The menu is stacked with a range of NYC-style bagels, but with signature flares like the classic pastrami bagel that comes with swiss cheese, mustard, cream cheese and Atsara (a pickled relish made from green papaya) giving it a distinctive lift. You can also choose from a range of bagels including blueberry, dill, and rainbow.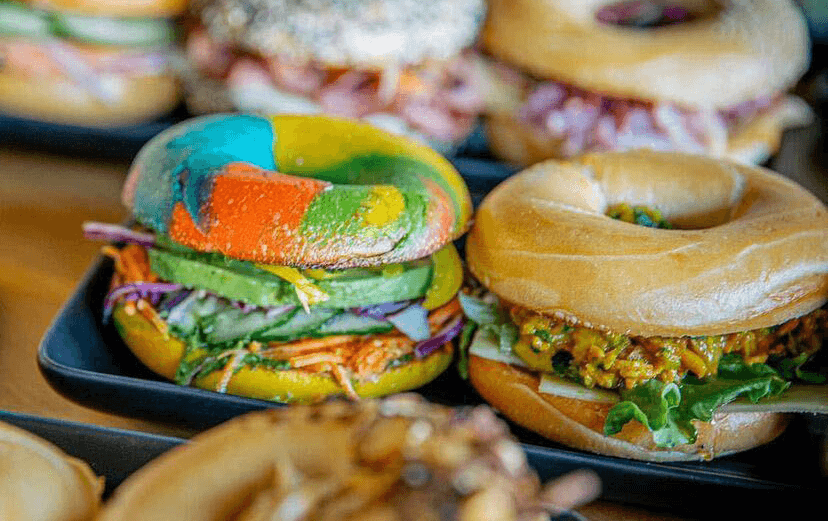 Schmucks Bagels
CBD
Despite America's borderline obsession with bagels, these circular baked goods are widely considered to have origins from a Jewish community in 17th century Poland. For traditional Polski bagels, head to Schmucks Bagels. The menu reads like a classic Melbourne cafe—with the addition of bagels (of course). Take the Avo Our Way, with smashed avo, lemon, pickled red onion, capers and herbs.
Sable
CREMORNE
Bagels aren't typically the food group you'd associate with both 100% plant based and gluten-free options but that's exactly what you'll find at Sable. This vegan bagel paradise has a menu of stacked bagels on offer. From breakfast options like the 1800 Avocado with smashed avo, cream cheese, feta and chilli jam—to the southern-style Big Kev's fried chicken with slaw, cheese, and bbq sauce.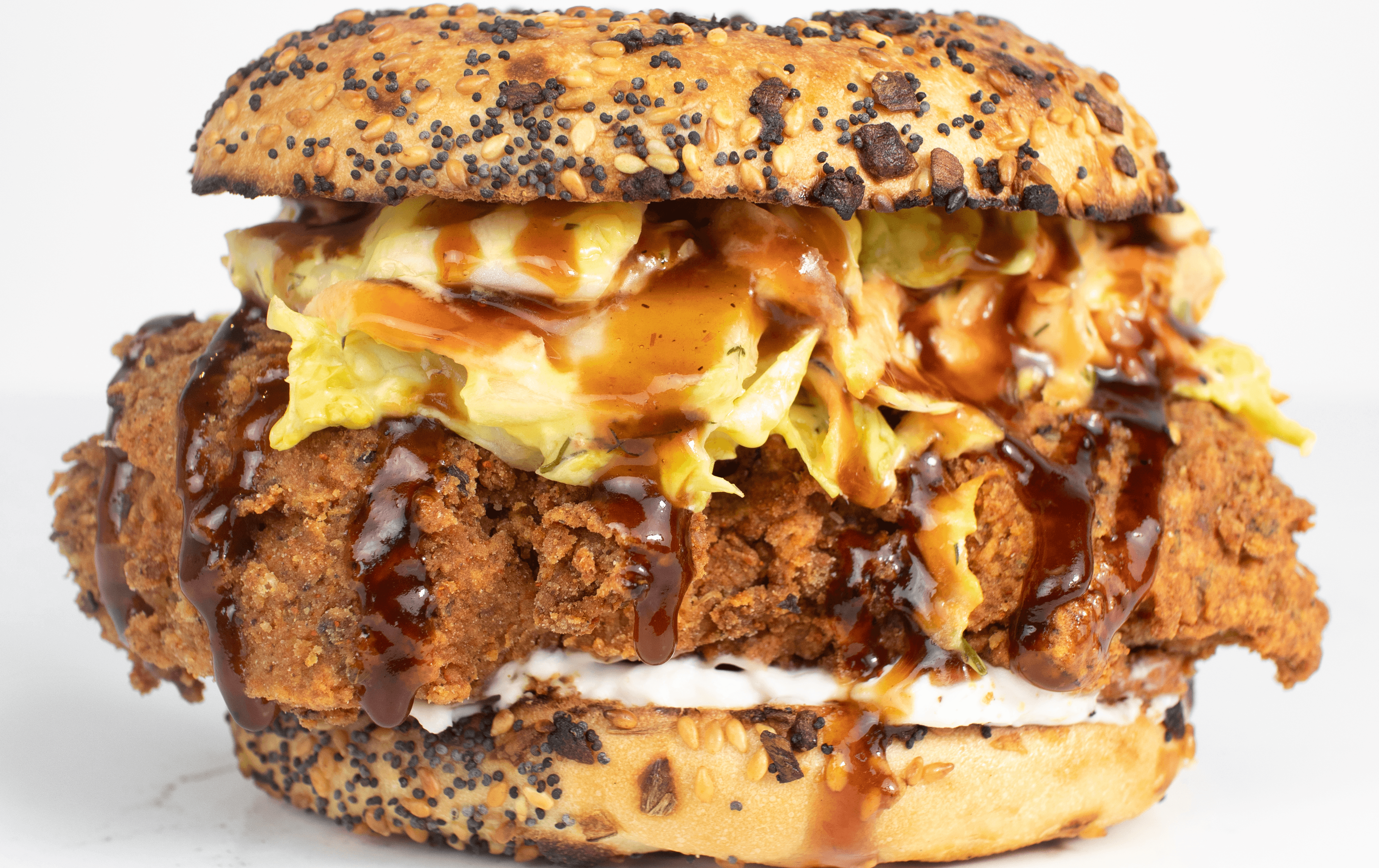 Brown Bagels
CBD
This small cafe has just two communal tables, but patrons don't seem to mind come lunch hour. With lines stretching onto the pavement, Brown Bagels keeps their menu short 'n sweet for a focus on takeaway. From the never-fail smoked salmon and chive cream cheese to a classic BLT bagel, Brown Bagels is some hole-y takeaway.
Huff Bagelry
CARNEGIE & MENTONE
They keep it pretty simple at Huff Bagelry, and with stores in both Carnegie and Mentone, you're pretty well covered with some of the best bagels in Melbourne's southeastern suburbs. With a massive range of house-made bagels and tons of ingredients to throw on them, you'll never go wanting after a visit.
Aviv Cakes And Bagels
ELSTERNWICK
The Elsternwick institution has been kneading and baking bagels for decades. Their range of perfectly dense and chewy bagels are right up there with the best bagels in Melbourne. The tiny little store offer up a staple range of plain, poppy, and sesame seed topped bagels. Sometimes simplicity is bliss.
Dan's Deli
TOORAK
A relative newcomer to Melbourne's bagel race, Dan's Deli opened just last month but its bagel prowess is right up there with the best of them—sourcing them from long-time producers Savion Cakes & Bagels in Balaclava. Stepping into the little hole-in-the-wall operation on Toorak Road you'll find a range of New York-style bagels— from a classic smoked salmon or pastrami bagel, to peanut butter and mixed berry jam.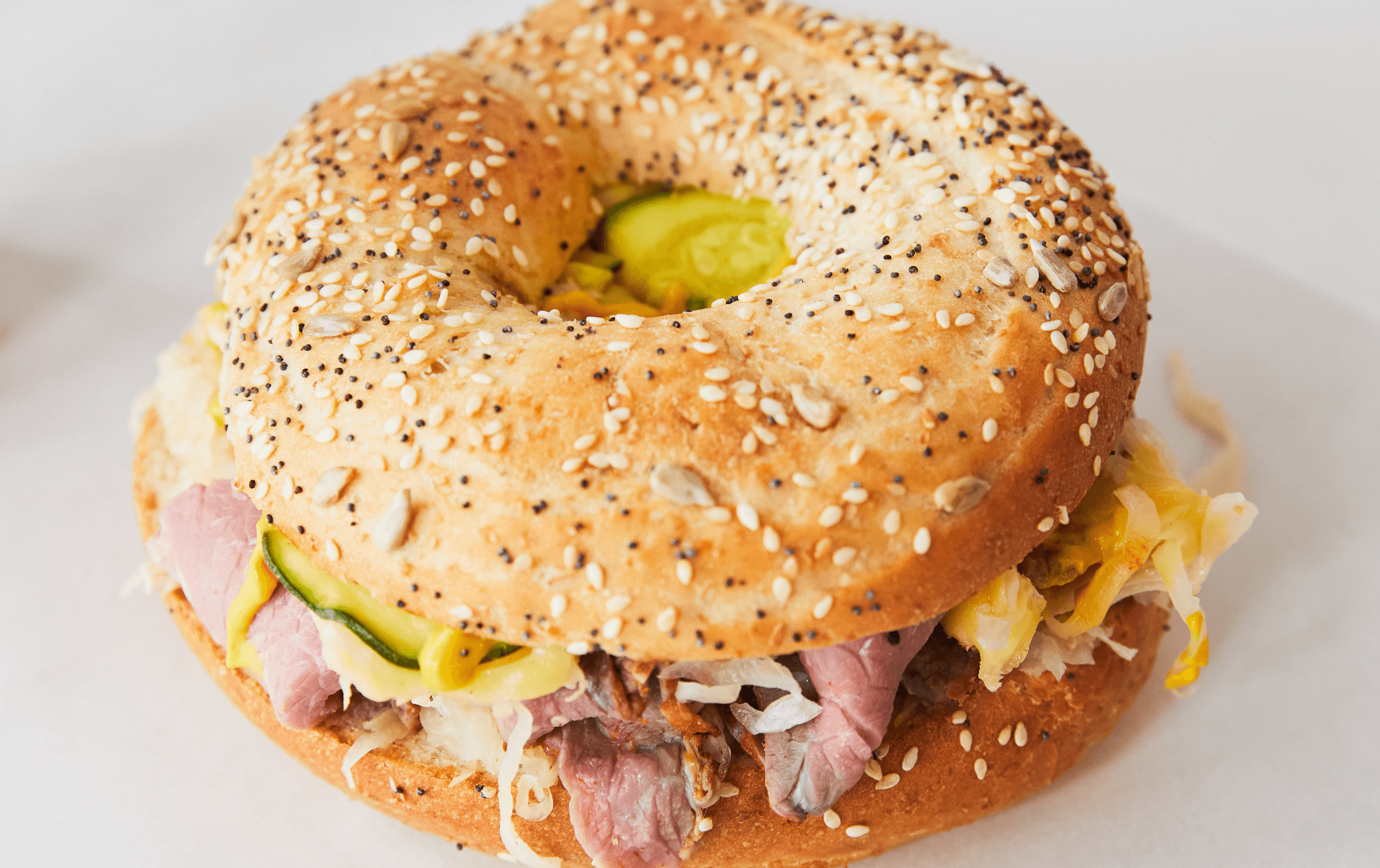 More of a Dim Sim person? Check out Melbourne's best here.
Image credit: Mile End Bagels