Anyone that's dined at Khanh Nguyen's Sunda will be aware of the obsessive detail that goes into his South-East Asian cuisine. So, when Nguyen got cracking on his lockdown hobby—the art of en croûte—there was never any doubt it'd be equal parts aesthetic as it would be loaded with bold, considered flavours.
For those needing a refresher, en croûte essentially means 'baked in pastry', which over the past month, Nguyen has done so with everything from a mud crab to pad Thai. Understandably time-consuming even in the method's more standard application, it all began for Nguyen with a pate en croûte.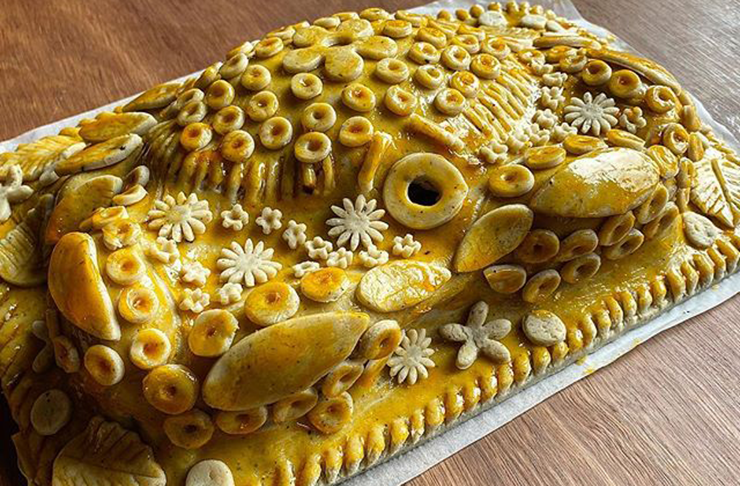 "It started with the banh mi pate en croûte, so Vietnamese pork roll; it's something that I've been wanting to do for years but I've never had the chance.
"I look at pate en croûte and those classic French techniques, and it just seems you need to be at a very high level to be achieving something that amazing," said Nguyen.
Nguyen, who's currently operating the takeaway-only Sunda EXP out of the Windsor Hotel, cites the advice of stablemate chef Rob Kaboord, who gave him several pointers in getting these creations to where they are now. Though practice makes perfect, which was something Nguyen realised in the earlier attempts.
"It basically just fell apart because it was still hot and soft. By that point, I was already in the kitchen for about 12 hours and I told myself that I can't go home. If I go home, I'm not going to be able to sleep, I'll just be thinking about pate en croûte all night"
"So I decided to stay back for another four hours to make another one, and that one turned out pretty amazing and since then I've just been trying different things."
It takes just one look at Nguyen's Instagram feed to see that he's transcended the bell curve of this French technique very quickly, but what these culinary masterpieces don't show off are the rich and well-thought-out flavours within, not to mention the time it takes to create.
There are several processes the dish needs to go through, with some, such as the chicken en croûte, taking around three days to complete.
"We brined it for two days just to make sure all that salt actually penetrates the flesh and goes the whole way through. After that, we baste it in ghi, confit garlic oil, coconut oil and chicken fat. Then, we season it smoked pink salt with pepperberry, curry myrtle and a bit of lemon myrtle.
"That pastry has chicken fat in it and reduced chicken stock, so it's like chicken on chicken on chicken." Nguyen said.
There are, however, some hacks that Nguyen employed along the way, hacks that help create balanced flavours between the pastry and protein.
"The moisture that leaves the crab while its cooking steams up and the crab basically cooks itself in its own juices, and it came out amazing."
If you're looking to try one Nguyen's creations, a great place to start is the Sunda EXP takeaway menu, where the banh mi pate en croûte has appeared from time to time. If you'd rather master the French technique yourself, Nguyen is hosting a virtual en croûte cooking class on Friday 25 September, where you'll encrust kingfish within an hour.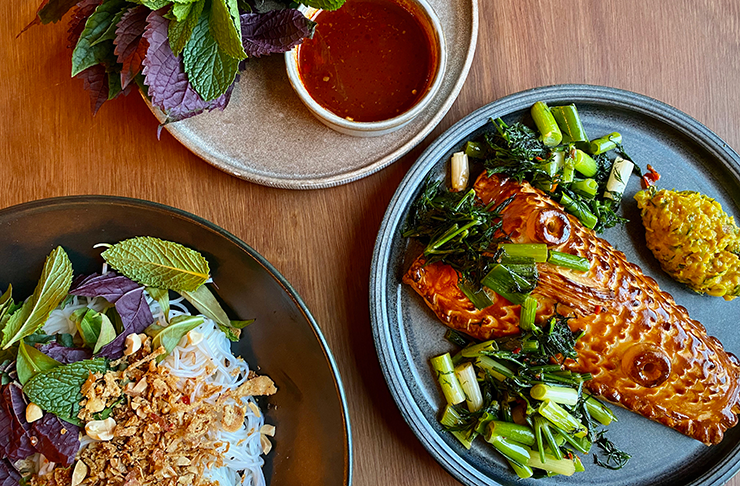 The class is called Cha Cá Lã Vong en croûte. You can order everything you need to get started via The Windsor Hotel. Those concerned they may not possess the patience of Nguyen can rest easy knowing some of the hard work has already been done, leaving you time to get creative with your presentation.
Match your dish with the right drink. Here are Melbourne's best booze delivery services.
Image credit: Khanh Nguyen