If you frequent the South Melbourne Market, you'd be extremely familiar with all of the delicacies. And in particular one of their most popular stalls, Indigenous-owned and operated, Mabu Mabu.
And if not, let's quickly get you up to scratch. Firstly, Mabu Mabu is a saying from the Torres Strait which means "help yourself."
Mabu Mabu first sprung to life at the South Melbourne Market around 12 months ago, with chef and co-owner Nornie Bero setting up a deli-style market stall slinging anything but your average herbs, spices and sauces. Think pineapple hot sauce, green tomato hot sauce, macadamia chilli paste, and organic siracha.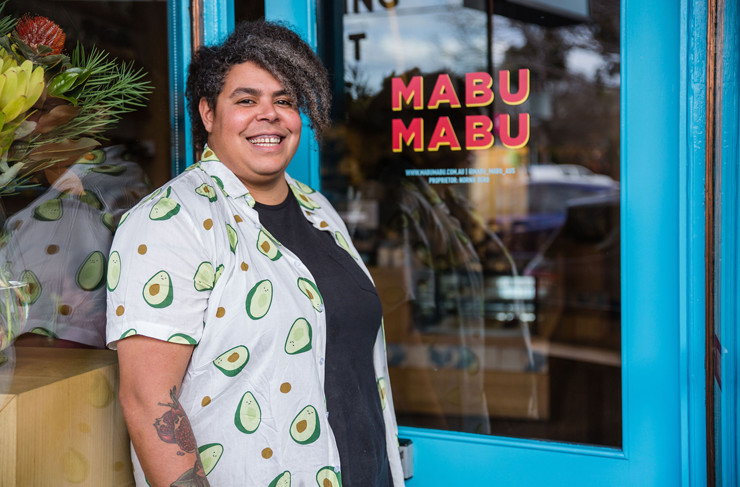 And due to popular demand, Mabu Mabu are now not only a market stall. They're a booming catering business and even more recently, a shopfront café in Yarraville, with Nornie and her team on a mission to make native ingredients part of our contemporary national cuisine. They're doing this by putting an emphasis on cooking with fresh, seasonal and native ingredients, cooking with a variety of indigenous herbs, fruits, succulents and spices in their dishes.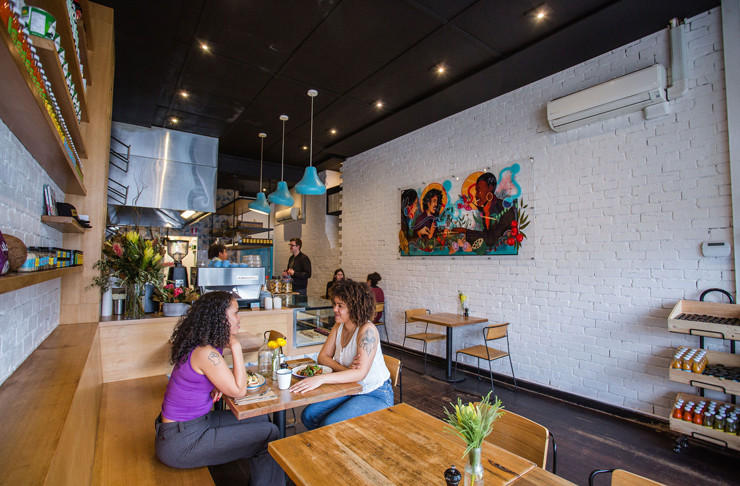 Nornie says, "At the start it was hard to push people to understand natives because it was a constant education. We got there in the end but it was a lot of hard work."
And now that Mabu Mabu has officially opened its doors to the Yarraville Village last Friday, it's been all systems go.
"I really love it around here because it really has that village feel and that's a part of our slogans, to join our village."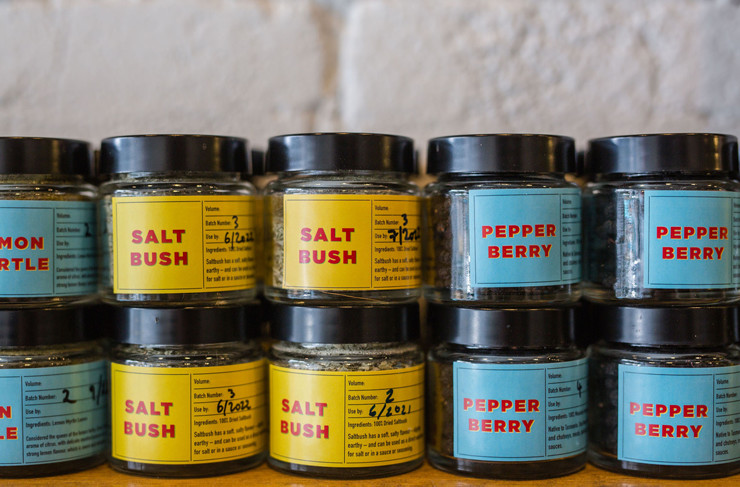 When asked if opening up a café was something Nornie has always wanted to do, she says Melbourne is very saturated. "If you're going to go into business, it has to bring something. But when I opened the market stall, I had a great product and said, I can make this work."
On the all-day menu, you'll find contemporary Indigenous flavours plated up as brunch and lunch options, as well as a changing specials board.
"I like food, so I really wanted to bring native produce to the forefront and take it out of fancy restaurants where you can get a tiny slither of it. I wanted it to be more of what you get, as well as an education on how amazing our produce is."
So what should you order? You can opt for something simple like the burd eggs on toast or the island bowl, with coconut, banana, wild mint and native berry smoothie topped with puffed rice.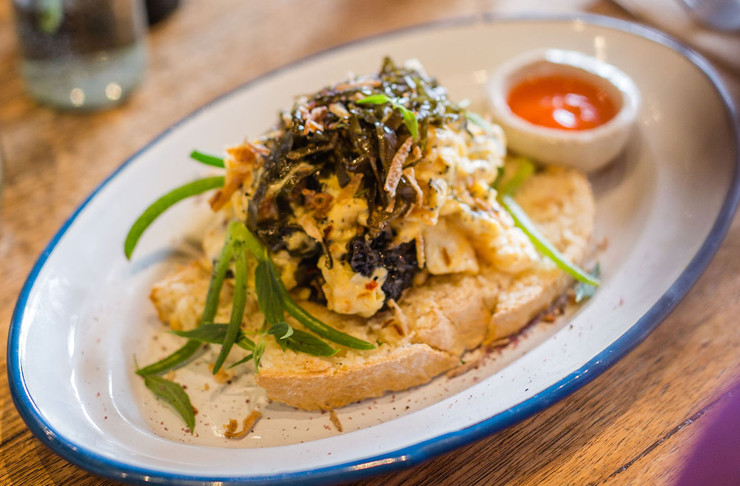 There's also more lunch-style options like the bush tacos, with coconut, poached chicken or desert-spiced cauliflower with native succulent slaw. Keen to go full native? Go for the saltbush and pepper berry crocodile with lemon aspen, aioli and bitter leaf salad.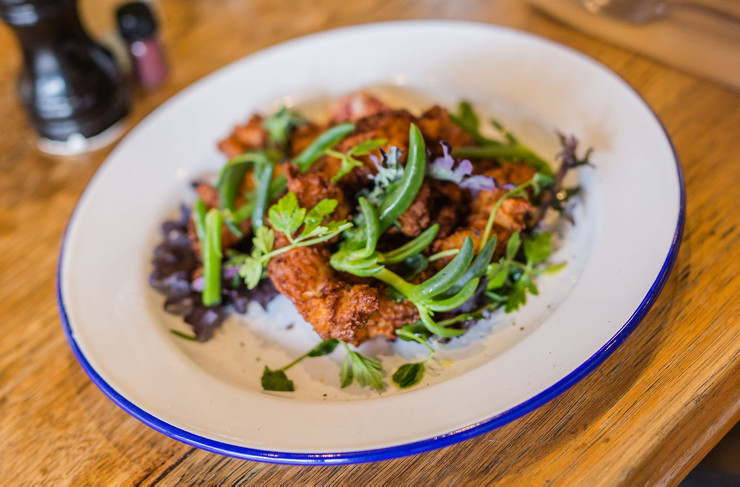 Their kangaroo tail has also been an extremely popular dish since opening last Friday. "I hoped that people would give it a go. I made it bourguignon style so people could understand the cooking process and when you eat it, in the back of your mind you think it's just like oxtail."
There's also a selection of drinks including native kombucha and herbal teas, fresh market juices, coffee, as well as caffeine-free coffee too.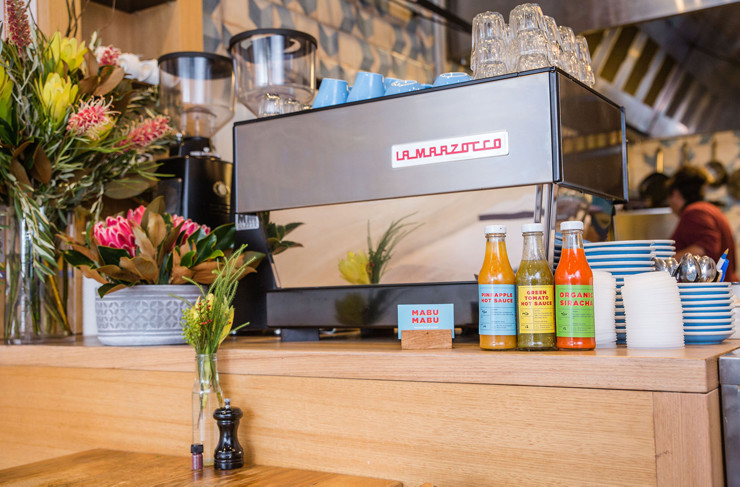 "Since we opened, our wattle seed coffee has been going off. The flavour of the wattle seed has this chocolaty-hazelnut flavour with its own coffee tannins. You can have the wattles with any kind of milk, but it's really good with macadamia milk to add the extra nuttiness. But it goes really well with soy and regular milk too."
Collaborating with other businesses is also something that Nornie is very passionate about. Mabu Mabu is alcohol-free, stocking Brisbane-Indigenous based non-alcoholic beers from Sobah. They do native flavours like their pepper berry IPA and their lemon aspen pilsner.
Reflecting on her brand new west-side venture, Nornie says, "We really want to make a difference and open peoples' minds to say yes I want to try that. And also I just want to have fun."
The Details
What: Mabu Mabu Cafe
Where: 13 Anderson St, Yarraville
Image credit: Supplied