Since opening in 2016, Peter Gunn's Ides has sat in the upper echelon of Melbourne's fine dining scene, serving up a degustation menu that's at least several years ahead of its time with every update. While Gunn is a true chef's chef, the only thing that could be considered inaccessible about his cooking is locking down a booking at the Smith Street fine diner, though the just-opened sibling venue next door, March, is about to change that.
The idea for March has been in the pipeline for some time now. Somewhere that first works in synergy under the Ides banner—offering a booze-forward haven for a pre and/or post-Ides drink—all the while having enough clout to be considered its own institution.
"They work as a synergy, and they work on their own. That was the mindset that it's very much a sister venue, they can be enjoyed in the same evening but they're very much standalone and have weight in their own right," said Gunn.
Like Ides, the menu, both on the food and drink front, draw from Gunn's rich experience and calibre as a chef. Cutting his teeth as sous chef at Attica in the years prior to Ides brings several elements to what's on the plate in front of you, while his travels round out an offering that's as mature as it is progressive.
"It [the menu] was an accumulation from French wine bars to izakaya."
"What I adored through my travels was in Paris, and where these bistros and fine dining restaurants had sister restaurants right next door. They were joined by their underground cellars and that's something that I wanted to bring to Melbourne," Gunn said.
And Gunn brings in the best bits of this culinary amalgamation across March's considered 10-item menu where most, like the delicate green chilli pickled mussels or kimchi-laden beef tartare, are light enough on their own to be considered a before-dinner-teaser, or combined to create a meal that's quintessentially Gunn.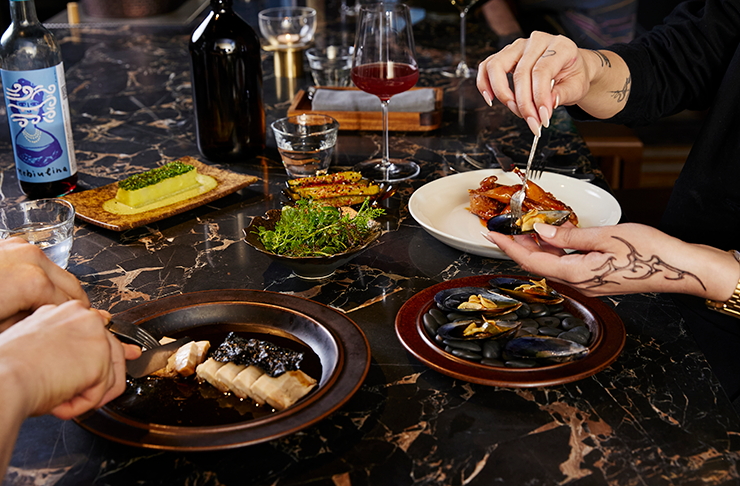 While one through 10 are showstoppers in their own right—just take the sake steamed pippies with yuzu parsley butter—there are several 'heroes' that'll satiate those after the full experience. The choice is yours, and it may be a tough one, between a whole quail accompanied by a bright and bold coriander oil, or, what is perhaps the most delicate pork belly in Melbourne that's paired up with a spicy nori glaze.
"it was important we made sure there were only a couple of larger-style dishes that could be accompanied by some of our smaller plates. It's all available to share which is a nod to our city and the way Melburnians have really embraced the sharing culture," Gunn said.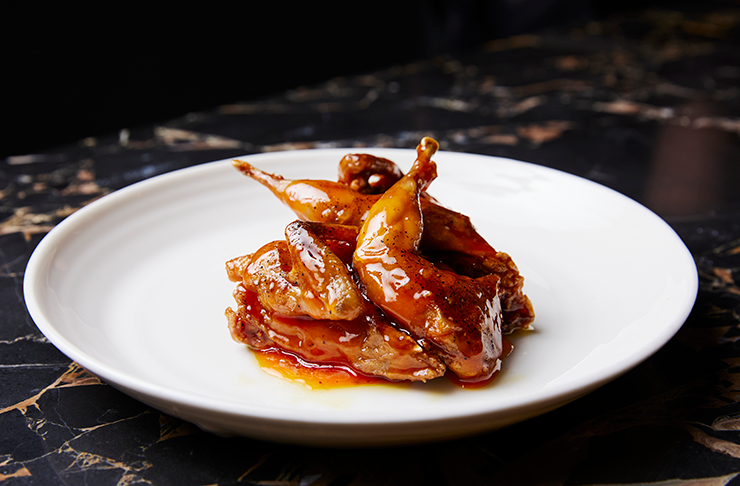 Unlike Ides and its set degustation menus, however, is the ability to take your March journey how you like it, and that goes for the booze list, too. The by-the-glass program is shared with next door, though an extensive sake list, all of which the team have studied meticulously and will share their knowledge generously, gives this Smith Street locale another point of distinction.
"The team love engaging with people that haven't necessarily had sake before. If we get somebody who likes a certain style of wine, we might have a sake that leans toward the direction; we let them have a little taste of that and then they have a glass, and then all of a sudden they're having something new that they're not necessarily having out in a wine bar or in a bar around the city."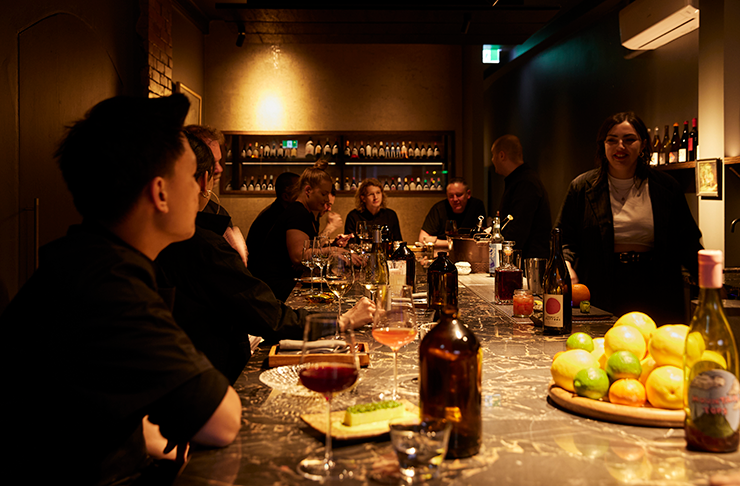 Still, those familiar with the Ides brand of dining will relish in the shared sensibilities between the two. The ambient lighting signature to the fine diner is emulated in March, the playlists remain the same between the two, while the kitchen, connecting March and Ides, plates up Gunn's work with equal amounts of precision we've come to expect over the years.
March is open now—for a defining dinner of its own and as a bookend to an evening at Ides. Find the two at 90 and 92 Smith Street.
Check out more of Melbourne's best bars and restaurants here.
Image credit: supplied