While the day of the Ritz, cheese 'n gherkin combo is long gone (thank God), parties across the nation still stand afflicted by a bad case of TFF (Terrible Finger Food). Those soggy mini pies, the mini samosas, the mini spring rolls…You know what we're talking about. Well luckily we're here with the solution. A bunch of the city's best catering services, plus a few food trucks that know how to rock a good shindig.
With everything from salad platters, cheesesteaks, booze and delicate French canapés, these caterers have you (and your part-ay) covered.
Unique Melbourne Caterers
Gathar
Dreaming of a private chef in your own home-type scenario? Gathar is your dream come true. This innovative foodie platform connects talented local chefs and cooks with those of us who lack talent in the kitchen or the time to whip up something super impressive for our nearest and dearest. With the Gathar Marketplace, you can completely design your own dinner party mood. Select a private chef or grazing table, and then choose your menu. With options like 'Parisian Date Night for two' and 'Elevated BBQ' in the mix, this will 100% impress your guests. Suss it all out here.
Egg Unlimited
AKA the cutest small food caterers in town. Starting out as a bespoke bakery supplying miniature breads to Melbourne's best hotels, Egg Unlimited is now one of the city's favourite catering companies, selling a range of tiny, miniscule goodies that pack a huge flavour punch. Make sure you try out their famed mini bagel stuffed with parma ham, mascarpone blue cheese, baby rocket and pistachio nut pesto. Their five spiced quail baguette topped with cucumber yoghurt is another miniature winner. Their sweets, including the Valrhona chocolate crackles (covered with sparkle dust), are also sure to be a hit with little and big kids alike.
Lentil As Anything
Not many people realize that one of Melbourne's home-grown not-for-profit organisations also comes to you. You won't need to feel guilty about skipping kitchen time with Lentil as Anything catering. Boasting buffet-style, finger food, and multi-course options, you can customise catering orders to fit your party. Vegetarians, vegans and the gluten-intolerant will certainly be pleased to have food to really celebrate with Lentils As Anything. Their new fleet of vans means they can now reach pretty much anywhere in suburban Melbs (and even a few spots in the country). As usual, all the profits go back into feeding the community.
I Am Board
Custom antipasto and cheeseboards made to order? Now we're effing talking. I Am Board are a new start-up on the scene, but they've already wowed us with their cheese contacts and eye for salami detail. Seriously, if you're planning an al fresco summer bash (or just want to celebrate with a cheese party of one), give the crew at IAB a call. They calculate the amount of food based on how big your table is. We'll let that one sink in for a minute...
Miss Peppercorn
Miss Peppercorn offers up a range of delicious, wholesome canapés for the time-poor party planner. Their salads deserve a special mention—served on platters (or packed in individual noodle boxes for those averse to sharing), they include mouth-watering flavour combinations like watermelon, cucumber and mint topped with crumbled Meredith goat feta. While their awesome salad platters are sure to be a hit at any barbie, make sure you don't go past their caramelised onion, garlic kale and chilli bruschetta (for the obligatory superfood hit), or their delectable crispy shredded coconut prawns smothered in sweet chilli jam. You're welcome, guys.
Milk The Cow
Can you even imagine the excitement when you tell your mates that Milk The Cow are supplying the cheese? Cue mass hysteria, weeping and possibly a cheese coma. One of Melbourne's best cheese shops, Milk the Cow, is a wondrously dairy-filled heaven boasting some of the richest hard, and blue-ming good, soft cheeses around. They offers cheese hampers available for delivery or pick up—curated by the wise cheese men, different selections of cheeses are paired with matching wines. They also do massive cheese towers for weddings or any other private event. Who needs cake when you can have cheese, right?
Gas Eatery
A popular re-fuelling spot for South Melbourne Market-goers, Gas serves up Mediterranean and Middle Eastern delights that, lucky for us, can be taken home and enjoyed at the next summer BBQ. They have a huge range of ready-to-serve platters on offer, piled high with everything from Middle Eastern dips to artisan cheeses. Whilst these are sure to win over your mates, the real magic is in the tapas platters, where you can stuff yourself to the very brim with a huge range of Gas's gastronomic delights. We're saving space for the lamb kofta skewer with grated apple, mint and sumac, rolled in dukkah and served with Greek yogurt.
Blakes Feast
While Blakes was awarded 'Wedding Caterer of the Year' in 2013, you don't need to be tying the knot to enjoy award-winning chef Andrew Blake's tasty treats. Covering everything from cocktails and canapés to a sit down dinner and buffet menus, Blakes has all your event needs sorted this festive season. Tasty nosh includes ras al hannout spiced quail and currant mini pies, seared scallop in its half shell served with pork crackling, asian herbs and sweetfish sauce, grilled bugtail with pickled mango sweet chilli jam and fried shallots, and tiny doughnuts filled with plum jam. Delish!
Smokin' Barry's
Smokin' Barrys cook their sticky pork ribs, tender beef brisket, and crispy citrus chicken low and slow, making them some of the most finger-licking meats in Melbourne. So if you're willing to stray a little from a true Aussie roast (HEAR ME OUT PEOPLE), Smokin' Barrys offers a buffet range of American-style barbecued meats with salads, sides, and your personal smokin' cooks for the day. If you're going to defect this Christmas, Smokin' Barrys ain't a shabby option. You'll have the best-smelling party in town.
The Alley
The Alley is a plant-based comfort food bar and catering company that delivers nutritious vegan nosh right to your door. Their corporate breakky features an array of gluten-free, fruit packed smoothies and a succulent chocolate chia pudding. Breakfast not your thing? Check out their lunch or dinner menu where for just $11 a head) you can knock back four different salads, our favourite being their fiery kelp noodle salad. Or treat yourself and your workmates to a family-style feast consisting of a mixture of their hearty signature burgers that taste so good you won't even realise they're meat-free. Who knew vegan food could taste so damn good?
Oriental Teahouse
Yum-cha lovers, this one's for you. Our favourite dumpling parlour, Oriental Teahouse, has introduced catering boxes that can be delivered throughout the CBD. Choose from dozens of option, like crispy-skinned chicken rib and the classic pork buns. Finish it off with their Chinese Wonka chocolate dumplings…drool. They have two sizes of boxes: regular or large, depending on how many grumbling bellies you need to feed. Best part? There's no minimum spend required for pick-up orders. We're there.
Classic Melbourne Caterers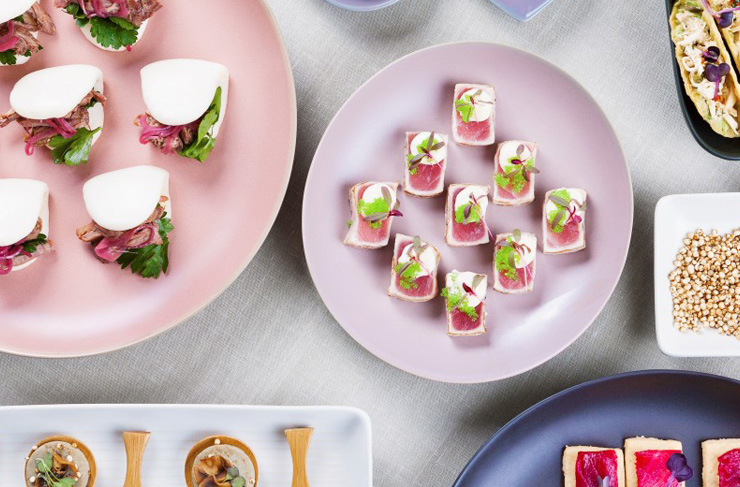 Photography: VAMFF
Peter Rowland
While Peter Rowland covers a range of large-scale events across the country, they also know how to cater for a killer festive party. From establishing the right look for your bash to the dreaded end of night clean up, they're all over it. They can even personalize a scrumptious menu to wow your guests. We're already drooling over what's on offer—think parmesan goujeres with goat's curd, crushed peas and mint, caramelised pork belly with pressed watermelon and Vietnamese mint, and gloriously oozey marshmallow-centred chocolate pudding topped with nougat cream to finish. If you've tried the rest, now try the best.
Atlantic Group
Looking for a caterer with a string of high-profile venues? Atlantic Group is your best bet. Meat Market, Sumac, Maia, Sketch in the Docklands, Projekt 3488, The Substation (we could go on, but we'll be here all day). Because Atlantic Group runs the venue and the catering all in one, you're getting a much smoother finished product: something that feels cohesive and unified (plus it means way less legwork for you). They cater everything from private parties and swanky dinners to huge corporate events and OTT weddings. Their external catering business Tommy Collins, can also come to you! Bloody ripper.
Ed Dixon Food Design
Awarded 'National Events Caterer Of The Year' in 2018, Ed Dixon offers the complete party-planning package of event management, menu design and event styling. In need of a helping hand at your Christmas do? Got a little too merry planning your NYE cocktail bash? Ed will come to the rescue. Their canapé menu is sure to get your taste buds tingling with goodies like son-in-law quail's eggs topped with palm sugar, chilli caramel and crispy shallots, wakame crusted prawn tails with five spice salt and fresh lime and, last but not least, leatherwood honey panna cotta with pomegranate pearls. A nice Asian twist on the classic canapé fare.
The Big Group
Simply put, The Big Group is big on good food. Established by husband-and-wife duo Bruce and Chyka Keebaugh in 1990, The Big Group has become one of Melbourne's largest privately owned catering companies, feeding everyone from visiting European Royal families to your friendly neighbour Joe. So what should you order for your next function? How about the mouth watering blue swimmer crab and chive omelette, ham and egg sliders with chilli jam, or shitake mushroom tacos with avocado and basil? If you're after something a little bigger then the roast lamb shoulder with pinenut skordalia and zucchini remoulade should hit the spot.
Damn Fine Food
Specialising in clean, contemporary cuisine, stylish setups and 5-star service, Damn Fine Food sure does throw a damn good party. Along with a standout menu of scrummy Asian-inspired canapés (think rice paper rolls with sticky pork belly, grilled pineapple, purple basil and crackling…oh boy), Damm Fine also offers a range of tasting tables and larger dishes to keep guests fully sated. It's even got specialty menus designed by three of Melbourne's most loved chefs: Pope Joan's Matt Wilkinson, Coda's Adam D'Sylva and Paul Wilson of Mr Wilson. Holy guacamole.
Luckman Catering
Formed 53 years ago by husband-wife duo, Des and Margaret Luckman, Luckman Catering is a catering company known for fabulous canapés and familial hospitality. All of their Asian-influenced, fusion style food is freshly prep'd onsite by the Luckmans and son, Ben, ensuring the freshest, tastiest, made-with-love morsels you could ever ask for. Need some inspo? Luckman's decadent Peking duck parcels and housemade dumplings put the stock standard party spring roll to shame. Oh, and Des's legendary beer battered fish with house-made tartare is literally off the hook.
Yarra Valley Catering
Offering festive Christmas catering packages to get your party into a jolly mood, there are fewer fuss-free options than Yarra Valley Catering. From providing regional Yarra Valley produce, to waiters, chefs and cutlery, spend less time fretting over BBQ smoke these holidays. Options may include a traditional Christmas buffet with tender turkey and crispy pork, or a classic Christmas BBQ with porterhouse steaks, and fragrant turkey and sage sausages!
Bright Young Things
Bright Young Things is an up-and-comer on the Melbourne party scene with their edible design feats and oh-so-stylish eats. After a high tea fit for royalty? Or perhaps a ten-course Argentinean adventure? Bright Young Things does it all. Personally, we're eyeing off the buttery brioche topped Persian feta, sumac spiced lamb, and pomegranate pearls (from the Middle Eastern Extravaganza menu), the spring pea, corn, and truffled custard galettes with Holy Goat fromage frais and baby red garnet (from the Day at The Polo menu), and the champagne poached peaches served with mascarpone and a pistachio tuille (on the High Tea menu).
Melbourne Food Truck Caterers
Fat Cats Food Van
Top Cat Adrian has been cooking since he was tiny, and in 2013 he decided to bring his delicious stuff to the masses with Fat Cats Food Van, a mobile wedding and function catering crew. The nice thing about Fat Cats is that they've broken down the menus by event type, so you can pick between Taco Feast (err, YES) or Brunch Time, Fancy Cocktail Party or Festival Dinner, among others. Personally, you had us at Taco Feast: get your hands on Beef Barbacoa tacos stuffed with Mexican street slaw and pico de gallo. YUM.
Toasta
We don't know about you guys, but we would be STOKED if we were going to a party catered by a professional crew of toastie makers. Toasta started with a food truck, but after that generated an insane amount of social frenzy, they opened their own bricks and mortar biz in West Melbourne, too. These days they do a bit of everything, which includes private functions and parties. Sure it's not the fanciest fare, but get one of the three-cheese Jane sangers with pickles and hot sauce in someone's hand and ask them if they still miss canapes.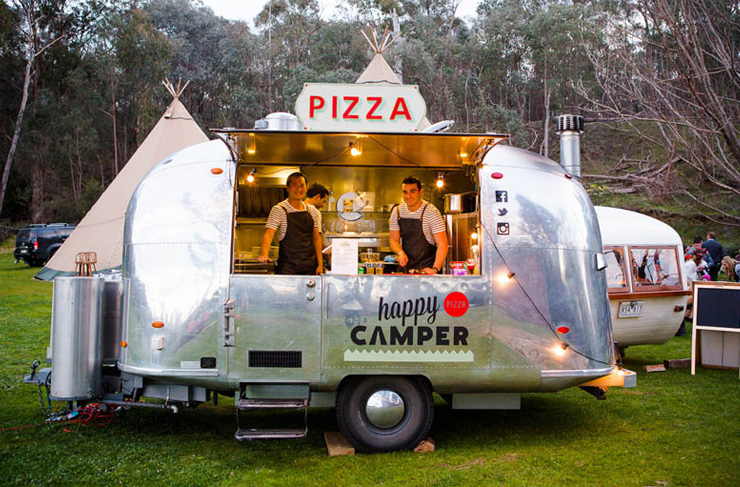 Happy Camper Pizza
Everyone knows that half the battle with a food truck is the cute presentation right? Well Happy Camper have effing NAILED the look. They drive around town in a vintage chrome airstream trailer, slinging home baked artisan pizzas out the back window. If you're going for a cute, bo-ho vintage look, these are definitely your guys. And who doesn't love pizza? Especially when it comes topped with hot salami, olives and mozzarella, or fig prosciutto and béchamel. They've even got a dedicated range of vegan pizzas if you want to cover all your bases (geddit?)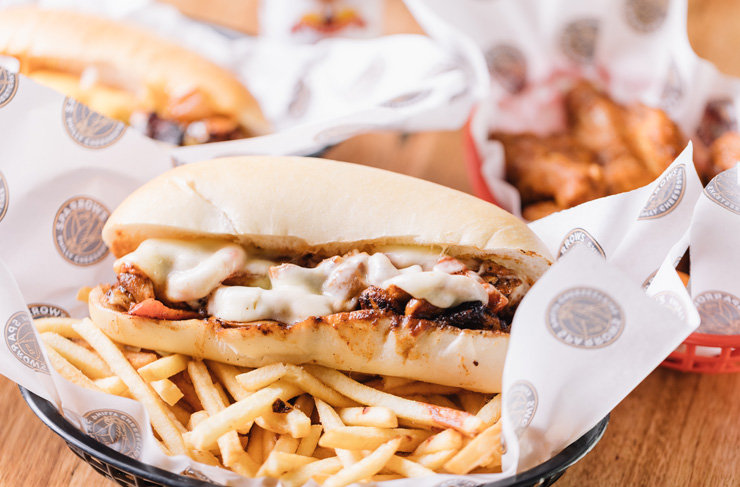 Photography: Griffin Simm
Sparrow's Philly Cheesesteaks
Just keep us away from these things or there goes the summer beach bod. Seriously, if you've never wrapped your lips around a Sparrow's Philly Cheesesteak before, you have no idea how good food can taste. Sonny and the boys started with a food truck, touring various festivals and events, but they've recently started catering weddings and large private functions, serving up authentic, cheesy, out of control cheesesteaks by the dozen. Our pick? It's gotta be the bourbon and bacon cheesesteak—the boys don't fry off all the alcohol, so you get a massive bourbon kick, on top of the smoky bacon and pillowy soft roll. Out of control good.
196 Below
Want a bit of theatre at your next party? Give the guys at 196 Below a call. They're slinging liquid nitrogen ice-cream, served at a frosty 196 degrees below zero. Somehow they've managed to turn their fluro-pink food truck into a mobile chemistry lab, complete with giant liquid nitrogen vats. And it's not just a gimmick either—the ice creams taste AMAZING, and the freezing process creates a unique texture on the tongue. Keep an eye out too for their UV doughnuts and soft serve (they glow under a black light). Catering for your next backyard disco rave? Yeah, we thought so.
There's WAY too many good Melbourne food trucks to list here. Which is why we listed them over here instead.

Image credit: Egg Unlimited