We've all seen those Insta vids of some legend scraping some molten cheese onto other delicious things floating around the internet, but I'm sure you're wondering where you can get this in Melbourne. The same can be said for sibling dish, fondue, that hefty serve of melted cheese where you dip bread and other complementing edible vessels in and out of the bowl prior to consuming/inhaling.
If you're in the mood for a bit of cheese (who isn't), here are the best places you can get raclette and fondue in Melbourne.
Smithward
Collingwood
Fans of raclette will no doubt be aware that Collingwood vino haunt Smithward do a damn fine raclette. It's served up over Smithward's own organic sourdough, local potatoes, cornichon pickles and you've also got the option to go ham on charcuterie supplied by artisan producer Salt Kitchen. Like their 100% Victorian wine list (and everything else served), their raclette comes from within the state via Mortlake's L'Artisan Cheese.
Many will also be wondering where the iconic rac'n'mac went, a heavenly duo of raclette scraped atop mac n cheese, well, the good news is it's returning to next season's menu.
Smithward will reopen after the summer break on Saturday 19 January.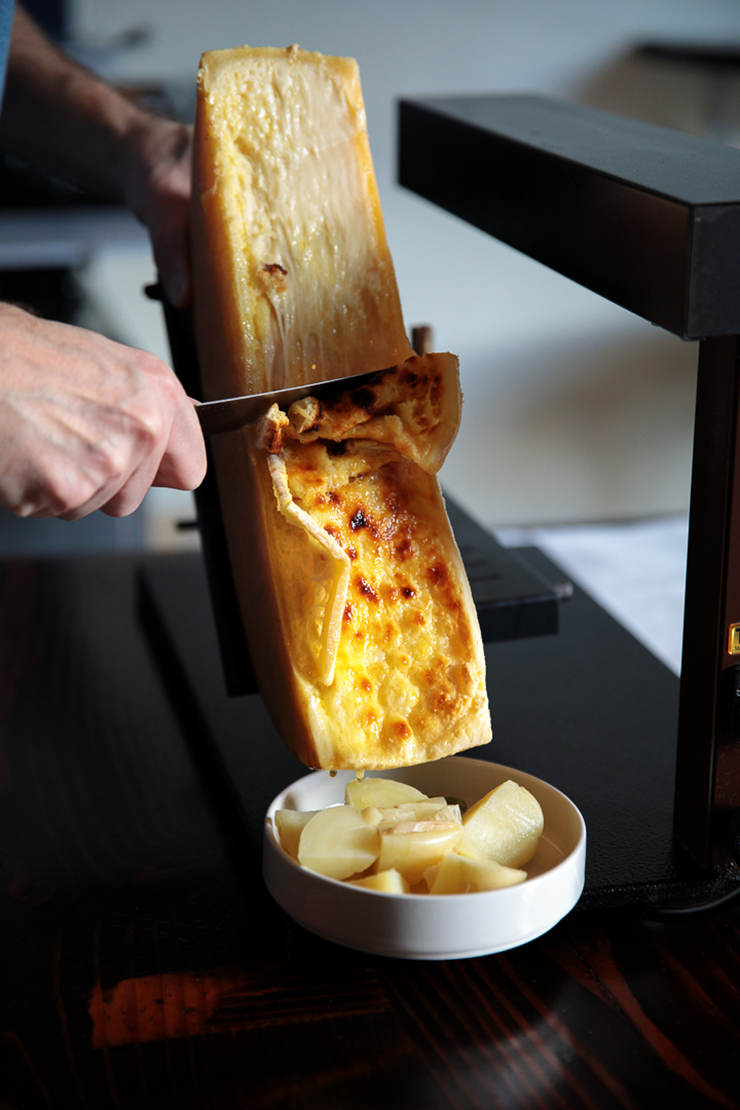 Maker And Monger
Prahran
A trip to Prahran Market wouldn't be complete without stopping by Maker & Monger for a grilled cheese sandwich. You can't go wrong with any of the bread + cheese combos here, but you'd be remiss not to get stuck into the fondue special which is jam-packed with melted fondue and premium ham off the bone from locals Gary's Meats.
For anyone who does raclette at home, Maker & Monger has the cheese you need.
14 Days Of Cheese
Port Melbourne
14 Days of Cheese is part cheesemonger, part restaurant serving several hefty cheese-focussed dishes, including a fondue + steak combo of monumental proportions. On the table in front of you is a generous pot of fondue which you can douse generously over an 800g rib eye and triple-cooked kipfler potatoes. Plenty of bread and pickles come standard for your dipping pleasure. This one's designed to share, but no one would stop you if you'd prefer to tackle it on your own. Book in at 14 Days of Cheese here.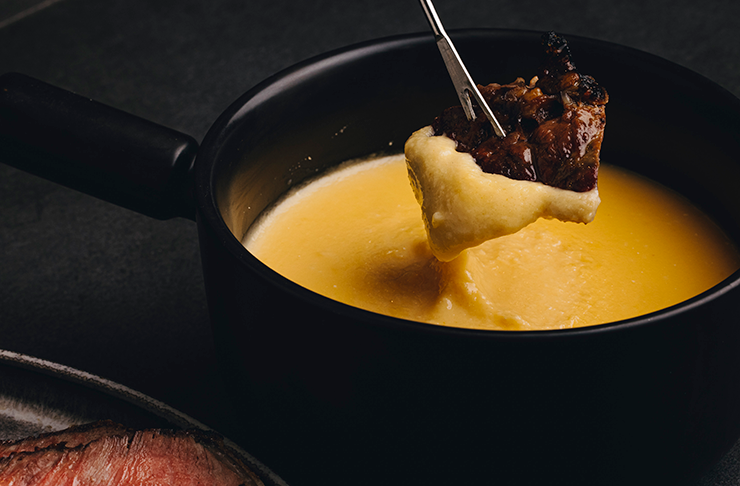 Milk The Cow
Carlton, St Kilda
A stalwart in Melbourne's fromagerie scene, Milk The Cow's raclette has been a menu mainstay for some time now, and for good reason. Tuck into a two-cheese raclette served up with prosciutto, seasoned potatoes and cornichons—the team here know a thing or two about wines, too, so if you're unsure of what you should be pairing it with, let them choose a white that's preferably light and bright to complement what's in front of you. Should you be inclined toward fondue, head further down the menu to their take on the classic dish which includes a Swiss Gruyere, Appenzeller, Comté & Emmenthal.
Plenty more happening around Melbourne's culinary grounds. Check the latest food news here.
Image credit: Ellena McGuinness, Smithward, 14 Days of Cheese