When it comes to yum cha—there are a few notable highlights and must-orders from those delightful roaming trolleys. Like dim sims, har gao, and steamed pork buns too. In the dessert category, however, you simply can not go past a plate full of mango pancakes.
If you're also a fan of those gleaming gold mini pancakes filled with mango and whipped cream—you'll want to make sure you hit up Messina's Mango Pancake Party next weekend.
The creative geniuses at Messina dreamt up their limited-edition take on the mango pancake as a dessert feature on previous menus for Messina Eats chef collabs, but this time, it's a whole party dedicated entirely to these luminous (and delicious) bite-sized pancakes.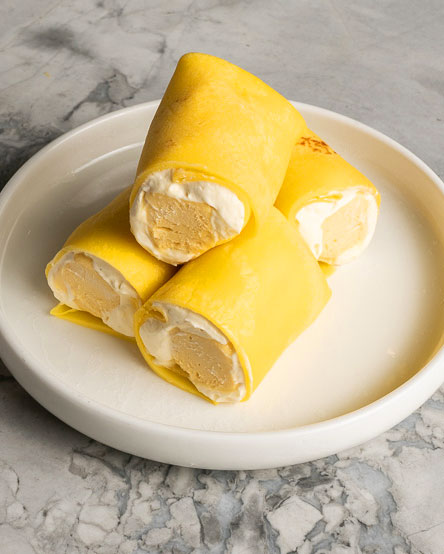 Hosted at Messina Fitzroy across two nights and days, the free event will involve a sparkling new mango pancake machine, which will be churning out Messina's now-legendary mango crepes pumped with mango sorbet and whipped cream.
Sound good? We thought so. More info is here.
The Details
What: Messina Mango Pancake Party
When: Friday 9 July and Saturday 10 July, from 12pm until sold out
Where: Messina, 237 Smith Street, Fitzroy
Now, check out Melbourne's best bottomless brunches here.
Image credit: Messina