Some mornings are meant for sleep-ins and some are meant for endless mimosas. And when you're in the mood for that kind of wake-up, there's only one thing to do: bottomless brunch.
So, whether you're partial to hair of the dog or just want to let the drinks flow, there's a bottomless brunch in Melbourne with your name all over it—rooftop, underground and everywhere in between. Check out our list of the best bottomless brunches in Melbourne in 2023:
Assembly Ground
ESSENDON
Assembly Ground has launched its 1.5-hour bottomless brunch sessions just in time for the summer season. The "Classic Bottomless Brunch" ($59pp) offering includes staple dishes like their fritters, chunky avo, french toast and chicken tacos, plus free-flowing mimosas, Aperol Spritz, bubbly, wine or beer.
Or, you can upgrade your booking to the "Bougie Bottomless Brunch" ($79pp) with limitless cocktails and espresso martinis and the choice of any meal on the menu, though it's hard to look past Assembly Ground's jam doughnut hotcakes, fluffy cinnamon doughnut hotcakes filled with warm homemade strawberry jam, topped with double cream mascarpone and fresh raspberries. To secure a table on Friday, Saturday or Sunday for a boozy brunch, you'll want to book over here.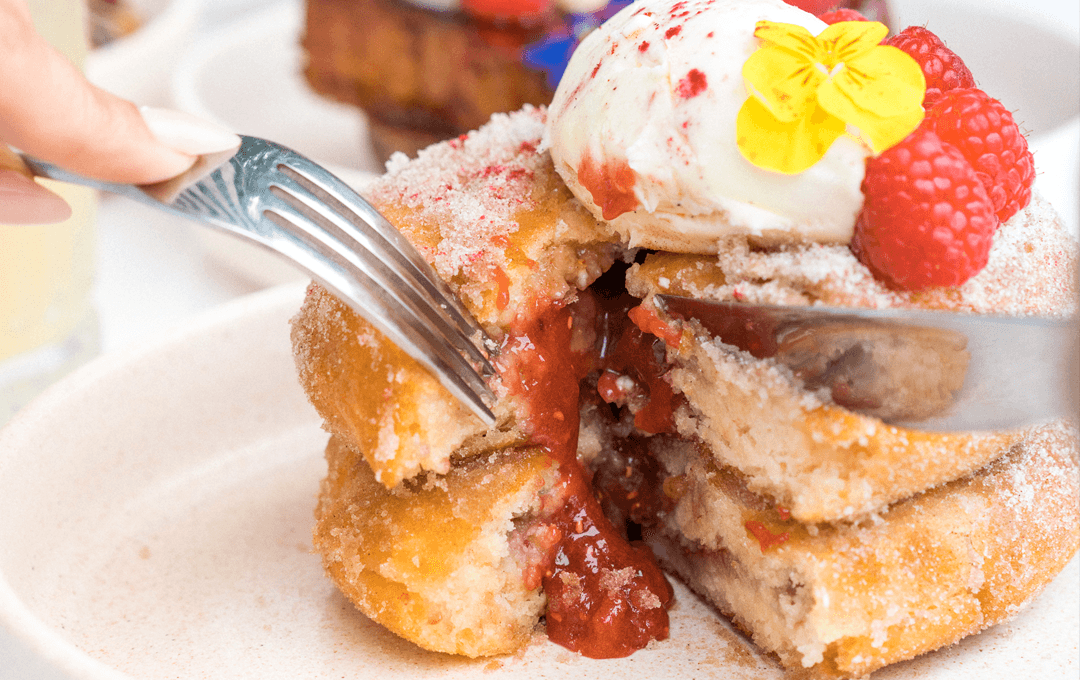 Neptune
WINDSOR
After recently overhauling its menu, Neptune's slick wine bar and bistro on High Street is bringing an elevated bottomless offering. The aptly dubbed 'Forever Shells' ($60pp) Saturday lunch is a three-course banquet paired with unlimited shellfish from oysters, vongole (clams) and mussels which will each rotate weekly. For an extra $45pp you can also choose to add on limitless booze with Neptune's cocktails, Peroni beers, and wine pouring from the bar. Book in here.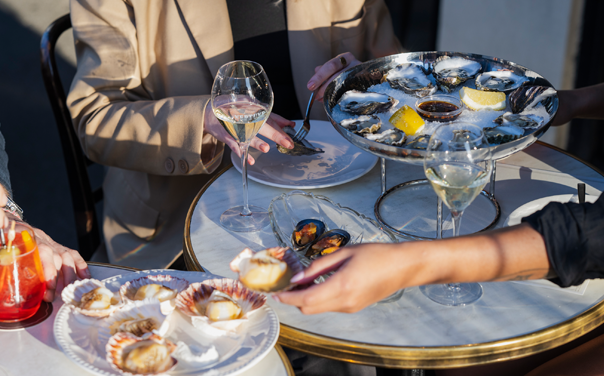 Yakimono
CBD
The upstairs Japanese diner is getting around the booozy bottomless Melbourne vibe every Saturday and Sunday for lunch. It's a three-course journey into the umami-rich flavours of the restaurant with a changing menu weekly but punters can expect marvels like the roasted chicken and miso gravy and the famous edamame wasabi dip. The unlimited booze runs for 90 minutes and features a range of house cocktails like the Yaki espresso martini as well as wine and beers. Book in here.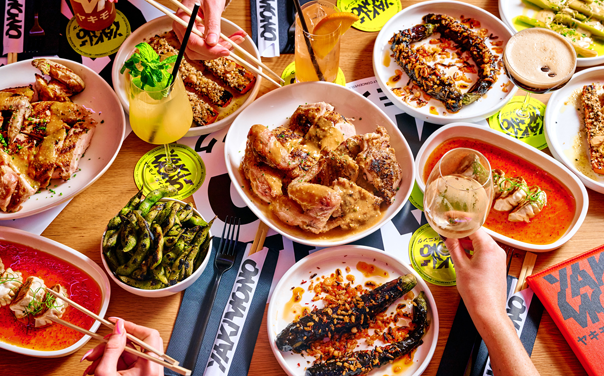 Victoria By Farmers Daughters
CBD
Taking up things a notch or two, Victoria by Farmer's Daughters is bringing in Four Pillars for a Sunday session to remember. With two sessions each Sunday, the duo are serving up a bottomless brunch and lunch with endless gin cocktails, Victorian-based wines and beer and a sharing menu like freshly-baked sourdough and charcuterie, barbecued lamb cutlets with mountain pepper and a seasonal fruit pavlova. Book in here.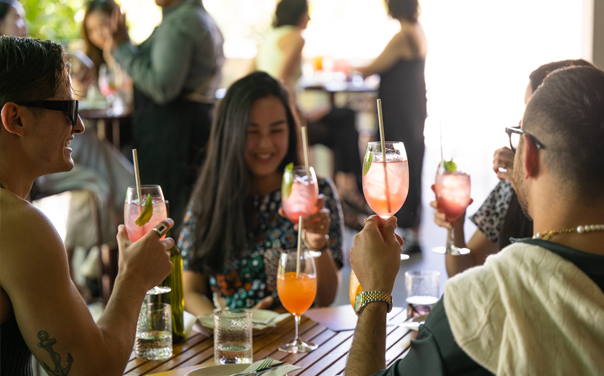 Cha Ching
CBD
This one is for those who don't just celebrate their birthday over one measly day; Cha Ching has you covered for the entire month. When you bring three or more mates, you get a free 1.5 hour sesh filled with unlimited drinks and some nibbles to celebrate all things you. Eats include Korean fried chicken, cheeseburger spring rolls and king salmon Sashimi, and drinks feature the Aroma Therapy cocktail; a concoction of gin, lavender, egg white, cranberry & grapefruit juice. Of course, if it's not your bday you can still book and it ranges from $55 for just drinks to $89 with food, but we've never been ones to turn down a free boozy brunch sesh. Book in here.
Mr Miyagi
WINDSOR
The good times continue to roll for Windsor's Mr Miyagi with their latest Loose Lunch Feed Me menu. Running across lunch on Friday and Saturday the $69pp menu features a slew of their all-star dishes from salmon nori tacos to saucy sashimi alongside a range of unlimited speciality cocktails, wines and beers. Book in over here.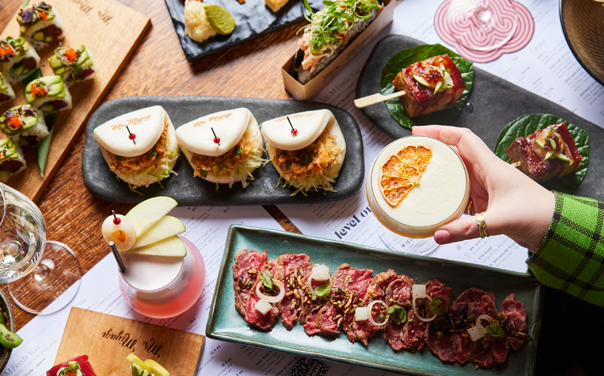 Horn Please
FITZROY NORTH
Indian fried chicken, Papoi Chaat, Tso cauliflower, oh my. If Indian food isn't the cuisine you typically imagine paired with bottomless brunch, we respectfully redirect you to Horn Please. A 90-minute seating will get you full on all the best of the best, including their iconic Panipuri, which serves the accompanying sauce in a shot glass. They've also extended their bottomless option to Monday and Tuesday nights, where for $69pp, you get a chef's special Thali and unlimited cocktails, so book in here.
Bomba
CBD
Spanish restaurant and rooftop bar Bomba is turning ten and you're invited to celebrate. To mark the occasion, Bomba Bar is opening up its rooftop for bottomless lunches with a skyline view, featuring a spring-inspired menu—so get those linen shirts ironed and sunnies ready. We're talking two hours of non-stop cocktail sipping, while tapas plates like manchego cheese and membrillo croquettes, charcoal-grilled pork belly and braised beef with oloroso are served up for your indulgence. Book in here.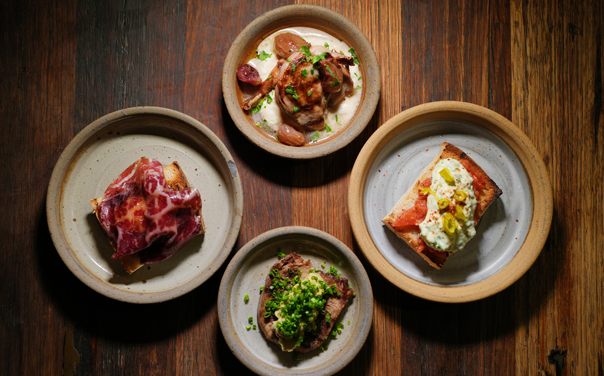 Zero Mode
BOX HILL
Zero Mode don't just do bottomless brunch; they do bottomless dinner too. From 5pm every day, Zero Mode offer a 90 sesh for $89pp, with mains, sides, and dessert all on offer, and of course unlimited selected cocktails, beer, and wine. If you wanna keep your bottomlessness to brunch, then $59pp will see you served a main and as much booze as you can manage.
Evie's Disco Diner
FITZROY
Leave your weekends free for bottomless cocktails at Evie's Disco Diner. Book in at any time from 11am and you get a meal plus two hours of unlimited cocktails, including espresso martinis, Aperol spritzes, frozen margaritas, prosecco and mimosas. Best of all, they have drag bingo scheduled from 12pm until 3pm so you have a side of sparkle with your sangria.
Rice Paper Scissors
FITZROY
Longstanding Fitzroy favourite Rice Paper Scissors is unleashing a new bottomless brunch in Fitzroy. Coming in at a modest $79pp, bb enthusiasts will score a four-course feed and and two hours of free-flowing house cocktails, wine and beer. On the menu, designed by Executive Chef Noah Crowcroft, you'll find the likes of Kingfish Crackers, Suckling Pig Steamed Buns, Crispy Coconut Cups and Coconut Snapper Ceviche. Vegans can also relish in the deal, with a menu to match that includes Soya Katsu Bao Buns, Mushroom Dumplings and Thai Chive Cakes. It's happening every Saturday with two hour sittings kicking off at 12pm and 2:30pm. Book in here.
Pilgrim Bar
CBD
Arguably one of Melbourne's most hyped bottomless brunches from last summer season was Pilgrim Bar's Gin High Tea, and in great news, it's returned 2023. Happening Friday through Sunday, $75 big ones will get you three tea-infused gin cocktails, bottomless prosecco, and a hefty selection of sweet and savoury delights. Keep a keen eye out for prawn toast and the mini croissants with bush spiced chicken—they'll go quickly. Book in for your two-hour high tea session here.
Bottomless Brunch Cruise
CBD
Take your boozy bottomless brunch to an entirely new level (or waters).
Jump on board the vessel for a 2-hour session of seamlessly cruising up and down the Yarra River and be treated to stunning vistas of the surrounding CBD while you're met with a limitless supply of Prosecco, Mimosas, beers and more. Alongside the drinks, there's a range of different dishes from house-baked brownies, to sandwiches and more. Secure your spot at $110 pp, book in here.
Splatters
GEELONG
Geelong just levelled up, scoring Australia's very first sushi train-style cheese train. It's called Splatters, and it functions exactly like a sushi train except under those clear kloshes is cheese, glorious cheese. And up until 31 March, the Fromage-focussed innovators are serving up bottomless cheese at a very modest $49pp. Sittings run or 90 minutes and bookings are essential—lock in a seat at the table here.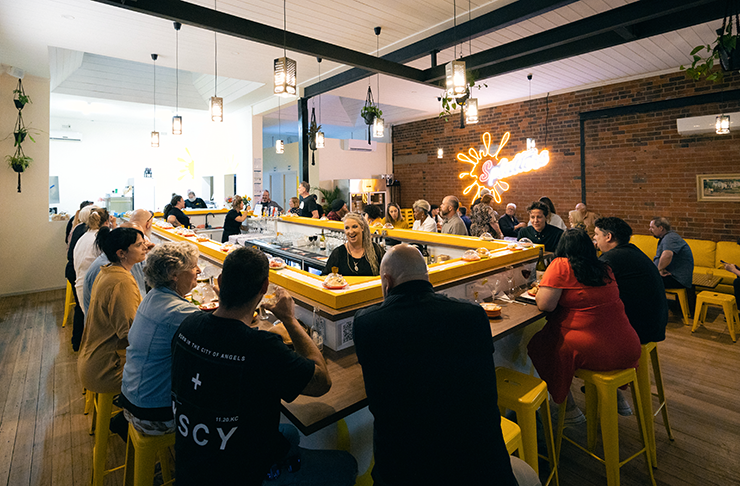 Hecho En Mexico
VARIOUS LOCATIONS
Hecho En Mexico is putting those Taco Tuesdays out there to shame with a weekend bottomless brunch offering to end all bottomless brunches. Part of the package is all-you-can-eat tacos — take your pick from the likes of fish, prawn, pork, beef, chorizo, veggie, and jackfruit iterations.
To match up with all those tacos, bottomless booze comes standard. House wine and beer are of course up for grabs, but it's the free-flowing Pink Palomas and Patrón Margaritas that's the true drawcard here. It'll set you back $70pp. Book online for Saturday and Sunday sittings here.
Brogan's Way
RICHMOND
Local distillers Brogan's Way make some damn fine gin, and you can experience it in all its glory, in g&t cocktails, and as gin spritzes. Highlights include—but certainly aren't limited to—a summer-ready pink grapefruit gin spritz, as well as a strawberry and cream g&t for anyone who's not sweet enough.
It's all wrapped up neatly in two-hour bottomless sessions and there's also a bespoke menu of tacos to accompany those free-flowing cocktails. It comes in at $58pp and as these things go, you'll need to book ahead here.
Mamma's Boy Trattoria
BRUNSWICK
Joining the bottomless arms race is the Brunswick Italian local, Mamma's Boy Trattoria. On Sundays they'll be dishing up a bounty of unlimited gnocchi and cocktails for staggeringly cost-effective $75, that's an incredible price to potato formula.
Work your way through three distinct gnocchi dishes including slow-cooked ragu, classic Napoli with Fior Di Latte, and a truffle mushroom and spinach number. The team at MBT are catering to the whole squad, too, with the Napoli and mushroom dishes available as gluten-free and vegan. To accompany this carb-heavy session will be limitless espresso martinis, Mojitos, and a rotating array of Spritz. Get a seat at the table and head over here to book.
The Firehouse
RINGWOOD
The Firehouse is a converted smokery and bar in the heart of Ringwood in Melbourne's east. The former fire station, erected in 1929 has been repurposed somewhat ironically to a smoking house and eatery with some of the best American-style BBQ in the city, they've recently put some finishing touches on the quaint Victorian-period space with a new beer garden, and an open-air deck but the venue still retains some of its original fittings including the firepole.
Every Saturday and Sunday from 11am you can get involved in the Firehouse's bottomless brunch, a $65 excursion to the south with bottomless cocktails and your choice of a brunch number. Think the likes of smoked brisket buns, cheeseburgers, baked cowboy beans and a smoked chicken bagel.
Provincial Rooftop
FITZROY
Fitzroy's Provincial Rooftop for a hefty two-hour bottomless brunch on Saturdays, 12pm until 3pm. $65 will give you access to the likes of free-flowing prosecco or cocktail jugs along with a brunch number such as a tuna Poke bowl for those who like it light, or fried chicken and waffles if you're feeling cheeky. Those who feel like mixing it up can tap into the beer, prosecco and select cocktails, too. Book here.
Firebird
WINDSOR
The flame-licked Firebird has become a favourite among the south since its 2020 opening, and with a bottomless offering this hot, they'll likely convert a northsider or two.
The boozy 'Endless Lunch' is a 7-dish spread of their heavy hitters, from limitless grilled oysters and special fried rice to glasses of French sparkling, beers, and spritz. It's a two-hour sitting that takes place every weekend, the entire set menu is $69 but add $35 and that's when the drinks flow continuously. Book in here.

Mejico
CBD
Summer is coming and the team at Mejico is bringing the heat. Book in for Sangria Saturdays at 12:00pm through to 4pm and you'll score yourself two hours of free-flowing red or white Sangria alongside with a hefty set menu coming in at $79. Book in here. Did we mention this place also has tableside guac and over 260 varieties of Mezcal? Just in case you're not done after two hours of sangria.
Newmarket Hotel
ST KILDA
St Kilda's famed Newmarket Hotel is bringing back their Old Skool Bottomless brunch. The two sessions run across Saturdays and feature endless espresso martinis, seltzer, and mimosas, as well as beers and wine. For just $69 you can get stuck into one of the best boozy brunches in Melbourne's southeast; with Kaiser rolls, steak sangas, and fried chicken burgers on the menu. Book in here.
Bodega Underground
CBD
The red neon-lit Mexican diner dishes up one hell of a Bottomless brunch each weekend. On the menu, there's a selection of authentic Mexican favourites with five dishes on offer (including Birria Quesatacos and Elote, but they've also got a full vegan menu too) as well as cocktails, mimosas, and mezcal—all for a cool $75. This fiesta runs across Friday, Saturday and Sunday and you can choose to sit inside or in the laneway. Book in here.
Make a day of it and hit up some of Melbourne's best spots for breakfast, lunch or dinner:
Melbourne's best restaurants
Melbourne's best cafes
Melbourne's best bars
Melbourne's best Japanese
Image credit: Urban List