A true treasure of Victoria's coastline, the Mornington Peninsula (Boon Wurrung) has long stood as an area with some of the most pristine beaches and bushlands in Victoria. The sheer popularity of the affectionately dubbed 'Ninch' has grown exponentially over the last decade; with the area basically becoming an extension of metropolitan Melbourne.
As the summer months hit the Mornington Peninsula swells with eager Melburnians looking to get their taste of the good life, be it beach, wine, or dine. To make sure you make the most of your summer we've listed a couple o' spots more than worthy of your time, from coffee stops, places to swim, where to book for dinner or wine, and where to crash out for a night or two
Here's everywhere to eat, drink, see, do and stay on the Mornington Peninsula this summer:
Breakfast And Lunch
Commonfolk Coffee
MORNINGTON & FRANKSTON
The premium caffeine operators of the entire peninsula, you'll find Commonfolk coffee in almost every grinder on the Ninch. Alongside their wholesaling, they've also got two spanking cafe spaces in Mornington and Frankston, park up for a couple of mugs of freshly brewed batch brew, top-notch single-origin espresso, and just about every milk option you can think of. The Mornington venue is a converted warehouse with plenty of vibe; the food is always on point from 18-hour slow-cooked pork Cubano to strawberry french toast. They also roast next door so there's plenty of coffee stock to stash at home.
Hobsons
ROSEBUD
Along a quiet stretch of Nepean Road on the Mornington Peninsula, you'll discover the rather distinctive art deco facade of the freshly minted,
Hobson
. The roadside cafe is a stone's throw from the foreshore and is a beacon for quality coffee and good times. Not new to the industry, Hobsons is the latest project from
Inglewood Coffee
and the
Only Hospitality group
; the team behind venues such as Hotel Collingwood, Bentwood, Clubhouse and who have also taken over the reins of Sorrento destination,
Buckley
to critical acclaim. Outside wooden picnic tables line perfect for an early summer morning coffee whilst the inside is a large light-filled space with plenty of nooks and crannies to sink into after a hearty beach session, with a menu of brunch favourites and Inglewood espresso it's a hard spot to beat.
Zarb & Ru
ROSEBUD
A true hidden gem tucked away in the main strip of Rosebud's shops, Zarb & Ru is a hole-in-the-wall cafe with plenty of soul. Here you'll find good coffee, baked goods and a staple selection of house-made toasties, grilled to perfection in the jaffle irons behind the bar; the menu ranges from your standard ham, swiss cheese and pickle to your prosciutto with poached pear and gorgonzola, there's plenty to like here. With a big focus on keeping it local, there's also an array of artisan ceramics, artwork, and designs on offer.
Wombat Cafe
DROMANA
Wombat is a plant-powered fuelling station, home to one of the best smoothies in the state; the 'High Roller', a creamy blend of banana, peanut butter, vanilla and almond milk with a peanut crumble and is easily consumed momentarily. The cafe sprawls from the sun-soaked outdoor area with cushions and benches to the inside with plenty of vegan pantry staples to stock up on. There are also substantial menu options like the berry and banana pancakes with coconut ice cream and compote and a tofu scramble burrito with chipotle mayo. The coffee pouring here is roasted around the corner by Little Rebel, who have their caffeine HQ in the Dromana industrial estate.
Johnny Ripe
MAIN RIDGE
If you thought leaving Melbourne meant saying goodbye to top-tier pastry you are completely mistaken. A cult-icon, Johnny Ripe is a haven for baked goods and they've carved out a very dedicated community who remain loyal to their sugary hand-held apple pies, cronuts, hefty croissants, and sausage rolls. Set in the idyllic Main Ridge the entire rustic farm-style cafe has space to dine inside or throw down a picnic rug on the sprawling lawn.
Red Gum BBQ
RED HILL
It may be difficult to spot if you don't what you're looking for, but if you get close enough the smokey aromas of Red Gum are sure to lead you right to the door. This clandestine BBQ operation is set back behind a bush-heavy petrol station, if you follow the driveway up you'll be met with the converted shed which features its very own smoke grill. On the menu, you've got a hearty selection of BBQ options from pulled pork to beef brisket—all sourced locally from Victorian farmers. Nothing quite hits the spot that with slow-cooked barbecue than sides and Red Gum don't hold back with a classic lineup of mac n cheese, broccoli salad, cornbread, coleslaw and more. In traditional bbq fashion, the drink of choice here is beer, and they've got a rotating selection of craft ales on tap, including local favourites, Two Bays.
St Andrews Brewery
FINGAL
The peninsula is home to some seriously good beer, whilst you're spoilt for choice for breweries all over the coast, St Andrews's impressive stomping grounds in Fingal is a special experience. Set on a 92-hectare stretch of land, the sun-drenched outdoor area is set back from the main streets of the peninsula; the former horse racing horse track still retains some of its yesteryear charm with renovated stables that open up to the beer garden. Now most importantly, what's pouring here? You'll find a range of the famed St Andrews beers including their Australian Larger, Race Day Pilsner, and IPA. Can't decide? Get a tasting paddle whipped up and sample your way through the entire catalogue. Food-wise you've got your staple beer accompanying dishes from buffalo wings to pizza, burgers and more; more than enough to counteract a couple pints.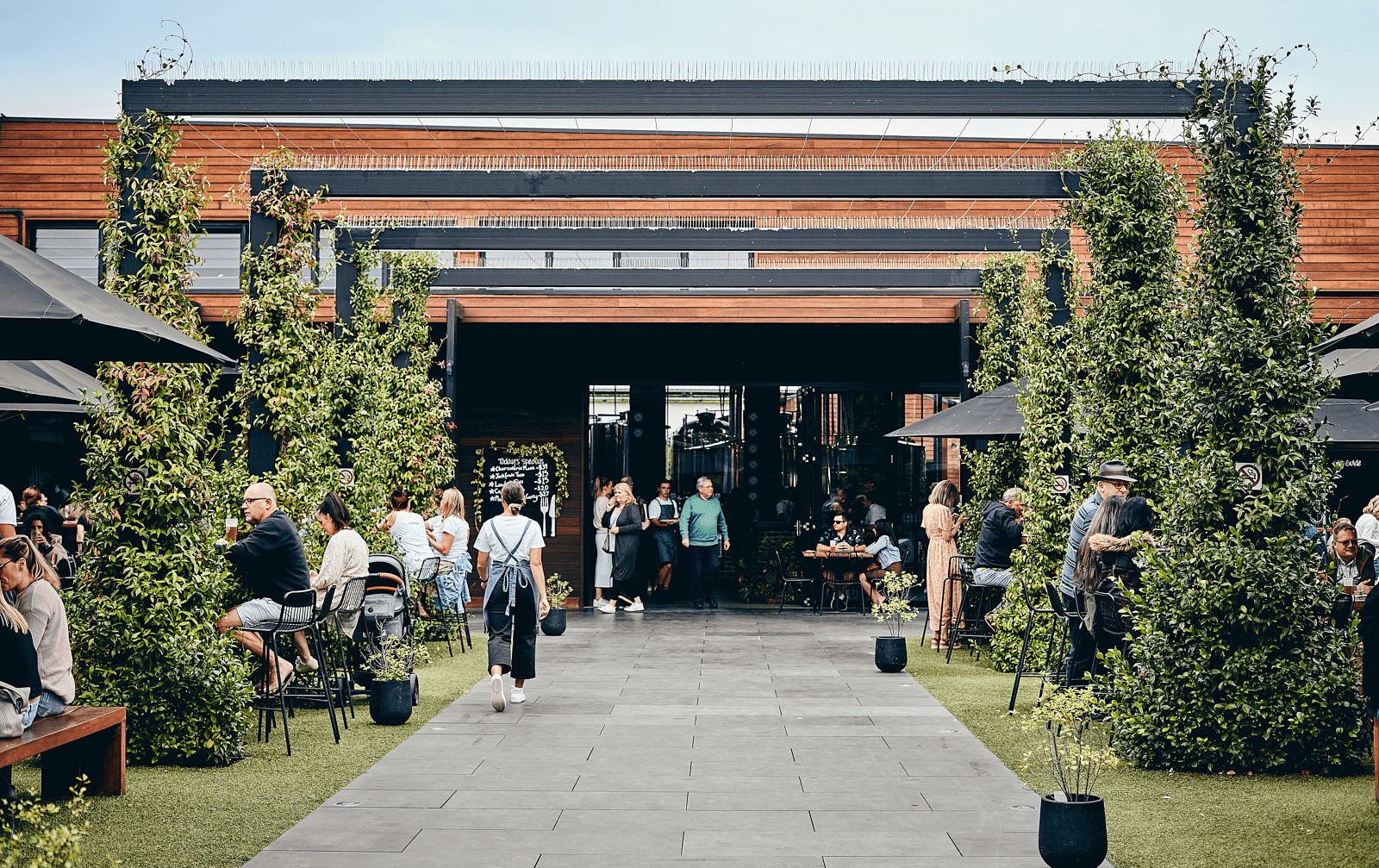 Where To Wine And Dine
Donna Maria
FLINDERS
A flagship on the main drag of Flinders, Donna Maria is the gastronomic jewel that greets you as you first roll into town. Headed up by the same culinary team from acclaimed Bistro Elba in Sorrento, Donna has a serious vibe to it, from the laid-back dining style to the menu loaded with locally sourced ingredients. Centred around Italian cuisine and good wine, Donna's ​​Ristorante e Gastronomia ethos shines through with an intimate space with wine bottles and picture frames covering the walls. Food-wise they've built a reputation on their top-tier pasta dishes; from the understated spaghetti vongole to the hang-cut Taglione with calamari, pistachio pesto and fennel. Their drinks menu never goes amiss on a summer evening with a wide range of Negronis, Spritz, as well as wines from the peninsula region as well as imported Italian drops.
Tedesca Osteria
RED HILL
One with a couple of awards under its hat, Tedesca is the quaint yet chic Osteria in Red Hill. Focused on showcasing the rich produce grown on the Mornington Peninsula, Tedesca is the brainchild of chef-owner Brigitte Hafner, who's developed a set menu dining experience that's based around seasonal ingredients and cooked with an Italian-centric approach with their now signature wood-fired oven and grill. Your typical long-lunch at Tedesca will feature hand-rolled pasta, a seafood dish, a main meat course, and finally a dessert; being a seasonal menu, the dishes vary. The entire space is an aesthetic marvel, the converted 1940's house feels like an incredibly well-curated home with rustic farm-style charm, including the freestanding fireplace and secluded dining areas that look out onto the wide property.
Alatonero
MCCRAE
Situated just across from the stunning McCrae beach, this little suburb's terrazzo-style Greek restaurant is not one to miss. Alatonero, which means 'saltwater' in Greek, is an open-spaced Santorini-inspired diner, its colourful and vibrant atmosphere is bolstered by its feature tiles, olive trees, tea lights, and white-washed walls and deck. When lit up it's a beacon for good times and authentic greek cuisine after a hard day at the beach. Here the food is meant for sharing, the menu features a range of 'mezze' smaller plates such as the saganaki with fig and lemon, fried calamari with harissa aioli and more. On the mains front, you've got your more staple Greek flavours with the Moussaka, baby barramundi with citrus and ouzo beurre blanc, and of course, your Souvlaki, which comes in lamb, chicken as well as a vegetarian option with zucchini fritters.
Martha's Table
SAFETY BEACH
Down in the marina end of Safety Beach in Martha Cove, the newly minted Martha's Table is one of the more recent openings for the peninsula. The Mediterranean-inspired diner is a sleek operation, covering all bases with a restaurant, aperitivo bar, wine cellar and its very own providore, eloquently dubbed 'The Grocer', stocking a range of delicacies and local produce. Kitchen-wise it doesn't get much better, helmed by Adam Beckett previously of Paringa Estate, Quay, and Vue De Monde, you can expect a menu of modern takes on European flavours, all from the wood-fired grill. The refined menu features simple yet fully-rounded dishes like ricotta gnocchi, with fresh chard, or flounder cooked whole across the wood fire and served with Grenoble sauce. The drinks menu from Arthurs Bar is equally impressive with several drops from local wineries and imported bottles from select regions.
Loosies Diner
MORNINGTON
When you walk through a door and you're greeted with a wall heavy with picture frames of Keith Richards, Dolly Parton, and Elvis's mug shot you know you're in for a good time. Loosies is exactly that, a good time; the laid-back American 70s-style diner is full with perspex glass booth seating, retro light fittings, and Pabst Blue-Ribbon beer on tap to boot. The allure of Loosies retro appeal is hard to convey, it's a necessary in-person experience; sitting down to a slew of burgers, loaded fries, and sides, and topping things off in-true diner fashion with a whipped cream adorned apple pie or a couple of picklebacks.
Jerry Mai Residency At Tucks
RED HILL
This summer Tucks on the Morning Peninsula is creating the ultimate pairing—Jerry Mai's Vietnamese cuisine with world-class wines. Chef Jerry Mai is headed over to Tucks Winery for a three-month residency and will be BBQ'ing up a feast for both locals and visitors. Think grilled Dromana Bay mussels, octopus skewers or finger-licking tamarind lamb ribs matched with light and fruity wines.
If wine is not your BBQ drop of choice, Tucks is also serving up local beers from Jetty Road and Montalto. Head down to the Red Hill winery this summer with your picnic rug in hand and prepare to knock back a few wines while overlooking the views of the vines from the grassy hill.
Kerri Greens Winery
RED HILL SOUTH
Sure we could throw out the peninsula big three; Jackalope, Montalto, and Point Leo but you're no doubt already across them, one you've probably not encountered is the gem that is Kerri Greens Winery. Definitely a slower-pace, Kerri Greens is a winery, cellar door and all-time space for Sampling some of the best wine on the peninsula. Set on a magnificent sprawling property in Red Hill South, Kerri Greens offers a range of quality drops of chardonnay and pinot noir, highlighting that rich Mornington Peninsula soil and climate that has become the bedrock of some of Victoria's top wines. The added plus of Kerri Greens is its doggo-friendly and BYO picnic policy, pack a spread at home and set up on the lawns of the winery that overlook the expansive vineyards.
Where To Swim
Mount Martha
A pinnacle of the peninsula's beach offering, Mount Martha has a stunning beach right in the heart of town; a long stretch of sand extends from the cliff point right down towards Mornington. Being a bay beach you needn't worry about rips or waves, just gentle blue water that shimmers in the sun; there's also plenty of beautiful nooks around the cliff edge of Mount Martha that are perfect for snorkelling and fishing.
Sorrento Back Beach
With a little more thrust than the bay, this ocean-side beach can look completely different depending on the swells and tides. Still absolutely stunning, Sorrento's back beach is a playground for activities from clean beach break waves out the back; to rockpools on low tide and a long stretch of sand that is sheltered from the winds from the surrounding cliffs.
Bushranger's Bay
A hike is always better when there's something waiting on the other side, and this coastal treasure is one hell of a reward after the 35-40 minute gentle trek through the bush. Located down in Cape Schank, Bushrangers is a right of passage for any Victorian, once reaching its quaint mini bay and swimmable rock pools you'll know why; an absolutely natural marvel of the state. Also, keep an eye out for the local Kangaroo community on your walk, they love to hop in and out of the shrub.
What To Do
Arthurs Seat Eagle
ARTHURS SEAT
No doubt you've probably heard about it or seen the Arthurs Seat Eagle while climbing the winding road up to Arthurs seat in the car, but actually taking flight on the ski-mountain style lift is an absolute must-do experience. Giving you an absolutely spanking 360º view as you near the top watch the native bushland lead down the cliffs and to the water. ​​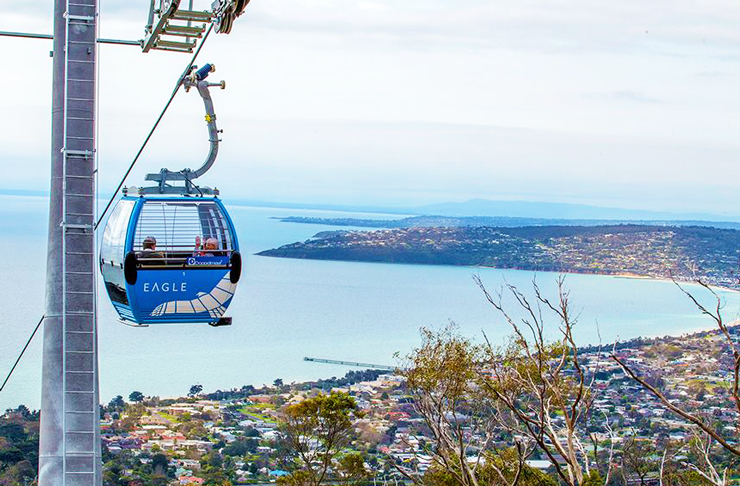 Learn To Surf With Salty Surf School
SHOREHAM
It's not a true summer without at least pushing outside of your comfort zone into the whitewash. If inexperience and hesitance to fall repeatably has kept you from pursuing your surfing dreams, then boy do we have the thing for you. Salty Surf School is a bonafide learn-to-surf experience, typically set in the more beginner-friendly waters of Western Port Bay, Fraser and his team of surf-trainers will show you the ropes from paddling and pop-ups to navigating the seas.
Where To Stay
Cape Schanck House
CAPE SCHANCK
If you're all about design then Cape Schanck House is the one for you. The award-winning stay took out best house at the Royal Australian Institute of Architects awards. Located in the quiet region of Cape Schanck on the Mornington Peninsula, this stay is only minutes away from pristine ocean beaches, wineries, and the famed lighthouse walk. Inside the white and black colour scheme let the surrounding tree life shine, the living room is centred around a waterdrop sculpture that extends from the room to the floor, and a curved leather lounge looks onto a wide fireplace. Its minimalist style provides the perfect backdrop for a quiet getaway, time to enjoy the simpler things.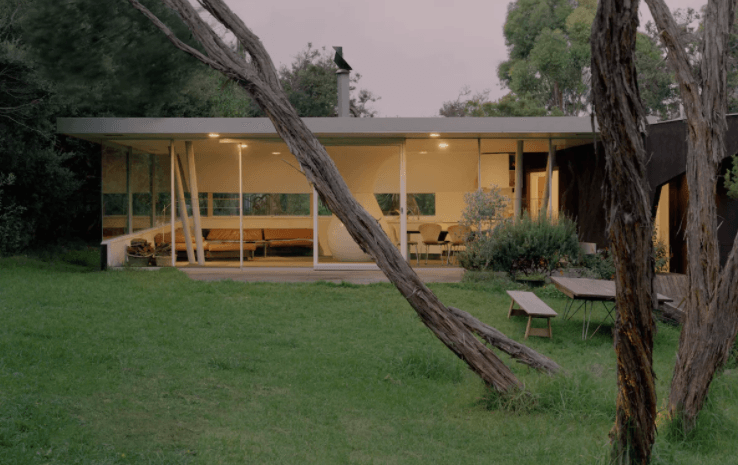 Tulum
BALNARRING
You've surely come across the incredibly aesthetic Tulum in your searches for a getaway. The pristinely curated stay has been architecturally designed and is the very definition of beach-chic. Located in Ballnarring on the Mornington Peninsula, Tulum provides a romantic getaway like few others; nestled conveniently in one of Victoria's best wine regions you're only a short drive to award-winning wineries and cellar doors. The black-painted exterior opens up into a light-filled white-washed oasis, where each feature has been cleverly considered; crafting a perfect contrast of balanced shades and colours to keep you at ease.
Looking for a pet-friendly stay? Check some of Victoria's best here.
Editor's note: Urban List editors independently select and write about stuff we love and think you'll like too. Urban List has affiliate partnerships, so we get revenue from your purchase.
Image Credit: (Hero) Urban List