Being a sequel to any successful restaurant is difficult but Nomad Melbourne basks in its own honey-coloured elegance, joining the culinary elite along Flinders Lane. Opening late 2021, the venue sits underground and understated until you walk through the door.
With homage to North-African, Middle Eastern and Spanish cuisine, chef Brendan Katich (formerly of Ezard), brings flavour to the forefront with Nomad's signature open flame kitchen and locally-sourced ingredients.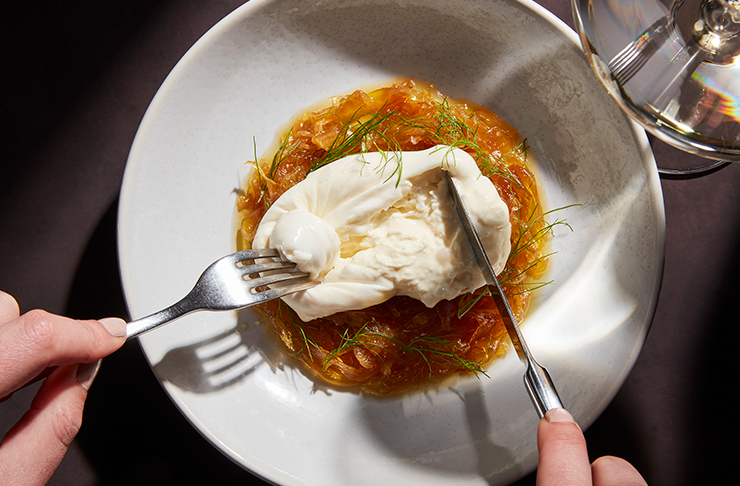 Heroes of his local charcuterie board include a Great Ocean duck mortadella and aged wagyu pastrami sourced from Alpine Victoria. Cured trout is also a departure from the sacred continental tradition of charcuterie but Katich makes it work with elegant cuts and interesting variety.
Unafraid to mix fine dining with humble crowd-pleasers, the smoked mussels with toum on hash-brown and wood roasted corn and silverbeet gratin are crunchy and creamy reminders of comfort food with hearty imagination.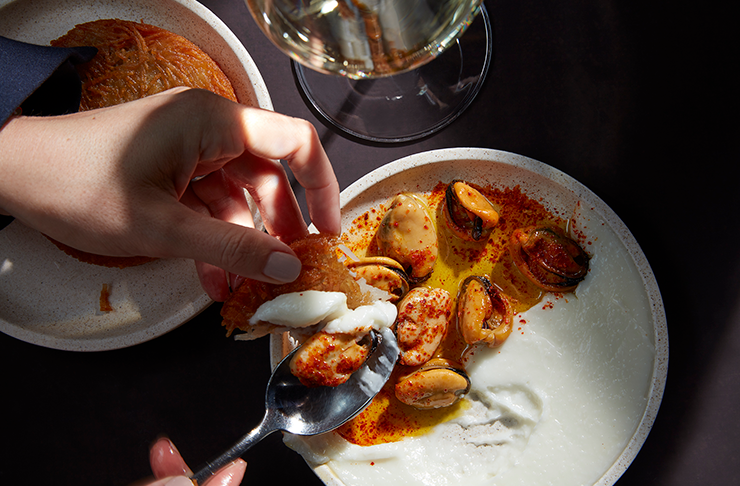 Standing out from the crowd is the okra with thick truffle honey and shrouded in pecorino. An unorthodox combination that has the bitterness of the okra singing alongside the sweetness of honey and savoury pecorino. The dish feels exciting in a left-of-centre kind of way, with a more is more attitude to flavour.
Silky and smooth interiors compliment the olive oil ice-cream sandwich, with trappings of halva, pistachio and honey reminiscent of Clare Cousins Architects' interior design of warm wooden tables and sleek leather booths.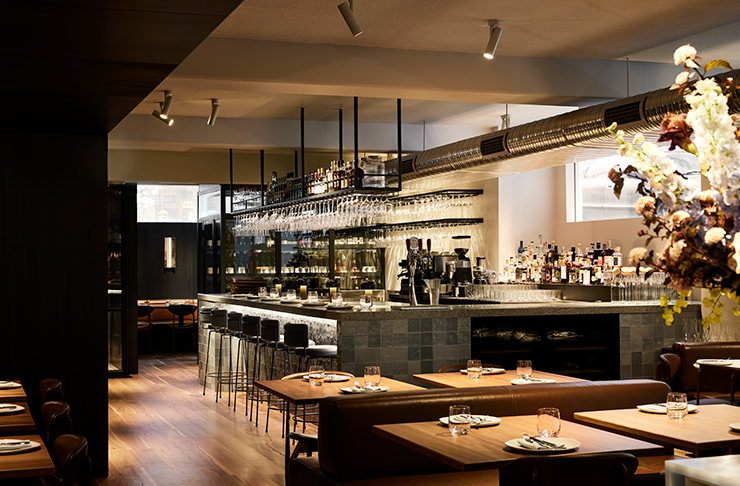 Careful in the curation of flavours from the world over—charcuterie, za'atar, toum and fried okra —Nomad Melbourne offers a distinct take on the tried and true formula of its elder Sydney kin. Fresh local produce and smokey-woodfired meat accompanied by the bold flavours of North African and middle-eastern culture, it's clear that Nomad Melbourne stands alongside it's Sydney counterpart with edge and spontaneity—just as a good sequel should.
Check out more of Melbourne's best restaurants here.
Image credit: supplied