Stay up to date with our live list of the latest updates of restrictions around Melbourne.
Update: Monday 6 July
The Victoria/NSW border will close as of 11:59pm Tuesday 7 July.
The decision was made jointly by Victoria Premier Daniel Andrews, NSW Premier Gladys Gladys Berejiklian and Prime Minister Scott Morrison.
"We have – all of us – agreed that the best thing to do is to close the border," said Premier Andrews.
"That closure will be enforced on the NSW side, so as not to be a drain on resources that are very much focused on fighting the virus right now across our state."
More details will be released later on Monday.
Update: Tuesday 30 June
"Hot spot" suburbs will revert to stage 3 lockdown as per an announcement by Premier Daniel Andrews today.
"These are extraordinary steps, these are not things we have had to do in the past but such is the nature of this virus, it is so wildly infectious that if we don't take these steps now we will finish up in a situation than locking down ten postcodes we will be locking down every postcode," Andrews said.
From 11:59pm Wednesday 1 July the following suburbs will revert to the four reasons to leave your home as indicated in the initial stage 3 lockdown:
3012: Brooklyn, Kingsville, Maidstone, Tottenham, and West Footscray
3021: Alban Vale, Kealba, Kings Park, St Albans
3032: Ascot Vale, High Point City, Maribyrnong, Travancore
3038: Keilor Downs, Keilor Lodge, Taylors Lakes, Watergardens
3042: Airport West, Keilor Park, Niddrie
3046: Glenroy, Hadfield, Oak Park
3047: Broadmeadows, Dallas, Jacana
3055: Brunswick South, Brunswick West, Moonee Vale, Moreland West
3060: Fawkner
3064: Craigieburn, Donnybrook, Mickleham, Roxburgh Park and Kalkallo
"There will only be four reasons that you are permitted to leave your house and only if you really have to,"
For work or school, for care or caregiving, for daily exercise, for food and other essentials. They are the acceptable reasons to leave, but only if you need to." Andrews said.
Update: Saturday 20 June
Unfortunately this week we've seen a spike in cases around Melbourne.
Premier Daniel Andrews announced today that some of the restrictions that were due to be eased from Monday 22 June will stay the same, and some will go back to previous levels.
"From 11:59pm on Sunday, the number of visitors you can have at your home will reduce to five. Outside the home, families and friends can meet in groups up to ten. As we've seen across the world, this virus has the ability to turn a few cases into hundreds in a matter of days.
That's why we also need to delay an increase to gathering limits in businesses and community facilities.
That means restaurants, pubs, auction halls, community halls, libraries, museums and places of worship—will all stay at a maximum of 20 people in any one space until 12 July. Businesses that were set to open on Monday like gyms, cinemas, theatres and TABs can do so—but again, only with a maximum of 20.
Community sport for kids and non-contact competition for adults can proceed as planned. Ski season and accommodation facilities with communal spaces will also open, but with increased screening and safeguards in place." said Premier Andrews.
Read the full media release here.
Update Sunday 14 June
Further restrictions will ease in Victoria from Monday 22 June.
Libraries, community centres, and halls will be able to open to 50 people. Religious ceremonies will now be permitted 50 people also.
Importantly, pubs in Melbourne will be allowed to have 50 seated patrons in the venue. And you'll be able to order beers without having a meal as well.
Read the full release from Premier Daniel Andrews here.
Update Friday 29 May
We've all heard that Melbourne restaurants, cafes, and bars will be reopening from Monday 1 June, but further advice was released by premier Daniel Andrews this morning.
From Monday 1 June there is no list of reasons to leave home, you can leave home for any reason. This is due to the great effort Victorians have gone to recently in staying safe and staying home when possible.
However, working from home is still a must in Victoria where possible.
"Some measures, though, must stay the same. One of the key things that won't change is working from home. If you're currently working from home—you must keep working from home.
By working from home, we limit the number of people moving around—and we limit the spread of this virus.
To date, we've left the ins and the outs of how this will work to Victorians and their employers.
But going forward—and in light of new evidence indicating increased activity—the obligation for employers to keep their staff working from home will now be included in the Chief Health Officer's directions.
That means there will now be a clear and shared responsibility between workers and their bosses. For employees, that means an obligation to keep working from home. And for employers, an obligation to support them in doing so.
As we've said from the start, our actions will always be guided by evidence.
Right now, we can't have the usual number of people on our trains, trams and buses—it just isn't safe.
And we know that if just half the people who normally use public transport start driving to work, we will see our freeways and other major roads grind to a halt.
The number of people on the roads and the transport network is already starting to increase and we cannot let that creep continue.
If we do, then we'll see commute times worse than anything any of us have ever experienced – two hours from Werribee to the city, 90 minutes from Reservoir and two and half hours from Mulgrave."
Read the full release here.
Update: Sunday 24 May
Earlier today, Premier Daniel Andrews made a statement which will see some lockdown laws in Victoria eased further beginning on Tuesday 26 May, with most rolling out at 11:59pm on Sunday 31 May.
"The whole way through this pandemic, our advice to Victorians has remained the same: "stay home". Now, as we begin to settle into a new normal, our message is "stay safe". That means maintaining your physical distance. Using common sense.
And as we ease restrictions, each of us playing our part to keep one another safe." said Andrews.
The announcement includes the re-opening of public spaces such as outdoor gyms, skateparks and playgrounds, along with swimming pools and some campgrounds. More people will be allowed to attend significant ceremonies such as weddings and funerals, and cultural venues like museums, galleries and drive-in cinemas can operate under specific restrictions.
For the time being, however, it's still recommended that those who are able to work from home continue to do so.
The points from the Premier:
Outdoor gyms, playgrounds and skateparks will re-open from Tuesday 26 May
​

From 11:59pm on Sunday 31 May, you'll be allowed a total of 20 people in your home

Outdoor gatherings will also increase to a total of 20 people

Overnight stays at private residences will be permitted

Overnight stays in accommodation will be permitted

Campgrounds without communal facilities to re-open

Libraries, youth centres and community facilities to re-open with a maximum of 20 people, plus the people needed to operate the facilities

Cultural venues like galleries, museums, zoos, drive-in cinemas to re-open with a maximum of 20 people per space

Swimming pools to re-open with a maximum of 20 patrons and additional safety measures in place

Personal care businesses like salons and tattoo shops to reopen with up to 20 customers at one time

Auctions and open-house inspections to resume with a 20 person limit

​

Non-food and drink market stalls will be able to reopen
Read the full statement here.
Update: Sunday 17 May
Today Premier Daniel Andrews has made a statement regarding pubs, cafes, and restaurants.
"After smashing through our goal of 50,000 tests in the last week, the results of this data has given us the confidence we need to plan to slowly start lifting some more restrictions.
Today, and informed by the advice of the Chief Health Officer, I can announce our cautious and careful next steps.
The continuing low numbers of community transmission and the high rates of testing give us confidence that cafes, restaurants, pubs and other hospitality businesses can begin planning for a phased re-opening from the beginning of June.
From 1 June – cafes, restaurants and pubs will be able to reopen their doors to serve meals to up to 20 customers at a time per enclosed space.
From 22 June – this could increase to up to 50 patrons. During the second half of July, up to 100."
Read the full statement here.
Update: Monday 11 May
From 11:59pm Tuesday 12 May Victorians will be able to have 5 of their friends or family visit their home. Keeping it within a group of family and friends allows health services to trace the virus is another outbreak occurs.
Outdoor activities will also be permitted, no more than 10 people will be allowed to gather outdoors. Victorians will be allowed to hike, play footy, play golf, among other activities. All while remaining 1.5 metres apart.
Schools will not be going back just yet. Families have been told to expect that kids will not return to school as normal this term.
Melburnians can expect these rules to be in place for the rest of May.
The points from the Premier:
Outdoor gatherings being permitted with up to 10 people
Indoor gatherings at home are permitted, with 5 visitors able to visit the normal residents of a household
The ability to leave the house for exercise will be expanded to include outdoor recreational activities. These activities can occur in groups of up to 10 people outside, but the requirements on physical distancing remain
For weddings 10 guests are allowed, plus the couple and the celebrant
For funerals, 20 people will be allowed at an indoor ceremony and 30 people at an outside ceremony. This is in addition to the minimum people required to conduct the funeral
Religious gatherings and ceremonies will be permitted with up to 10 people, plus those required to perform the ceremony
Update: Friday 8 May
Prime Minister Scott Morrison held a press conference on Friday 8 May to discuss the expected three-stage plan to get back to a normal economy by July.
The stages states and territories will take can be seen in the plan below, each state and territory taking the next step as they see fit. Stages will be reviewed every three weeks.
Premier Daniel Andrews has announced that Victoria's restrictions will remain in place until at least Monday, after Mother's Day.
"This morning we had a very good national cabinet meeting," Mr Andrews said.
"Whilst I welcome the overall pathway, I also welcome the commentary from the Prime Minister that what is done and when ... is fundamentally a matter for state and territories. The rules remain in place until Monday."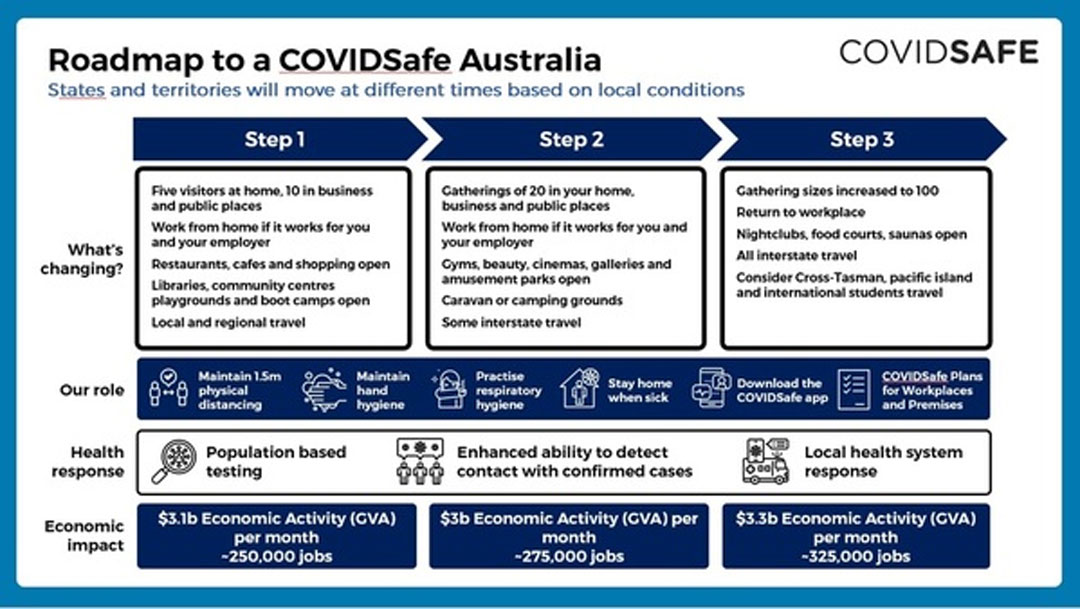 Update: Monday 4 April
Most Melburnians have spent the last month or more mostly in isolation.
With four hard and fast rules to adhere to, Victorians have done a great job in helping curb the spread of coronavirus and flatten the curve.
All this points to a time when the lockdown rules begin to ease, but when will the lockdown end in Melbourne?
At this point, there is no firm date as to when restrictions might start to be rolled back.
Premier Daniel Andrews spoke about rules on 20 April.
"I don't think it is possible to have cafes, restaurants and bars open anytime soon," Mr Andrews said.
"There are opportunities for some of those recreational activities that people are not able to partake in, maybe we can change some of those rules.
"But I don't want to speculate too much. These numbers are not an invitation for us to simply remove all the rules.
"They're a validation our strategy is working. It is challenging but it is working."
Prime Minister Scott Morrison has confirmed that lockdown rules will be in place until at least mid-May. With states to ultimately determine what happens after that.
It looks like take away and delivery from our favourite restaurants and cafes will be the norm for a while, we've got a live list of what's available around Melbourne here.
Image credit: Linda Xu