Loosen your belt buckle, tuck in your napkin and get your knife and fork at the ready. Auckland just got a whole lot tastier and you're going to want to eat it ALL.
Some of Auckland's best chefs have been busy beavering away in their kitchens in the name of Estrella Damm's Chefs' Choice. They've been asked to create a Mediterranean-inspired dish that incorporates one common ingredient: jamón ham. The dish should be unique to the chef's restaurant and pair perfectly with a refreshing Estrella Damm beer.
The result? A bunch of delicious, innovative dishes that you're going to want to eat (and drink!) your way through. But be in quick—they're only available between June 12 and July 9! To help you on your culinary journey, we've rounded up 16 of our faves. Happy eating, Auckland!
Azabu
Grey Lynn
Tucked away off Ponsonby Road, Azabu is known for their Japan-meets-Peru cuisine. This month, they've welcomed Spanish fare with open arms and created a tostada topped generously with serrano ham, heirloom tomatoes, pickled daikon and arguably the best mayo ever—it's flavoured an irresistible combo of lemon and wasabi.
Bellota
Auckland CBD
Located on the bustling Federal Street, Bellota has earned a reputation as one of Auckland's best Spanish restaurants. They're coming to the jamón party with clams in a rich Romesco red pepper sauce. Better yet, Estrella Damm is on tap so you can embrace a full Spanish experience. Are you in Barcelona or Auckland? It's anyone's guess!
Bodrum Kitchen
New Lynn
In our opinion, no pizza would be complete without ham—even better if jamón is involved. No one knows this better than Bodrum Kitchen with their Capriccio pizza loaded with shavings of jamón. You'll also find black olives, mushrooms and rocket. Trust us when we say: one slice of deliciousness won't be enough!
Poco Loco
Pukekohe
Poco Loco's polenta will drive you totally loco—it's that good! The trio of crispy polenta bites are infused with rosemary and topped with pesto, a dollop of goats' cheese and sundried tomato. It's finally adorned with a strip of jamón serrano and served for your eating pleasure.
The Grounds
Henderson
At the helm of The Grounds, you'll find the oh-so talented chef Ben Bayley. The family-friendly restaurant offers it all: an awesome playground, a studio hosting live theatre performances and—of course—great food! This month, you can order the tierra y mar starring jamón ibérico and grilled cuttle fish.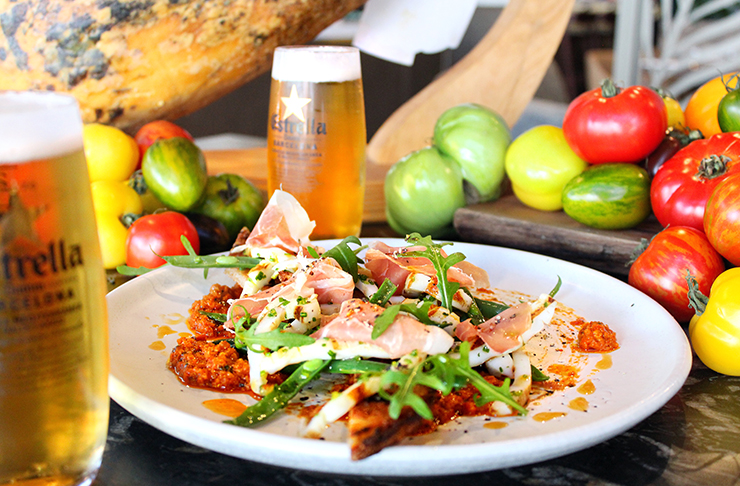 Grangers
Half Moon Bay
For an epic meal and an equally epic view, look no further than Grangers. Overlooking the glistening Half Moon Bay marina, this is the ultimate pozzy to kick back and relax. Here you'll find pan con tomate (Spanish-style grilled bread with tomatoes) topped with Manchego cheese, jamón serrano and salty anchovies.
Longroom
Ponsonby
Head to Longroom (aka Ponsonby's fave watering hole) for four pintxos—bite-sized tapas pierced with a toothpick. Both starring jamón, two of the toasted snacks come with whipped goats' cheese and crushed board beans, while the other two star Manchego cheese, semi-dried tomato and basil. Wash down with an Estrella Damm and you'll be away laughing.
Marvel
Auckland CBD
Trust us when we say: jamón and octopus is match made in heaven. Try this divine pairing for yourself at Marvel's stunning waterfront restaurant. The dish features seared smoked octopus with saffron aioli, serrano crisps and fried potatoes. Seafood lovers, this one is not to be missed!
Deco Eatery
Titirangi
Situated in the historic Lopdell House, Deco is one stunning restaurant—and the perfect destination for weekend (or weekday!) dining. They've let their creativity shine by stuffing a chicken breast with creamy brie and wrapping it with jamón. It comes with a feta and fennel potato hash and—get this—rose petal jus!
Augustus Bistro
St Marys Bay
Located in the historic Ponsonby post office, Augustus Bistro sits pretty on the corner of Three Lamps. Specialising in French fare, start with a serve of escargot before devouring their epic cheeseburger. It's stacked with bacon, jamón, gherkins and the all-important oozing smoked mozzarella—yes, please!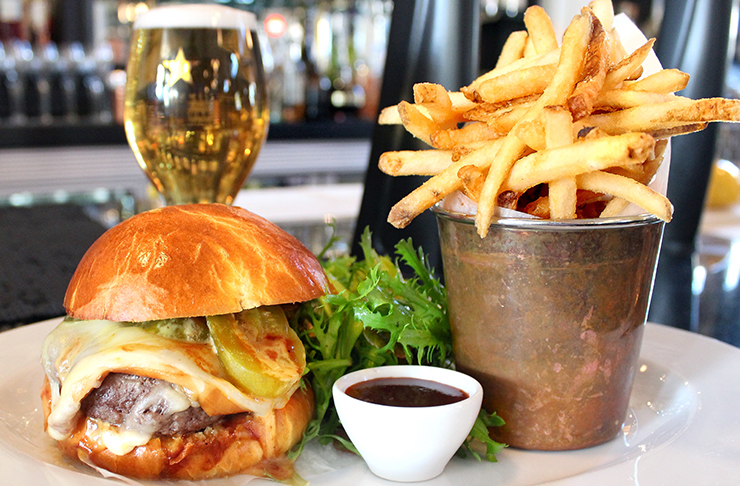 Bonita Bar
Ponsonby
Bonita Bar is bringing the flavours of Spain to the heart of Ponsonby in exceptional style. To celebrate Estrella Damm's Chefs' Choice , they've created a mouth-watering Spanish-esque tostada. Their creation is topped with Ibérian ham, Manchego cheese and a fried quail egg.
Casita Miro
Waiheke Island
Let your love of jamón and beer take you on an island getaway to Waiheke. For the month of June, Casita Miro is serving grilled potato topped with chermoula, poached quail egg, crispy shallots and jamón. Our advice? Make a day of it and spend the day relaxing in the rustic Mediterranean vineyard.
Barcelona
Kingsland
Make your way to Barcelona (the tapas bar, not the city!) for some of the finest jamón. The Ibérian ham is cured for an impressive 36 months (that's THREE years, folks!) before served alongside artisan bread with a thin spread with tomatoes and olive oil. While this dish may seem simple, it allows the melt-in-your-mouth jamón to showcase its incredible flavour.
Barulho
Parnell
New kid on the block, Barulho is bringing Euro-Latino flair to Parnell. And, if you love all things pork, this is the dish for you! They've stuffed rolled pork with pistachio, egg and thyme before wrapping it in jamón. It's cut into thin, delicate slices and served with membrillo quince paste and sourdough.
Oaken
Auckland CBD
If you like to keep your jamón simple, look no further than Oaken. The ham is carefully hand-sliced and perfectly complemented with cumin gouda, sherry-soaked raisins and a drizzle of olive oil. Have yours with an Estrella Damm Inedit beer—it comes in a generous 750ml bottle.
La Rosa
Glen Eden
Last and in no ways least, La Rosa also knows a thing or two about serving jamón. They've gone for a Spanish-inspired pizza topped with all things good: capsicum, anchovies, black olives, red onion and jamón. The thin and crispy base ensures you get the perfect topping-to-dough ratio.
Editor's note: This article is proudly sponsored by Estrella Damm and endorsed by The Urban List. Thank you for supporting the sponsors who make The Urban List possible. Click here for more information on our editorial policy.
Image credit: Jaiden Bhaga