If you haven't ventured South in a while, then you're seriously missing out. There are endless things to do in South Auckland, from epic adventure parks, farmers markets and vineyards to regional parks, art and culture…and that's just the tip of the iceberg.
Here are 30 amazing things to do in South Auckland. Tick them off one by one and wonder why you've never done them before!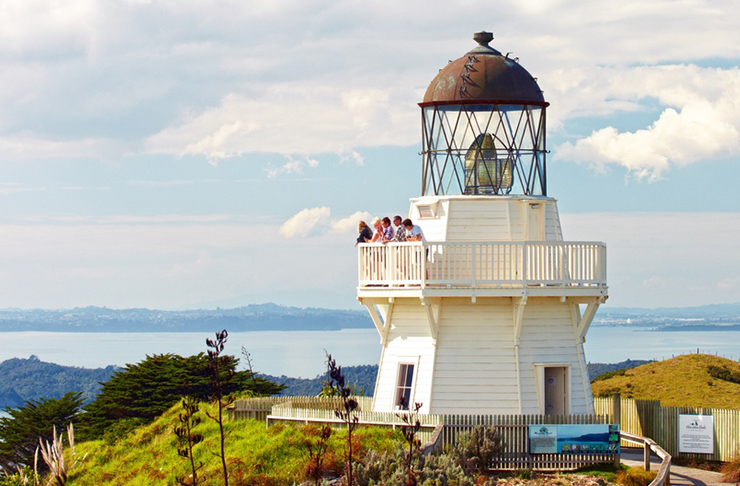 Check Out The Lighthouse
If you're a fan of lighthouses then we have some excellent news for you. Manukau Heads Lighthouse is one of the few in New Zealand that's open to the public. That automatically makes it one of the best things to do in South Auckland, right?
Explore A Beaut Regional Park
Awhitu Regional Park is an adventure-lovers' paradise. There's mountain biking, fishing, horse riding and walking, just to name a few of the activities. You can even have an outdoor wedding ceremony there! FYI: Kauri dieback is yet to make it to Awhitu so let's keep it that way. Clean your shoes of soil and don't walk on kauri roots.
Visit A Hidden Black Sand Beach
A 10-minute drive from the South Auckland town of Waiuku and you'll find yourself at Karioitahi beach. This windy and wild stretch of sand is a force to be reckoned with. It features rugged cliffs, untameable waves and roaring wind, sure to leave your hair in knots, but also sure to steal your heart. Since you'll definitely want to stay more than an hour or two here, book in a night at Castaways Resort overlooking the beach.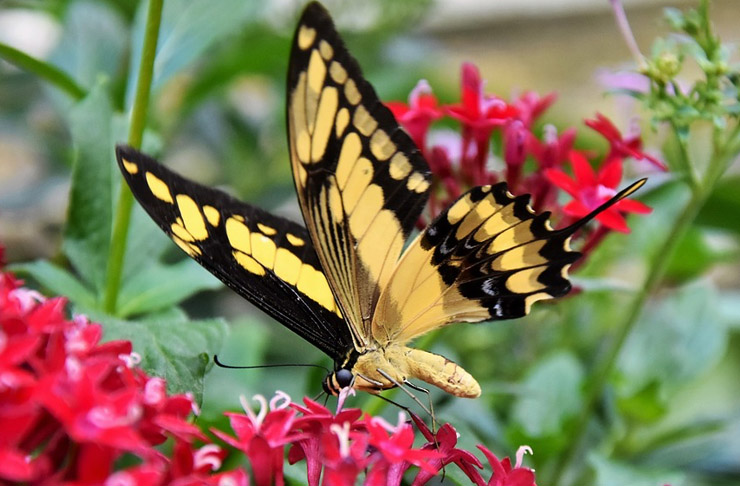 Surprise The Kids With The Ultimate Day Out
Two words: Butterfly Creek. Not only is there a tropical butterfly house, there's farm animals, bugs, monkeys, reptiles, otters and our very own kiwi. It's also home to New Zealand's only saltwater crocodiles—Scar and Goldie. They're MASSIVE and the sprogs will be amazed.
Pitch The Tent For A Night
BYO marshmallows, bevvies and blankets for an evening of good ol' fashioned camping at Awhitu Peninsula Campground. Be a tidy Kiwi and take all your rubbish home with you.
Marvel At A Rare Slice Of History
Wander through the Otuataua Stonefields Historic Reserve and seeing how New Zealand's first settlers from East Polynesia lived and worked on the land. The 100-hectare area is home to large-scale archaeological remains that depict how communities thrived for hundreds of years. It's a South Auckland must-do.
Frolic With The Lambies
Make your way to Ambury Regional Park and spend a day with farm animals. There's cows, sheep, pigs, goats, chickens, turkeys, rabbits and a token peacock to check out. During July and August you can feed the little lambs (with help from the park rangers and Ambury volunteers) and watch the calves be fed until they're old enough to do it themselves!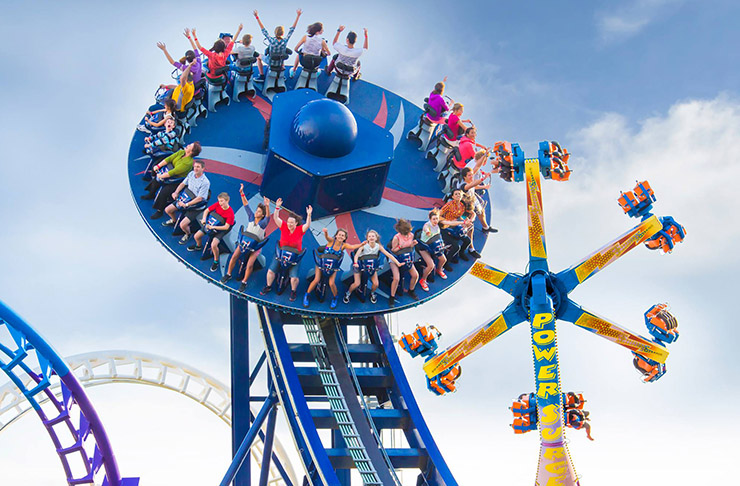 Feel The Thrill
At Rainbow's End, of course! A visit to this legendary theme park is one of the best things to do in South Auckland. Feel the adrenaline spike with the 360-degree Stratosphere ride or the heart-thumping Fearfall, which will see you drop 18 stories in a matter of seconds. We can sense the nerves already…
Stop And Smell The Flowers
Spanning 64 hectares and with more than 10,000 plants from all corners of the globe, Auckland Botanic Gardens in Manurewa is a thing of beauty. There's everything from palm gardens and African plants to threatened native plants, roses, magnolias, herbs and African plants.
Sip On Vino At Villa Maria
Known for their epic concerts, award-winning wine and gorg vineyard vibes, Villa Maria is a bucket list thing to do in South Auckland. Head there for a long, lazy, wine-focussed lunch or plan your visit around a gig.
Tackle New Heights
Whether you and heights aren't best mates or you're looking for your next adrenaline activity, Rocket Ropes on Tom Pearce Drive is where it's at. With more than 50 (!) aerial activities, these guys have a range of exhilarating courses to suit all levels and abilities. Pro tip: Try the Giant Swing—you're lifted 12 metres off the ground and the only way to get down is by pulling to rip cord. Good luck!
Get Seriously Spooked
Spookers. One thing everyone must do in South Auckland. Try not to wet yourself. That is all.
Shop 'Til You Drop
Onehunga is a treasure trove of secondhand goodies and bargains. Visit Dressmart and snag aaaall the deals.
Lock In Your Dream Wedding Venue
You won't find a prettier place to say 'I do' in South Auckland than Kauri Bay Boomrock. This Clevedon venues boasts unbelievable views of the Hauraki Gulf paired with expert wedding planning peeps to make sure your special day goes by without a hitch!
Putt, Putt, Putt Away
Who doesn't love a cheeky game of mini putt? Treasure Island Golf Adventure is the epic pirate-themed mini golf course by the airport (y'know, the one with the life-sized pirate ship). There's nothing like a friendly but secretly competitive game of mini putt amongst friends.
Or Take It To The Green
Too pro for mini putt? Pukekohe Golf Club might be more up your alley. It's said to be the driest course in Auckland...if that means anything to you golf folk.
Hoon Around An Indoor Raceway
Go karting is a sure-fire blast and there's no better place to try go karting in South Auckland than Formula E. Hop in a state-of-the-art Italian-designed (only the best for you) indoor race kart and get ready to rip up the track. Once you've got the hang of things, take place in one of the races and claim glory.
Visit The Heart Of Maori And Pacific Performing Arts
Māngere Arts Centre nurtures a wide range of art, craft, visual and culture activities within the community. There's workshops, theatre performances and exhibitions that take place and galleries that showcase the work of local artists. It's definitely one of the best things to check out in South Auckland.
Play At One Of South Auckland's Best Parks
From swimming and mountain biking to horse riding and tennis, walks and picnic feasts, Totara Park provides the goods. Stretching over 216 hectares, this area of land is a South Auckland treasure and place for everyone to enjoy.
Test Your Mettle At An Escape Room
With a focus on intelligence rather than physical prowess, Escape Masters Manukau is the perfect adventure for all the brainiacs who didn't necessarily nail gym class.
Reap The Ultimate Reward
Trudging up the side of a mountain doesn't feel like a great idea while you're doing it but once you're at the top, the view makes all the sweat and pain worth it. Māngere Mountain is one of Auckland's best preserved volcanic cones and offers lovely vistas of Manukau Harbour.
Browse A Weekend Farmers' Market
Picture this: 9am Sunday morning, bacon buttie, strong coffee and dozens of locally produced goodies. Bliss, right? Clevedon Farmers Market cranks every Sunday from 8.30am and serves up a delightful mix of produce, meat, cheese, baking, fish and other tempting items.
Hunt For Hidden Gems At A Flea Market
Another excellent market is Otara Flea Market which runs every Saturday from 6am. The early bird catches the worm with this one so it's best to go early to browse through the 150 stalls. Food wise there's hangi, souvlaki, island donuts and classic bacon rolls. Manurewa Market is a hit, too.
Go Into Combat
Finally get your siblings back for all their annoying antics with a round of paintball at Lock 'N Load Adventure—one of the best things to do in South Auckland. They also offer archery and Arrow Tag—essentially dodgeball with bows and soft arrows. It simulates a legit arrow fight without, y'know, the potential death.
Watch The Big Birds Come And Go
Plane spotting is a thing, folks, and for good reason too. Park up near the airport and watch in awe as dozens of planes land and take off.
Or Take To The Sky In A DC3
Rally the troops and lock in a ride in a fully refurbished DC3 plane. They'll take you on a scenic flight of Auckland, pointing out the best of the city as you go.
Fine Dine Amongst The Olive Groves
Bracu is basically a Mediterranean getaway without the jet lag and exorbitant prices. Situated in the heart of the Bombay Hills, you can feast on delicious à la carte fare or splash out on a decadent seven-course degustation. We, of course, recommend the latter.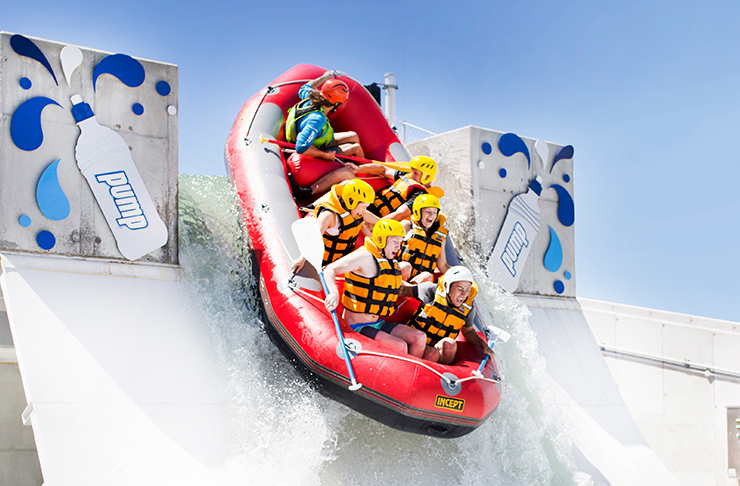 Raft Over The World's Highest Man-Made Waterfall
Yep. South Auckland—Manukau to be precise—is where you'll find Vector Wero and with it, a whole lotta fun. This Whitewater Park caters to those looking to get wet and wild with a day of whitewater rafting, paddleboarding or kayaking. The 4.5-metre waterfall is a definite highlight.
Or Take The Wheel Of A Jet Boat
No Joke. SuperThriller JetSprint in Manukau lets you speed along the water in an ultra-fast jet boat. It's a challenge of driving skills, mental agility and teamwork, and will have you beaming from ear-to-ear as the adrenaline takes charge.
Eat, Eat And Eat Some More At The Night Markets
Every Friday evening Papatoetoe goes off with a scrumptious celebration of food at the night markets. There's dumplings, hot dogs, churros, Thai food…anything you're craving, they've got it. Bring cash and your appetite. It's one of the best foodie things to do in South Auckland.
Want more?
Image credit: Clevedon, Rainbows End, Chris McLennan, Supplied