As much as we love Auckland, sometimes it's nice to get out of the big smoke for a weekend. And, as total foodies, any getaway must (must) involve delish food and drink. Venturing down to Nelson is a no-brainer with an abundance of artisans and city-wide focus on using local, seasonal produce—the best way to eat!
Although there's an endless amount of eating (and exploring) to do, Nelson is defs a place you could tackle in a blissful two days. So, without further ado, here's how you should spend 48 hours in Nelson.

6.30pm
Say au revoir to your nine-to-five job and make a beeline for the airport. Head to the regional lounge (don't make the rookie mistake of going to the domestic lounge) and board your flight to Nelson.
8.15pm
You would have worked up an appetite on the flight down, so collect your rental car and get some dinner in ya. Luckily, there's no shortage of incredible food (and drink!) in this delightful city.
Situated on the picturesque waterfront, the Boat Shed Café is a fab dinner option. Here you'll find an abundance of fresh seafood and a dedicated bruschetta menu (the prosciutto and buffalo mozzarella is a fave).
For your mains, go for the crispy pan-fried snapper with fragrant green papaya salad or succulent duck breast paired with Israeli couscous, orange, dates and pistachio—yes, please! Showcasing amazing food, service and a quaint venue, this spot is a great first-impression of Nelson.
10pm
Once your belly is satisfyingly full, it's time to call it a day. Conveniently located in the heart of it all, the Quality Inn Nelson is the perfect pozzy for a weekend away.
You'll be greeted with a smile as you're handed the keys to your room—they have a range of spacious units and apartments to choose from. It's the little touches that count and you'll be impressed by the fruit platter on arrival, dreamy coconut shower range and super comfy bed—bliss!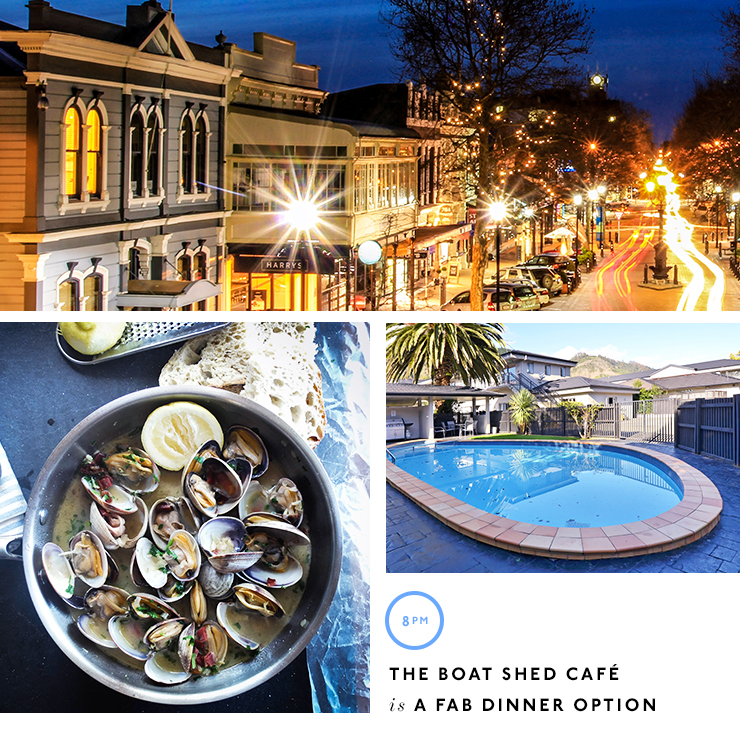 8am
Have breakfast at the on-site restaurant or, for the total holiday experience, opt for brekkie in bed. Choose between the likes of huevos rancheros (aka Mexican breakfast), buttermilk pancakes with grilled banana or a hearty big breakfast with all the trimmings.
9am
No weekend in Nelson is complete without checking out The Nelson Market held every Saturday morn. Allow an hour or two to check out the charming art, craft and produce stalls. You'll find everything from local honey and handcrafted soap, to quirky pottery and Nelson's world-famous Pic's Peanut Butter.
Be sure to grab a fresh Dutch oilebol. if you haven't come across one of these before, it's a basically a doughnut filled with raisins, currants and apple that's deep-fried until golden. Served piping hot and dusted with icing sugar, these morsels are not to be missed!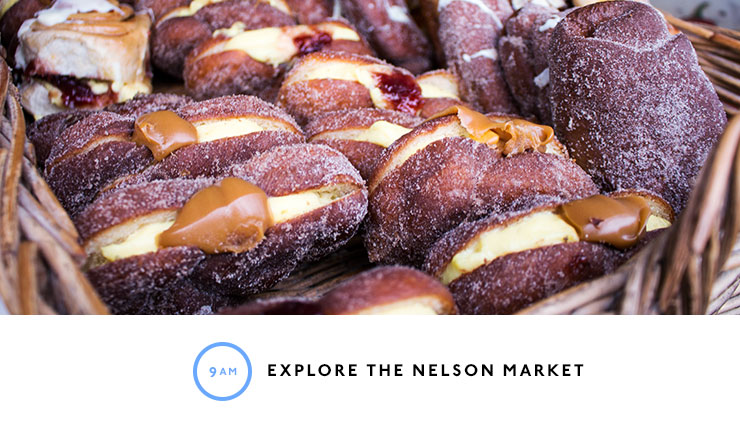 11am
As fun as it sounds, it wouldn't be ideal to spend the entire weekend eating, so it's adventure time. Wander along the long, golden beach of Tahunanui—a popular spot for swimmers, walkers and paddle-boarders alike—or head to the rugged mountains.
Just out of the city centre, The Brook Waimarama Sanctuary is worthy of a visit. The community-based initiative is working to create a pest-free wildlife sanctuary. Thanks to 14km of pest-proof fencing, the mountainous sanctuary is home to native birds such as weka, kakapo and an even the elusive kiwi. Showcasing native bush and a bubbling stream, this is New Zealand at its finest.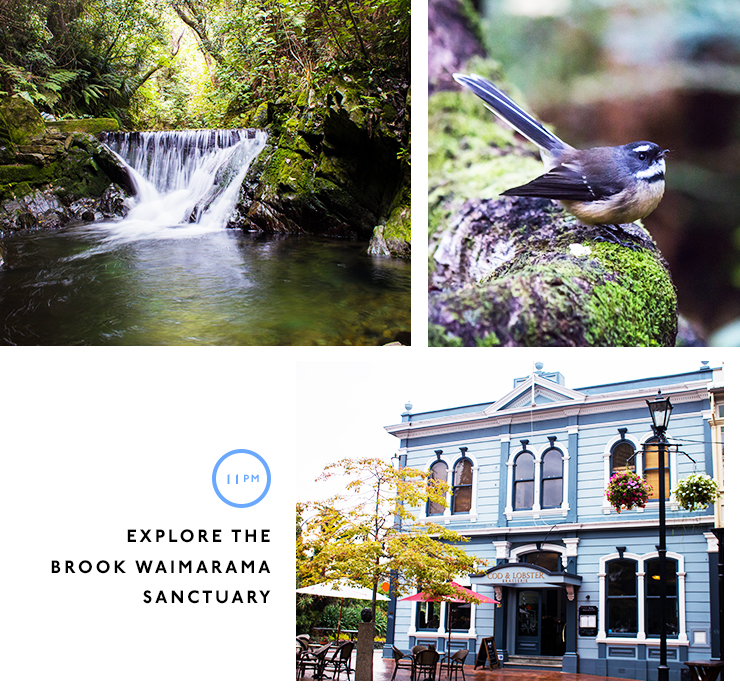 3pm
The best way to finish a walk is with a refreshing bevvy (protein what?). As New Zealand's sole hop-growing area, Nelson has an abundance of local breweries creating refreshing pours of beer and cider. Nip into one of the seven local Sprig & Fern Taverns where you'll discover pilsner, lager, draught, ale, porter...the list goes on! Their alcoholic lemonade is also delightfully refreshing!
7pm
Freshen up (read: sober up) at Quality Inn Nelson before heading out for dinner—hellooo hot shower and fluffy white towels!
Cod & Lobster should be your Saturday night go-to. Located in a heritage building, the stunning restaurant is all about fresh seafood and cocktails—amazing combo, right? Bring your reading glasses because the drinks menu is an impressive 23-pages long (!). If in doubt, talk to resident mixologist Pete who's a wizard when it comes to cocktails.
The 'Professor Plum in the ballroom with a broken heart' cocktail is extravagant by name and even more extravagant by taste. Featuring rum, lime, cinnamon and—of course—plum, this cocktail is a must-try.
The food is equally impressive with beef brisket bao, king salmon and roasted lamb rump all on the menu. Save room for dessert because there's lemon tart, apple crème brûlée and decadent mocha cheesecake calling your name.

8am
Have breakfast in bed at the Quality Inn Nelson (go on, you deserve it) and gear up for a fun-filled day ahead.
Nelson is home to 'the centre of New Zealand' that can be accessed by a short walk. To say you've been here is a pretty awesome bragging right and defs worthy of an Instagram! Positioned at the top of Botanical Hill, the walk showcases views of Nelson and beyond—the lush mountain ranges will take your breath away.
11am
Get set for a little road trip and make your way for Rabbit Island—20km out of Nelson. The island is home to thousands of pine trees used to produce timber as well as countless bike tracks and miles of sandy beaches.
You can access the island by bridge or ferry across on the Mapua Ferry. The Mapua Wharf is a destination within itself with an abundance of boutique shoes, galleries, restaurants and cafes. For the best coffee of your life (big call, we know), visit the oh-so quirky Java Hut.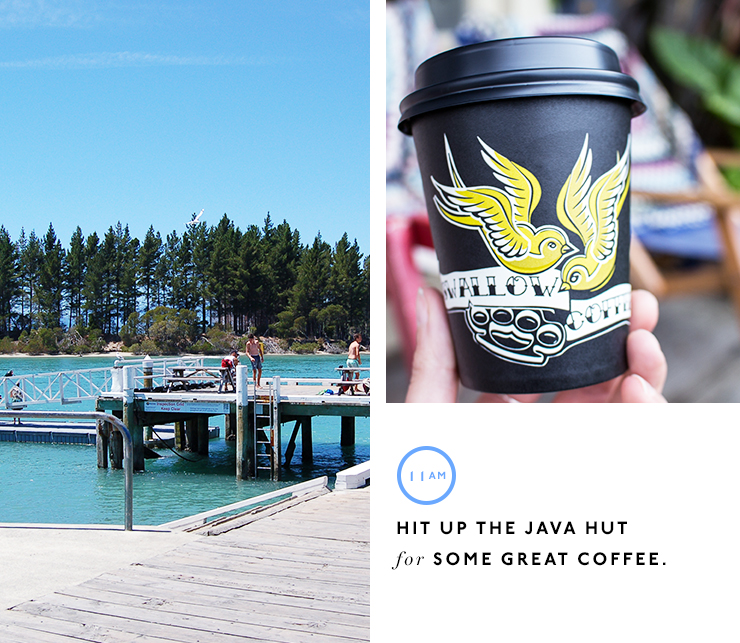 2pm
It's time for your last supper in Nelson—sob! Home to Stoke beer and Rochdale cider, McCashin's Brewery should defs be on your to-visit list. Munch on mouth-watering fare and sip your way through a tasting paddle at the bustling on-site kitchen and bar. The charcuterie platter—stacked high with chicken liver pâté, pork terrine, cured meats, dips and toast—is the perfect pre-flight feast.
4pm
Hand in the keys to your rental car and head to the airport—it's time to kiss Nelson goodbye! What an incredible weekend it was. In the words of Arnold Schwarzenegger, we'll be back.
Image credit: Warren Nicholson and Natasha van der Laan