Grab the popcorn and settle in, because our screens have been graced with the show we didn't know we needed. Make no mistake, you won't find much love on this island. Brought to us by TVNZ, The coming weeks promise to filled with nothing but drama, lies, and you guessed it… heartbreak. So sit back, relax and prepare to cringe as we take you through our very first visit to Heartbreak Island.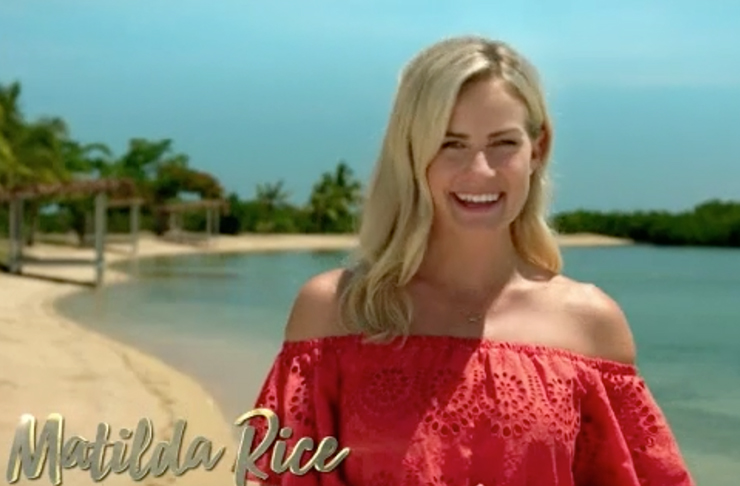 With hosts this good looking, we don't mind having them on three nights a week.
Looks nothing like their photo? Didn't realise we were tuning into Catfish.
Anyone else suddenly coming down with the travel bug? Hopefully that's the only thing we'll catch watching this series...

Gee we wonder if Stacy and Kelsey are a thing #spoileralert.
Love, good times and tall sexy men. What more could you ask for? Oh yeah, 100k.
'I don't like cocky boys', you've definitely come to the right place, Ruby.
Kristian sounds like he's done a lot of swimming in said 'small pool.'

Harry, where do you find these girls.

Cue the forced dance party on a yacht. Never seen that before.
Beaches, money and girls, totally in it for love.
Ok Kristian, whoever told you those moves were normal is not your mate.

We don't just walk on Heartbreak Island, we CHEER.

Kristian looks like he just discovered the holy grail.
Pro dating tip: Refer to her as a possum then dab.
Rates himself a 9/10 AND a liability? We'll try not to swoon.

We now interrupt your regularly scheduled programme for Fashion Police with Harry Jowsey.
Who the heck refers to girls as 'Sheila's'?!
The boys look like they've never seen a girl before.
'Blonde girl with the red jumpsuit' what's in a name anyway?
Sounds like Weiting has some experience with cherries...at least she's getting her recommended veges for the day...
Izaak: A pilot for passion and pick-up lines.
A good time? Something tells us you won't be around for a long time Joshua.
Weiting ain't plucking no strings today!
Ruby acting surprised deserves an Oscar.
Sounding like a sore loser there Kelsey?
It's a match! Sounds like Isaak super liked Ruby.

He did not just blow a communal kiss. Has Jordan Mauger returned to our screens?
We don't think the island is going to be big enough for Kristian's ego.
'Claw that back'...easy tiger. Weiting's a lucky girl.
Nothing like a bit of soul-destroying on the first day. Baby steps.
She was not expecting that. Looks like Tinder-Ella won't be going to the ball.

The dangers of Facetune: a series.
Another couple! May the odds be ever in your favour.

Joshua looks like he's ready to jump in and swim back to NZ.
You're not wrong Hazza.
Tiffany might join Joshua on that swim back if she matches with Harry.
All we can say is luckily for Kelsey, Durex is sponsoring the show.
All eyes on you? Better than none Stacey.

If you look closely you can see Kelsey blinking "SOS" in Morse code.
Rooster?! Where does Harry get this stuff.
Josh already has his eye on the money? Get ready for heartbreak, Tiffany
Stacey. Dude. You're 23. You ARE one of the young ones.
Someone PUH-LEASE give Shayna a comb.
Joshua's reactions are more cringe than David Seymour on DWTS.
Kristian and Weiting are in it to win it.
Diamond's are a girl's best friend, Facetune isn't.
That water looks filthier than Harry's banter.

Well, they do say take them swimming on the first date.
Nothing breaks the ice more than dunking for diamonds.
TWELVE diamonds? You'll catch me signing up to next season.
*Googles what the F a boo-ray is*
We knew that.
Looks like Kelsey might prefer to sleep on the beach than the same room as Harry.
That's a wrap! With a professional catfish, ego-maniac and even a harpist, there's no telling what we'll find tomorrow.
Image Credit: Heartbreak Island