It's thirsty work this lockdown business, isn't it? Fortunately for Wellingtonians, there's a fabulous handful of local boozy businesses delivering their goods to your door during level-4 lockdown.
Delivering everything from craft beer to bubbles, wine to hard spirits, we've rounded up the best alcohol delivery companies in Wellington that we can trust to keep our cellars well stocked.
Grab the mixer and shaker, polish the glassware, fill the ice bucket and tune into your Friday virtual work drinks—because there ain't no running dry during Covid-19 with these guys in town.
Garage Project
We all know cracking open a cold one is good for the soul and tastebuds, but in times like this it's also good for our local businesses. Wellington local legends, Garage Project, are still brewing, bottling and delivering their beer to Kiwi doors around the country and we love them for it. Delivery for Wellingtonians is a crisp fiver, otherwise $10 to the rest of the land, or free if you spend over $50 on an order (an easy thing to do, trust us). Worth a look and a taste is their newly, spontaneous ferment 'Random Acts of Kindness' brew, featuring a nifty illustration of Cuba Street's iconic water feature. If that doesn't bring a smile to your dial, we don't know what will.
Wineseeker
Wellingtonians, you're in luck. Wineseeker is couriering guessed it—all things wine—to your doors for free during Level 4. This isn't just for inner-city Welly, as Hutt cities, Kapiti, Wairarapa, Porirua qualify too. Take yourself on a virtual wine tour of the world, while browsing around their mighty fine selection of wines from New Zealand and France, South Africa to South America, and everywhere in-between. Overwhelmed by the fantastic choice? We don't blame you, and neither do the team at Wineseeker—who have popped together handy 'sanity-packs' of three mixed bottles. All you need to do is choose the wine variety, pop the cork, and enjoy the sweet taste of quality vino.
Parrotdog Beer
Another brewery delivering beer across Wellington and beyond Level 4 and beyond is Parrotdog. Being the absolute legends that they are, they're shouting the shipping fees on orders over $40 during Level 4. Now's never been better to stock up your home-happy-hour fridge, so get adding their bottled or canned beers by the dozen or half dozen to your cart. For a little something out of the ordinary—but ultra delish—add their Tree Avo Gose to the mix. We may not be able to have our avos smashed over toast at a cafe during lockdown, but we sure can have it fermented in our beer.
Winesale
The most fun you can have with wine online—prior to it landing at your doorstep—is browsing around Winesale.co.nz. They keep the art of buying wine fun with the occasional special deals on mystery wines—with the latest offering being a highly awarded, secret Marlborough 2017 sav. They also sell a stellar range of mixed cases, organised by wine type, region of origin and tasting notes. Speaking of such, you'll find detailed, personal and sometimes downright hilarious tasting notes on each and every wine listed on their site, so you can rest assured you'll pick a perfect vino for your palate—and one that's already got the seal of approval from a fellow wine buff. You might want to sign up to their newsletter too, as they're highlighting awesome small businesses that you want to know about during Level 4 lockdown. Winesale, we love your work.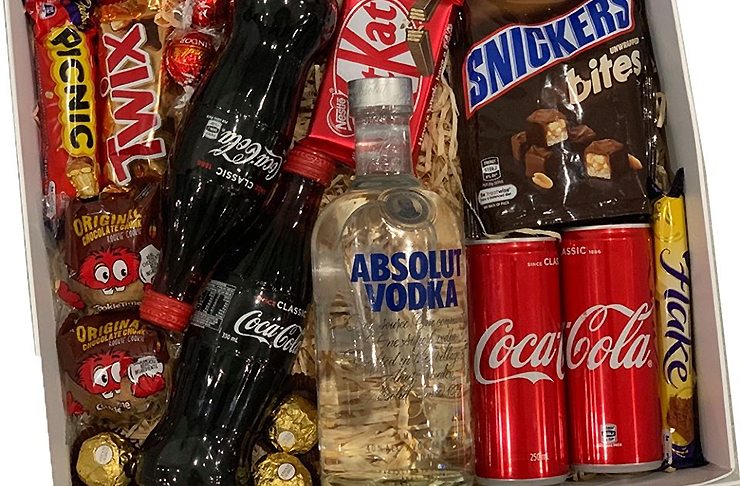 Brewbround
All of your boozy dreams can come true with the help of Brewbound. Okay maybe not all, seeing there is a limit on three bottles of spirits allowed per order (government's orders, not theirs) but pretty darn close. Whether your cellar needs spirits, beers, wines, mixed drinks and bubbles—if it's booze-related you'll find it online here. There's also everything you could ever need to cocktail it up: syrups, mixers, tonics, you name it. They've even covered snacks for when you're feeling peckish (or dusty after a few tipples) like CookieTimes and chippies. Brewbound is basically our isolation fairy godmother.
Liquor Legends
The name says it all really. If it's got an alcohol percentage, chances are you'll find it on Liquor Legend's extensive website. Beers, bubbly, spirits and even kegs are all taken care of by the team. To help us stock up while we're locked down, the team have slashed their delivery fees across the country, with Wellington region delivery sitting at $8 a pop. Or spend over $100 on wine or spirits, and you won't have to spend a dime on delivery.
Good Wine Co
Here's some good news for you vino lovers and your cellars: The Good Wine Co are only charging $5 for a case of wine to make it to your door. If you want to skip the choosing and focus on the sipping, make a beeline for their mixed case section and pick out a pack to suit your taste and budget. There's the Practically Perfect NZ Pinot selection for pinotphiles of NZ, a six-pack of The Really Good Wines including award-winning, premium drops or perhaps 'The Good Wines for a Tight Arse' for the frugal wine drinkers out there. Whatever case you opt for, be it pre-selected or pick and mixed, rest assured that every drop will hit the spot.
Need some quality food to soak up the booze? Look no further than these ace companies which are delivering groceries in Wellington.
Image credit: Connor Home, Parrotdog Beer, Brewbound