The Auckland Fish Market is revamped, revived and ready for hungry and thirsty locals and visitors alike. So much more than a market, this Jellicoe Street venue is a dining precinct focused on communal dining and fresh seafood.
Home to nine eateries and a bar, it takes a journey through the flavours of the world, including Japan, Latin America and Polynesia. With both indoor and outdoor seating, the vibe is colourful and busy. Great for local workers to visit during lunch or after work drinks, it is also worthy of a weekend visit.
Here's what you'll find at the Auckland Fish Market.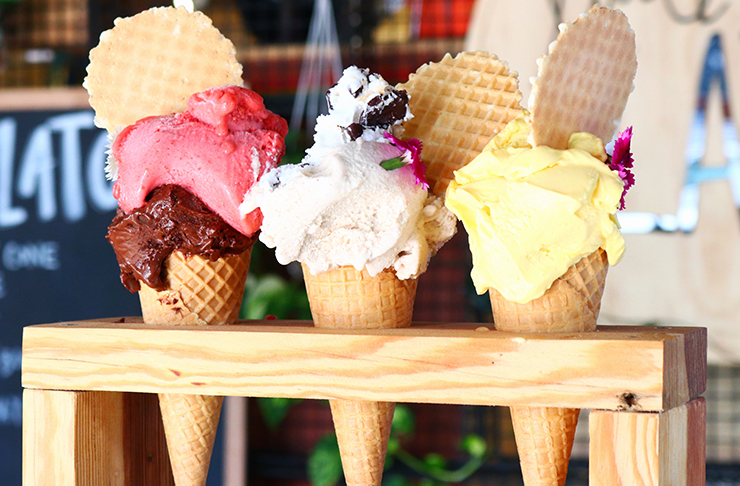 Good Karma
Just inside the precinct is Good Karma, serving up every drink to get you through the day. Whether it's coffee, a smoothie or Little 'Lato gelato, they have it all. Their smoothies are divided into Air, Earth, Fire and Water. The Air—peanut butter, cinnamon, honey, banana and milk is a must. Most importantly, they serve their organic, fairtrade coffee. Whether it's espresso, Americana or and something iced, your caffeine fix is sorted. They also have keep cups for sale as well as quirky teapots.
Azabu
Ponsonby favourite Azabu has also set up home at the Auckland Fish Market. Expect exceptional attention to detail and beautifully presented sushi and sashimi as well as other classic Japanese classics. Watch as the chefs prepare your dishes with the focus of a fine artist. They're also serving up cocktails, mocktails, kombucha and juice. If you're a local worker, then make a beeline for their newly opened takeaway bar. Here you'll find fresh lunch packs to take back to the office or, even better, head to the wharf and enjoy the sparkling harbour views.
Tiki Thai
From the team behind Xoong in Mt Eden is Tiki Thai. While the food is usually shared at Xoong, here its focus is individual plates. With bamboo and neon lights, it's a standout in the building.
"The food is smashed on a plate and thrown together," says director Cameron Knox. "It's going to be eaten anyway, so it doesn't matter how it looks."
The result it colourful, bold and fun.
Ika Bowl
The poke bowl trend shows no signs of slowing down and Ika Bowl is at the Fish Market, serving up the Polynesian classic. With fresh fish and local produce, it's a healthy and delicious option.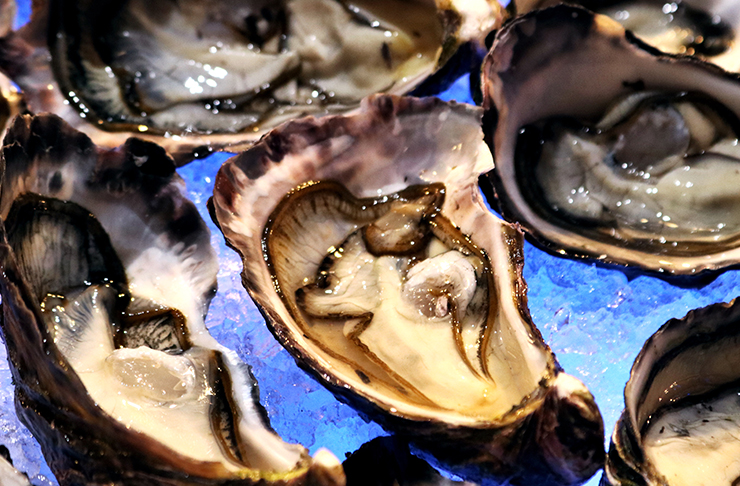 Billypot
Towards the back of the building, you'll find oysters on ice with slices of lemon just waiting to be eaten. Billypot is all about the fabulous fish fare, both raw and cooked. Squid, garlic butter prawns and mussels can be purchased and cooked by the chefs on the spot. Order a hot pot of muscles and choose from white wine, tomato and herb or soy-glazed sauce.
Mar & Tierra
With broccoli and chilli hanging over open flames, Mar & Tierra is a must. This grill fusion eatery serves up Latin food with a New Zealand twist. The menu is divided into Land, Sea and Traditional. The pork belly, pineapple salsa with pork crackling is a must or, get experimental and order the octopus.
Market Galley
Serving both Eastern and Western food is Market Galley. Found at the back of the building, in the outdoor space, the popular eatery also serves the Kiwi classic, fish'n'chips. If pizza is more your thing, then order at Market Galley and it will be cooked in an outdoor wood-fired pizza oven as you wait.
Sanford & Sons
Selling fish in New Zealand for 114 years, Sanford & Sons is well established. And now, they are also the newest fishmonger in New Zealand. Here, you'll find live crayfish and paua clinging to glass tanks. Buy fresh fish such as kingfish, salmon and tuna and have the fishmonger prepare it your way—with six options for cutting. There are oysters, king prawns and even a small shop selling fresh loaves of bread, lemons, cookbooks and sushi seaweed.
The Wreck
In the outdoor area is The Wreck. The bar has thick ropes hanging from the ceiling and a boat vibe. You really will feel like you're on holiday. Whether it's tap beer, bottle beer, Pimms jugs, wine or cocktails, there's something to quench your thirst. Don't miss happy hour from Monday to Friday from four to six pm where there's Moa beers, house wines and even 1.8 litres jugs of Wreck lager.
Love seafood? Here are other places to find Auckland's best.
Image Credit: Jaiden Bhaga