Ask an Aucklander what their favourite food is and chances are dumplings will rank pretty high—and we can't get enough of these tasty little morsels ourselves. Because the dumpling love is so strong, we've eaten our way down Dominion Road and beyond to round up the best dumpling spots in Auckland (tough gig, right?). So, follow this list in no particular order, embark on your very own tasting adventure and get set to devour the best dumplings in Auckland.
Barilla
Balmoral
We say dumpling, you say Barilla. Barilla is synonymous with dumplings—it's a true classic and serves some of Auckland's best dumplings. Boasting two restaurants on Dominion Road, Barilla is renowned for their perfect dumplings that come in lots of 20 (!), and their signature service. But let's be honest, you're here for these delicious morsels, not silver service. You'll wanna hit Barilla with your whole squad to maximise their long list of dumplings options. Try them steamed, it's a revelation and well worth the extra buck.
Eden Noodles
Mt Eden AND Albany
The buzz is real—and well deserved. Just look at the queue outside Eden Noodles and you'll see what we mean. As you enter the much-loved Mt Eden takeaway joint, look to your left and you'll see an elderly Chinese woman making dumplings with such speed you'll find it hard to look away. There are four options for dumplings including a veggie version and come swimming in your choice of sauce or soup. Order the dumplings in spicy sauce for a taster of that famous Sichuan numbing spice. Earning a rep as some of Auckland's best dumplings, these bad boys are more addictive than your latest Netflix obsession.
Sumthin Dumplin
Now for those who know Sumthin Dumplin, then you know that their little juicy morsels are to die for, but for those who don't here's a recap—Owner Shane Liu first opened his boutique eatery on O'Connell street serving up a variety of home-made dumplings which were in such hot demand he opened a second take away spot on Wellesley Street. Fast forward two years and Shane has teamed up with OG hospo heavyweights Phil Clark and Luke Dallow to open Midnight Gardener—an epic new beer garden serving up the dumps. The Beef and Cheese, which is inspired by New Zealand's love for meat and cheese pies are to die for. Picture this, premium beef, onion and a blend of mozzarella and parmesan all in one crispy wholemeal bundle. Don't worry you won't be getting one measly dumpling, these bad boys come in batches of five and they're huge.
New Flavour
Balmoral and Parnell
Dominion road staple New Flavour pumps out bloody good dumplings—they're some of Auckland's finest. What's more, the non-dumpling options are equally incredible. The fried pancake dishes are a must-try—as is the veggie fried rice. As for the dumplings, the pork mince with prawn and chives is a no-fail order or hit the pork and beef mince for an all-out meat attack. Pro-tip: the sweet red bean pancake makes the perfect post-dumpling dessert.
XuXu Dumpling Bar
Britomart
XuXu Dumpling Bar is in a league of its own. This sleek inner-city spot offers beaut little steamers of dumplings (six pieces per order) alongside their signature cocktails. The smaller portion sizes mean you can order as many or as few as you like—perfect for a drink accompaniment or a full dinner. We're partial to their prawn with ginger har gao and the duck and leek with hoisin dipping sauce. Leave room for the show-stopping dessert dumplings including a chocolate steamed bun, a soft pillowy bun packed with oozing chocolate fondant, and the party-in-your-mouth banoffee dumplings—oh my! Watch them coming together in all their glory right here.
House of Dumplings
Online
The capital's very best dumpling purveyors, House of Dumplings now have an Auckland presence and we're damn happy to hear it. Hong Kong native Vicky has a truckload of personality and major dumpling skills. What makes their dumplings so incred is the premium-quality ingredient and the tender love and care put into each and every beautiful parcel. Vicky's dumplings are available online from their website or from the frozen section of supermarkets including Farro Fresh, Nosh and selected Countdowns, so try them for yourself from the comfort of your home.
Top Café
Auckland City
Top Café gets points in our book for the cooking style of their dumplings—perfectly steamed and lightly fried, so you get a good crunch in every mouthful you shove into your gob. They also go up in our book given the massive amount of ingredients that are included in each dumpling—you certainly get bang for your buck. It's a simple place—a short list of classic dumpling fillings, very simple interior and killer dumplings. Go for juicy pork and don't look back as you feast of some of Auckland's best dumplings.
The Blue Breeze Inn
Ponsonby
The Blue Breeze Inn has that Hawaiian-Asian thing down-pat and their food is glorious. We're yet to try something substandard from their menu, and the dumplings are particular standouts. Here you'll find three steamed offerings: black tiger prawn and sesame or pork and black truffle and roast duck and pork. If you're more of a fried dumpling guy or gal, they've got you covered with a spicy chicken number. We can't go past the juicy prawn variety that's bursting with flavour (and prawns). And, of course, no visit is complete without munching your way through Blue Breeze's signature pork belly steamed bun.
Shaolin Kung Fu Noodle
Balmoral, Auckland City, Howick & Albany
Shaolin Kung Fu Noodle not only serve epic noodles, but they also serve epic dumplings. You can choose to have 'em served steamed, poached, pan fried or in sour soup. Pan fried is our go-to with the dumplings arranged to fill a pan before being flipped and served like a massive dumpling pancake—amazing, right? They're filled with combos such as lamb and fennel, chicken and corn as well as beef and celery. Luckily for us, Kung Fu Noodle has four locations Auckland-wide, meaning you're never far from your next dumpling (and noodle!) fix.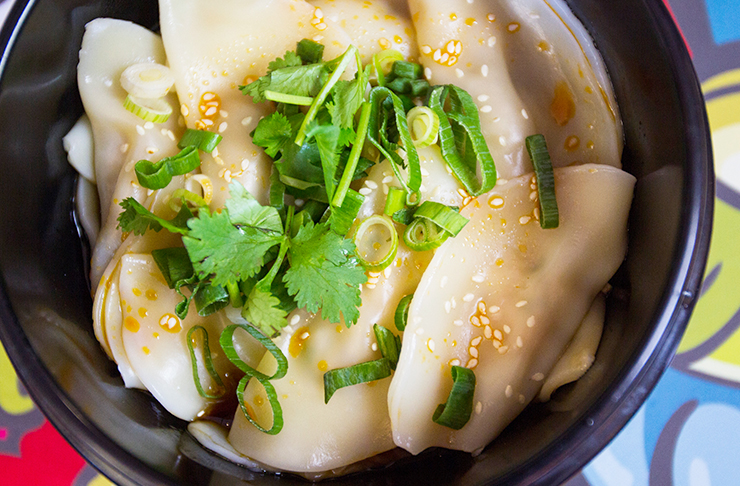 Flavour House
Balmoral
With a name like Flavour House, it's no surprise the Dominion Road dumpling joint dishes up flavoursome dumplings. Be sure to try their signature xiao long bao (aka soup dumplings) that come from the Jiangnan region of China. Starring a juicy inside, half the fun is trying to consume the morsel without squirting dumpling juice on the person sitting opposite. Stick around for dessert because hot toffee-covered kumara is on the menu. Don't knock it until you've tried it—it's surprisingly delicious.
Basu Lounge
Takapuna
A hidden gem located on Lake Road in Takapuna is a small, cosy Chinese restaurant that serves up some of the best dumplings in town. The dumplings with spicy sauce at Basu Lounge are absolutely packed with the different fillings they have on offer. Gobble down the veggie, pork and cabbage, beef and celery, chicken and cabbage and our fave, pork and chives. The spicy sauce drenches the dumpling skins and adds a whole lot more flavour and the portions are so generous too. One of the best dumpling houses in Auckland.
The Gyoza Bar
Ponsonby
Ponsonby's The Gyoza Bar offer a Japanese style of dumplings called the gyoza. The skin of the dumpling is thinner, the bottom is fried while the top is steamed so you get a combination of different textures. The modern Japanese eatery takes the gyoza game to all new heights, serving up the classic pork but even doing a unique cheese gyoza. A crispy pork gyoza that's also filled with mozzarella cheese and tomato sauce, it's basically a pizza in gyoza form!
Jolin Shanghai
Mt Eden
While Jolin Shanghai isn't much to look at from the outside, don't let that put you off—they have a strong dumpling game. It's no secret, either—this Mt Eden joint is always bustling with hungry dumpling-snafflers. They're known for their juicy xiao long (those are the soup dumplings, remember?). Choose between pork or pork with crab and get slurping—they're the best soup dumplings in town! Better yet, Jolin Shanghai serves alcoholic bevvies so you can wash it all down with a vino or beer.
Man Du Rang
Northcote
Located in Northcote is this hidden Korean gem called Man Du Rang, serving up authentic Korean dumplings. Korean style dumplings tend to have a thinner skin and a lot more meat filling and best served steamed. Man Du Rang also do a kimchi dumpling to add some extra spice and even more filling to the delicate skin, it's seriously a must-try! They also do a whole lot of other Korean food that you need to get amongst like their hot stone bibimbap and soft tofu stew.
Mr Zhou's Dumplings
New Lynn and Mt Eden
A firm fave with New Lynn locals, Mr Zhou's Dumplings now also has a presence in Mt Eden. And they're not just some of the best dumplings in Auckland—they're also some of the cheapest. Mr Zhou has a seemingly endless dumpling menu with pork, beef, chicken and vege morsels (the prawn fried noodles are also incred!). Choose to have your dumplings boiled, fried or in a flavoursome broth. They even sell them frozen so you can make them at home—dumplings for breakfast, anyone?
Pearl Garden
Newmarket
Get amongst the hustle and bustle of yum cha at Newmarket's Pearl Garden. The much-loved eatery has all the Chinese treats—skewers, soups, noodles, rice, peking duck and a dedicated dim sum menu. Here you'll discover a wide range of dumplings including prawn and spinach, pork and cashew nut as well as duck and mushroom. Round up your nearest and dearest, order a countless number of dishes and make dig in!
The Candy Shop
Newmarket
Authentic dumplings and trendy fit out is what The Candy Shop has is store for you. With a menu that changes on the reg, they always make sure to have dumplings in some shape or form. We love the beef cheek dumplings and prawn dumpling soup. A common Korean dish that is enjoyed during the New Year's celebration season is the classic bowl of pork bone broth with a modern seafood twist. Delish!
Bo's Dumplings
Morningside
Tucked away in the popular Morningside Precinct is the small 12 square metre shop Bo's Dumplings serving up beautifully authentic Chinese parcels. The man behind Bo's is Bo Feng, a dumpling connoisseur, who takes inspiration from his grandparent's recipes. While the hole-in-the-wall may be petite, don't let that fool you as the dumplings are anything but.
Tianze Dumpling House
Sandringham
There's more to Sandringham than curry, y'know? Tianze Dumpling House knows a thing or two about—you guessed it—dumplings! The BYO-friendly joint serves all your faves (pork and chives, lamb and cumin, spicy beef etc) in exceptional style. Opt for boiled, steamed or fried and brace yourself for a dumpling coma. Pro tip: the sizzling eggplant stuffed with pork mince is also not to be missed.
The Rolling Pin
Wynyard Quarter
If there's one thing Aucklanders love as much as dumplings, it's food trucks. It was only a matter of time before a dumpling food truck entered the city's food scene…and that time is now. Say hello to The Rolling Pin. Made with the very best ingredients and topped with vibrant slaw, their morsels are better than your average. Now the Rolling Pin has finally set up permanent shop in Wynyard Quarter there'll be no more irrational panics about our fave dumplings moving on. Get in.
White + Wong's
Viaduct & Newmarket
For fancier-than-your-average dumplings, visit White + Wong's stunning waterfront restaurant. The Asian fusion restaurant has three creations to choose from: beef, shiitake and cumin shumai, spanner crab & pork xiao long bao as well as prawn and coriander crystal skin dumplings. They're all about quality over quantity with four pieces per serve. Rest assured, every mouthful is packed with flavour and there's no denying these are some of the best dumplings in Auckland.
All dumpling'd out? Here's where to find the best cheap eats in Auckland.
Image credit: Bo's Dumplings, Midnight Gardener by Wono Kim, Jaiden Bhaga, Lauren Matilda Matthews, Kellie Blizard, Andrew Wilson, Blue Breeze Inn, Kate Rose, Abhishek Sanwa Limbu, Bo's Dumplings
SaveSave