Whether payday is a distant memory or you simply don't want to spend your life savings on a meal, don't go running for those two-minute noodles just yet. There are plenty of cheap eats in Auckland that are minimal on coin but maximum on deliciousness.
These wallet-friendly Auckland restaurants will leave you full, satisfied, and with money in the bank. So, without further ado, here are 50 of the best cheap eats in Auckland, for $20 or less.
Burgernaut
Kingsland
Fact: a visit to Urbanaut's dedicated burger kitchen, Burgernaut, is money well spent. The burgers here are some of Auckland's best—made in the American smash style—and will set you back as little as $12 (that's heading into burger chain territory). Spend wisely, and you can even get a side to go with. As for the sweet view—a working brewery—that's for free.
Mr Hao
Albany, Mount Eden
Mr Hao
is always a good time, but especially outside the hours of 6 and 9 pm. That's because this mouthwatering spot is slinging assorted noodle dishes for as little as $8 (that's for the scallops with vermicelli, FYI) as well as BBQ tiger prawns, scallops and oysters for $2, $1 and $2 respectively. Tag on an iced tea cocktail or Mr Hao lager for $5 if the budget allows.
Carmel Israeli Street Food
Eden Terrace
For legit Israeli street food that's as kind on your wallet as it is on your tastebuds, check out Carmel Israeli Street Food. This ex-food truck is your one-stop shop for what we swear are the best damn pitas around (soft, fluffy and so full of ingredients, they look as stuffed as we feel after eating them), along with some seriously good rugelach. Your visit may or may not involve waiting in a queue, but that's just confirmation of how good this grub really is.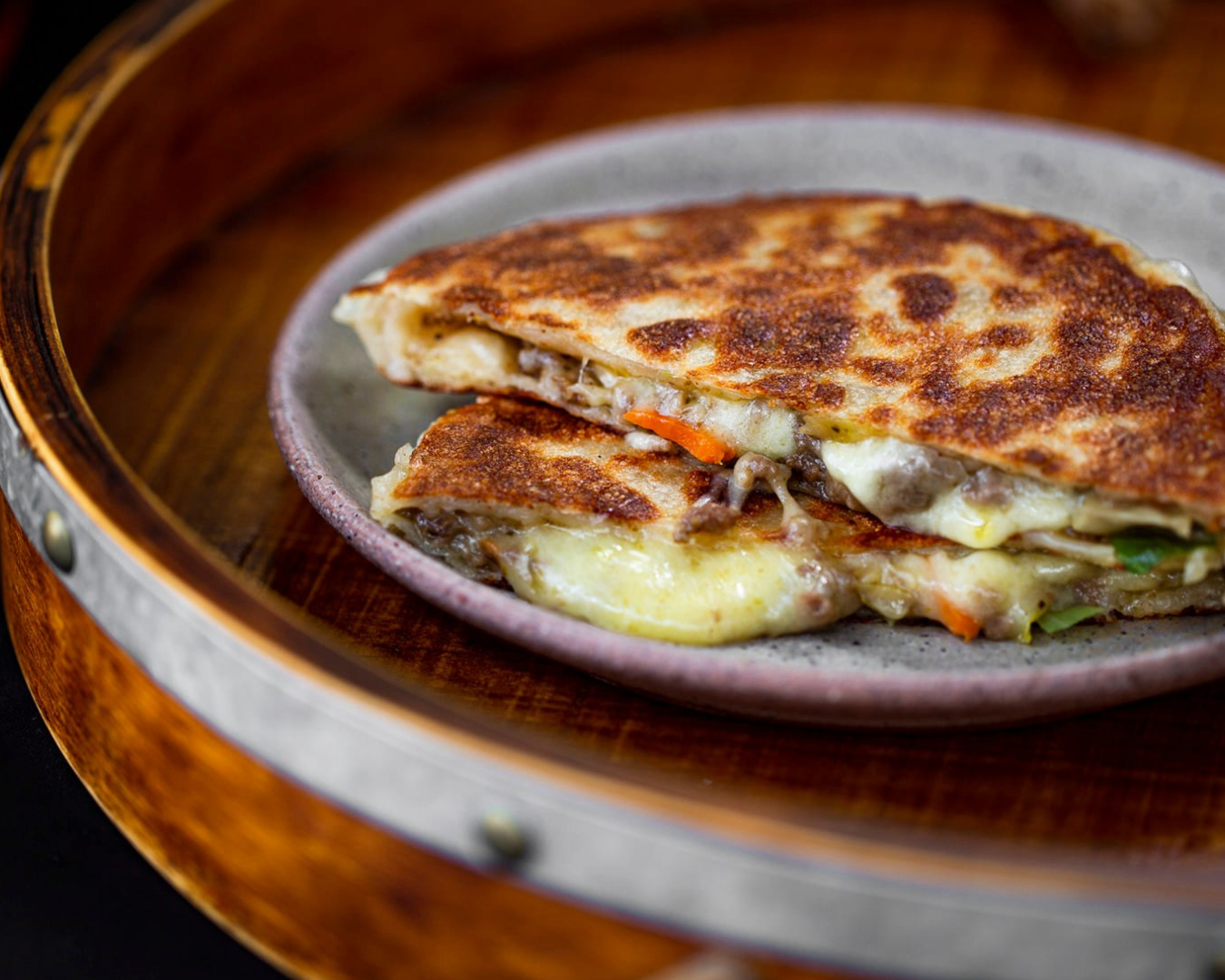 No1 Pancake
Rosedale
No1 Pancake
is an Auckland icon, serving up mouthwatering Korean pancakes, or hotteok, from their bustling kitchen in Rosedale (they relocated here after spending more than 15 years in the CBD). Packed with tasty fillings and cooked 'til crisp, we dare you to find a more hearty meal this cheap (everything on the menu is under $10). Their potato and cheese pancake is legendary, and mere pocket money at $8.50.
Pici
Karanagahape Road
Yes, one of the newer jewels in Auckland's crown also makes our list as being one of the most affordable. Score Pici's already legendary cacio e pepe for a measly $18—with many of their other pasta mains also under $20.
Sumthin Dumplin
Auckland CBD (Lorne Street and O' Connell Street) & Botany
The gold standard for dumplings in Auckland, it never ceases to surprise us that such deliciousness comes so cheap (read: everything under $20). We're rather partial to Sumthin Dumplin's premium beef offering (basically cheeseburgers in dumpling form)—$12.80 for a half dozen or $17.80 for 10.
Hapunan
Huapai
Like so many incredible eateries these days, Hapunan started life as a food truck. Now you can get your fix of drool-worthy Filipino on the reg thanks to their bricks-and-mortar eatery in Huapai. From pork sausage-stuffed spring rolls ($12) and fried chicken bao buns ($13) through to the belly-filling adobo del diablo (creamy coconut chicken on slaw and rice, $16), this is as thrifty as it gets.
Big J's Takeaways
Mount Wellington
Despite their name, Big J's prices are really rather small. In fact, we consider it ridiculous that we can get some of the city's best-tasting burgers—with fries and a bottle of pop, even—for under 20 bucks. This includes options like their crispy chicken (golden crumbed chicken breast with smashed avo, shaved red onion and house relish), classic cheese (a prime beef pattie decked out with sauteed onions, house relish and cheddar cheese), or morning dory (battered dory with shaved red onion, homemade tartare sauce, a soft-fried egg and house relish)—or if you want a burger sans sides, check out some of their more novelty offerings from around the $13 mark.
Wang Wang Spring Pancake
Mount Eden
Hidden along the foodie highway that is Dominion Road, Wang Wang Spring Pancake is the epitome of cheap and cheerful. These guys are slinging delicious, delightfully-thin Chinese pancakes that you can fill with whatever meat, vegetables and other goodies your heart desires, while their dumplings also come highly recommended.
Good Dog Bad Dog
Commercial Bay, Onehunga, Ormiston & Point Chevalier
With four locations across Auckland and an affordable menu to boot, Good Dog Bad Dog was a shoo-in for this list. Starting from $8.50, their next-level hotties are an absolute steal. Grab a classic dog and something on the side (we're thinking mac 'n' cheese or tater tots, $8 respectively), or snap up their famous fried chicken hoagie—a meal unto itself—for $16.50.
Taco Medic
Auckland CBD & Ponsonby
Wallet in need of life support? Taco Medic is here to help. Considered the country's first craft taqueria, this fun spot is where you'll find some of the city's tastiest tacos in flavours like fried fish, pork belly and beef brisket, for just $8 a pop. Even better, if you visit them on a Tuesday you can get your tacos for a game-changing $6 each. Arriba!
Lucky 8
Ponsonby
If you're looking for a good time out in Ponsonby that won't cost next month's pay packet, you definitely need to check out Lucky 8 where everything on their menu costs a princely $8, and yes, that includes next-level food like skewers, noodles and more and innovative cocktails. Say what. There's a reason this place is always pumping and always a vibe.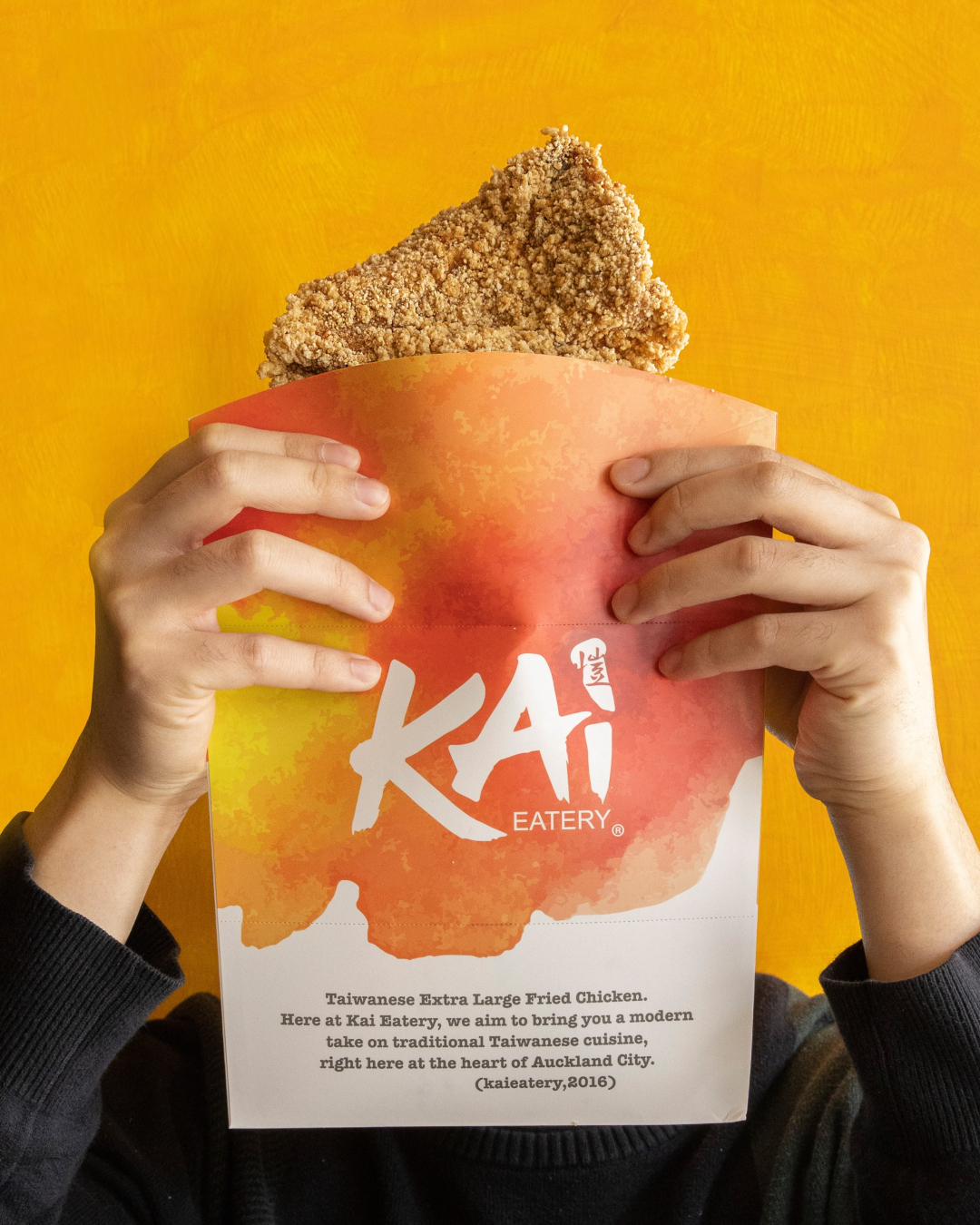 Kai Eatery
Auckland CBD, Commercial Bay, Ellerslie & Takapuna
Fried chicken the size of our face? That's definitely something we'd be happy to part cash with. And we can do so for as little as $14.50 at Kai Eatery, where XL Taiwanese-style fried chicken is the name of the game. That's not to overlook their mouthwatering rice bowls, potstickers and bao buns—all for under $20 each. Score.
Selera
Newmarket
Selera's laksa is world famous in Auckland, and not just because it tastes incredible... it's also a steal, coming in hot at $15. However, this Malaysian fave also has a host of other well-priced dishes for you to get amongst, from wonton soup and fried rice to curry puffs and nasi lemak. Yum.
Green Door Pizza
Commercial Bay
Nab yourself a slice (or two, or three even) of the most drool-worthy pizza known to man at Green Door Pizza. This funky little spot on the ground floor of Commercial Bay is slinging American-style pies that are generous on flavour, size and most importantly, price. We especially love their Margherita, which takes a red base and loads it with mozzarella, basil, garlic oil and assorted cheeses. Dig in.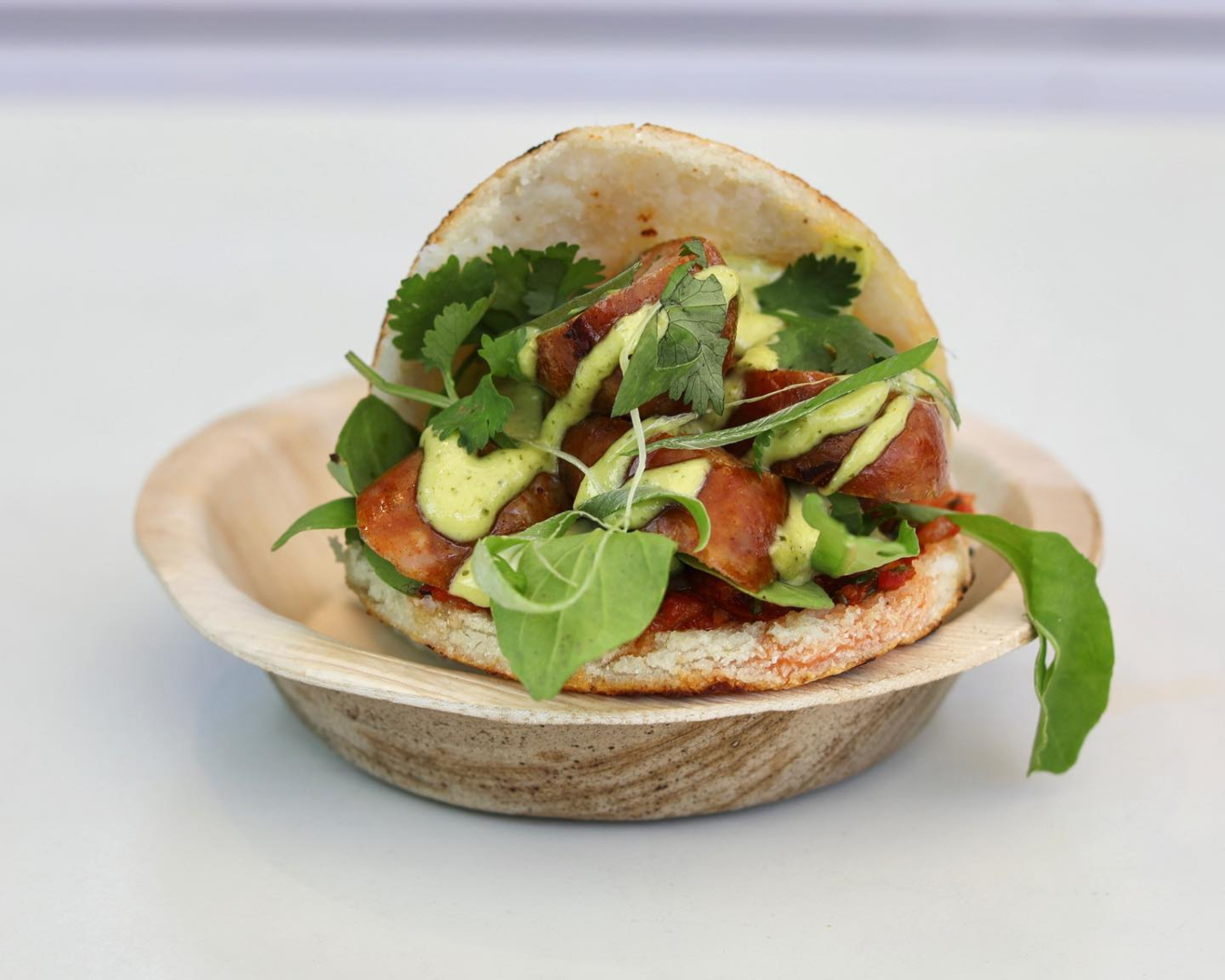 Mar & Tierra
Titirangi & Wynyard Quarter
If you're in the mood for arepas and empanadas, you've come to the right place. Mar & Tierra, which has outlets in both the city and at Titirangi's Street Feast food hall, is dishing up solid South American fare and better yet, it won't break the bank. We like their market fish ceviche ($19), dressed in a dreamy Leche de Tigre and served with homemade corn chips to scoop it all up.
Fat Puku's Smashed Burgers
Auckland CBD
Smashing their way to low prices is burger newbie, Fat Puku's. You can pick up their signature dish—a juicy smashed beef number topped with cheddar cheese, homemade pickles and other goodies, served on a soft potato bun—along with a basket of fries for under $20. Plus, this place is a total vibe.
Ramen Do
Eden Terrace
Woohoo for Ramen Do, who's dishing up some of the city's best ramen for a ridiculously low price tag. Yes, as if we needed extra incentive to tuck into a bowl of their authentic Japanese ramen—featuring a rich, 48-hour-brewed broth and housemade noodles, made fresh every day—we can do so knowing it's not costing us the earth (from $13, to be precise). Did we mention they also do a great don?
Satay Noodle House
Papakura
When we discovered that everything on the menu at cult South Auckland eatery, Satay Noodle House was under $20, it was like all our Christmases had come at once. Choose from a long list of fried rice, noodle soup and stir-fry noodle dishes and of course, their signature satays. Spend your money right, and you could also nab some of their famous homemade wontons while keeping under the $20 mark.
Peach's Hot Chicken
Panmure
Oh, how we love Peach's Hot Chicken—especially when we can get a feed here from as little as $15.50 (that's for their chicken and biscuits, FYI). Pick up their tasty chicken and waffles or game-changing Baller Sandwich for $19.50 apiece, or get amongst one of their value-for-money 'plates' featuring two pieces of juicy southern fried chicken with sliced white bread, pickles, and your choice of side (go the pimento mac 'n' cheese!), from $16.50.
Mr Zhou's Dumplings
Mount Eden & New Lynn
The only thing we love more than dumplings is dumplings at an incredible price. Enter Mr Zhou's, only one of Auckland's best dumpling establishments and who is bringing us handcrafted parcels of deliciousness in a long line of flavours including the hugely popular pork, chives and prawn, for around $10 per 10. Don't forget their wonton soup and fried noodles, both available for under $20.
Sneaky Snacky
Karangahape Road
Sorry, not sorry for adding another burger joint to this list. We're talking about Sneaky Snacky, which you'll find in all its aorta-clogging glory on K' Road. These aren't just any burgers, mind you—they're served on doughnuts instead of buns (yes, you read that correctly) and are so magnificently messy that you'll be given disposable gloves to wear while you eat 'em (again, you read that correctly). You can't put a price on food this good (though really, their burgers start from $15.50).
Ockhee
Ponsonby
Head along to Ockhee for lunch, and you can snap up a bowl of their insanely delish dubbap for $20 and under. Literally meaning Korean stir-fry on rice, this dish is wonderfully satisfying and available in a number of different variations—we like the classic marinated-beef bulgogi.
Gochu
Commercial Bay
Hear us out. While not everything on the menu at Gochu meets the criteria for this list, there's one dish that does. And not just any dish—their infamous spicy pork milk bun with beurre blanc dipping sauce, which costs $15 and is so incredibly rich, it could almost pass as a meal. Alternatively, you could order a round of their cheap and cheerful snacks—think mozzarella cheese balls with marmite mayo ($5), grilled pork belly ssam ($6), and a fried chicken slider with Gochu mayo and Korean pickled cucumber.
Ramen Takara
Browns Bay & Ponsonby
So, you like ramen? Of course you do. How 'bout ramen for bargain-basement prices? Hello, is that even a question? Best head along to Ramen Takara then, where their brand of authentic Japanese noodles will cost you $12 at its best, and $18 at its worst (pfft). And if you DON'T rate ramen, fear not—they have gyoza, don, harumaki and countless other delights for under $20.
Better Burger
Auckland CBD, Ponsonby & Sylvia Park
One of the best cheap eats in Auckland has to be Better Burger. You can grab a burger for as little as $10 or upsize to a combo (with fries and a drink) for around the $16 mark—what a steal.
Mithaiwala
Karangahape Road
Thali is an Indian and Nepalese platter-style dish made up of a bunch of small (and delicious) bowls. Opt for the Rajasthani Banquet at Mithaiwala and feast on three curries, three naans, rice, sweet gulab jamun, pickle, lassi and papad for less than $17.
Mighty Hotdog
Auckland CBD, Pakuranga & Royal Oak
When your wallet's near empty and hunger pangs strike, your salvation awaits sporting aviators and a superhero cape. Of course, we're referring to none other than Mighty Hotdog. Snag an original chicken banger for $5, a cheese rocket oozing mozzarella for $6.50, or splash out on a giant for $7. Quite possibly the best bang for your buck in Auckland.
Spicy Potato Noodles
Mount Eden
Drop into Spicy Potato Noodles for a hot bowl of soup packed with seaweed, tofu slices, pakchoi and quail eggs. This iconic Chinese street food dish features a whopping portion of delightfully chewy potato noodles. A $9/$10 small is perfect if you're ravenous, and the $11 will feed at least two hungry bellies.
Uncle Man
Karangahape Road, Manukau, Mission Bay & Wynyard Quarter
Malaysia is known for having incredible food and the dishes from Uncle Man are absolutely on point. Main meals cost around $15.50. A steaming hot plate of kuey teow noodles always hits the spot, or opt for the traditional breakfast turned any-time-of-the-day coconut rice dish, nasi lemak.
Chinoiserie
Mount Albert
We don't think we'll see a day when gua bao go out of fashion and while we're spoilt for choice with great eateries serving bao-tastic renditions, Chinoiserie's still one of the best—both in quality and price. Their crispy fried tofu, at $11, is the bomb dot com. Seriously—it's so tasty you won't even care we just used a super cringe reference.
FishSmith
Herne Bay
FishSmith has put a Herne Bay stamp on fish and chips and made them just that li'l bit fancy—but still without the expensive price tag. Our go-to is their spiced fish tacos paired with a side of fries. And there are no soggy chips in sight—they hand-cut their potatoes and fry them not once but twice to ensure they're perfectly crispy. We like your style, FishSmith.
BannSang
Auckland CBD
If you love Korean food (you do), look no further than BannSang. Serving some of the best Korean eats in Auckland, their delicious wine-infused pork belly has developed a cult following—and for good reason, too. Their spicy beef soup with glass noodles is also not to be missed.
Cassia
Auckland CBD
Sometimes you just want to feel fancy, even when your wallet says a hard no. For those times, head to Cassia and dig into their 'bites' menu. Order as many pani puri as your spare change will allow. You probably won't feel full afterwards but your tastebuds will be singing as they get to revel in the fresh, zesty explosion of mint, chickpea and potato in that crunchy shell.
Revive
Auckland CBD
Cheap doesn't have to mean fried for the gods. Plant-based feed, Revive, is brimming with a super tasty and nutritious ever-changing menu that doesn't cost a leg. $17 will score you two of their game-changing salads and their hotpot of the day with rice, or you can scoop up a salad box for as little as $11. They also do stellar end-of-day discounts too for when you want to be extra thrifty.
New Flavour Restaurant
Balmoral & Parnell
Dumplings have a special place in the heart of every Aucklander. New Flavour serves up some of the best (and cheapest) in town. Their seemingly endless dumpling menu is priced at around $15 for a serving of 20 delicious morsels. The Auckland fave also serves delicious noodles, rice and Chinese-style pancakes.
Mr Taco
Auckland CBD & Orewa
Find what is arguably the city's tastiest Mexican at Mr Taco. Their tacos come in a range of drool-worthy flavours like chipotle chicken, al pastor and birria beef that are literally bursting at the soft-shell seams, and best of all? You can nab three for just $20. As you'd expect, they also do quesadillas, burritos, enchiladas and the all-important churros.
Eden Noodles Cafe
Auckland CBD, Albany, Mount Eden & Newmarket
Eden Noodles Cafe is the go-to cheap eats hub when it comes to spicy dumplings and dan dan noodles. Limited capacity increases the odds of you having to wait in line to get your Sichuan fix but patience is key, my friend—these bowls of slurpy goodness has earned a reputation for being the best noodles in Auckland. A word of warning: Eden Noodles spice scale packs a punch—you've got to be able to handle the heat.
Saigonz
Auckland CBD
Everything on the menu at Saigonz is $17 or less (mostly less)—that's hella reasonable given it's all traditional fare bursting with flavour. With banh xeo (rice flour pancake), lemongrass chicken or tofu on rice, spring rolls on vermicelli, the iconic pho soup and crunchy bahn mi, summer rolls, a game-changing vegetarian salad and more, choosing what to have will be the hardest thing you do all day.
Federal Delicatessen
Auckland CBD
Ahhh poutine, that hot, gooey, cheesy hug in fried form. Luckily for us, the good people at The Fed do a killer one. At $10.50 for a small, $17 for a large and an extra $6 to add pastrami, you might even be able to justify indulging in one of their heavenly slices of pie to finish. Alternatively, order up the legendary street dog pictured above, which at just $14 is sure to deal with your hunger AND leave change in your pocket.
Belly Worship
Mount Eden
Lychee pork has been a staple of Fujian, the southeastern coastal province of China, for over 300 years and Belly Worship serves one of the best versions of this beloved dish. Better yet, they do a vegan version too, and you can have it in a Chinese burrito for just $15.
Le Paris French Eatery
Auckland CBD
Sometimes you don't have the ka-ching ka-ching but you still want the bougee vibes—the perfect time to head to Le Paris. Sweet crepes will set you back a mere $7-14 and the savoury crepes (made with buckwheat flour) are only slightly higher. We love La Nordique—a buckwheat flour crepe filled with smoked salmon, chives, cream and lemon. It's super filling and costs a magical $16.
Piefee
Karangahape Road
Next-level sausage rolls, doughnuts and yes, pies (they once did a bacon French toast number), are the order of the day at Piefee, along with your favourite internet-breaking hot drink served in a biscuit pie cup, the Piefee (pie+coffee). Complete with sprinkle rim and chocolate coating, they might even pop a unicorn on top if you ask nicely. Any of these delicious goodies can be yours for less than $10.
Sajiao Chilli Restaurant
Auckland CBD
For large, satisfying portions of Chinese food, Sajiao Chilli Restaurant is the place to go. While their meat dishes are probably a little too expensive to be considered a cheap eat, their veggie dishes fit the bill. Think stir-fried broccoli in oyster sauce, braised eggplant, ma po tofu and brown sugar glutinous rice cakes.
Renkon
Auckland CBD, Parnell & Takapuna
Another of Auckland's best cheap eats, Renkon has been staving off the hangry demon within for many years. They're also practically unrivalled when it comes to price, with a bowl of ultra-filling donburi or udon noodles costing just $16.
Sensational Chicken / NZ Kebabs
Auckland CBD & Browns Bay
You can't have cheap eats without kebabs, and we sure like a good one. At Sensational Chicken / NZ Kebabs, $12 will get you a large kebab, $12.50 a large kebab on chips, and $13 a large kebab on rice. Now that's cheap.
Sunflower Thai Vegetarian Restaurant
Auckland CBD
Sunflower Thai Vegetarian Restaurant was way ahead of the faux meat game, and they're still going strong. Most of the menu sits happily at the $17/$17.50 mark—expect large, tasty portions and a great veggie-to-rice ratio. Do try the smoked plum tea.
Bird On A Wire
Orakei, Ponsonby & Takapuna
We've been a fan of Bird On A Wire since they first sprang into existence some years ago. Their menu, which originally revolved around chicken and tofu seems to be exponentially expanding and now also offers mouthwatering salad bowls and all-day breakfast. A good place to start is their $13 classic baguette—tofu, free-range eggs or pulled chicken with tarragon mayo and cos lettuce. Gluten-free baguettes are also available.
Zool Zool
Mount Eden
When it comes to cheap eats, Zool Zool is most definitely cool. This Mount Eden fave is slinging bowls of steaming hot ramen on the cheap, so empty your pockets and fill your belly. Many of their dishes come in below the $20 mark, including their famous Paitan offering which marries rich chicken broth with juicy chicken chashu.
Auckland Indian Sweets & Snacks
Mount Roskill & Otahuhu
While not technically a restaurant, Auckland Indian Sweets & Snacks is a treasure trove for cheap eats. The cabinets and shelving are lit up with bright pops of colour from every flavour of barfi (a dense milk-based sweet) and the savoury snacks—pakora, vada, steamed idilli with tamarind sauce and more—are sure to satisfy. Grab a curry, load up on sides and kick back in your lounge with your very own Indian picnic.
Who doesn't love a good deal? Check out Auckland's best happy hours.
Image credit: Sneaky Snacky, Pici by Wono Kim, No1 Pancake, Hapunan, Good Dog Bad Dog, Kai Eatery, Mar & Tierra, Satay Noodle House, Sneaky Snacky, Ramen Takara, Mighty Hotdog, Chinoiserie, Cassia, Mr Taco, The Fed, PieFee, Renkon, Bird On A Wire.