Whether payday is a distant memory or you simply don't want to spend your life savings on a meal, don't go running for those two-minute noodles just yet. There are plenty of cheap eats in Auckland that are minimal on coin but maximum on deliciousness.
These wallet-friendly Auckland restaurants will leave you full, satisfied, and with money in the bank. So, without further ado, here are the 30 best cheap eats in Auckland, for $18 or less.
Better Burger
Ponsonby, SYLVIA PARK, Auckland CBD
Kicking off our round-up of the best cheap eats in Auckland is none better than Better Burger. You can grab a burger for less than $10 or upsize to a combo (with fries and a drink) for around the $16 mark—what a steal.
Pici
K' Road
Yes, one of the newer jewels in Auckland's crown also makes our list as being one of the most affordable. Score their already legendary cacio e pepe for a measly $16—with many of their other pasta mains also under $18 and a glass of vino and you're good to go. Score.
Le Paris French Eatery
ELLIOTT STABLES
Sometimes you don't have the ka-ching ka-ching but you still want the bougie vibes—the perfect time to head to Le Paris. Sweet crepes will set you back a mere $7-11 and the savoury crepes (made with buckwheat flour) are only slightly higher. We love La Nordique—a buckwheat flour crepe filled with smoked salmon, chives, cream and lemon. It's super filling and costs a magical $16.
Mithaiwala
K' ROAD
Thali is an Indian and Nepalese platter-style dish made up of a bunch of small (and delicious) bowls. Opt for the Rajasthani Banquet at Mithaiwala and feast on three curries, three naans, rice, sweet gulab jamun, pickle, lassi and papad for less than $17.
Mighty Hotdog
Auckland CBD
When your wallet's near empty and hunger pangs strike, your salvation awaits sporting aviators and a superhero cape. Of course, we're referring to none other than Mighty Hotdog. Snag an original chicken banger for $4, a rice cake or mighty kumara for $6, or splash out on a giant for $7. Quite possibly the best bang for your buck in Auckland.
Spicy Potato Noodles
DOMINION ROAD
Drop into Spicy Potato Noodles for a hot bowl of soup packed with seaweed, tofu slices, pakchoi and quail eggs. This iconic Chinese street food dish features a whopping portion of delightfully chewy potato noodles. A $9/$10 small is perfect if you're ravenous, and the $11 will feed at least two hungry bellies.
Uncle Man
K' ROAD, WYNYARD QUARTER, MISSION BAY
Malaysia is known for having incredible food and the dishes from Uncle Man are absolutely on point. Main meals cost around $15.50. A steaming hot plate of 'kuey teow' noodles always hits the spot, or opt for the traditional breakfast turned any-time-of-the-day coconut rice dish 'nasi lemak'.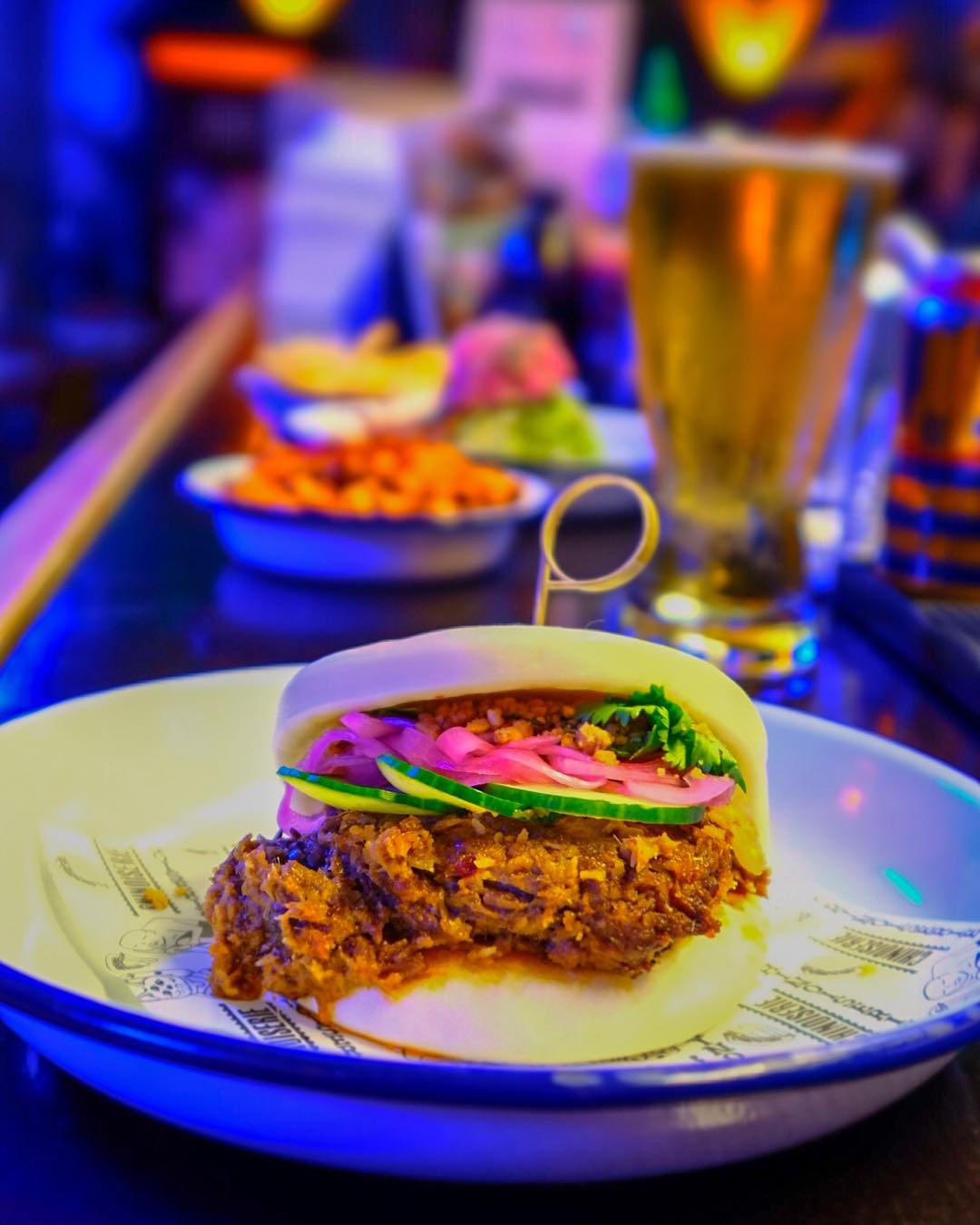 Chinoiserie
MT ALBERT
We don't think we'll see a day when gua bao go out of fashion and while we're spoilt for choice with great eateries serving bao-tastic renditions, Chinoiserie's still one of the best—both in quality and price. Their crispy fried tofu with coriander, fried shallots, satay sauce and num dim, at $10, is the bomb dot com. Seriously— it's so tasty you won't even care we just used a super cringe reference.
FishSmith
HERNE BAY
FishSmith has put a Herne Bay stamp on fish and chips and made them just that lil' bit fancy—but still without the expensive price tag. Our go-to is their spiced fish tacos paired with a side of fries. And there're no soggy chips in sight—they hand-cut their potatoes and fry them not once but twice to ensure they're perfectly crispy. We like your style, FishSmith.
BannSang
HIGH STREET
If you love Korean food (you do), look no further than BannSang. Serving some of the best Korean eats in Auckland, their delicious wine-infused pork belly has developed a cult following—and for good reason, too. Their perfectly spicy soul-warming soft tofu stew is also not to be missed.
Paradise Fusion Pizza
SANDRINGHAM
The latest from cult-fave Paradise, Paradise Fusion Pizza magics up delicious curry-pizza fusions until 10pm every night. Pizzas range from $10.99 for just cheese through to $16.99 for butter prawns masala. They also do potato masala wedges and hashbrowns with garlic aioli sauce—rejoice!
Pizza A Casa
NEWMARKET
If you're looking for a more traditional pizza fix look no further than Pizza A Casa. Build your meal with $4 pizza slices—all made with real '00' Neopolitan flour—in a variety of flavours and an exciting array of sides like parmesan garlic bread, arancini rice balls, handmade pizza scrolls and mozzarella bites. Gluten-free bases and vegan cheese are also available.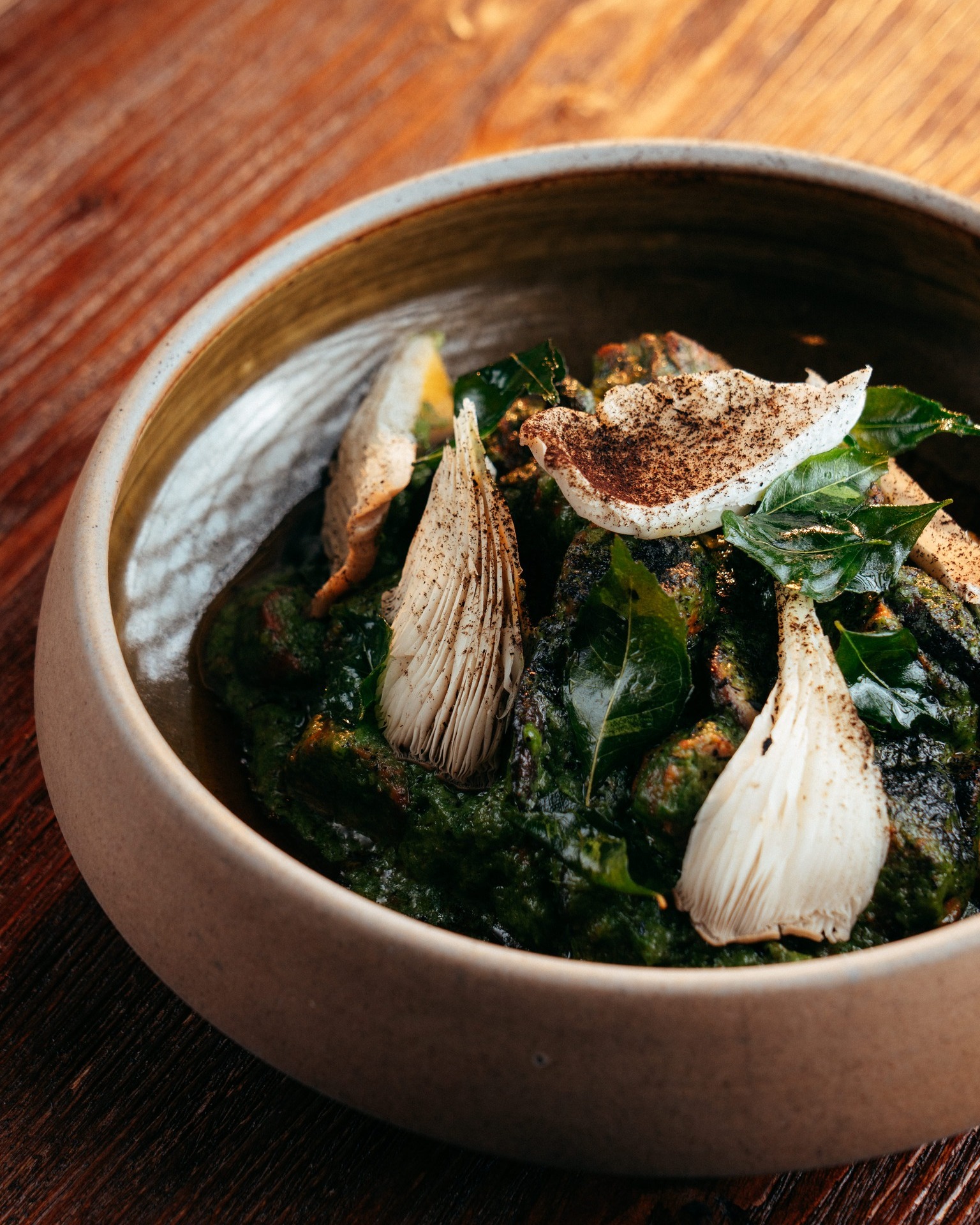 Cassia
FORT LANE
Sometimes you just want to feel fancy, even when your wallet says a hard no. For those times, head to Cassia and dig into their 'bites' menu. Order as many pani puri as your spare change will allow. You probably won't feel full afterwards but your tastebuds will be singing as they get to revel in the fresh, zesty explosion of mint, chickpea and potato in that crunchy shell.
Revive
LORNE STREET
Cheap doesn't have to mean fried for the gods. Plant-based feed, Revive, is brimming with super tasty and nutritious ever-changing menu that doesn't cost a leg. $16 will score you two of their game-changing salads and their hotpot of the day with rice, or you can scoop up a salad box for as little as $10. They also do stellar end of day discounts too for when you want to be extra thrifty.
New Flavour Restaurant
BALMORAL, PARNELL
Dumplings have a special place in the heart of every Aucklander. New Flavour serves up some of the best (and cheapest) in town. Their seemingly endless dumpling menu is priced at around $15 for a serve of 20 delicious morsels. The Auckland fave also serves delicious noodles, rice and Chinese-style pancakes. The fried green beans with garlic is a must-try.
Mr Taco - La Taqueria
FEDERAL STREET
Rock up to hole-in-the-wall taco shop, Mr Taco, for authentic Mexican goodness. Tacos come in pastor, beef, carnitas, jackfruit, chicken, birria and cactus, and you can nab three for $12. As you'd expect, they also do quesadillas, burritos, nachos and the all-important churros. Pop around the corner to Miss Torta for next-level Mexican sandwiches.
Eden Noodles Cafe
MT EDEN AND ALBANY
Eden Noodles Cafe is the go-to cheap eats hub when it comes to spicy dumplings and dan dan noodles. Limited capacity increases the odds of you having to wait in line to get your Sichuan fix but patience is key, my friend—these bowls of slurpy goodness has earned a reputation for being the best noodles in Auckland. A word of warning: Eden Noodles spice scale packs a punch—you've got to be able to handle the heat.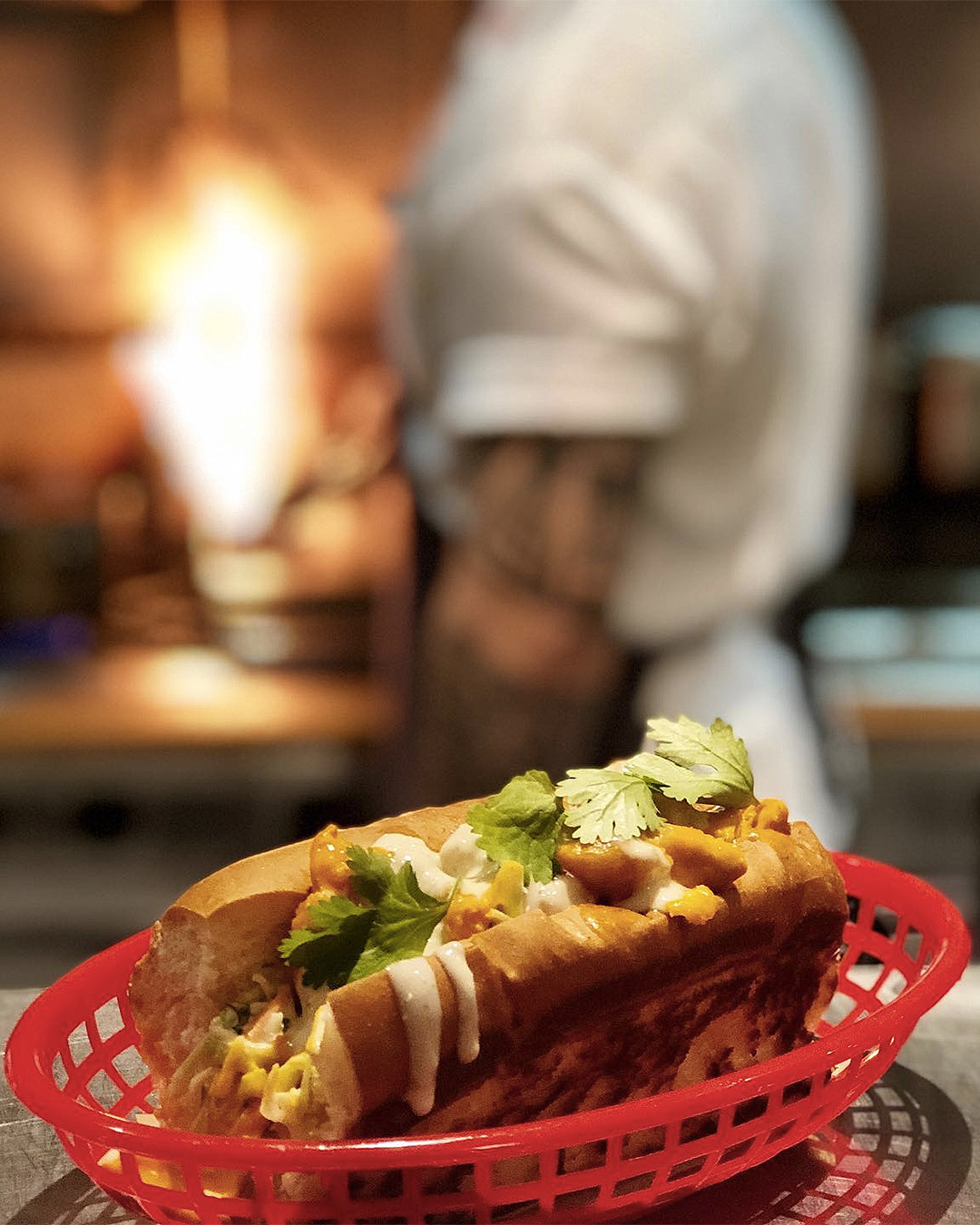 Federal Delicatessen
Auckland CBD
Ahhh poutine, that hot, gooey, cheesy hug in fried form. Luckily for us, the good people at The Fed do a killer one. At $10 for a small, $15 for a large and an extra $5 to add pastrami, you might even be able to justify indulging in one of their heavenly slices of pie to finish. Alternatively, order up the legendary street dog pictured above, which at just $12 is sure to deal with your hunger AND leave change in your pocket.
Belly Worship
DOMINION ROAD
Lychee pork has been a staple of Fujian, the southeastern coastal province of China, for over 300 years and Belly Worship serves one of the best versions of this beloved dish. Better yet, they do a vegan version too, and you can have it in a Chinese burrito for just $15.
Ha! Poke
UNIVERSITY OF AUCKLAND/SYMONDS STREET
Another cult-fave we don't ever see going away are poke bowls and thank heavens because we really do just want to catch them all (sorry not sorry). Vibrant, healthy and at just $12-14 a pop, you'll want to start every day with an 'aloha' from Ha! Poke.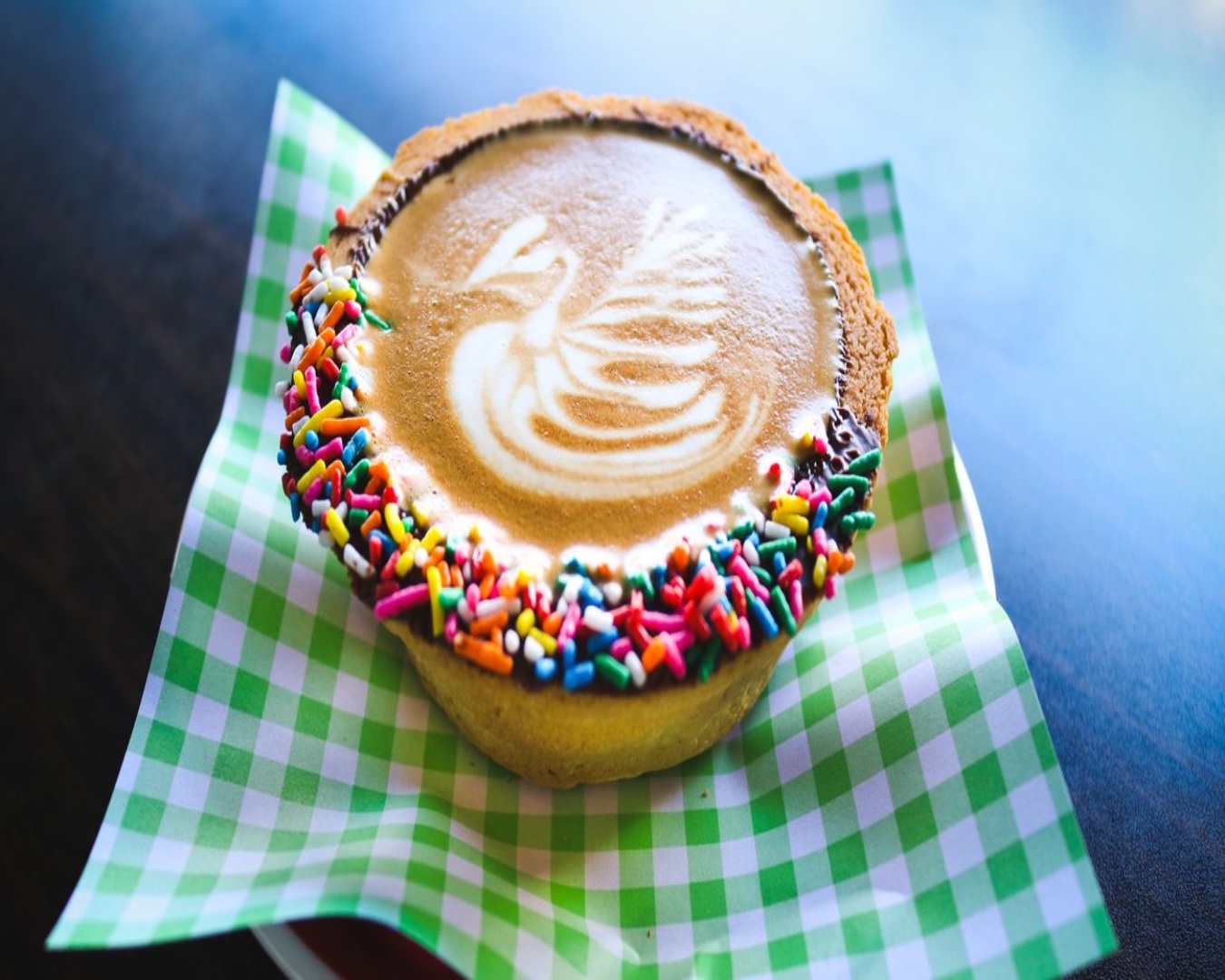 Piefee
K' ROAD
The croffin is alive and well at Piefee, along with a myriad of other internet-breaking hybrid snack wondergems like Bacon French Toast Pie and your favourite hot drink served in a biscuit pie cup, affectionately known as a 'Piefee' (pie+coffee), complete with sprinkle rim and chocolate coating. If you ask nicely they might even pop a unicorn on top. Any of these delicious oddities can be yours for less than $9.
Saigonz
ANZAC AVENUE
Everything on the menu at Saigonz is $14 or less (mostly less)—that's hella reasonable given it's all traditional fare bursting with flavour. With banh xeo (rice flour pancake), lemongrass chicken or tofu on rice, spring rolls on vermicelli, the iconic pho soup and crunchy bahn mi, summer rolls, a game-changing vegetarian salad and more, choosing what to have will be the hardest thing you do all day.
Sajiao Chilli Restaurant
UPPER QUEEN STREET
For large, satisfying portions of Chinese food, Sajiao Chilli Restaurant is the place to go. While their meat dishes are probably a little too expensive to be considered a cheap eat, their vege dishes fit the bill. Think: stir-fried broccoli in oyster sauce, braised eggplant, ma po tofu and brown sugar glutinous rice cakes.
Sunflower Thai Vegetarian Restaurant
HIGH STREET
Sunflower Thai Vegetarian Restaurant were way ahead of the faux meat game, and they're still going strong. Most of the menu sits happily at the $15/$16 mark with multi-grain rice available for an extra $1. Expect large, tasty portions and a great vege to rice ratio. Do try the smoked plum tea.
Renkon
TAKAPUNA, Auckland CBD & PARNELL
Another of Auckland's best cheap eats, Renkon has been staving off the hangry demon within for many years. They're also practically unrivalled when it comes to price with a filling donburi costing just $13.50. Favourites include misodare tofu, teriyaki salmon, sauce katsu - chicken, and renkon chips.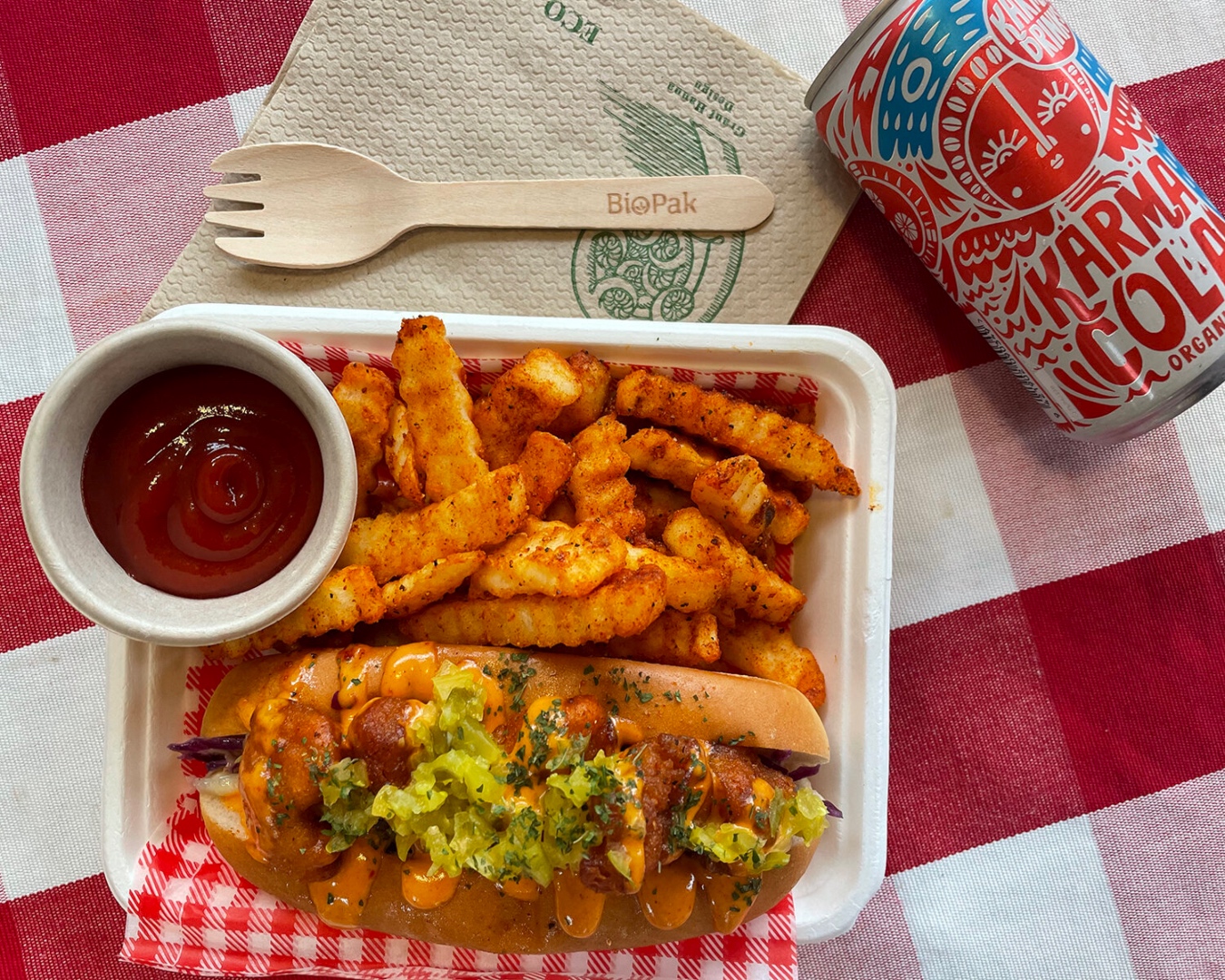 Hot Lips
UNIVERSITY OF AUCKLAND / SYMONDS ST
13's the magic number at Hot Lips, the latest from the team behind Ha! Poke, Taco Joint and Mexicali Fresh. Featuring '100% free range' cauliflower, and batter and sauces free from gluten, egg and dairy, we can't get enough of this legendary Nashville Hot Cauliflower. $13 will get you a hot cauli roll, hot cauli nugs or loaded fries plus fries or salad and a drink.
Bird On A Wire
Ponsonby, orakei, takapuna
We've been a fan of Bird On A Wire since they first sprang into existence some years ago. Their menu, which originally revolved around chicken and tofu seems to be exponentially expanding and now also offers mouthwatering salad bowls and all-day breakfast. A good place to start is their $12 'Classic' baguette—tofu, free-range eggs or pulled chicken with tarragon mayo and cos lettuce. Gluten-free baguettes are available.
Sensational Chicken Kebab
Grafton
You can't have cheap eats without kebabs, and we sure like a good one! At Sensational Chicken $10.50 will get you kebab on chips, $8.50 a large kebab and $5.50 for a kebab burger. Now that's cheap.
Auckland Indian Sweets And Snacks
MT ROSKILL And OTAHUHU
While not technically a restaurant, Auckland Indian Sweets and Snacks is a treasure trove for cheap eats. The cabinets and shelving are lit up with bright pops of colour from every flavour of barfi (a dense milk-based sweet) and the savoury snacks—pakora, vada, steamed idilli with tamarind sauce and more—are sure to satisfy. Grab a curry, load up on sides and kick back in your lounge with your very own Indian picnic.
St Pierres
Various locations
Probably the most well-known sushi house in Auckland, and with good reason, St Pierres never fails to deliver delicious cheap eats. Aside from their legendary 'Sushi Value Of The Day' where you get eight pieces of sushi for just $6.40, their filled rice balls—in chicken, salmon or tuna—are a meal in themselves at $6.20 a pop.
Love a deal? Check out Auckland's best happy hours.
Image credit: Pici by Wono Kim, Chinoiserie, Cassia, PieFee, The Fed, Hot Lips.