Sometimes things get a little tight…the washing machine breaks down the same week as the car does, and then the dog gets sick. And, let's face it, as much as we love the City of Sails, it's bloody expensive to live here. But this doesn't mean you need to be bored—with a little creativity and a whole lot of thriftiness, we've found the best free things to do in Auckland. You're welcome.
Auckland Art Gallery
With more than 15,000 works of art and free entry for NZ residents, visiting the Auckland Art Gallery is a no brainer. The beautiful venue features ever-changing exhibitions of both local and international artists. They also regularly run both paid and free talks, so make sure you keep an eye on their website for what's on.
Auckland Walks And Hikes
Lucky for us, there are many beautiful walks and hikes in and around Auckland—and better yet, they're free! Whether you're keen to soak in the cityscape, chase a waterfall or walk along the coast, put on those sneakers and get walking! Don't forget to take a snap for the 'Gram! Be careful to protect our kauri from kauri dieback disease.
Visit The Library
With a whopping 55 libraries and four mobile libraries from Wellsford to Waiheke to Waiuku, paying a visit to one is a great way to spend an afternoon. While there are books galore, there's also magazines, DVD's, videos, ebooks, and audiobooks for your pleasure. They also regularly host events and talks, so keep an eye on your local library and get involved.
Visit Cornwall Park
An inner-city oasis, a visit to Cornwall Park is one of the best free things to do in Auckland. Whether you're wanting a stroll, or to pace things up with a run, there's plenty of space. With large trees and rich history, it's a beautiful spot for all to enjoy.
Visit Parry Kauri Park
Take a day trip to Warkworth, and take a walk through the mighty Parry Kauri Park. The highlight of the beautiful native bush is two kauri trees. While you're there, make sure you follow protocol to protect our beloved kauri from kauri dieback disease. So good for the soul.
Live Music
While your Spotify may be overflowing with a cracking collection of music, nothing beats the sweet, sweet sound of live music. On any given night of the week, bands take to the stage of some of Auckland's best live music venues and bless our ears with their musical prowess. Head to one of these venues for a night to remember.
Auckland Museum
The Auckland Museum is free (if you take along proof of address that you're a local) and has plenty of interactive displays. From science to history, to nature to special exhibitions there's plenty to keep you interested.
The Wintergarden
No trip to the Museum would be complete without also stopping by the Wintergardens next to it. With lush and beautiful displays in the greenhouses, there are also four goddesses overlooking a gorgeous pond. It's a slice of magic in the middle of the city.
Bird Watching At Tawharanui
Be at one with nature and head to Tawharanui's Open Sanctuary. Make your adventure even more interesting by downloading a list of all the birds and see if you can tick them off. Take your camera and get snapping!
Arataki Visitors Centre
Head out West to the Arataki Visitors Centre for something a little different. Up high, you'll overlook the beautiful Waitakere Ranges—make sure you pose for a photo in the golden frame. In the Centre, open dark doors to reveal wetas, or see if you can spot the lizards. And, see if you can spot Ricky Bakers jumper and other mementoes from Hunt for the Wilderpeople.
Auckland Botanic Gardens
Head south to the Auckland Botanic Gardens for a variety of nature experiences. Embrace your inner child and explore the Children's Potter Garden, learn how to grow vegetables, stroll through the herb garden, the native forest and enjoy the delicious scents of the rose garden.
Auckland Airport
Ok, ok, so we know you may get a little FOMO, but head to Auckland Airport and watch the planes landing and taking off. Dream of all the places you'd rather be.
Walk Tamaki Drive
Tie up those laces and walk the length of Tamaki Drive. One of the most popular roads in Auckland, there's always plenty of action. With Rangitoto as your backdrop, you'll find beach after beach and, at Mission Bay a fountain to splash in.
Visit Ambury Farm
Mix things up a bit with Ambury Farm's animals. You'll find sheep, goats, cows, pigs, rabbits and even peacocks, all with views of Manukau Harbour.
Climb One Of Our (Many) Volcanoes
We're lucky enough to be sitting on a whopping 53 volcanoes in Auckland, and they all offer striking views of our wonderful city. Why not climb one a week?
Chase Waterfalls
While TLC told us not to, sometimes it's good to venture away from the rivers and lakes that you're used to. Lucky for us, there are a fair few waterfalls to chase near Auckland. We've tested the water (falls) around the city to bring you a list of the best in Auckland.
Goat Island
One of Auckland's treasures is Goat Island. New Zealand's first marine reserve, you can pop flippers and snorkel on and go for a swim. Here you'll find snapper—including two sixty-year-old residents—and other marine life to enjoy.
North Head Tunnels
Fancy something a bit different? Grab your torch and head to North Head and explore the tunnels—after taking the obligatory gun photo, of course. Download the guide for your walk and discover a part of our military history.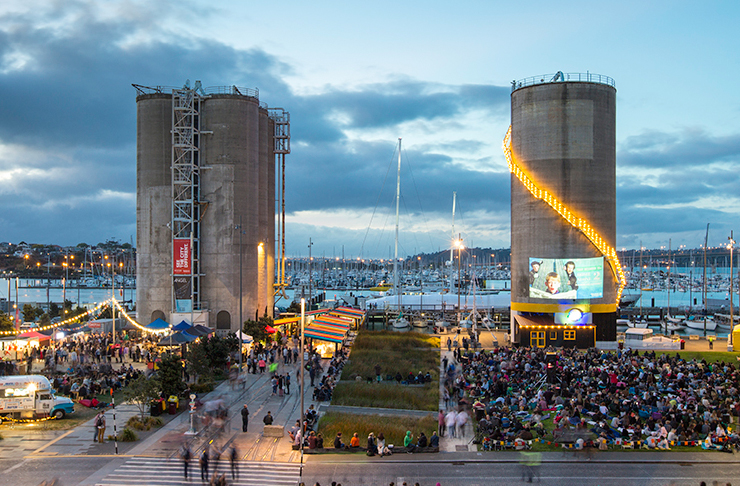 Silo Park
All year round, you'll find Silo Park rocking—with food trucks, markets and street performers, it's one of the best free things to do in Auckland. Embrace your inner child and play in the water feature.
Wynyard Quarter
Next to Silo Park is Auckland's Wynyard Quarter, which is always a-buzz with plenty of people, including buskers. Whisper sweet silly nothings to each other in the talking funnels, take a moment to read a book at the community library and watch the yachts come and go.
Manukau Heads Lighthouse
Take a drive along the stunning Awhitu Peninsula and climb the 120 stairs of the iconic Manukau Heads Lighthouse. If you're lucky enough, you'll be able to spot one of the world's rarest mammals—the Maui dolphin—as it finds refuge in the ocean.
Bastion Point
Soaking in Auckland's history is Bastion Point. Drive to the top and soak in the views of Waitemata Harbour and the city. Get involved with The Orakei Marae's ecological restoration project and learn all about our native flora and fauna.
Pink Cycle Trail
Who turns an old motorway into a work of art? Auckland, of course. This pink trail is beautiful by night and day and is a must-do for any local.
West Coast Beaches
Another of Auckland's unique features is our West Coast Beaches. Piha, Cornwallis, Huia, Karekare, are all beautiful and majestic in their own right. Let the wind clear out the cobwebs, explore the walks and caves and, if you dare, go for a swim. Make sure you stay between the flags because Mother Nature is the ruler at these beaches.
Gannet Colony
Brave the wild winds at Muriwai and visit the gannet colony. It's busy from August to March and, if you're lucky, you'll also find a seal or two. There's also a blowhole shooting foam high in the air. Visiting the Gannet Colony is one of the best free things to do in Auckland.
T2
Feel like a cuppa tea, darling? If this sounds a bit of you, then head to T2's and have a wee sip or two at their free testing station.
Ōtuataua Stonefields
Classed as the number one most significant historical site in New Zealand, Ōtuataua Stonefields will transport you into another peaceful world—and yet it's just minutes from the hustle and bustle of city life. Circa 1300, there are three different walks to choose from. Also a site of contention, there is a barn with information about land rights that is free and worth checking out.
Laughter Class
Need a little...err...fun in your life? Then why not make a beeline for a laughter class? Seriously, it's a thing. All the lolz.
Need more inspiration? Check out 50 things to do in Auckland
Image Credit: Chris Mclennan, Marc Steenbeke, Armelle Frimpong, Our Auckland