While your Spotify may be overflowing with a cracking collection of music, nothing beats the sweet, sweet sound of live music. On any given night of the week, bands take to the stage of some of Auckland's best live music venues and bless our ears with their musical prowess. Whether you're looking for an intimate basement bar gig or a crowd of punters to rock out with, here's our guide to the best venues for live music in Auckland.
Neck of the Woods
K' Road
This K Road basement bar churns out live music melodies left right and centre. With a new line-up of artists every week, Neck of the Woods have hosted the likes of Black Sun Empire, State of Mind and Electric Wire Hustle as well as a multitude of local and international artists. Head there on any night of the week and expect to dance your way into the wee hours of the a.m. Its eclectic, buzzing vibe will get you hooked.
Anthology Lounge
K' Road
Taking things up a notch is Anthology Lounge in K' Road. Opened last year, it is situated downstairs from the popular Italian restaurant Cotto and is a luxurious venue with views over the motorway. You'll find plenty of art and photographs on the walls of rock legends, live music, bespoke cocktails and fine wine. Designed as a social space, the multi-purpose venue is great for all sizes of gigs, from big names to album launches to parties. C
The Tuning Fork
Parnell
Brought to us by Spark Arena is the smaller and more intimate venue, The Tuning Fork. Started off as a little pit stop for a pre-show dinner feed, they have now become a fully-fledged venue of their own. With a bar and diner located inside the premises, it's the perfect place to grab a drink and bite while you act all cool leaning against and take in the show.
Orleans
Britomart
Orleans will transport you straight to well, Orleans. Spend your weeknights listening to some smooth jazz and mellow blue tunes or rock up on the weekend for groovier, toe-tappin' beats. Not a mover or a shaker? Their tempting cocktail list will give you a nudge in the right direction.
Ponsonby Social Club
Ponsonby
If a booty shake and espresso martini drink marathon sounds like your kind of Saturday, then Ponsonby Social Club is for you. Whether it's a live DJ or a band, PSC provides the perfect platform to let your hair down and dance to the music. Go on, you deserve a night on the town.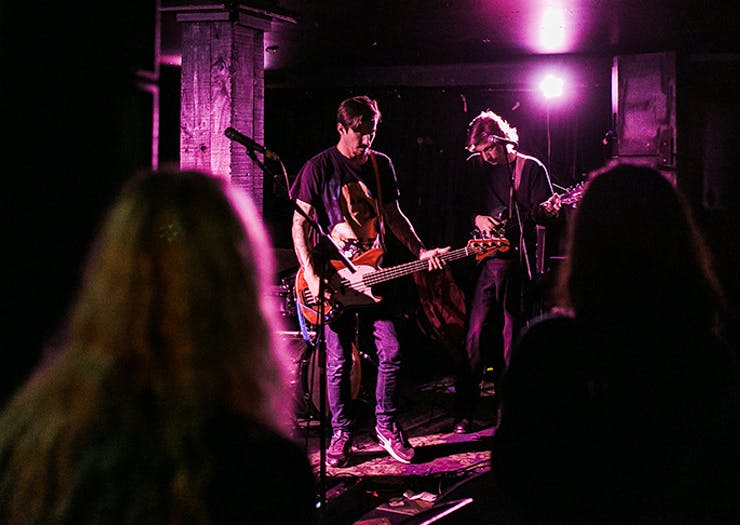 Whammy Bar
K Road
Another K Road spot, stepping into Whammy Bar is like stepping into a dark, mystical music cave. Things tend to get a bit hot, sweaty and steamy as revellers groove, head bang or spaz out to the tunes. Punk rock, heavy metal and indie bands tend to dominate here, so if that's your jam, you know where to go.
Cassette Nine
Auckland City
Go for the teapot cocktails, stay for the awesome live music. Cassette Nine's live music sched is always on-point, with a quality selection of artists gracing the stage every week. From old school throwbacks to fresh tracks, there's something for every type of muso.
Studio The Venue
K'Road
Having hosted some of the big international names such as Ellie Goulding, Studio The Venue has become a highly recognized spot for live music on trendy K'Road. The size of Studio is the perfect in between of a small, intimate space and a large arena so you get the chance to get personal with your fave artists while having enough room on the d-floor to bust out your best moves!
Danny Doolans
Viaduct
You can't call yourself an Aucklander until you've spent a night on the d-floor at the legendary Danny Doolans. This Auckland institution has live music SEVEN days a week and pumps every single night. It's a quintessential Irish pub in the heart of the city so expect sing-alongs, hugging and classic tunes. Cheers to that.
Galatos
Auckland CBD
This little space is warm and inviting, decked out with couches to enhance comfort and even a log fire. However, don't let the tiny amount of space and cosy atmosphere of Galatos fool you as this is a venue that's rich in New Zealand history. In fact, it's where Lorde had her first ever gig as a pop star and performed Royals live for the first time. Yup, this is where it all began.
Ding Dong Lounge
Auckland CBD
Started from the streets of the upper west side of Manhattan in New York, they decided to open one up in Auckland in 2013. Ding Dong Lounge is all about the punk, 80s pop and rock n' roll genre, perfect for those who just don't get a kick out of drum and bass club music. Or should we say, those who haven't gone public about their secret love for house party jams.
Wine Cellar
K' Road
Intimate gigs don't get much better than at the Wine Cellar. This K' Road gem has—no surprise—plenty of wine on offer, cosy vibes and dark lighting, making it a rad location to catch some live shows. That's your Thursday, Friday and Saturday night sorted, then.
Need places for a good ol' dance? Here are 8 Places To Dance The Night Away.
Image credit: Lydia Arnold