You've gone and done it again. You've woken up with both heels still on, a slice of pizza in hand and a sent box full of regrets. Welcome to your weekly hangover. After countless 'I'm never drinking again's', maybe it's not time to put the bottle down…maybe it's time to make those hangovers go away a little easier.
With our expert advice and with so much yumminess on offer in our wonderful city, be sure to eat your way out of this headache-ridden hell.
Bloody Mary At Scarlett Slimms
Boasting a beef slider, chicken wing, polenta hush puppy and an onion ring, the Bloody Mary at Scarlett Slimms is a top contender for hair of the dog. Featuring the classic stick of celery (gotta get your greens in somehow) and tomato-ey, boozy cocktail, this mean machine will keep that hangover at bay allll day.
The Field Of Greens Smoothie, Cali Press
Since you did your body some wrong the previous night, it's time to detoxify your sins with pure green health and goodness. The Field Of Greens Smoothie from Cali Press is packed with nutrients, electrolytes, protein and good fats, this smoothie will pick you straight back up and energize you through the day. Cali Press' toast menu is also an option that your body might appreciate more than a greasy burger so check those babies out while you're at it.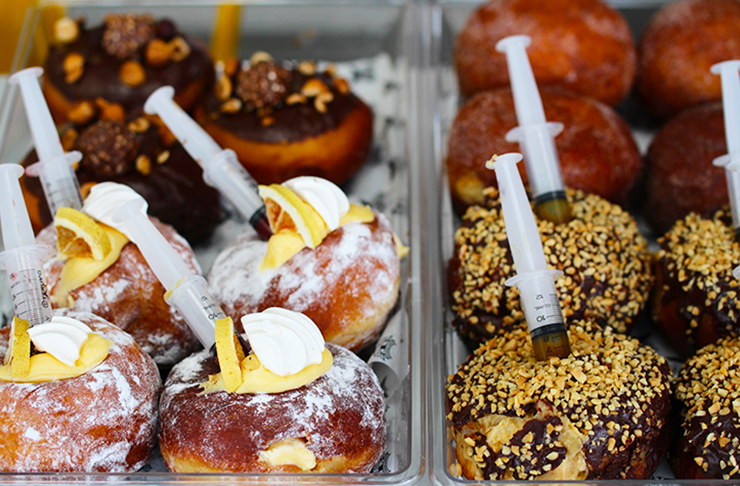 Anything, Al's Deli
You've done the hard part, you've made it to the restaurant, now let the team and delish food at Al's Deli look after you. Pretty much anything you order will knock your hangover to oblivion. Fact. Sometimes you have to just listen to your cravings and give yourself what your mind will appreciate. Hangovers are sometimes about feeding your soul to feel a little better and Al's Deli is the best for that. Think ribs, bountiful burgers, poutine fries and a whole lotta bagel lovin'.
Curried Kumara Pie, Daily Bread
What better way to make yourself feel relatively normal, than with the assistance of a classic, Kiwi fave—the pie. With golden, buttery pastry and a rich, delicious filling, you can't go past a pie in your time of need, especially from Daily Bread. Scoff it in one, or cherish every mouthful. Either way, you'll be well on your way to recovery.
Cold Brew, Kokako
Although it isn't really a meal, food is the last thing on our minds depending on how far we went the previous night. Coffee is a saviour most times of the week, let's face it. Whether it's your Monday morning pick-me-up or a Saturday morning salvation, coffee just gets us. Cold brew, however, is another level of caffeine. Perfect for sipping on, Kokako's version is renowned in the Auckland coffee scene and we simply, cannot get enough.
Big Breakfast Plate, Winona Forever
Not for the faint-hearted, but full of all the gourmet breakfast goodness one could ever wish for, this brekkie board from Winona Forever is a one-shop-stop to banish those hangover demons. It includes chicken and garlic sausage, streaky free range bacon, ripened tomatoes on the vine, whipped feta, mushrooms, eggs and artisan ciabatta…we can feel the food coma coming already!
Tonkotsu Ramen, Ramen Takara
Indulge in a load of rich pork broth and slurp your way through a big bowl of comforting noodles. The Tonkotsu Ramen from Ramen Takara is spiced with ginger which will heal your gut and liven up those taste buds. Ramen is a common food of choice in Asia for the hungry and hungover people and there's a good reason for that as it holds the ability to cure your wrongdoings from the night before.
Pho Soup, Café Viet
Broths are a hangover cure for sure but sometimes the pork broth in ramen can be little too rich and heavy for some of us. This is when Vietnamese pho comes in to the equation and Café Viet has got the goods! The soup is a witch's brew of ox-tail, infused with herbs and lime and topped off with tender slices of quality beef. Not only does the pho taste 10/10 but it's also going to nourish your body and ease your stomach.
Tiramisu Brioche, Williams Eatery
Served up with mascarpone sorbet, berries, white sesame powder and chocolate this indulgent sweet dish from Williams Eatery is perfect for curing your cravings and hangover symptoms. Give yourself the much needed sugar high by treating yourself to a one of these bad boys and take your day by storm.
Grilled Cheese, Fort Greene
Cheese and carbs never hurt anyone, especially when all you want is to feel relatively human again. Head to K'Road's Fort Greene, for your cheesy cure. With homemade bread, stuffed with four different cheeses and grilled to perfection, this tasty morsel is a cheese-lovers dream and a hangover saviour.
Fried Chicken, Ralphs
If crunchy and moorish fried chicken is all you are after, then look no further than Ralphs. Generous in their portion sizing and as delicious as one could hope for, you'd be silly to even think of heading to a certain Colonel instead.
The Yodi, Best Ugly Bagels
Carb heavy bagels to soak up the alcohol, protein from the pastrami and fat and comfort from the melted cheese – all your hangover cure desires in one meal. The Yodi from Best Ugly Bagels is an absolute classic and it tastes so much better when there is alcohol and regret in the system.
Image Credit: Andrew Wilson, Al's Deli
Want more?