My house, as they say, my castle. Dressing up your home is something we take very seriously and get super excited about. It is, after all, a reflection of who you are. The word 'homeware' itself has us squealing with joy. There's little we enjoy more than navigating our way through stores, falling in love with half the display items, picking out dream pieces for the home none of us can afford.
Your house is where you spend most of your time. It is where you work, relax and entertain friends, so make it presentable, make it comfortable, make it stylish and make it impressive! Ready to transform your space into a haven for inhabitants and visitors alike? We've compiled a list of Auckland's homeware top dogs. We're talking lounge sets, coffee tables, ornaments, bedsheets and kitchen utensils, among whatever else your homey heart may desire!
Father Rabbit
Various locations
Father Rabbit is the alter ego of its business owners, encompassing a minimalist outlook on interior design. Father Rabbit believes in quality and discipline, offering all sorts of houseware designed to make your life easier (which gets a huge hooray from us). It serves to help clear away mess with ease, to dress the bed in stunning duvets, to organise the books and kitchen utensils, weed the garden and uphold a presentable house interior overall. Here you'll find everything from chopping boards and cook books, to office supplies, linens, furniture and decorations of all styles, from art and frames to vases and carpets.
Citta
Various locations
If you're looking for a statement piece to bring some individuality into your home, then Citta is a must visit. Influenced by different cultures, Citta draws inspiration from all corners of the world, churning out seasonal collections of limited edition items. Their design philosophy maintains a combination of beauty and practicality and fun, assuring quality in every purchase. Whatever your house needs, you'll find it at Citta's. Whether you're looking for office furniture for the study, sheets for the bedroom, cotton throws for the living room couch, or for the very couch itself, you'll find it all here.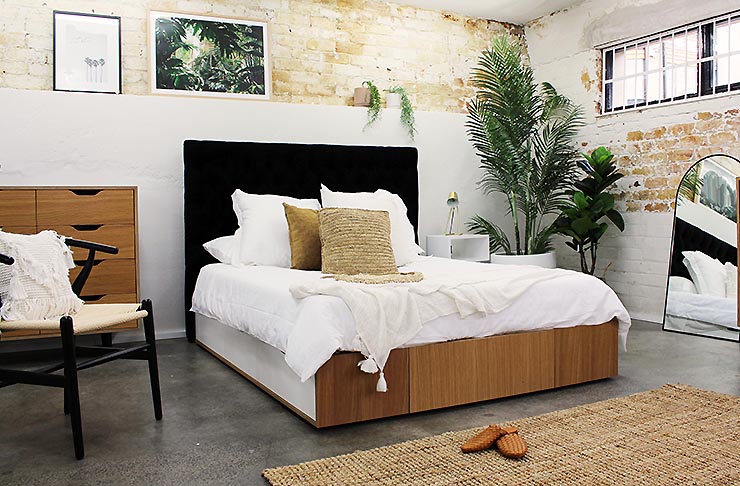 Mood
Ponsonby
Nestled just off Ponsonby Road, you'll find a mecca of understated and functional furniture with clean lines and a light and airy aesthetic. Welcome to NZ design company Mood. One of our faves in the 'hood, you'll find gorgeous pieces from oak beds and comfy chaise longues to effortessly stylish whole kitchen and bedroom fit outs within which we'd happily while away an afternoon. Pro tip—keep an eye on their sales section on site for a chance to snap up an unexpected bargain.
The Design Store
Various locations
There aren't many shops that can beat The Design Store at the homeware game. With seven shops Auckland wide and a distribution centre, The Design Store stocks everything from themed furniture collections and basic house utensils to the very decorative design extras that serve to pull the home together and make it your own. With numerous furniture collections, there's something to please every taste—from slick and simple Scandinavian to bohemian coastal glamour and turn-of-the-century inspired vintage pieces. There's also all sorts of art, ceramics, linen and lighting accessories as well as mirrors, storage, pet accessories and even a novelty and Kiwiana sections, too!
A&C Homestore
Bloc Collective, Mount Eden
Having made a name for themselves as the winners The Block NZ 2014, Alex and Corban have gone on to a stellar career in homeware sales. A&C Homestore stocks quirky brands from the world over, reflecting their love for unique design, allowing you to take a slice of their aesthetic back to your own house. It's almost like having the infamous husband and wife duo as your own personal interior designers—without the hefty price tag. The store items are mostly minimalistic in style with emphasis on muted palettes of black and white and beige, with the occasional accent of colour.

Nood
Various locations
Nood is an acronym for 'new objects of desire', encompassing the shop's ideology to a T. The team behind Nood believes that every New Zealander should have the opportunity to create the home of their dreams regardless of income, which is why the price tags here range from just a few dollars to 'slightly' heftier amounts. Nood offer all sorts of household items spanning the fields of furniture, kitchen and dining, bed and bath, decoration and even giftware. There's thousands of items on offer, promising to please every aesthetic preference so if you're ready to cosy up your house, Nood is a must visit! What's more, at the outlet store you'll be able to stock up on designer pieces at a fraction of the price—who ever said you can't have Champagne taste on a beer budget?
Trade Aid
Various locations
Trade Aid is your opportunity to not only dress the house in cool ethnic pieces but to make a difference in the world while doing so. Stocking one-of-a-kind handmade items, this quirky little store supports fair trade, ensuring that item producers in third world countries benefit from the business. Here, you'll find all sorts of items from furniture made from real wood and bamboo, to hand sewn pillows and linens, vases, door stoppers, frames, carpets, throws and even knitted toys! They say shopping is a mood lifter, but it's a whole new game when your shopping betters not only your life but that of the maker!
Allium Interiors
Newmarket
Allium Interiors are the perfect place to shop for those who are looking to jazz up their interior. Allium only stocks the best of the best: designer cushions, striking rugs, the warmest of throws and the softest of towels. Their kitchenware is decorative yet practical and their huge selection of ceramics a perfect way to spice up your space with colour. Here you will find all sorts of cool vessels such as planters, vases and table top accessories—simple in silhouette but punchy in colour—perfect for injecting a bit of life and personality into your interior.

Republic
Ponsonby and Newmarket
Purveyors of the unique and unexpected from all corners of the globe, Republic has two beautiful showrooms showcasing the best homewares around, with more arriving every week. From lush velvet sofas to rustic pieces more at home on a luxury safari and from teak root coffee tables to stylish tan leather sofas—there's a feast for the eyes in every direction. Delight in an aesthetic where East collides with West and old world rubs along with the new with a collection that's sure to spark your imagination.
Briscoes Outlet
St Luke's
We all love Briscoes—having grown up with 'the Briscoes lady' (who doesn't seem to age) it's been the go-to for New Zealand families for years, and definitely the go-to for students stocking up on the essentials for their first flat. Well, have we got a treat…you can shop all your favourite essentials at a fraction of the price at the Briscoes Outlet! Located in St Luke's this is the best houseware store for those looking to save. Here you'll find everything from plates and cutlery to bed and bath linens, glassware, furniture, all sorts of electronics and everything in-between!
Shut The Front Door
CBD, Ponsonby, Newmarket, Takapuna
There are few things more satisfying than finding the perfect house ornament. Be it planter or centrepiece, vintage mirror or a patterned rug, it's the little extras that make a house feel like home. And this is exactly where Shut The Front Door come in. Revered as one of Auckland's best homeware stores, this little gem stocks the most on trend pieces so that you can transform your house into one even the most popular of interior design Instagrammers would be jealous of! Geometric mirrors, quirky hemp doormats, all sorts of lights and even wall stickers, all designed to give your space a bit of personality.

Coco Republic
Newmarket
A relative newbie on the New Zealand scene, Coco Republic has established their impressive flagship store in Westfield Newmarket bringing with them over 40 years of experience in upping the style game of our Australian cousins. This boutique features a curated collection of over 300 pieces of furniture so you can picture how that stand-out piece will look in your domicile, and maybe pick up some other knick knacks while you're about it.
Junk And Disorderly
Mount Eden
Located in a massive warehouse, Junk And Disorderly is every hoarders and vintage freak's dream. Artfully cluttered with oddities, the store offers all sorts of bizarre finds, from vintage prints and mannequins to all sorts of taxidermy, feather rimmed mirrors, cast iron hooks, colourful club-flags, eccentric artworks and vessels. A trip to this treasure chest has all the thrills of sorting through a flea market, with added product quality. If you consider yourself a little offbeat, this is the perfect place to source outlandish house accessories.
Everyday Needs
Ponsonby
If you're aiming to create a calm and soothing atmosphere in your home, look no further than Everyday Needs. This Ponsonby boutique is the definition of sleek and elegant homeware, perfect for everything from ceramic vases to designer plates, wooden kitchen utensils, rustic enamel jugs and linens. And if you're a bit of a freak for bathroom accessories, you'll be stoked to know that Everyday stock a huge variety of high-end soaps, oils, toothpastes and hair products, too!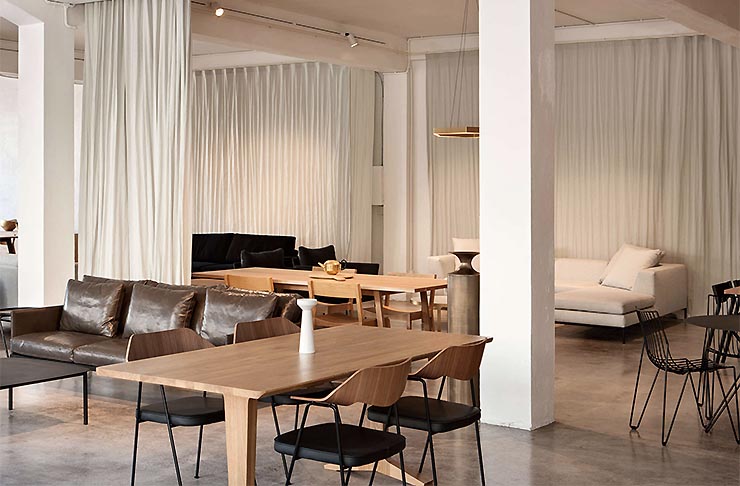 Simon James Design
Newmarket, Herne Bay
If luxury's your thing and you're looking to impress, Simon James has you covered. This store is perfect for tasteful, elegant furniture pieces for both the home and the office, combining quality, comfort and design. There are also plenty of smaller invest pieces such as hand-knotted rugs, and handmade lighting accessories.
Collected
Newmarket
Collected is one for all the maximalists out there… lovers of bright colours, prints and everything eclectic, this is your haven. Curated by interior stylist Leeann Yare, this store is full of fun design pieces for every room of the house, and even the outside, too, with plenty of garden accessories in store. Think patterned cushions, modern art, outdoor furniture as well as books and a huge range of quirky gifts from cute bottle stoppers to colourful laces, candles, tea infusers and much, much more!
Tessuti
Herne Bay
For those looking for effortless chic, Tessuti is a must visit. Full of beautifully curated pieces, this place does simple minimalism like no other. The store itself has a relaxing, content atmosphere, providing an enjoyable shopping experience as you browse for the perfect piece to take back with you. And boy, does Tessuti spoil for choice…stocking everything from cosy sleeping socks to perfume and jewellery, to linens, kitchenware and furniture, this is a store to get lost in for hours.
Madder and Rouge
Newmarket
If travel is your thing, Madder and Rouge is THE place to shop if you're after a cosmopolitan interior. The owners have a passion for travel and source their pieces from all over the world, making sure every item is not only stunning, but quality made. With a bit of a French/Indian vibe to the offerings, Madder and Rouge are perfect for all things colour and texture, stocking pieces for every room of the house.
Getting peckish? Check out the best cheese shops in Auckland.
Image credit: Republic, Mood, Coco Republic, Nood, Simon James Design