Nothing quite beats the smell of a freshly toasted hot cross bun. The spices and fruit mixed with the fluffy dough create that distinctive aroma that can only mean one thing: Easter is rolling around and every bakery in town is whipping up batches of the perfect creations for our eating pleasure. When warmed slightly and generously slathered in butter, hot cross buns become the ultimate morning delight, comfort snack, or just all-around good-for-the-soul kinda eating. Enjoyed with lashings of butter and a cup of coffee, on their own, out of a paper bag as you're rushing to work or with a scoop of gelato. There is no wrong way to eat these pillowy morsels.
To help you consume as many as possible before they disappear for another year, here is where to find Auckland's best hot cross buns.
Amano
Auckland CBD
This CBD staple is basically world-famous in Auckland. Their bakery is full of some of the most delicious pastries Auckland has to offer, and their hot cross buns are no exception. Full of all the traditional bits like sultanas, raisins, currants and spices, Amano put their signature spin on them with a citrus-spiced glaze and farm-fresh orange juice to take the pillowy buns to a whole new level. We apologise in advance, as you won't be able to go back to a supermarket bun after devouring one of these delicious treats.
Bread and Butter
Grey Lynn, Ponsonby and Milford
Specialising in traditional European and naturally leavened sourdough bread, and using all organic ingredients, Bread & Butter bake up an array of delicious and health-conscious treats. Around Easter, they create some seriously tasty and all-organic hot cross buns that are baked with a lot of love and care. The sourdough buns are slowly fermented and made with buttermilk to give an added depth of flavour. The burnt butter and spiced syrup glaze make the buns all the more indulgent and with three locations around Auckland, there are plenty of opportunities to get your fix.
Fort Greene
K' Road
Being sourdough experts, it's no surprise that the hot cross buns at Fort Greene are made with a sourdough starter and utterly delicious. The artesian bread makers know exactly what they are doing when baking beautiful loaves of bread and have pulled through this Easter with hot cross buns that are equally as delightful. Not too sweet and with a good dose of citrus and spice, the hot cross buns are some of the best Auckland has on offer. The best part is the crunchy top which has been baked to perfection giving the buns a slight chewiness, with the fluffy bun underneath ready and waiting for a good slather of butter.
Miann
Britomart, Morningside and Fort St
The luxury dessert restaurant does all things decadent and extremely indulgent so you can bet that their version of a hot cross bun is exactly that. Using handcrafted chocolate that is made on site, Miann has created a chocolate hot cross bun to rule them all. The soft and spongy buns contrast with the crunchy dark chocolate chunks throughout, which when slightly toasted go finger-licking melty and extra delicious. To really take things up a notch, opt for a scoop of gelato over the usual butter to go with it and find yourself in some kind of hot cross heaven you didn't know was possible. They really do have some of the best hot cross buns in Auckland.
Ima Cuisine
Auckland CBD
One of Auckland's greatest gems is the annual hot cross buns that are whipped up out of the Middle Eastern restaurant
Im
a
Cuisine
each year. The highly anticipated and hyped up buns fly out the door daily—and for good reason. With freshly ground spices and a good dose of dried fruit, the buns are dense and full of all the right flavours. But it's the gooey custard crosses that really give the hot cross buns the reputation they deserve. When toasted the custard goes all melty and slightly caramelised, turning the baked bun into the ultimate decadent desert-like treat. Definitely get amongst the online ordering system to avoid the disappointment of missing out.
Wild Wheat
Mt Eden, Howick, mangere and Belmont
Shaped and handcrafted into beautifully rounded buns, Wild Wheat has sure nailed the aesthetic of their yearly hot cross buns. And the Easter treats are just as delightful to eat as they are to look at. Perfectly balanced with spice and fruit, the traditional flavours are combined into a fluffy and soft dough. Baked to perfection, the outer has a slight chewy crunch that adds a whole other texture—it's very easy to see why they are award-winning after all.
The Pie Piper & Doornuts
K' Road, Mission Bay
The pies and doughnuts from The Pie Piper & Doornuts are some of the most delicious in Auckland, and their new addition of Piper Hot Cross Buns are equally as tasty. Their chef has spent weeks perfecting this hand-rolled recipe, and all the effort has definitely paid off. Make sure to pre-order for that perfect mid-morning treat and don't miss out, as these soft buns are only available in limited supply Wednesday to Sunday. They've got such a perfect ratio of fruit and spices (with just the tiniest touch of citrus peel) that you'll be wishing you ordered a whole dozen for yourself.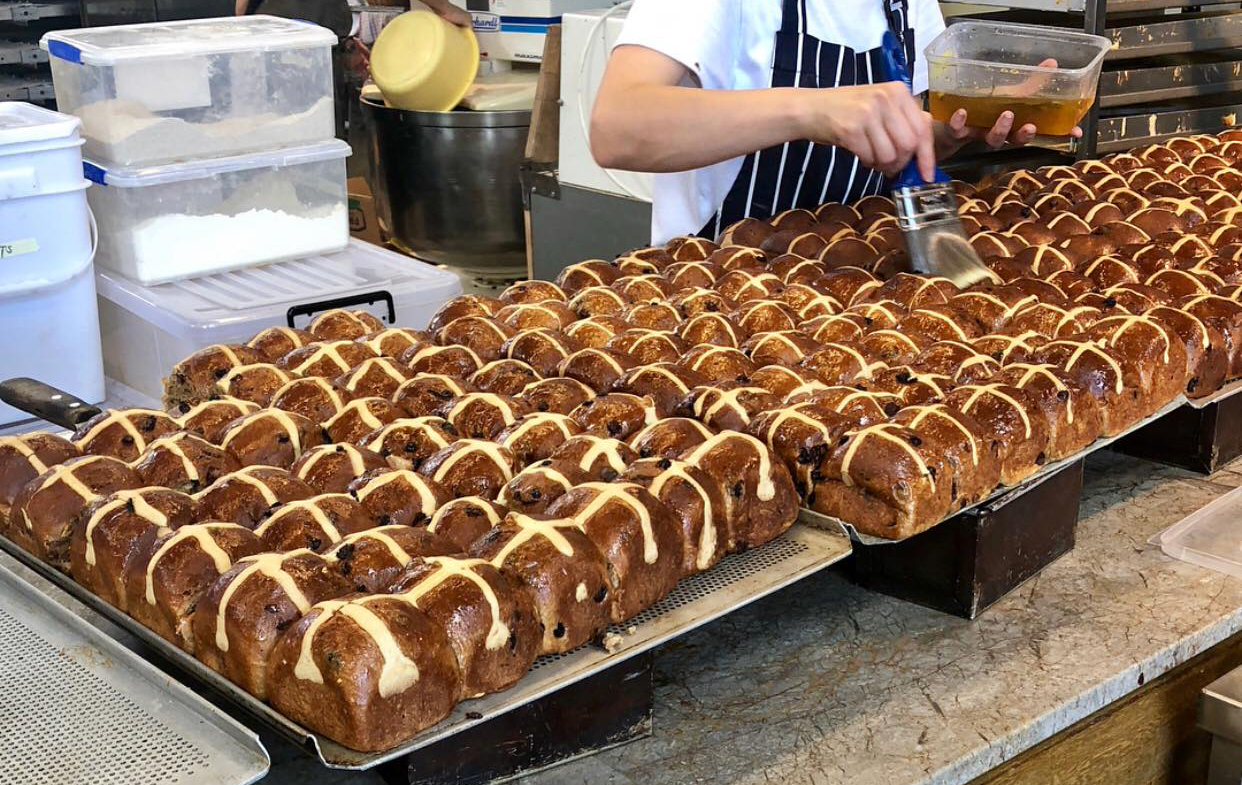 Daily Bread
Pt Chev, newmarket
One of Auckland's finest and most-loved bakeries, Daily Bread, whip up batches upon batches of perfectly spongy hot cross buns for your indulgence each Easter. Their sourdough buns are heavy on spice, sweetened with bursts of dried fruit, and finished with a glossy, sticky glaze. The long fermentation process of the sourdough ensures a springy and moist bun, which is then packed full of the perfectly balanced sweet and spice flavours. They are best eaten fresh with a generous slab of their whipped butter but be sure to head along early in the day, especially on weekends as they sell out quickly. These guys were Top 10 in the Great NZ Hot Cross Bun 2020 competition, so you can rest assured their hot cross buns are some of the best in New Zealand.
The Real Bread Project
ellerslie
Dan Cruden, the mastermind behind Dan The Baker Down Under, has collaborated with Sparks Brewing this Easter season to bring you a hot cross bun with a twist. Made with Sparks Outlander Stout, the buns have a hearty flavour that is lightened with good doses of sultanas, raisins and candied fruit peel throughout. Available at Pastrami and Rye, make sure you head along and order one of their 'hot cross bun bacon butties'. The perfectly toasted and fluffy bun is filled with lashings of juicy, crispy bacon–an out of this world combination of salty and sweet goodness.
La Voie Francaise
Mt Roskill
Perfectly round and shiny with a sticky glaze, the favourite neighbourhood French bakery creates beautiful and delicious hot cross buns ready for your indulgence leading up to Easter. Packed full of all the classic spices and fruit, the buns are balanced just right. The fluffy dough is held together with that sweet and sticky glaze, giving the bun the perfect amount of chewiness. La Voie Francaise also has some of the most reasonably priced buns around, you can grab six for just $10 and you will definitely be the favourite household member arriving home with them—they're definitely some of the best hot cross buns in Auckland.
Why not pair your decadent hot cross bun with one of the best coffees in Auckland?
Image credit: Amano, Fort Greene, Ima Cuisine, Daily Bread