Chocolate may get most of the attention come Easter, but it isn't the only treat we're coveting once the season for bunnies, eggs and unabashed gluttony rolls around. Yip, that's right fam—we're talking about hot cross buns, or HCBs.
Now before all you choccy lovers out there start screaming 'sacrilege', picture this: a perfectly baked bun, flavoured with a heavenly combo of fragrant spices and sweet, juicy dried fruit, topped off with a cute little cross (preferably toasted, and slathered in a shitload of butter). Heck, some bakers might even get a li'l fancy and add chunks of chocolate, swirls of salted caramel... the possibilities are endless.
Whatever way you take 'em, one thing's for sure: these babies are good for the soul (and even better for the stomach).
So loosen that belt and prepare to meet your baker, because here are the absolute best hot cross buns in Auckland.
The Best Hot Cross Buns In Auckland Right Now
The Real Bread Project
Helensville
Did someone say stout-infused hot cross buns? Hell yeah they did, and it was The Real Bread Project. A game-changing take on the traditional HCB, these hearty treats have become something of an Easter icon and you'll find them at The Real Bread Project's bakery in Helensville as well as at Pastrami & Rye in Ellerslie, who are once again using them to make a hot cross bun bacon butty (omg). Made from all the traditional bits and pieces (think raisins, sultanas and candied fruit peel) and Darkest Days oat stout, courtesy of fellow Helensville legends Liberty Brewing, these are by far the most unique buns on this list.
Bread & Butter
Grey Lynn & Online
We're saying a big fat amen to the hot cross buns at Bread & Butter, which we must confess are some of the best in Auckland. And with in-store AND online shopping options available, you have no excuse not to get your hands on some of these irresistibly good Easter treats. The result of a li'l dough-making magic (12 hours' fermentation to be precise, resulting in subtle flavours, a moist texture and easier digestibility), they feature a buttermilk-infused base studded with raisins, apricots, currants and cranberries, topped with burnt butter and spiced cinnamon glaze.
Fort Greene
Karangahape Road
It takes something pretty damn special to tear us away from our go-to cinnamon cruffin at Fort Greene, but their hot cross buns have officially done it. Made with a sourdough starter, these babies are nothing short of an epiphany. Think not too sweet, flavoured with just the right amount of citrus and spice, and with a lovely fluffy texture hidden beneath a beautiful golden shell. We could keep going, but really, you should just try one for yourself.
Ima Cuisine
Auckland CBD
Ima Cuisine's hot cross buns are the stuff of legend, known to cause queues and stop traffic (okay, maybe not that last part, but we have been told that more than 1000 orders were placed for them the day before Easter one year). One bite of these bad boys, and you'll soon discover why they're so popular—the base is deliciously dense, bursting with currants, spices and orange peel, all topped off with a gooey custard cross. That said, we recommend using their online ordering system so you can secure your stash of this coveted treat before—God forbid—they sell out for the day. Oh, and this just in: the team have also whipped up a vegan version this year.
Wild Wheat
Belmont, Birkenhead, Howick, Mangere, Mt Albert & Mt Eden
Wild Wheat's hot cross buns are an absolute vision. Baked in individual rounds rather than as a batch, it almost seems a shame to cut into them, but... nah! And you'll be glad you did, because these beauties also deliver on the flavour front, big time. They absolutely nail the balance of fruit and spice, while the bun itself is light, fluffy, and topped off with a crunchy, slightly chewy exterior. One might even say they're Last Supper-worthy.
Miann
Britomart, Morningside & Ponsonby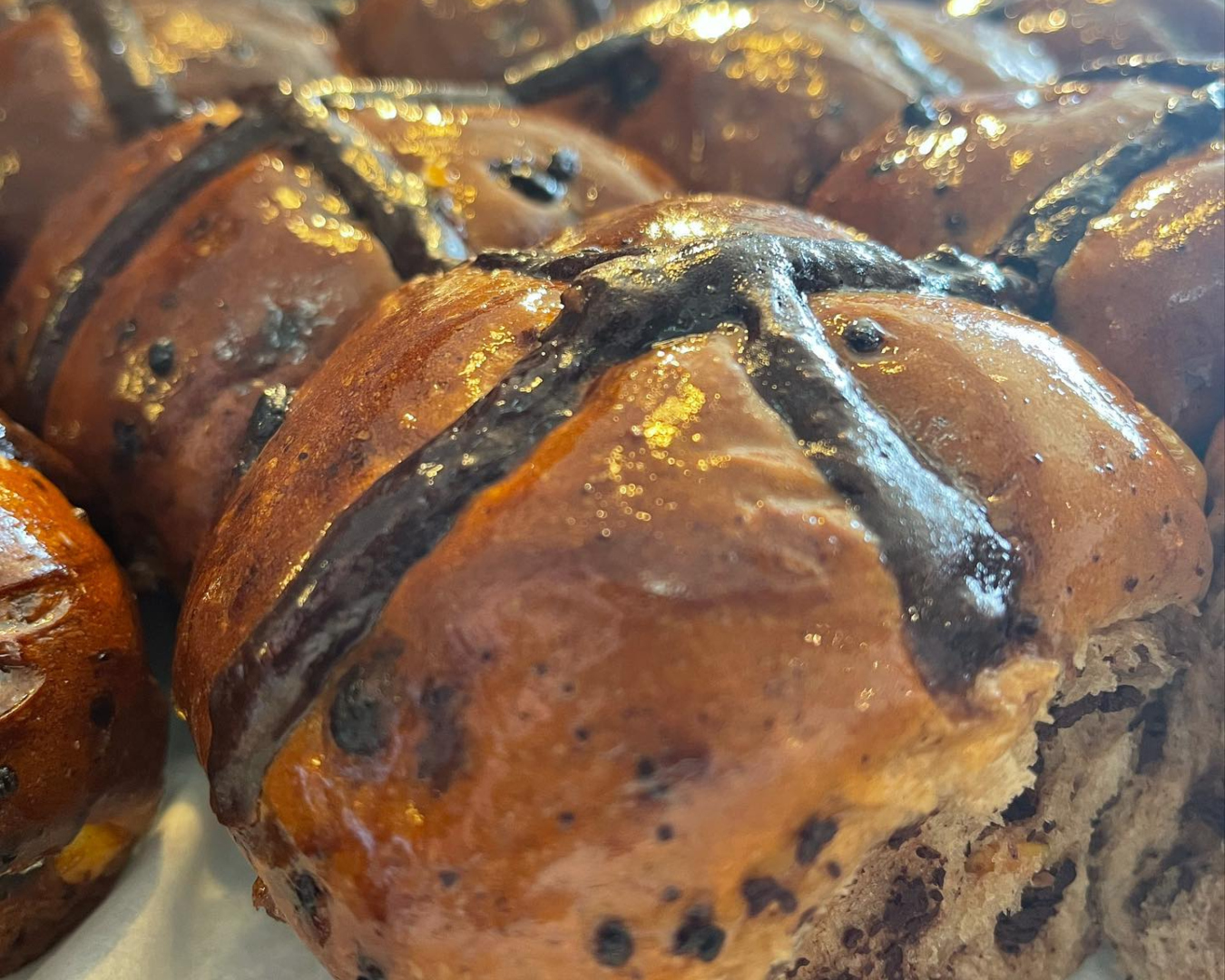 If you're a true hot cross bun aficionado, you'll be familiar with Miann. That's because this CBD spot makes some of the most popular HCBs in the city. So c'mon then, what's the big deal? A decadent chocolate bun flavoured with chunks of housemade dark chocolate topped off with a chocolate cross, that's what. Or perhaps you'd rather have their traditional version, which also receives our highest praise. Whatever the flavour, we'd strongly advise stuffing your hot cross bun with a scoop or two of Miann's famous gelato.
Foxtrot Parlour
Ponsonby
Blessed be the fruit-filled hot cross buns at Foxtrot Parlour, which are considered some of the best in Auckland. These babies are big on flavour, loaded with all the HCB essentials you know and love (spices, peel etc), and baked with nothing but the utmost love and care.
Daily Bread
Auckland CBD, Belmont, Britomart, Newmarket, Ponsonby, Point Chevalier & Online. Also Instore At Farro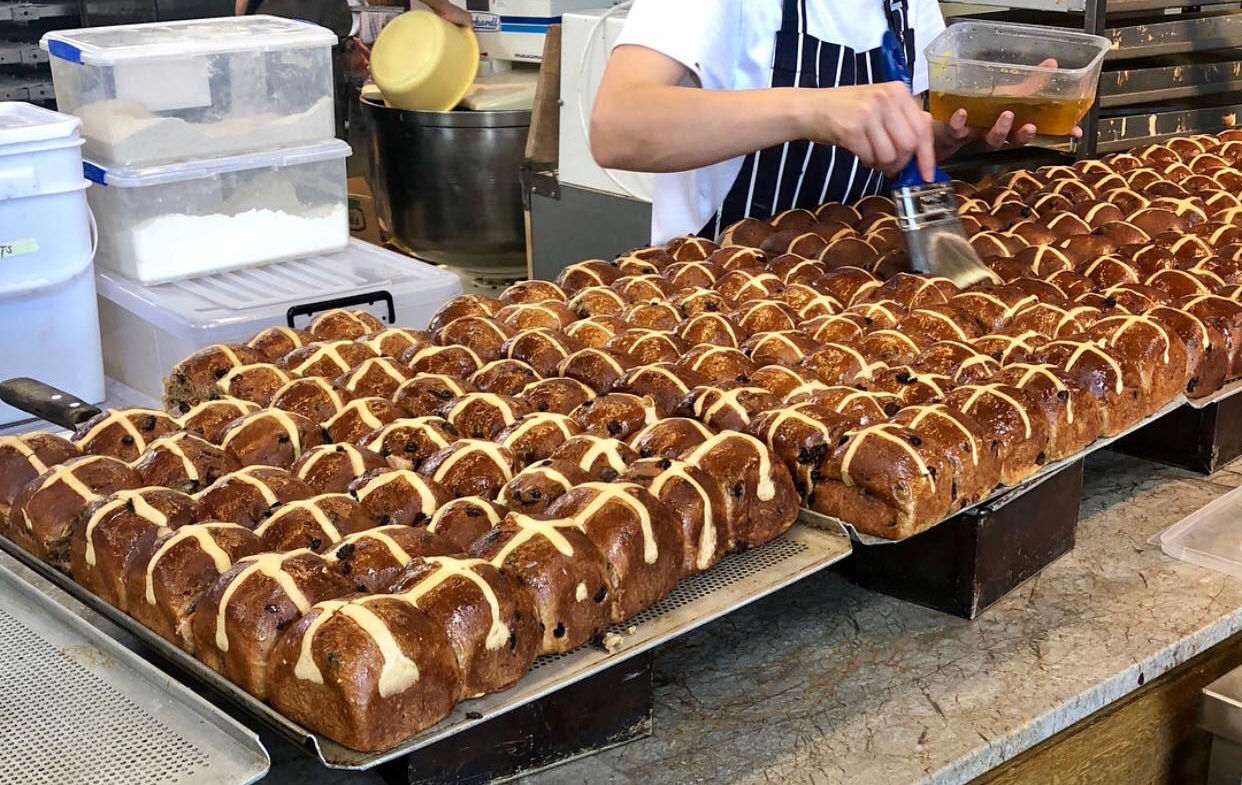 Give us Lord our daily bread, especially when it comes in the form of hot cross buns from one of our all-time favourite bakeries. Daily Bread's version ain't shy on the spice and is filled to the brim with sultanas, raisins and currants soaked in a splash of golden rum (now you're talking). However, it's the sourdough base that's where the magic really happens, resulting in a bun that's springy, moist, and drop-dead DELICIOUS. This year they've recreated their best version yet, thanks to the ancient Italian method of lievito madre. This three-day-long process gives the buns even more flavour and a longer shelf life, minus the additives. Joining the ranks of next-level buns is their extremely moreish sourdough chocolate edition—created using 60% dark Callebaut Belgian chocolate, these bad boys are legit your new obsession. P.S. Daily Bread recently took out the top spot at the Great New Zealand Hot Cross Bun competition, for the second year in a row.
Giapo
Auckland CBD & Online
It's common knowledge that Giapo makes some of the best ice cream in Auckland, but did you know that at Easter, they also make a pretty amazing hot cross bun? And what's more, it's a gluten-free one (these guys have been a dedicated gluten-free facility for about two years now). Yup, if you're living the GF life, you're gonna want to get your lips around these golden goodies stat, which are easily recognised by their big fat cross. Stuff yours with some of Giapo's freshly churned ice cream for the ultimate noms.
La Petite Fourchette
Britomart & Wynyard Quarter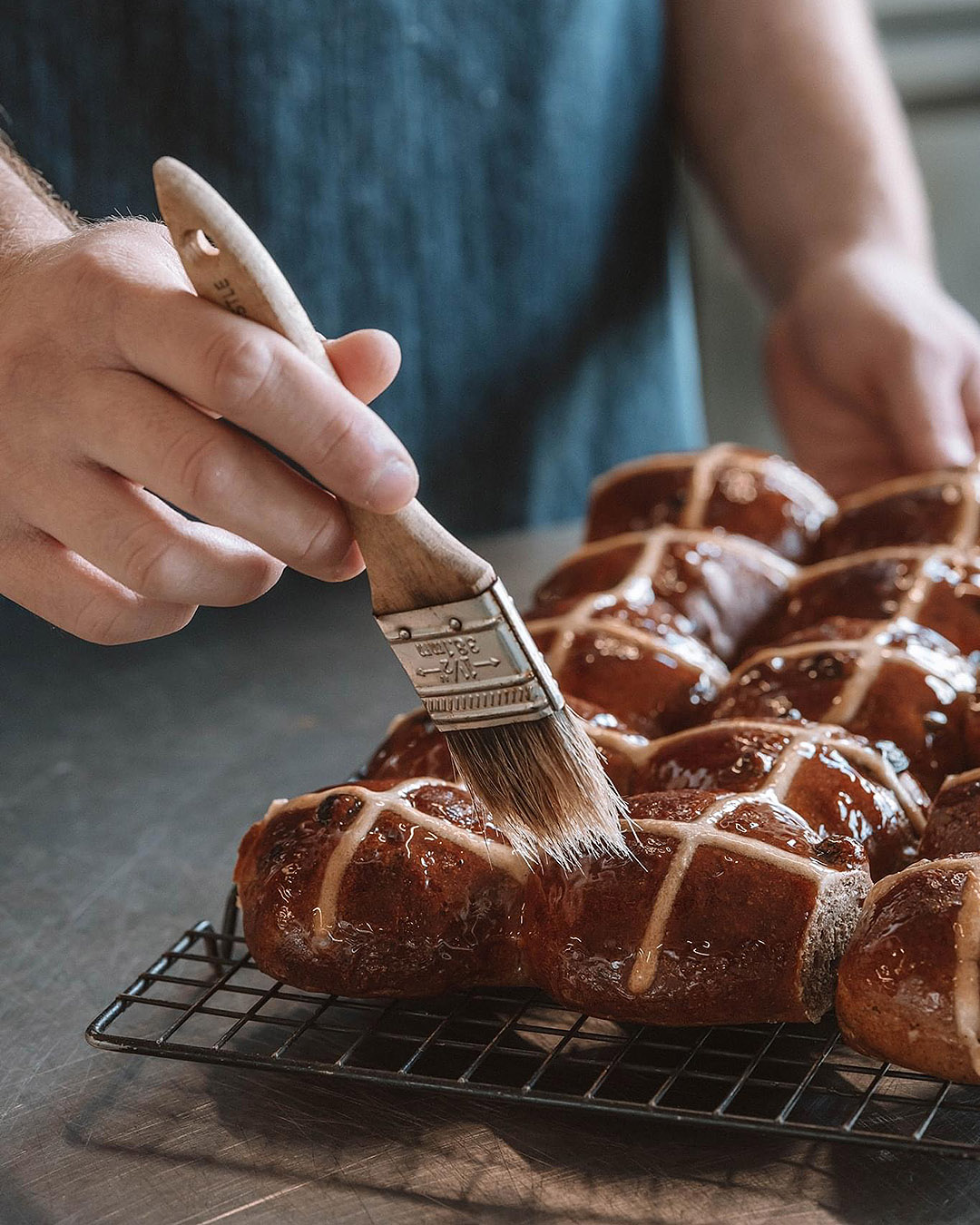 French pâtisserie, La Petite Fourchette is giving its hot cross buns the Parisian treatment this year, bringing us a dark, wonderfully dense number doused in a sticky glaze, along with a rather sumptuous choccy number (oh la la). For optimum indulgence, we recommend wrapping your bun around one of their delicious mendiants (cute li'l choccy discs studded with fruit and nuts), because when in Paris...
Richoux Patisserie
Ellerslie
Jason Hay, you've done it again. Yip, the multi-award-winning baker and owner of Richoux Patisserie has cranked out yet another glorious treat for us and as you may have guessed, it's his hot cross buns. If you like a traditional bakery-style HCB pumped full of juicy fruit, these babies are solid, and it seems we're not the only ones who think so because they've won a ton of awards. P.S. This one is also vegan.
Loaf
Ellerslie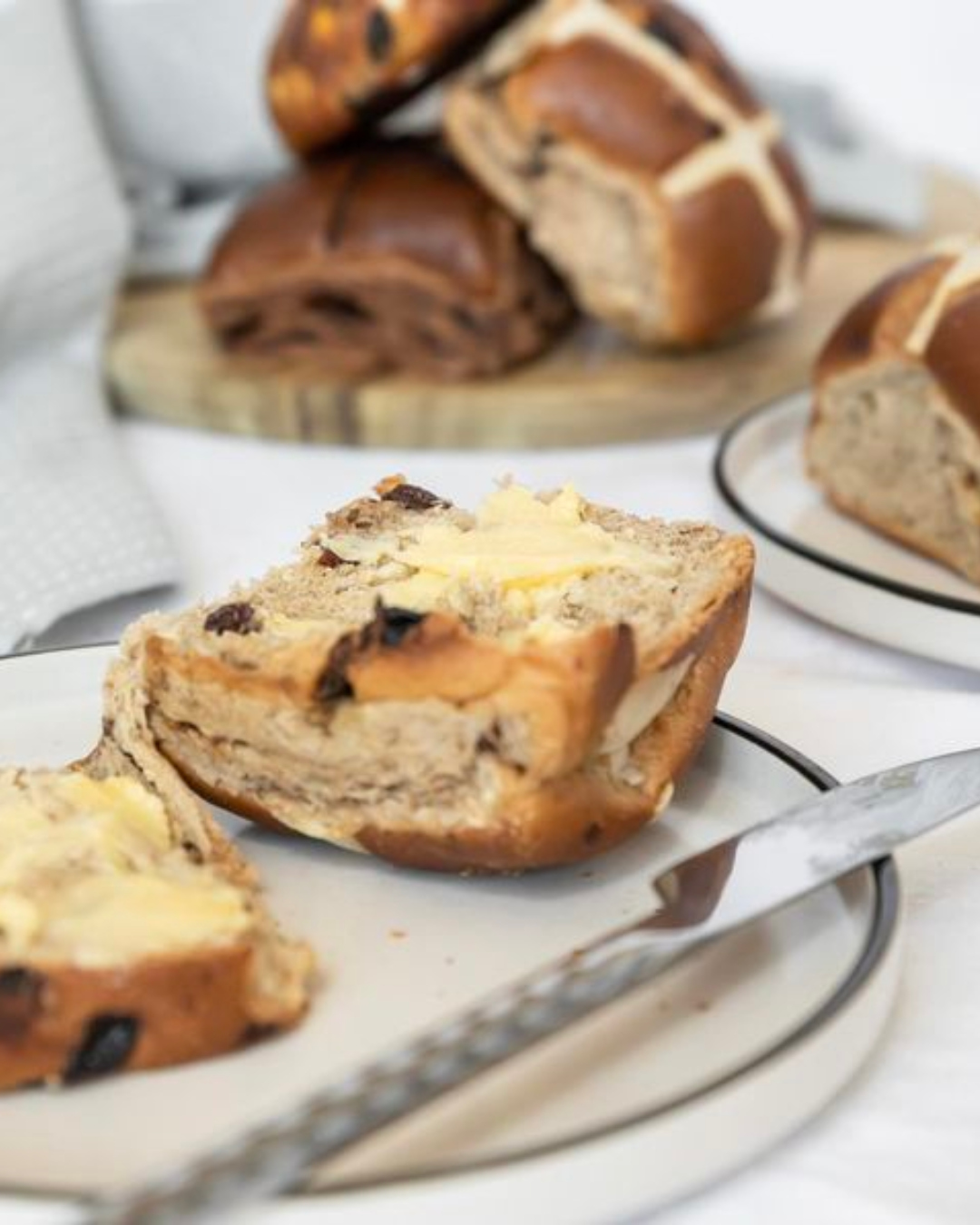 For some of the tastiest HCBs in town, you can't go past Loaf. Whether you like to keep things traditional or mix it up a little (hello, black forest flavour), these guys are bringing their absolute A-game this Easter with deliciously dense buns, packed full of flavour. We're particularly partial to their white chocolate and raspberry offering, which reaches irresistible new heights when paired with a healthy whack of butter.
Amano
Auckland CBD
We love their pastries and breads beyond measure–but at Easter time, we only have eyes for Amano's hot cross buns. So what's their secret, you ask? A sprinkle of something old mixed with a dash of something new, actually. These guys have paired traditional HCB ingredients with farm-fresh orange juice and a citrus-spiced glaze for a game-changing bun that will legit bless your tastebuds. They've also been known to do a choccy version from time to time.
Honourable Mention
Scandibunz
Milford & Online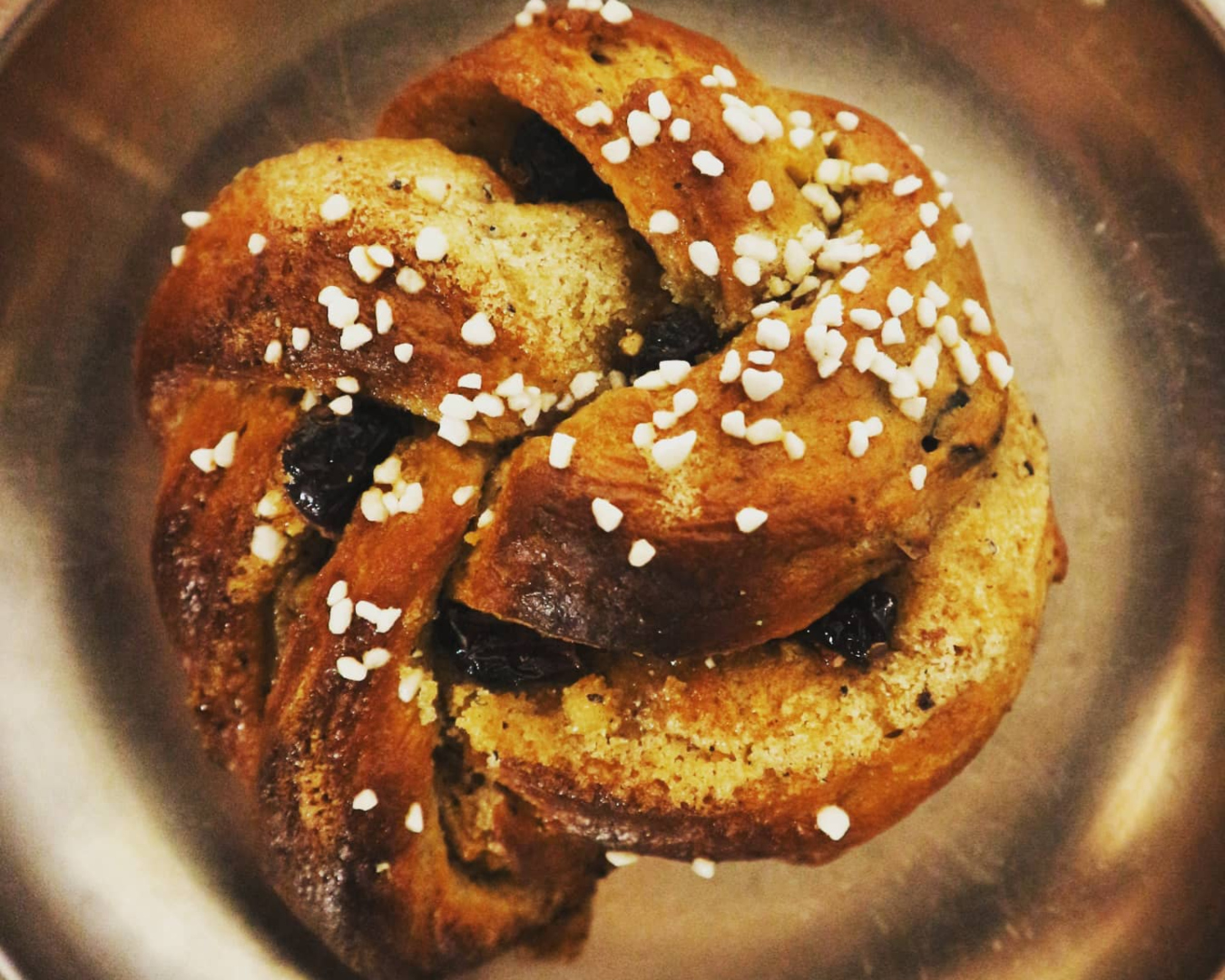 Now technically this one isn't an HCB (for obvious reasons), but when devouring Scandibunz drool-worthy (K)not Cross Buns, we couldn't help but draw a comparison. Taking inspiration from three different treats—the traditional Scandinavian Vörtbröd (spiced, malted rye bread with raisins), the classic hot cross bun and Scandibunz very own cardamom bun—this holy trinity of treats is where it's at this Easter. Bursting with festive flavours including rich notes of gingerbread, then slathered in a gorgeous coffee glaze, these are what we call Scandi-lously good.
The Best Hot Cross Buns We Hope To See In Auckland Again This Year
La Voie Francaise
Mt Roskill
Spice up your life with a hot cross bun (or 10) from
La Voie Francaise
. These are also baked in cute little individual portions and as you know, we have a bit of a thing for that. However appearances aren't everything and lucky for us, these ones taste just as gorgeous as they look. Little clouds of bready goodness studded with soaked raisins, cranberries and orange peel then slathered in a sweet and glossy glaze, they'll legit bring your tastebuds to life.
Why not pair your decadent hot cross bun with one of the best coffees in Auckland?
Image credit: Main image Daily Bread, Bread & Butter, Ima Cuisine, Miann, Daily Bread, La Petit Fourchette, Loaf, Scandibunz.