Summer is on the horizon which pretty much means three things: ice cream, rooftop bars and swimming. While we've covered the first two for you here and here, and we've told you the best of Auckland's city beaches, we thought it would be timely to share the best swimming pools our fair city has to offer.
Whether you're inclined to something a little wild, salt water, fresh water, outdoors or in, there really is something for everyone. Go forth and tame that rising mercury. Here are the best swimming pools in Auckland.
Parnell Baths
Judges Bay
We're kicking off our list of Auckland's best swimming pools with the OG, the iconic Parnell Baths. These salt-water pools are the biggest in the country and have been keeping bathers happy for more than a whopping hundred years. We're excited that the pools are reopening for summer on 26 November 2022 following extensive repairs due to a slip (the perils of backing onto a cliff) but they'll be open for an extra three weeks until April 23rd 2023, yahoo. There's heaps of fun for the sprogs with brightly coloured water equipment in a smaller pool as well as a huge 60m pool for those who are a little more confident. It's a popular spot in the warmer months, so make sure you head along early to nab your pozzy. They even have live cams on their website so you can assess the sitch before you even leave home. Quality.
Tepid Baths
Auckland CBD
If you prefer to have your swim time free from unnecessary splashing and the other fun-filled pools sound like your worst nightmare, then take a break and head to Tepid Baths in the CBD. Otherwise known as "The Teps," it is an iconic swimming pool in Auckland, situated in a 100-year-old building. Inside, it's lovely and serene—much like one of those fancy-pants pools you see in the movies.
Lagoon Leisure And Fitness Centre
Panmure
A part of the YMCA, Lagoon Leisure And Fitness Centre is the perfect spot to spend a day poolside. This Panmure venue has an outdoor pool, a hydro slide, diving boards splash pad, a dive well and an adventure playground. We also love the outdoor area with a garden, picnic tables and barbeque that's perfect for a summer's day feast.
Mount Albert Aquatic Centre
Mount Albert
The Mount Albert Aquatic Centre is one place you'll want to put on your summer bucket list. With the indoor pool basically performing as an underwater playground, there's also a huge hydro slide, a river run and a wave pool that turns on every 30 minutes. Cue mass excitement.
Parakai Springs
Parakai
One of Auckland's geothermal pools definitely worth a visit is Parakai Springs. Situated out West, if you're a thrill-seeker you'll love the waterslides or, if you prefer to sit back and relax, there are plenty of pools for you to do so. There's even an adults-only rock pool (also available for private hire), so bring a picnic and a blanket and make a day of it.
Massey Park Pool
Papakura
Massey Park Pool is high up there on our list of must-visit pools. There's an outdoor 50m pool if you want to burn off those Christmas calories but if you prefer a little excitement to your life, make the most of the hydro slide and lazy river as well as the wave pool. If you're lucky, you may be there for a 'wave rave'. A what? Yep, you can have a rave in the wave pool with pumping music to get you going. There are plenty of competitions including bombing and an aqua run.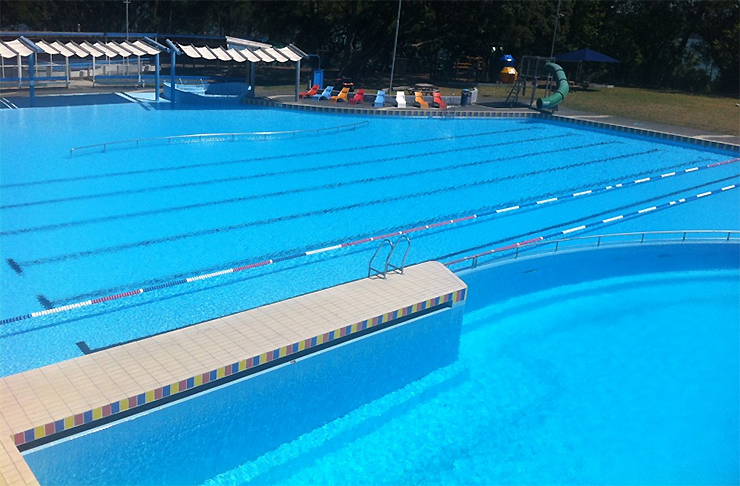 Point Erin Pools
Herne Bay
Like the Parnell Baths, Point Erin Pools are only open during the summer season (November to March) as it's a large outdoor pool. Not only can you soak up the sunshine, but you also get to soak up the views of the Harbour Bridge. If you want to add a few fun activities, you can choose from a diving well, a family spa or hit up the basketball courts or even the playground.
Glenfield Pool And Leisure Centre
Glenfield
We're huge fans of the dive pool at Glenfield Pool And Leisure Centre, but that's not the only reason we'd recommend this pool in the Auckland suburb of Glenfield. With pools, sauna and steam rooms and even hydro slides, this will quickly become a fave spot.
Onehunga War Memorial Pool
Onehunga
The Onehunga War Memorial Pool opened in 1956 and is one of the best places for dipping your toes this summer. With multiple pools, including indoor and out (outdoor open November to April) and a dedicated dive pool with both high and low boards, you could spend a whole day here keeping cool.
Northern Arena
Silverdale
If you're going for a swim just to train and want a no-fuss pool, then the Northern Arena in Silverdale is for you. The pools were crafted in Italy and specifically designed with swimmers in training in mind. The water has low levels of chlorine, which makes it more gentle on your skin. There's an eight-lane training swimming pool for those wanting to get serious. Please note, access to this pool is on a membership basis, so for casual swims you're better off heading to Stanmore Bay.
West Wave Pool And Leisure Centre
Henderson
A popular spot for Westies, the West Wave Pool and Leisure Centre will certainly cool you off this summer. Purpose-built for the 1990 XIV Commonwealth Games, there's a lane pool, spa pool, sauna and steam room. Give the hydro slide a try or feel like you're at the beach when they turn on the waves. If you'd like to try some diving, there are one-metre, three-metre and five-metre boards.
It's summer and only the best will do... It's time to seek out Auckland's Best Ice Cream And Gelato.
Image credit: Parnell Baths, Lagoon Leisure And Fitness Centre, Parakai Springs, Point Erin Pools, Onehunga War Memorial Pool.