I scream, you scream... well, you know how it goes. Whether it's fresh and fruity or rich and chocolatey, in a cone, on a stick or in a cup, we just can't get enough of the cold stuff. So without further ado, here's our pick of the coolest (yes, we did just do that) ice cream shops in Auckland.
Duck Island Ice Cream
Ponsonby And Newmarket
The pretty little ice cream parlour with the cute name, this one's a must-visit. Originally from Hamilton, Duck Island now has two branches in Auckland and has amassed quite the following since they opened thanks to its fun, often unusual flavours, many of which are also vegan. Indulge your inner child with a cone of sprinkle-filled 'fairy bread'—dig your way through a cup of marshmallow and chocolate-studded 'ambrosia'—or, if you're feeling super adventurous, check out the black sticky rice or raspberry, coconut and coriander offerings (they're actually surprisingly good!). Alternatively, grab yourself a tub of one of Duck Island's core flavours (think peppermint slice and salted caramel with cacao crumb), available from most supermarkets. There is a God.
Takapuna Beach Café
Takapuna
Ice creams and the beach go hand-in-hand, a recipe this waterfront café knows all too well. Takapuna Beach Café's hand-scooped gelatos and sorbets have won numerous awards and come in a range of sophisticated flavours including espresso, lemon curd yoghurt and vanilla and peppermint. No surprises that the same team behind Milse also run this establishment—in fact, you can often get some of the gelatos-on-a-stick mentioned below here as well.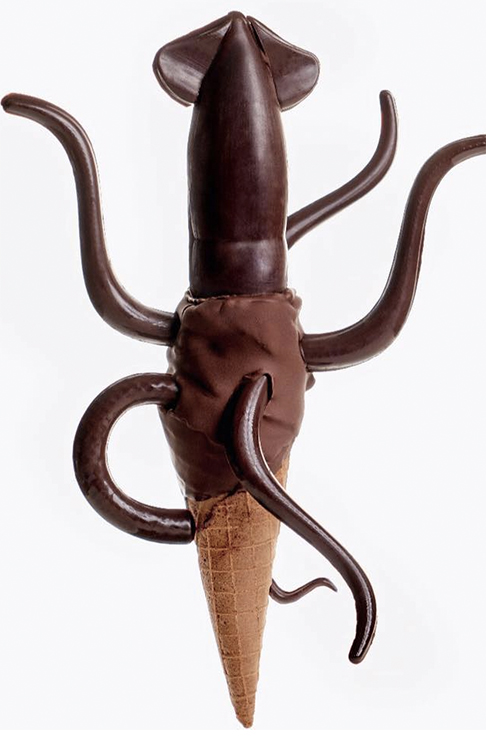 Giapo
Auckland CBD
If Willy Wonka were to open an ice cream shop, we imagine it'd be something like Giapo. This inner-city outfit definitely sets the bar for originality, serving up epic creations that are known just as much for their looks as they are for their taste. Yes, you've no doubt seen its edible masterpieces popping up in your Instagram feed—perhaps the ice cream in the shape of the Sky Tower, or maybe the one that looks like a giant squid. The flavours, however, are far from secondary—largely inspired by the owners' Italian heritage and ranging from a delicious 'bueno' offering made with caramel, hazelnut praline and amaretti, through to 'Cher's chocolate'—a decadent scoop named after the American superstar who famously visited the store in 2018.
Miann
Britomart, Fort Street And Morningside
It comes as no surprise that a restaurant specialising in desserts also produces some pretty outstanding gelato. The cabinets at Miann are bursting with experimental flavours, often themed around other sweet treats (case in point, the pavlova—featuring berries, burnt vanilla and chunks of the beloved Kiwi dish with which it shares its name). And while the menu is ever-changing, one thing remains the same–delicious, one-of-a-kind gelato that will definitely have you coming back for more.
Aqua S
Auckland CBD
After taking over Sydney with their Insta-worthy soft serve, Aqua S has set up shop in Auckland. Their signature sea salt flavour is a dream come true for people who dip fries in their sundae—it balances sweet and salty. The ever-changing flavours also include the likes of milk tea, blueberry cheesecake and apple cinnamon. Make it extra 'grammable by ordering yours with fairy floss, popcorn and/or gooey toasted marshmallow.
Ollies Burgers & Ice Cream
Royal Oak
If you're in the mood for no-nonsense ice cream, Ollies Burgers & Ice Cream is where you'll find it. The retro fit-out (we're talking chequered floors, arcade games and a shiny red countertop) is reminiscent of the ice cream parlours of old, making it the perfect spot to enjoy a scoop of classic, Tip Top goodness—think hokey pokey, orange chocolate chip, goody goody gum drops, gold rush and all the other fabulous flavours this iconic Kiwi brand has introduced to us over the years. Alternatively, order yourself one of the eatery's super-nostalgic banana splits, complete with all the trimmings.
Milse
Britomart
The team at Milse certainly know how to breathe life into an old classic. Yes, their beautiful gelato creations may be served on a stick, but that's where the similarities to a traditional ice block end. Made from some of the silkiest gelato imaginable, and in a range of mouthwatering options such as berry bombe alaska and milk chocolate and cornflake, these are the perfect sweet treat on an afternoon downtown. They also have a range of showstopping gelato cakes available for order—something to pull out at your next dinner party, perhaps?
Juicy
Kumeu
We'd gladly make the trip out west for a cup (or cone) of something cool from Juicy. Its real-fruit strawberry ice creams are some of the most generously-sized in Auckland, while its fridges are home to a colourful selection of fresh, handcrafted gelatos and sorbets. Some of the more novelty flavours on offer include pineapple lump, and Smurf (you can tell this one by the vivid blue colour, offest by tiny pink and white marshmallows).
Can't get enough of the sweet stuff? Here's where to find Auckland's best doughnuts.
Image credit: Jaiden Bhaga, Giapo, Aqua S, Milse