Are you stuck in a rut of going to the same bar and ordering the same drink? We feel you. That's why we've teamed up with V Pure and their resident mixologist Adam Burgess to shake up your night out with some supercharged cocktail creations exclusive to New Zealand.
From Auckland to Queenstown and Christchurch, we've got your back with these brand new delectable tipples you need to sip on immediately.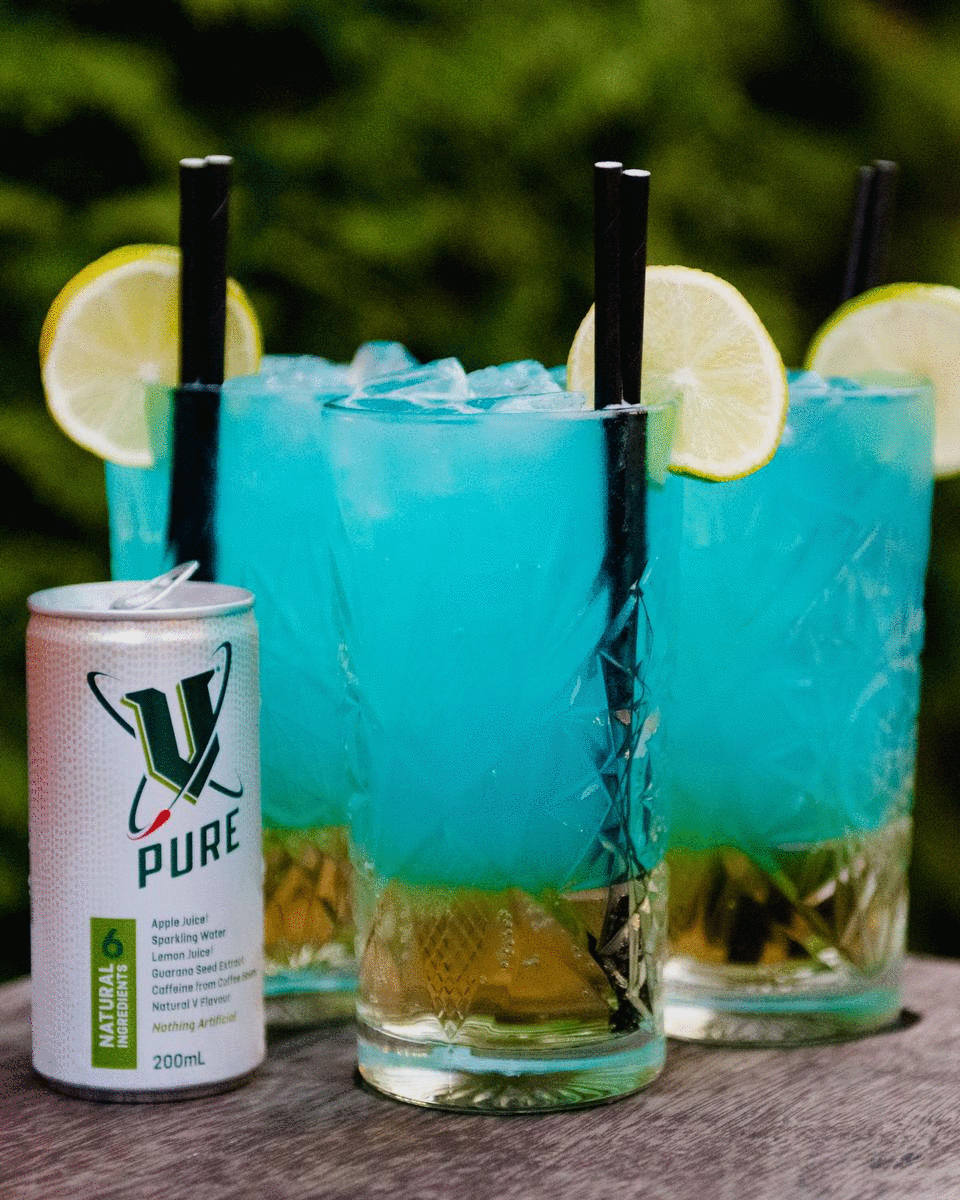 South Island Iced Tea from Baretta and Pure As Punch from Neighbourhood Bar
#1 South Island Iced Tea
Baretta, Christchurch
This blue number packs a punch in both flavour and style. We're talking a wicked combination of vodka, gin, white rum, tequila, blue Curacao and lime juice, served atop ice and V Pure. Enjoy sipping and 'Gramming this vibrant blue drink out on Baretta's courtyard complete with two outdoor bars and dreamy fairy lights.
#2 Pure As Punch
Neighbourhood Bar, Auckland
Slide into one of the booths at Neighbourhood and sip your way through this stunning wine-inspired beverage. In a tall crystal glass, you'll enjoy an elevated blend of Four Pillars Bloody Shiraz Gin, fresh lime juice and Shiraz, served over ice, topped with V Pure and garnished with frozen black grapes.
#3 Pure Storm
Bardeaux, Queenstown
Live your best bougie life in our adventure capital at Bardeaux, an intimate cocktail bar serving the finest sips in town. Take a trip to Hawaii with the Pure Storm, a tropical combination of pineapple rum, dark rum, tiki bitters and lime juice, topped with V Pure.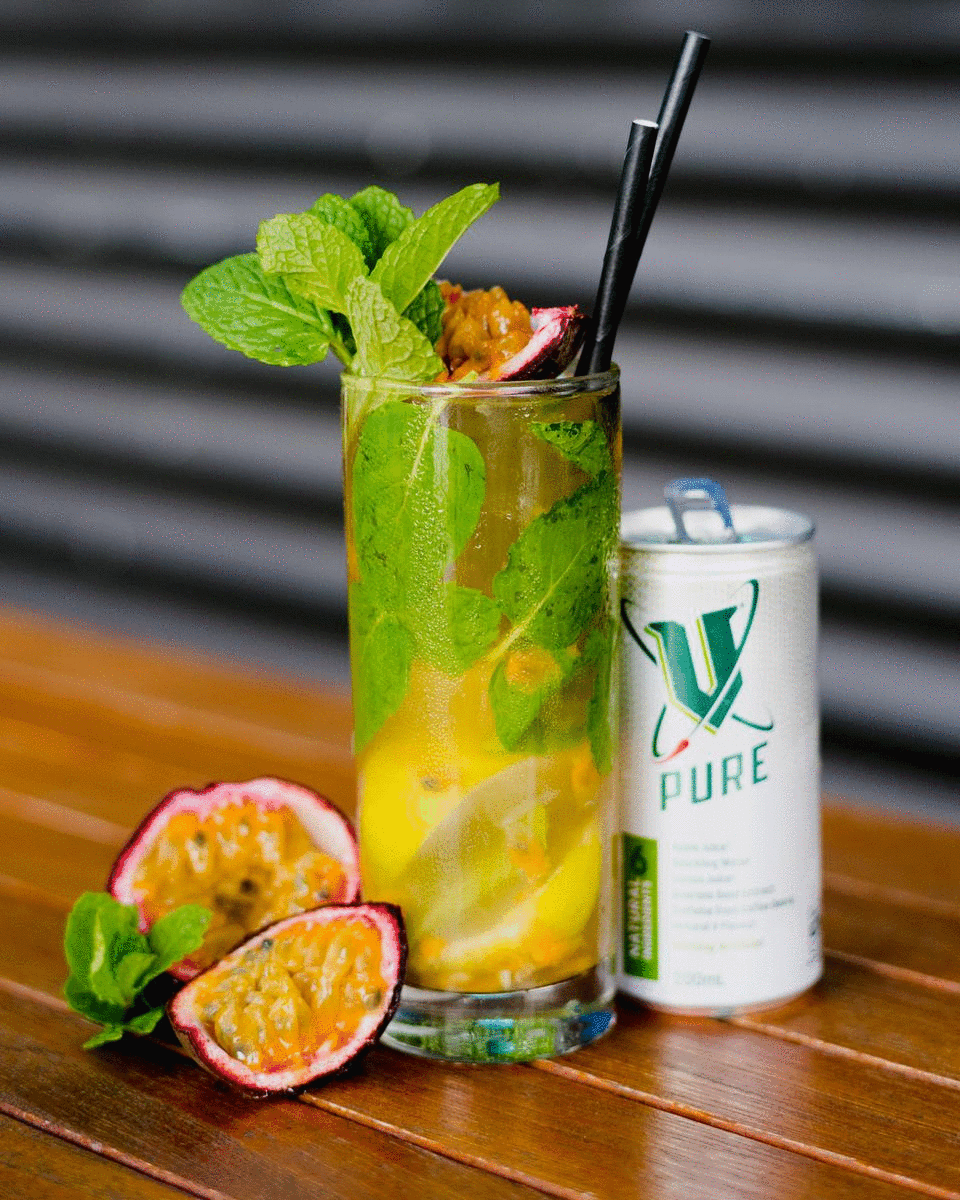 Guarana-rama from Sardine and Supercharged Spice from Grand Central
#4 Guarana-rama
Sardine, Auckland
What's better than a refreshing drink overlooking Auckland's iconic viaduct views? Head to Sardine for your next happy hour and sample their supercharged long-drink which stars vodka, Fireball Cinnamon Whisky, fresh passionfruit, lime and mint topped with V Pure.
#5 Supercharged Spice
Grand Central, Auckland
This legendary late-night haunt is helping you keep the party going with an energising drink perfect for any winter night out. We're talking white rum, lemon juice, spicy flavours of clove syrup, a dash of Hellfire Shrub bitters and the all-important boost of V Pure. Topped with apple, mint and crushed ice, this drink will keep you going for a long time.
#6 Pure Paradise
The Butter Factory, Whangarei
Step inside this historic building owned by Whangarei locals and order up a Pure Paradise. Combining flavours of dark spiced rum, light Cuban rum, pineapple juice and bitters, topped with V Pure, this one is sure to be a palate pleaser.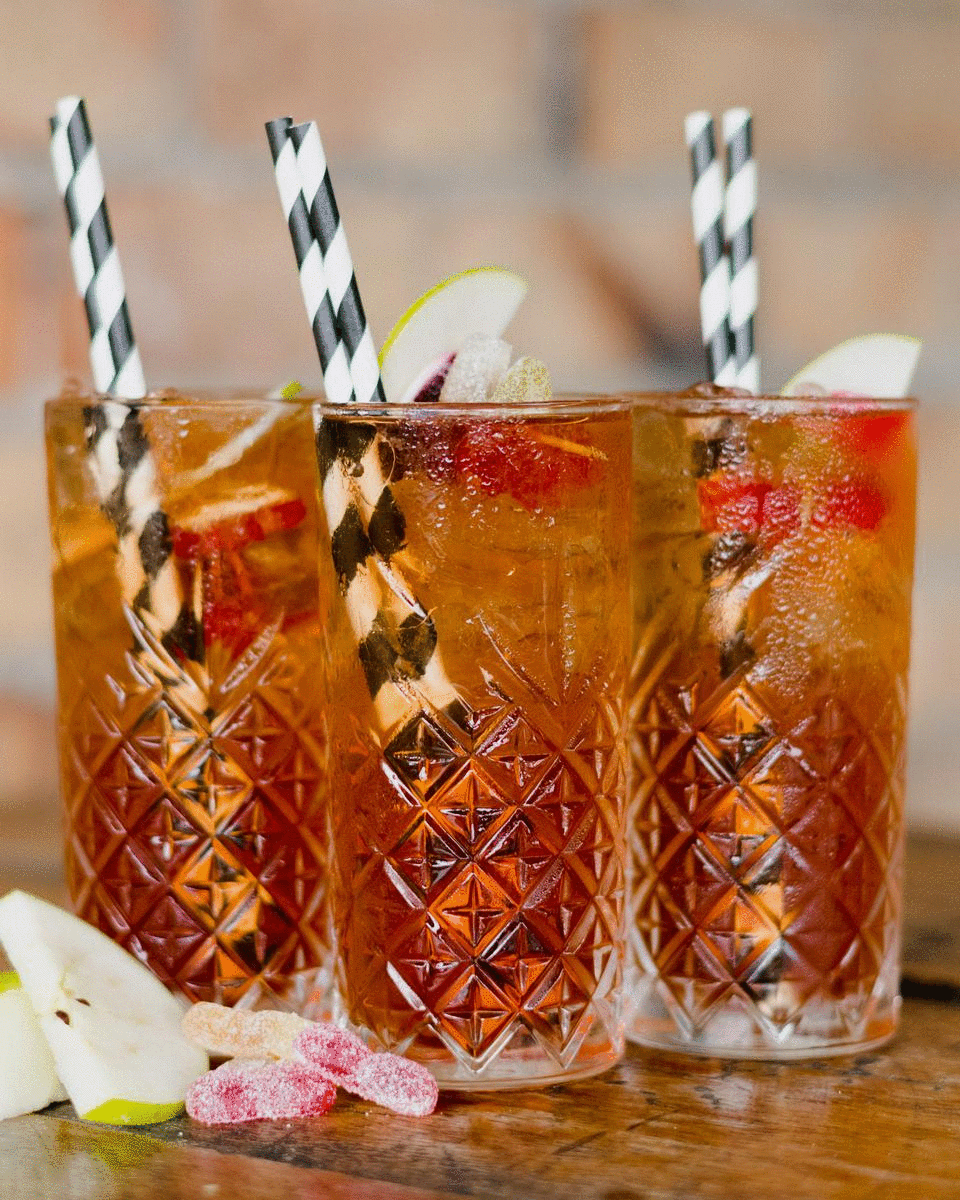 Very Cherry from Fhloston Paradise and Au Naturale from Barmuda
#7 Very Cherry
Fhloston Paradise, Auckland
If sour Haribo lollies fill you with nostalgia, check out Fholston for your next sensational sip. The Very Cherry features tequila, cherry herring, white cacao, topped with a thin slice of apple and you guessed it—sour cherry Haribo. No need for dessert.
#8 Au Naturale
Barmuda, Queenstown
This cosy Queenstown joint is where the chilly nights are at. Set yourself up in front of the roaring outdoor fireplace and sip on the Au Naturale, a crisp, fruity number tastes as good as it sounds—think mango vodka, apple sourz, pear liqueur and lemon juice, poured over ice and topped with V Pure. We're here for this refreshing sip all night long.
Feeling parched? Round up the crew and make a night (or weekend) out of trying out these creative tipples thanks to V Pure, the energy drink made from six natural ingredients and nothing artificial.
Editor's note: This article is sponsored by V Pure and proudly endorsed by Urban List. As always, remember to drink responsibly. Thank you for supporting the sponsors who make Urban List possible. Click here for more information on our editorial policy.