Well, this year has gone by in a flash! Can you believe there are only 8 weeks until Christmas!? Yep, you heard right! Panic stations people!
2017 has been a good year on the whole. It's brought us so many dope new openings. We're talkin' delicious new restaurants and cafés, lots of groovy pop-ups, concerts and musicals. But…… let's be honest here, what gets us reeeeeeally excited is a cool new bar to park up at to test out a new cocktail or three.
Naturally, the team here at The Urban List have been all over these new openings. We love a new watering hole just as much as Kanye West loves Kanye West… almost. So if you've missed out on the latest and greatest, here's a list for you to play catch up.
Here is a round-up of our fav bars. You've still got a few weeks left until the year is over. So put on your party pants and start working your way down the list. Have a drink for us too.
Chin chin!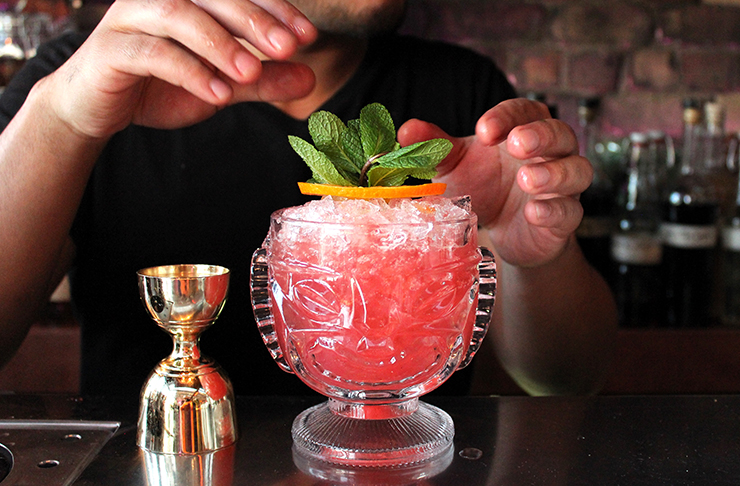 Talulah
Britomart
Feelin' like a holiday but low on funds? Well, this little spot will make you feel like you've just touched down on a tropical island paradise. Say Aloha to Talulah! Auckland's new Tiki-Tastic bar. Pull up a pew at the Tiki-Hut bar and test out all of the yumminess this immense cocktail list has to offer! Managed by pro mixologist— Dan King, this cocktail list has been curated from all over the world and features all the classics as well as exclusive Talulah designed beauts. And to add a cool little twist, this bar offers cocktails to share, from two to six person drinks this takes the mate date to a whole nother level! We're feeling the Blackbeards Ghost, featuring light rum, Demerara rum, apricot brandy, falernum, lemon, orange, bitters and even garnished with a mini Blackbeard himself— for that inner pirate in you. According to Dan,"Talulah is an exotic party girl that knows how to have a good time. She's the life of the party and you're always invited." There's a reason why this little gem is on our list so get your crew together and head on down to Talulah for a festive night out!
The Chamberlain
Britomart
Head downstairs from Talulah and you'll find Auckland's coolest new pub, The Chamberlain. This establishment is parked up where the old TSG used to be and is all about the pub vibes with a mouth-watering menu featuring some kiwi classics you just cannot pass up. We're talking about pies DEEP FRIED pies. Yep, that's right! But these golden beauties change on the daily so check out their special board for the latest and greatest creations. And to accompany this indulgent menu is an interchangeable beer menu, with up to 14 beers on tap at a time, you'll be spoilt for choice! Not a beer fan, that's OK because their cocktail list is one not to miss! Our favs are the Grumpy Scotsman with Chivas Regal, ginger, honey, lemon, egg whites and bitters and for a little afternoon pick me up, the Flat White Martini with Quick Brown Fox coffee liqueur, 8wired flat white coffee stout and coffee.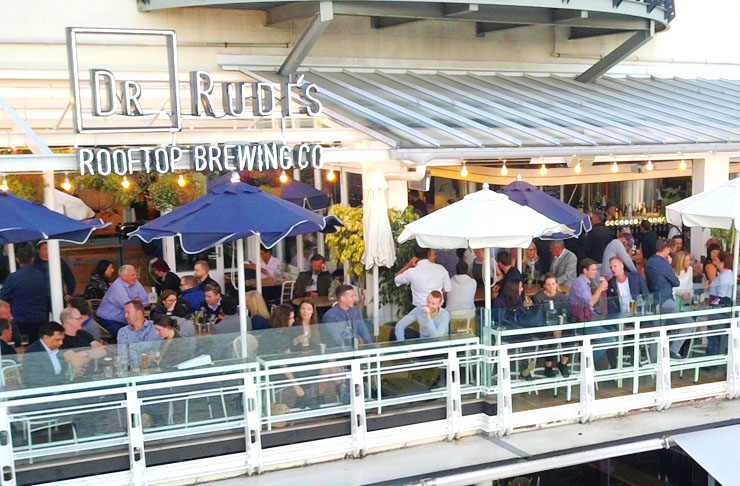 Dr Rudi's
Viaduct
Dr Rudi's is def a top contender on this list. It's no surprise though, what other bar can say they've got a bowling alley nestled in the heart of it!? But it's not just the fun element that makes this bar so cool. It's the perfect spot to park up on a sunny arvo and sip on a cocktail or two while you take in the beautiful sites of Auckland's viaduct harbour. Dr Rudi's food and cocktail menu is nothing short of epic! With sharing plates, platters and pizzas to choose from you'll seriously be spoilt for choice! And to wash it all down, there are 14 beers on tap as well as a sensational cocktail list. Our pics for this spot are The Frisky Sailor with Sailor Jerry's spiced rum, feijoa puree, ginger syrup, fresh lime and kombucha or wrap your mouth around the Wildflower, with Beefeater gin, St Germain elderflower, Crème de Violette, lemon juice and egg white. This truly is the perfect afternoon destination for a bit of fun in the sun!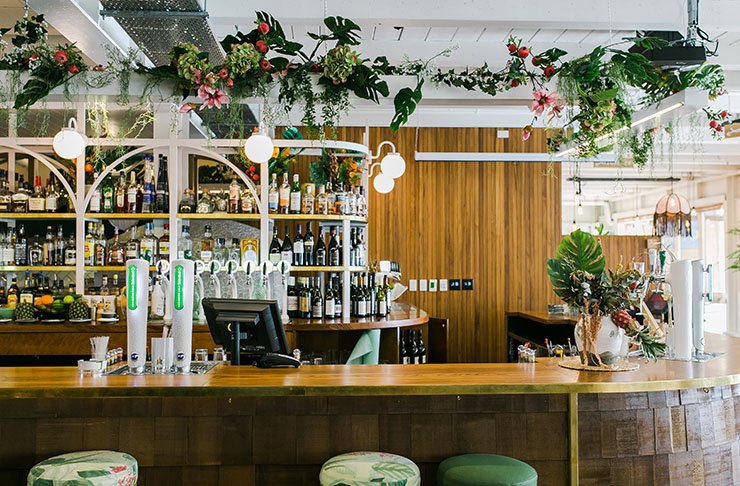 The Lula Inn
Viaduct
This dreamy little waterfront bar pays homage to Kiwiana culture in the most stylish way. They've got a mouth-watering menu that has been kiwified to mix the familiar with the un-familiar. With delectable dishes such as the smoked kahawhai scramble with buttered toast, hollandaise, parmesan and parsley or for a sweet treat you've got to try the bbq pineapple roasted white chocolate mousse with coconut and raspberry. Droooooool. But the menu is just the beginning! If it's a bevvy you're after, then Lula's craft beer and cocktail menus are made to suit every palate. Our cocktail pics are the Lady Lula with Vodka, Cointreau, egg white, blueberry, lime and granny smith apple and the Pacific Punch with Mount Gay silver rum, pineapple and a scoop of dairy-free coconut ice cream. Lula's is the perfect little spot to park up on a sunny arvo with a drink in hand while you chat amongst friends on the floating pavilion and from Thurs-Sundays they've got live soul and funk artists, so don't forget your dancing shoes!
Lovebucket
K Road
Another team fave. Lovebucket is a sultry little bar hidden away out the back of the K' Road food workshop. You really wouldn't know it was there, but we're giving you a heads up because this little gem is one not to be missed! This pub style bar is far from just your ordinary pub. Dimly lit and super stylish with dark wooden décor and cosy little booths, everything from the furnishings to the crockery and the retro speakers have been carefully curated to give this bar an old school luxurious vibe. If you're a craft beer lover, then this bar is a must visit—with a vast selection of the best craft beers from around the world on offer. And, if beer isn't your thing, then the tap cocktails are something to get excited about! But don't get too comfortable with a fav because these babies change on the reg. At the moment we're feeling the Jerry Cola with black sugar umeshu, rosso vermouth, tamarind and cascara spiced tea.
Vodka Room
Ponsonby
If vodka's your thing, then the bar is for you. Obvs. With 150 diff types of vodka, karaoke rooms and a kitchen that's open til 3am we're thinking this is a top contender on our list of best bars to visit before the end of 2017! I mean who doesn't love a good voddy and a drunken sing-a-long!? This über stylish bar just breathes elegance, it's where all the cool kids are hangin' out these days, so you better get along to check it out. There expansive selection of vodka might get you a little flustered when trying to order, so they've got a vodka tasting on offer so you can sus out just what type floats ya boat. And be sure to try out their famous vodka martini it's to die for darling.
SEVEN
Britomart
Last but certainly not least on our list is the super swanky, super stylish, SEVEN. The new rooftop bar at the upmarket Seafarers Club. With a tantalising Asian infusion style menu to accompany an equally mouth-watering cocktail list. This little gem in the heart of Britomart may just be the perfect spot to take your date. We can't get passed the salted coconut espresso martini with vodka, crème de cacao, salted coconut syrup and espresso, the Mekong MeGone with rum, basil, Thai syrup (ginger, kaffir lime, lemongrass, galangal) and the Tamarind whisky sour (fav) with tamarind paste, fresh lime and bourbon. And with DJs spinning tunes on Friday and Sat, you might just wanna round up the squad for this one and check it out for yourselves!
Want More?
Image Credit: Lydia Arnold, Jaiden Bhaga, The Chamberlain