If you love a new opening as much as we do, then listen up, we've found the perfect breakfast spot for you to sink your teeth into. Say hello to Benedict's, a classy eatery that's definitely dishing out the goods.
Nestled on St Benedicts Street into what used to be Benediction in Eden Terrace, Benedict's space has been completely revamped and is inspired by Saint Benedict, who is the patron saint of Europe.
Owners Emma Zhao and Jay Yang are no strangers to the hospitality scene as they are the brains behind Oak Eatery in Royal Oak, which offers a real community vibe. Benedict's is no different, in fact, it's the perfect communal hub for locals to meet and spend some quality time together over quality food.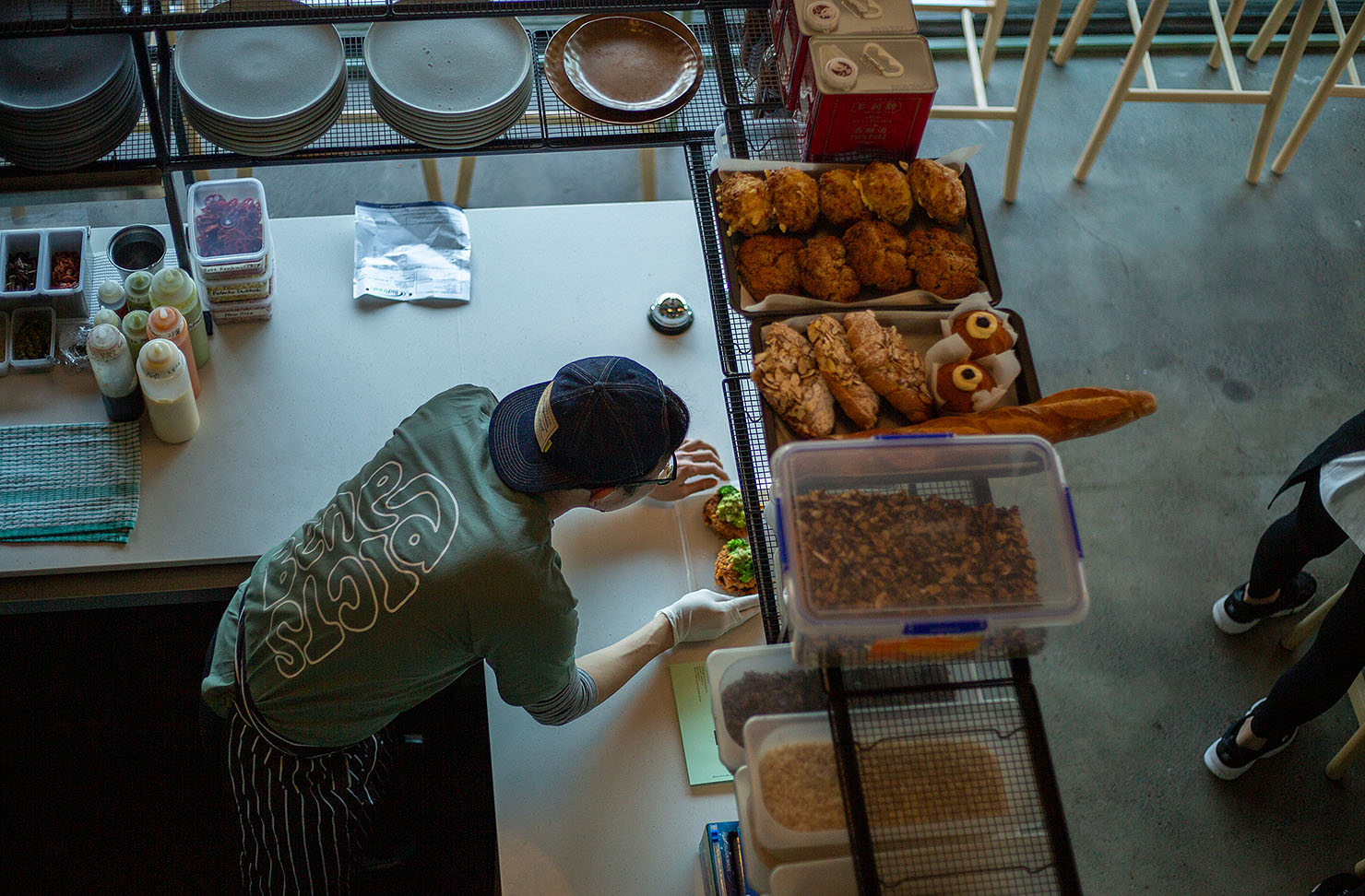 The large bright space, designed by Millé, is simple yet inviting and the best part is it's got double frontage, which means there's a choice of where you'd like to catch the rays. It's sure to be your bezzie mate in the summer, with two massive courtyards for you to bask in the sun while sipping on dairy-free smoothies. Now that's an offer we can't refuse.
Now onto the good stuff—the grub. Hold onto your taste buds, because you're in for a treat. The menu is a foodie haven and offers a twist on traditional cafe food. The impressive line-up is healthy yet doesn't lack in flavour and is filled with wonderful and unexpected creations.
Order up their eggs bene which come with a tasty twist—served on freedom loaf, with halloumi, eggplant, shitake mushrooms, poached eggs and topped with a vibrant orange kimchi hollandaise sauce. It's heaven for the stomach but also so good for the gram.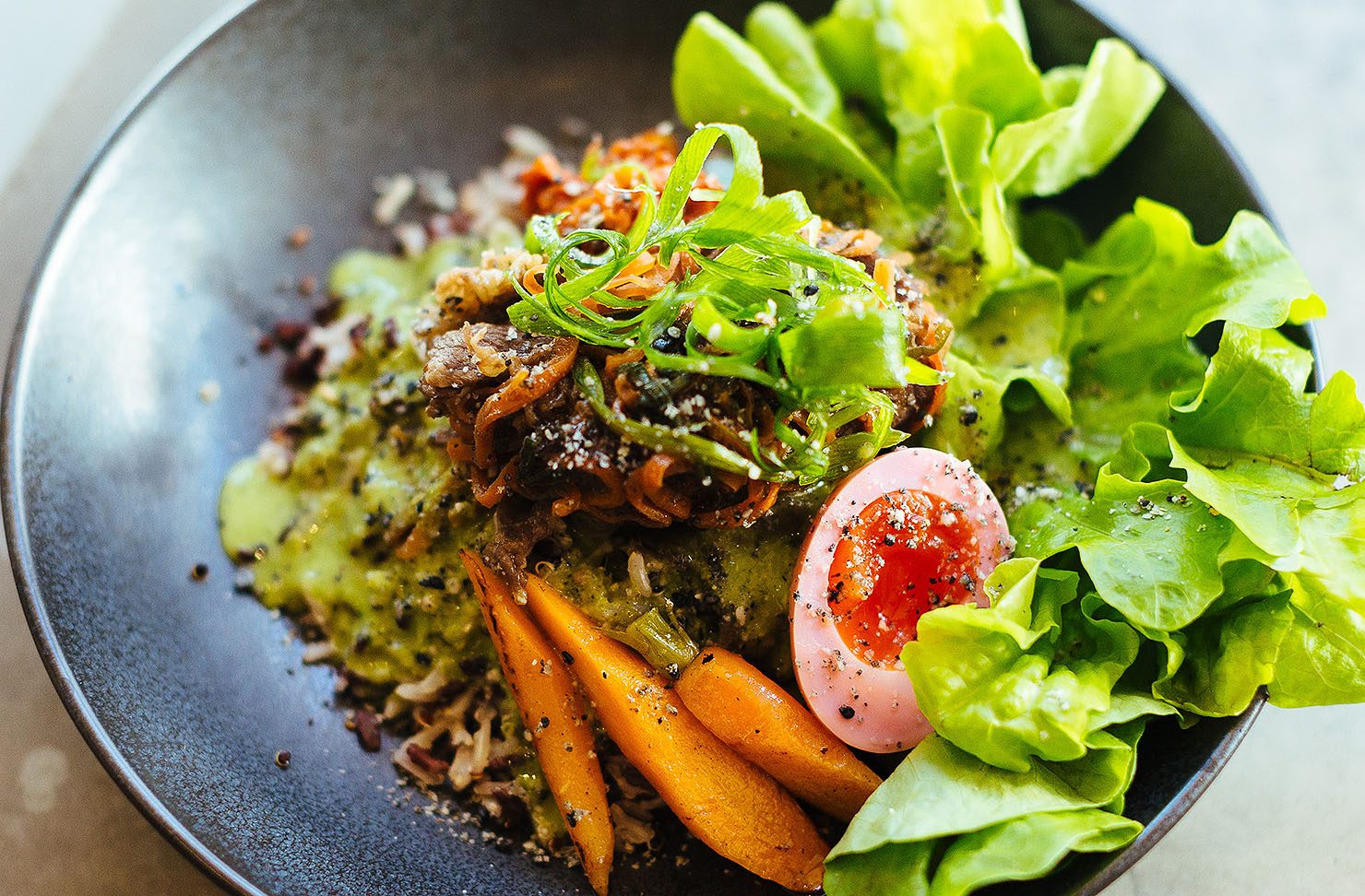 For those with a sweet tooth, dig into the twice-baked almond brioche. The crispy yet soft in the middle brioche is melt-in-your-mouth perfection, paired with the poached pear and a dollop of Greek yoghurt—the breakfast of dreams. Or opt for something completely different like the coconut creamy mushrooms, which is vegan, guilt-free and bloody delicious.
The brunch options are also top-notch—think bulgogi bowls, cured salmon baguette and beet-miso arancini.
If this hasn't got those tastebuds tingling (how the hell not) then there are heaps of cabinet options to choose from. A doughnut the size of our heads caught our eye on the way in, so of course, we had to have it. Oozing with custardy jammy goodness—let's just say it went down a real treat. But if unlike us, you're being good and want something a tad healthier then there are plenty of raw cakes available, which are all dairy-free, gluten-free and refined sugar-free. Winning!
So, if you're looking for a dreamy new brunch spot that will change your perception of brekkie then hit up Benedict's, we promise it certainly won't disappoint.
For more images and information, including opening hours, click here.
Image credit: Wono Kim, Jd Coulter