We reckon Auckland's a pretty sweet city—that must be why millions of people from other parts of New Zealand and the globe flock to our fair shores every year. Of course, all these visitors need accommodation and lucky for them, Auckland's got an abundance of great places to stay. Whether you're after something central, something with character or just something cheap, there are heaps of spots for you to choose from in the City of Sails.
Here's our round up of the best places to stay in Auckland.
Hotels
Hotel de Brett
CBD
Conveniently located in downtown Auckland city, Hotel DeBrett is one of Auckland's most iconic buildings. With 25 luxurious rooms and one of the best hotel bars our city has to offer, Hotel DeBrett is the perfect home base for your visit to Auckland. Each room is beautiful and individual, with a carefully curated selection of eclectic furniture, New Zealand art and photography. Their signature colourful carpet is seriously lush to provide your tootsies with a treat too. Nip out onto High Street and browse the selection of boutiques right outside your door, or curl up in front of the fire in Hotel DeBrett's gorgeous atrium.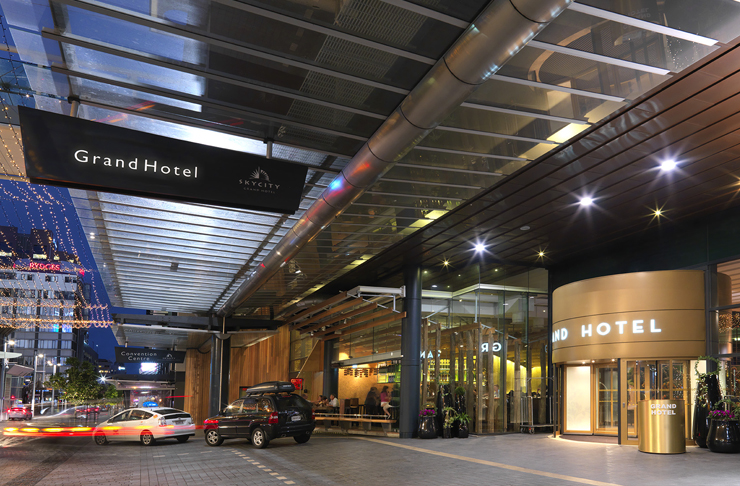 SKYCITY Grand Hotel
CBD
Perfectly positioned in the heart of Auckland's CBD, the SKYCITY Grand Hotel boasts Auckland's most famous landmark—the Skytower—as its neighbour. SKYCITY Grand Hotel offers a range of rooms and packages to ensure you're comfortable and well looked after, whatever your needs. With some of Auckland's finest dining literally on your doorstep, SKYCITY Grand Hotel is the perfect place to stay if you're after a little bit of luxury.
Ponsonby Manor Guest House
Ponsonby
If you want to escape the hustle and bustle of the city but still need a central location, Ponsonby Manor Guest House could be the answer! The refurbished Victorian mansion is part of New Zealand's early settler history and has stunning views of Auckland city and the harbour. Every room is completely kitted out with all the modcons you could ask for—huge LCD TV's, heat pumps and so on—yet retains the elegant Victorian craftsmanship you'd expect. Stroll down the street and you'll find a plethora of great restaurants, bars, cafes and shops for you to explore.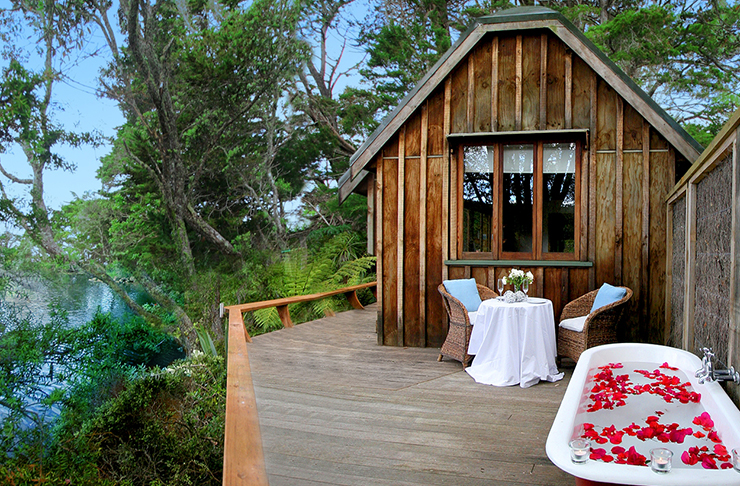 Castaways Resort
Karioitahi Beach
If you really want to get away from the chaos of city life, look no further than Karioitahi Beach's Castaways Resort. Perched on the rugged cliffs of Auckland's west coast, a stay at Castaways will provide you some of the most incredible views you'll ever see. Relax and recharge in their exquisite chalets and glamping experiences. Chill out in the spa by day and feast at the restaurant by night—you'll be sure to leave feeling rejuvenated.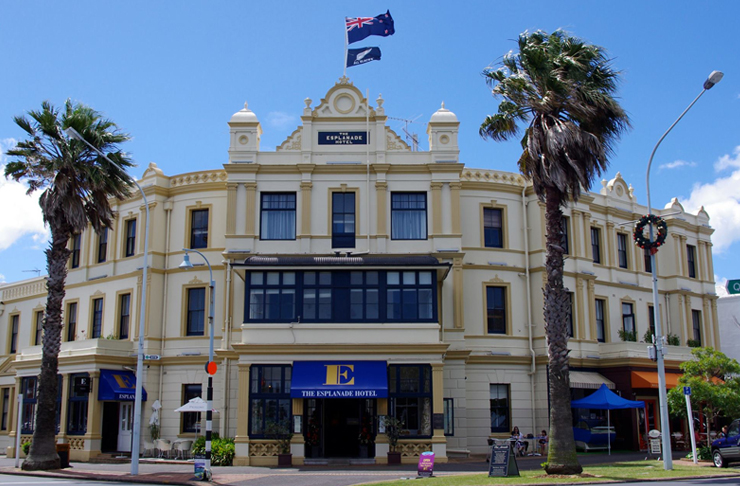 The Esplanade Hotel
Devonport
The Esplanade Hotel is smack-bang in the centre of Devonport's picturesque historic village. Built in 1903, this expertly restored hotel has retained its charm and offers some of the most luxurious accommodation on Auckland's North Shore. A mere ten-minute ferry ride to Auckland's CBD, the Esplanade Hotel offers the convenience of inner city accommodation without the traffic. Check out Devonport's many eateries and boutiques, stroll along the beach or take a more challenging climb up Mt Victoria for unrivalled views of Auckland city.
Motels
Abaco on Jervois
Ponsonby
Ponsonby is one of Auckland's most popular shopping and dining precincts and Abaco on Jervois is the perfect place to stay to get a piece of all the action. Abaco on Jervois is just a hop, skip and a jump from the CBD yet offers a more relaxed environment. With complimentary Internet, free parking, air-conditioned rooms and much more, you're sure to have a comfortable stay in Abaco's stylish studios and suites.
Knights Inn Motel
Epsom
The ever-popular Knights Inn Motel is the perfect combo of comfort and convenience, making it a great place for visitors to stay during their time in Auckland. Located in the central suburb of Epsom, the Knights Inn Motel is directly opposite Alexandra Park and the ASB Showgrounds and close to both the CBD and the commercial areas surrounding. Start your day off with java and a jog in nearby Cornwall Park and take in the views from One Tree Hill. The team at Knights Inn Motel pride themselves on their friendly service and will tend to your every need.
Orewa Beachcomber
Orewa
Auckland's got some pretty epic beaches, so why not make the most of it and stay as near to them as possible? Orewa Beachcomber motel offers Kiwi hospitality at its finest, with a café on-site serving up tasty fare all day long. Each room is fully self-contained and decorated in keeping with the stunning surroundings. Orewa Beachcomber is located directly across the street from beautiful Orewa Beach and near to the quaint township, making it the ideal place to soak up some sun, salt and sand.
Aveda Motor Lodge
Pukekohe
Aveda Motor Lodge is an award-winning motel situated a little over half an hour from Auckland International Airport and 45 minutes from the CBD. Aveda's sleek studios and suites will keep you comfortable whether you're travelling for business, pleasure, in a group or solo. Aveda offers special rates for all motor sports events and is a mere 20 minutes from Hampton Downs, so it's the perfect place for you petrol heads to park up.
The Emerald Inn
Takapuna
Dubbed Takapuna's best kept secret, The Emerald Inn offers a tranquil beachside respite for all visitors to Auckland. Tucked away on a quieter street just next to one of the North Shore's prettiest beaches, you'll be surrounded by a veritable forest of lush greenery in The Emerald Inn's tropical garden setting. Pick from a room, cottage or villa—you can't go wrong, they're all stunning.
Backpackers
Haka Lodge Auckland
K Road
As a self-proclaimed 'flashpackers', the Haka Lodge provides an experience a little more luxurious than your average backpackers or hostel. With top of the line kitchens, bathrooms, living areas and bedrooms, Haka Lodge has a reputation for comfort and privacy. Handily located on Karangahape Road—one of Auckland's most interesting areas—Haka Lodge is a great home base for exploring the city. The staff are also super friendly and always willing to go the extra mile help make you feel at home.
Ponsonby Backpackers
Ponsonby Backpackers is cozy, comfortable and safe—everything you could want in a hostel. Housed in a Victorian-era villa, Ponsonby Backpackers is close to the city and (more importantly) close to plenty of eateries, bars, shops and some of Auckland's best nightlife. The hostel has a gorgeous garden dining area and a barbecue, making it a great place to socialize and meet other travellers.
Metro Adventurer
CBD
Ideally placed right in the heart of the CBD, Metro Adventurer is a backpackers located a mere 300 metres from Auckland's famous Sky Tower. The bathrooms are tidy and modern and the communal areas such as the kitchen are spacious and functional. Stroll out the door and pick from a plethora of delicious places to eat and interesting places to shop. Metro Adventurer is close to a number of main bus stops as well as the Britomart train station, making it easy for you to see more of Auckland. The best part? Metro Adventurer provides private parking—always a bonus in Auckland.
Attic Backpackers
CBD
Not many backpackers can boast a top floor deck offering views over the city, but Attic Backpackers can. Their large, covered verandah has chill out spots, dining areas and an attached communal kitchen. Attic Backpackers prides itself on being a traveller's haven and providing spotlessly clean and comfortable accommodation in the heart of Auckland city. Whether you're after the social aspect of a large dorm, a more private single or twin room or perhaps a female-only dorm, Attic is more than happy to cater to your wishes. Most important of all, Attic has super fast, unlimited WiFi, making it easy for you to Facetime your family or binge watch your fave Netflix show.
The Brown Kiwi
Ponsonby
For one of Auckland's warmest welcomes, you'd best pop in to The Brown Kiwi in Ponsonby. The Brown Kiwi is close to everything—motorways, buses, cafes, supermarkets and the city centre. The rooms are comfortable and cozy and their cute secret garden is a lovely place to share a meal with other guests or just chill out in the sun. The Brown Kiwi is a smaller hostel, making it easy to get to know other visitors to Auckland. The staff are eager to provide tips and recommendations to make sure your time in Auckland is as epic as possible.
Want more of Auckland? Here's where to find Auckland's best tours
Image credit: Hotel de Brett, SKYCITY, The Esplanade Hotel