New Zealand's lockdown means that getting your takeaway fix is not currently an option, but there are still some incredible food producers delivering fresh food to our doorsteps. Now's the time to put those cooking skills to use with wholesome recipes made from fresh, locally sourced produce from a handful of quality businesses who are delivering groceries right to your door—contactless, of course.
You'll need sustenance for the days ahead, so we've rounded up the businesses that are working hard to ensure you get what you need for your weekly food shop. Here are the businesses delivering fresh food in Christchurch.
Green Dinner Table
A vegan delivery company based in Christchurch, Green Dinner Table's goal is to increase the number of people eating plant based. Sourcing the best local ingredients and creating delicious sauces to make it quick and easy to cook delicious and healthy plant-based food at home. They've recently launched their "Nice Not To Meat You" box which features plant-based ingredients and recipes delivered straight to your door so you can cook vegan at home. Their meals are designed around flavour first and foremost to show people they aren't missing out on flavour. They also use biodegradable packaging where possible and everything else is recyclable. Winning.
Food Box
A family-run business, Food Box is continuing to bring Christchurch folk the freshest seasonal produce during lockdown. Husband and wife duo Peter and Jen have made it their mission to deliver high-quality, fresh produce straight to your door. Due to demand and lack of availability, they've made changes to their offering and customers are able to purchase from their Just Feed Me boxes.
Ooooby
An acronym for Out Of Our Own BackYards, Ooooby's mission is to rebuild local food economies. They're also one of the few fresh food delivery services that are still open during lockdown, helping us get a healthy dose of fruit and vegetables when we need it most. Choose from lil, small or large organic fruit and veggie boxes or opt for the big mix box, which consists of seven to nine healthy vegetables and two to three fruit varieties each week. They also have a selection of free-range meats, dairy and eggs, freshly made breads, pantry options and tasty treats. During these uncertain times, joining a global movement that puts small scale food producers back at the heart of our food systems feels pretty darn special. Collect your pick of the crop here.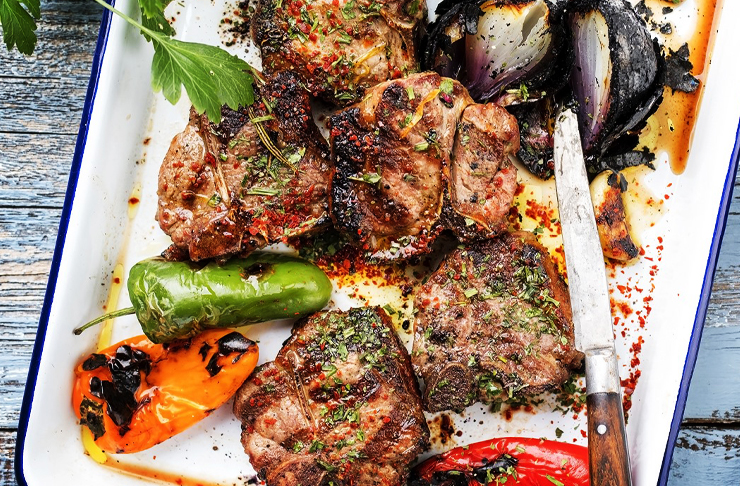 FreshChoice
Shopping online is simple with FreshChoice and they offer both delivery to your door or picking up in store. When you're needing to do a big shop, you can choose from pantry staples, fresh produce and even some baked goods to see you through the next few weeks. Make your next order a choice one here.

Woop
We're all doing our best to stay healthy during lockdown and Woop is making it that much easier with their 100% natural and locally sourced ingredients. Fill your plates with healthy balanced recipes that are easy to rustle up at home. Boxes come with exact portions, so there's zero food waste. There's also no time to waste, so get ordering here.
Now you've got your groceries sorted, it's time to plan out happy hour with NZ's best alcohol delivery services.
Image credit: Leonie Wise, Green Dinner Table, Foodbox, Ooooby, FreshChoice, Woop