Nothing has us feeling more festive than a completely over-the-top display of Christmas lights—yes, this is definitely a case of the more the merrier! Lucky for us Aucklanders, a decent dose of holiday twinkle is never far away, even with a few notable locations pulling out this year due to COVID-19 (Franklin Road, you're breaking our hearts).
So grab your nearest and dearest—and a cup of something festive to-go—and check out our pick of Auckland's best Christmas lights for 2020.
Glenbrook Vintage Railway
Waiuku
Polar Express fans, eat your heart out because Glenbrook Vintage Railway is getting fully lit this Christmas, and yes—that includes their beautiful heritage trains. Part of their award-winning Counties Power Christmas Lights—Trains At Night event, they'll also be decking out the train station and surrounding buildings in full festive dress and putting on a Christmas market, entertainment and more. Shout-out to these guys for offering a Sensory Friendly Night, where the festivities are pared back for families with sensory needs.
MOTAT
Point Chevalier
MOTAT moves into full holiday mode on December 11, becoming a magical, fairylight-filled wonderland in the lead-up to Christmas. Its heritage buildings look extra pretty covered in Christmas lights, as does their iconic tram. Carollers, food trucks and an epic selection of holiday movies complete the line-up; while a White Christmas can be found over in the Discovery Dome thanks to falling (fake) snow.
SkyCity
Auckland CBD
Auckland's most awesome example of Christmas lighting has to be the Sky Tower, whose 328m frame can be seen glowing red and green from all over the city—sort of like a giant Christmas tree. Travel into the CBD for a closer look and be treated to even more lights as part of SkyCity's annual Christmas celebrations, which this year include an incredible interactive light display curated by award-winning artist, Angus Muir. Dubbed T'was The Lights Before Christmas, it includes some of his most inspiring light sculptures and installations along a trail that weaves its way down Federal Street and around the Sky Tower (don't leave without getting a selfie amongst the UV spaghetti).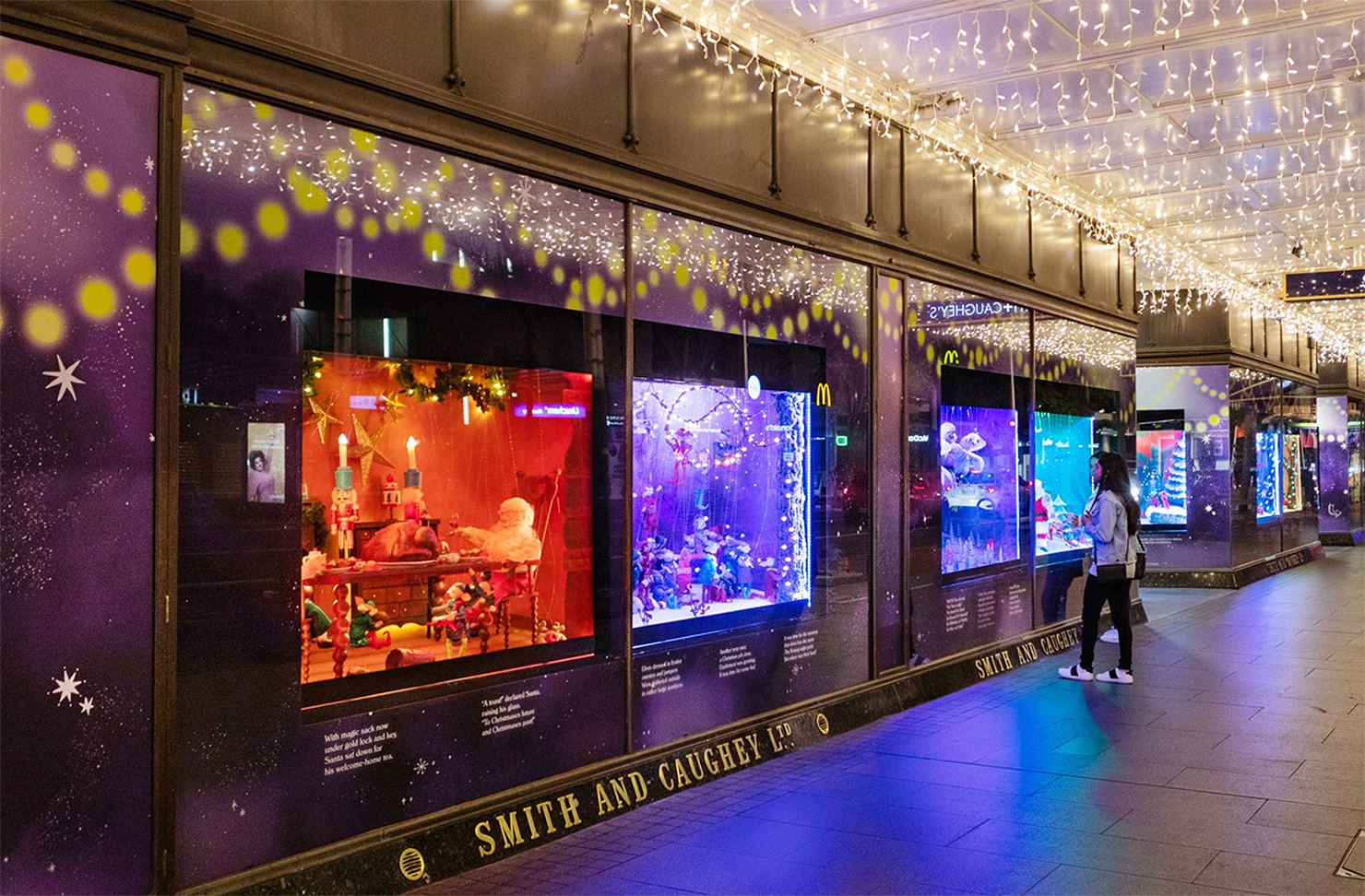 Smith & Caughey's
Auckland CBD
This one's less about the Christmas lights and more about the experience as a whole, but we love it just the same. And we're not the only ones—Aucklanders look forward to the festive celebrations at Smith & Caughey's all year long, headlined by an amazing animated window display usually based on a children's book (this year, The Night After Christmas) and strings of pretty Christmas lights that give the city an instant injection of holiday cheer. Check out their first-ever dedicated Christmas Shoppe on the corner of Queen Street and Wellesley Street for more festive feels, or for a small fee why not visit the big man himself via an enchanted forest walk-through on the sixth floor (his grotto is LEGIT).
Karaka Lakes
Karaka
This is a South Auckland favourite, usually headlined by an epic light and music show at 20 Cornwall Place (but who sadly, are taking a break from the festivities this year). Fear not, plenty of other Karaka Lakes residences will still be showing their support for the holiday season, with their own elaborate Christmas light displays and decorations.
Keen to get your shopping sorted in one fell swoop? Check out Auckland's best Christmas markets.
Image credit: Chris Ainsworth, GVR, MOTAT, Sky City, Smith & Caughey's