Easter is on the horizon and for the sweet tooths amongst us, this is seriously egg-citing news. After all, what other holiday is celebrated by stuffing your face with as much chocolate (and other sugary treats) as humanly possible?
So wear loose clothing and check out these bunny-approved spots for some next-level Easter feasting.
Here are the best Easter treats to be found in Auckland.
Giapo
Auckland CBD And Online
It wouldn't be Easter without a treat or two from the leading name in artisan ice cream, Giapo. This year, they've come up with an incredible Easter Treat Box in association with De'Longhi ft. their drool-worthy gluten-free hot cross buns, decadent milk and dark chocolate Easter eggs, and an entire pint of lush carrot cake ice cream. You'll also get your hands on an exclusive bespoke recipe for creating your own Easter cinnamon s'mores coffee at home (um, yum!). But wait, there's more—one lucky Giapo fan will win one of De'Longhi's shiny new Magnifica Evo Plus fully automatic coffee machines (worth $1449.99) when they find a single handcrafted golden egg, hidden within one of the boxes.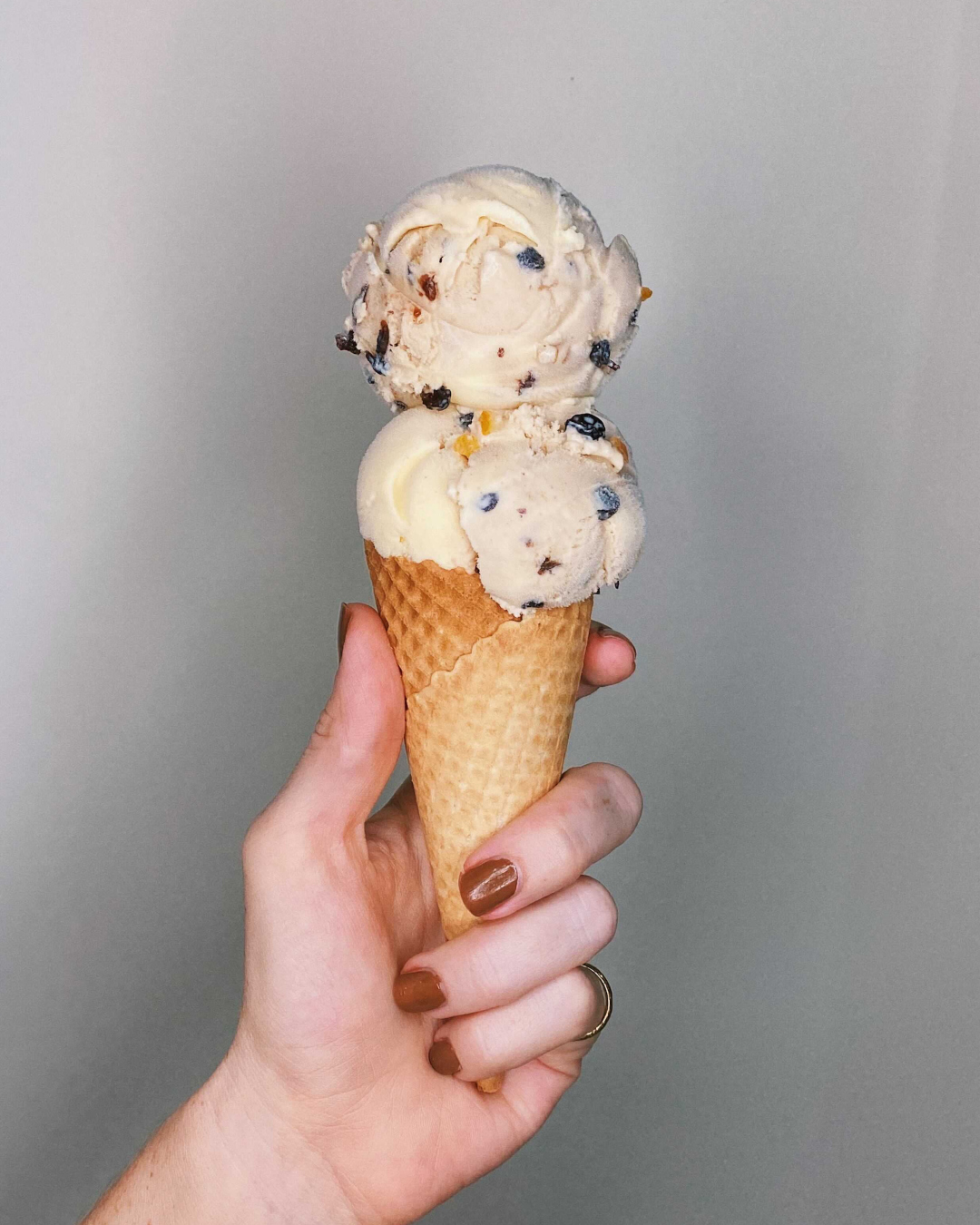 Duck Island Ice Cream x Ima Cuisine
Ponsonby And Newmarket
What if we told you you could get Ima Cuisine's hugely popular hot cross buns, in ice cream form? Well thanks to the legends at Duck Island Ice Cream, you actually can. They've taken said buns (which, in case you didn't know, are widely considered the best in Auckland), toasted them up realll good, then infused them into a lush ice cream base flavoured with orange zest and assorted spices. They've then blended this with a second, custard-style base inspired by the buns' famous crème pâtissière cross, and finished it all off with a healthy serving of sugar syrup, currants, and citrus peel. Yup, heaven officially exists.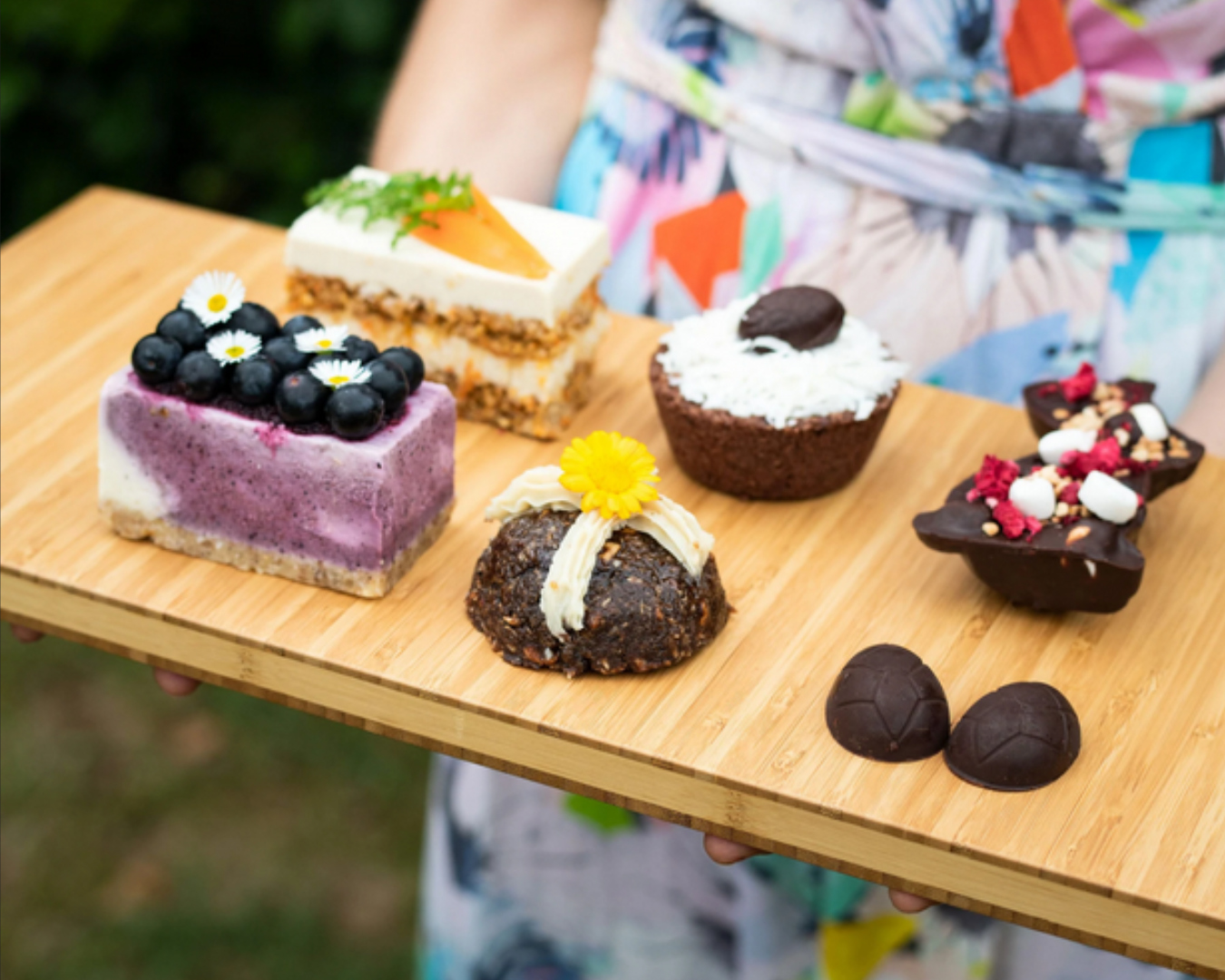 Little Bird
Ponsonby And Online
This Easter you'll find us cracking into some seriously incredible treats from Little Bird (which, you should know, are gluten-free, dairy-free, vegan, raw, organic and soy-free). Their caramel-stuffed chocolate eggs are an Easter epiphany, bringing joy with every mouthful and available in a convenient box of eight. However be sure to also save room for their raw cross buns and Easter spiced carrot cake, or ditch the decision-making altogether and snap up an Easter Gift Box (pictured) with the works.
Bunanza
Online
If you haven't had the pleasure of sinking your teeth into one of Bunanza's freshly baked cinny buns just yet, the time is nigh. They're slinging a tasty dark chocolate number, especially for Easter, topped with silky smooth milk chocolate cremeaux. The perfect compromise when you feel like an Easter egg AND a hot cross bun.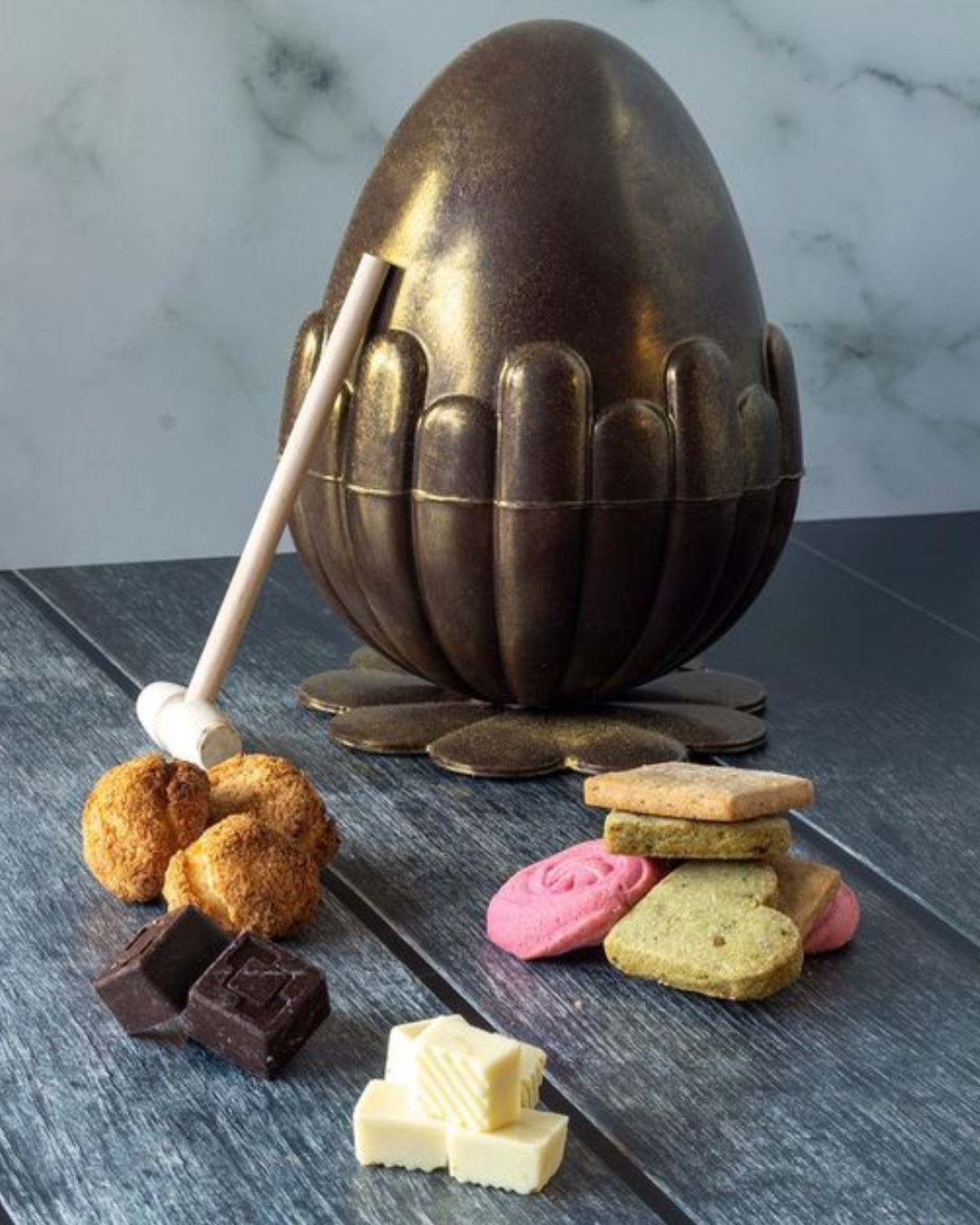 La Petite Fourchette
Britomart And Wynyard Quarter
No one outdoes the French on the treat front, and La Petite Fourchette is here to prove exactly that with their jaw-dropping range of Easter goodies. We're especially in awe of their 54.5% dark chocolate smash egg (which, for the record, looks way too pretty to smash). This gold-dusted beauty comes with a mini wooden hammer, which you'll use to crack the egg open and reveal a bounty of mixed sable biscuits, rocher coco, and bonbons.
The Pantry At Park Hyatt Auckland
Wynyard Quarter
A decadent Creme Egg-inspired treat awaits at Park Hyatt Auckland, where award-winning executive pastry chef Callum Liddicoat has whipped up a gorgeous 'egg' dessert for two. Hop on over to the hotel's all-day eatery, The Pantry, and check out this stunning take on the classic sweet, which hides a lush, salted mango caramel centre and lightly whipped caramel Chantilly cream beneath a 55% Valrhona Itakuja chocolate 'shell', complete with festive chocolate flicks. Cadbury, eat your heart out.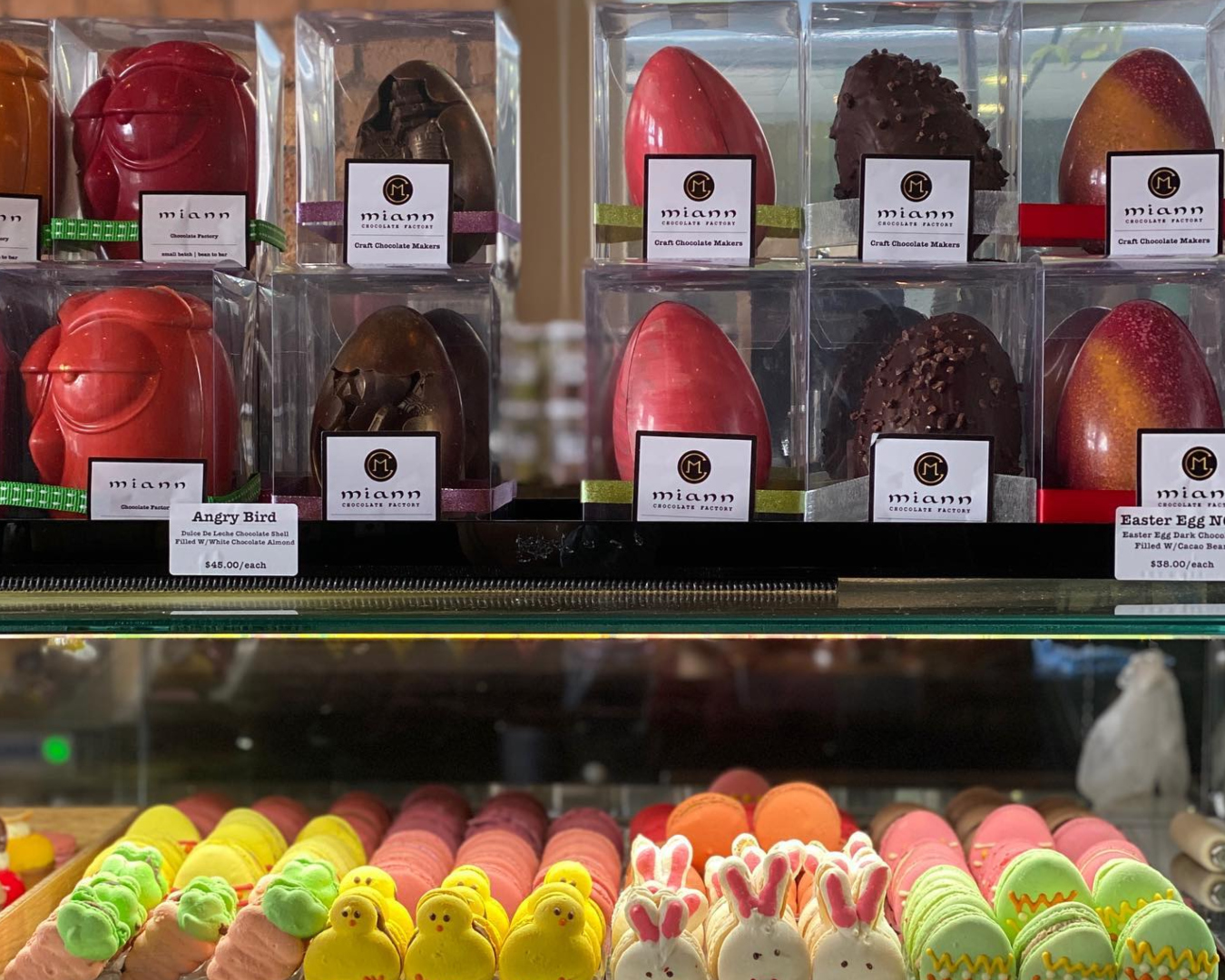 Miann
Britomart, Fort Street, Morningside, Ponsonby And Online
Ah Miann, we can always count on you for epic seasonal treats, be it at Christmas, Valentine's Day or in this case, Easter. Speaking of which, we're head-over-heels for your incredible Easter eggs, the Star Wars ones in particular (because let's be honest, who doesn't want an egg emblazoned with X-wings or better yet, Yoda's face?). However, that's not to overlook your decadent hot cross buns (made even more indulgent when stuffed with a scoop of your famous gelato), or your cute Easter-themed mousse cakes and macarons. Or your hot cross bun chocolate blocks, loaded with your signature HCB spice mix, orange peel and two types of raisins, topped off with a white chocolate cross and bronze lustre. We've also heard that we can get our coffee dusted with a chocolate Easter egg or a bunny—so we'll be smashing back some of those, too.
Allpress x Bennetts of Mangawhai
In-store At Farro
Coffee and chocolate is one of life's greatest combos so that said, this Easter you'll find us stuffing our faces with caffeine-spiked eggs from Allpress and Bennetts of Mangawhai (which due to popular demand, are back for a second year). Coming in a cute egg carton featuring two lush flavours, Flat White—velvety 45% cocoa milk chocolate with hints of Allpress Espresso— and Double Espresso—decadent 80% cocoa dark chocolate, also with notes of Allpress Espresso—these babies will have you bouncing higher than the Easter Bunny himself.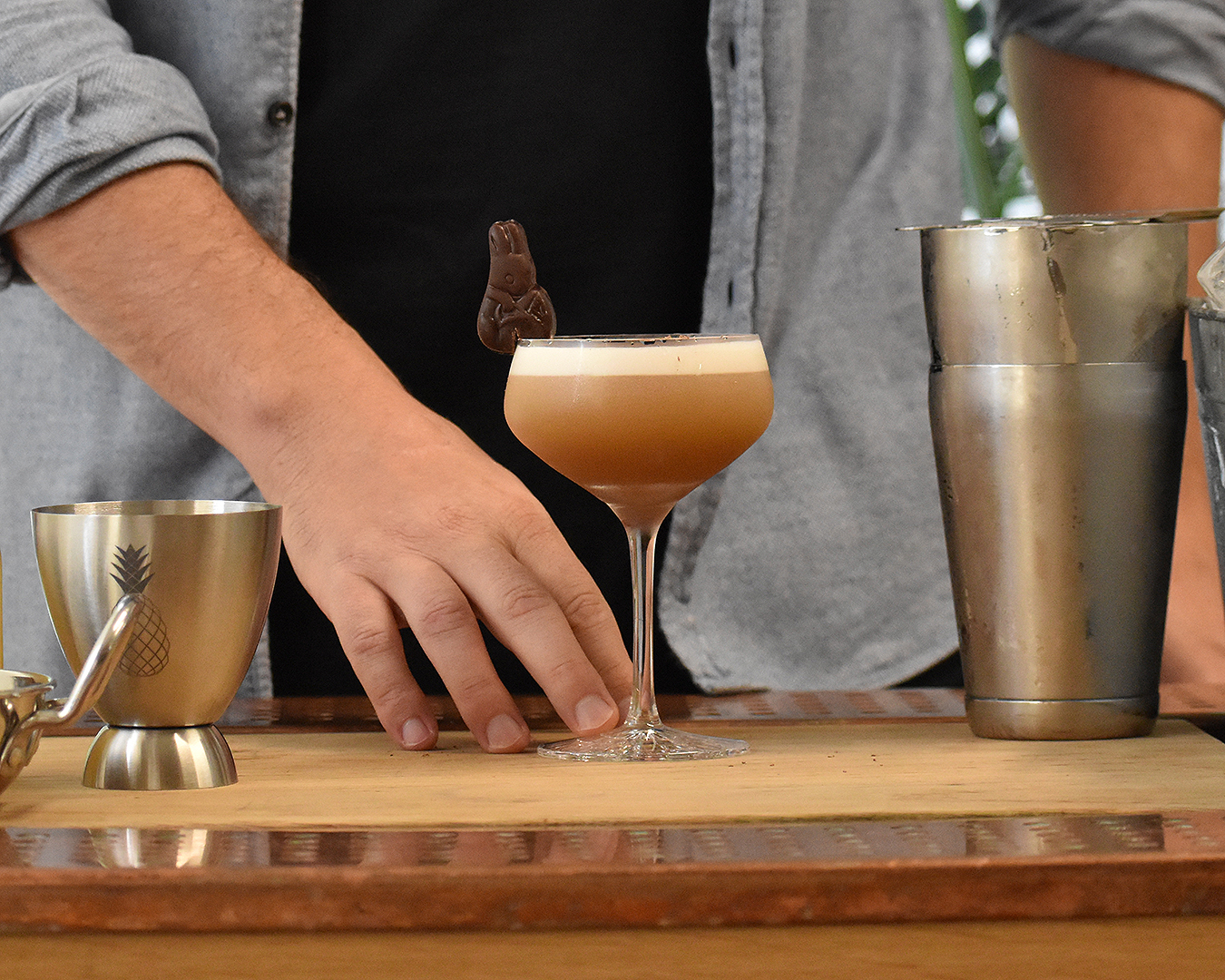 Black Pineapple
Online
What's better than an Easter treat you can eat? One you can drink, duh. Enter Black Pineapple, who've taken some of our fave Easter flavours and bought them together in one glorious tipple, the Hot Cross Bunny. This boozy creation—which comes direct to your door by way of a cocktail kit—puts a spin on the traditional 20th Century cocktail (made from gin, chocolate and lemon) by adding a splash of homemade hot cross bun syrup, along with a dark chocolate Easter bunny garnish. Plus, each kit contains enough ingredients to make four cocktails—that's one for each day of the Easter holidays, if you can resist!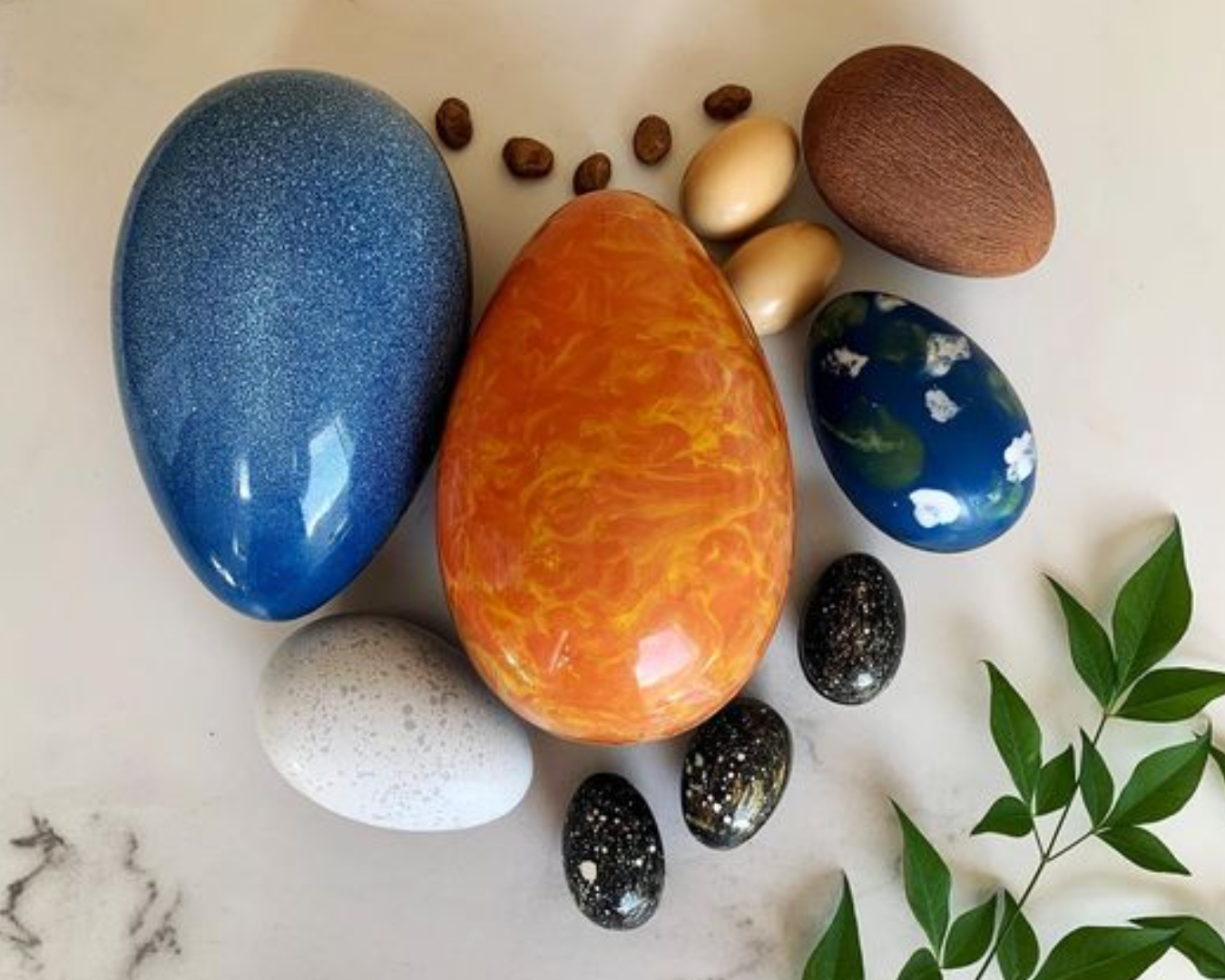 Honest Chocolat
Commercial Bay, Matakana And Online
Honest Chocolat has taken a leaf out of Mother Nature's book this year with Easter eggs inspired by the earth, ocean, sun, clouds, night sky and more. We personally like the Sun egg, a gorgeous milk chocolate number featuring hidden layers of hazelnut praline and popping candy. It's only fitting that these beauties come wrapped in zero-plastic, home compostable packaging, plus $1 from every egg sold goes to Trees That Count (an organisation that plants native New Zealand trees). And best of all, they also have gluten and dairy-free options, hallelujah! P.S. Their game-changing take on eggs and dipping soldiers has also returned for another year. Here they've taken a dark chocolate Easter egg shell, filled it with chocolate mousse, hazelnut praline and crunchy caramelised hazelnuts, then paired it with vanilla sponge soldiers and a cute chocolate marmalade 'egg'. Sorry Mum, but your version ain't got nothing on this.
ELMO'S
Ponsonby
ELMO'S is toasting the Easter season with a super sweet special edition martini. The Miso Honi takes the absolute best part of Easter (that would be chocolate, represented here in the form of Whittaker's white chocolate) and blends it with a few of our other favourite things—vodka, Frangelico, white crème de cacao, and miso. Dessert in a glass, coming right up.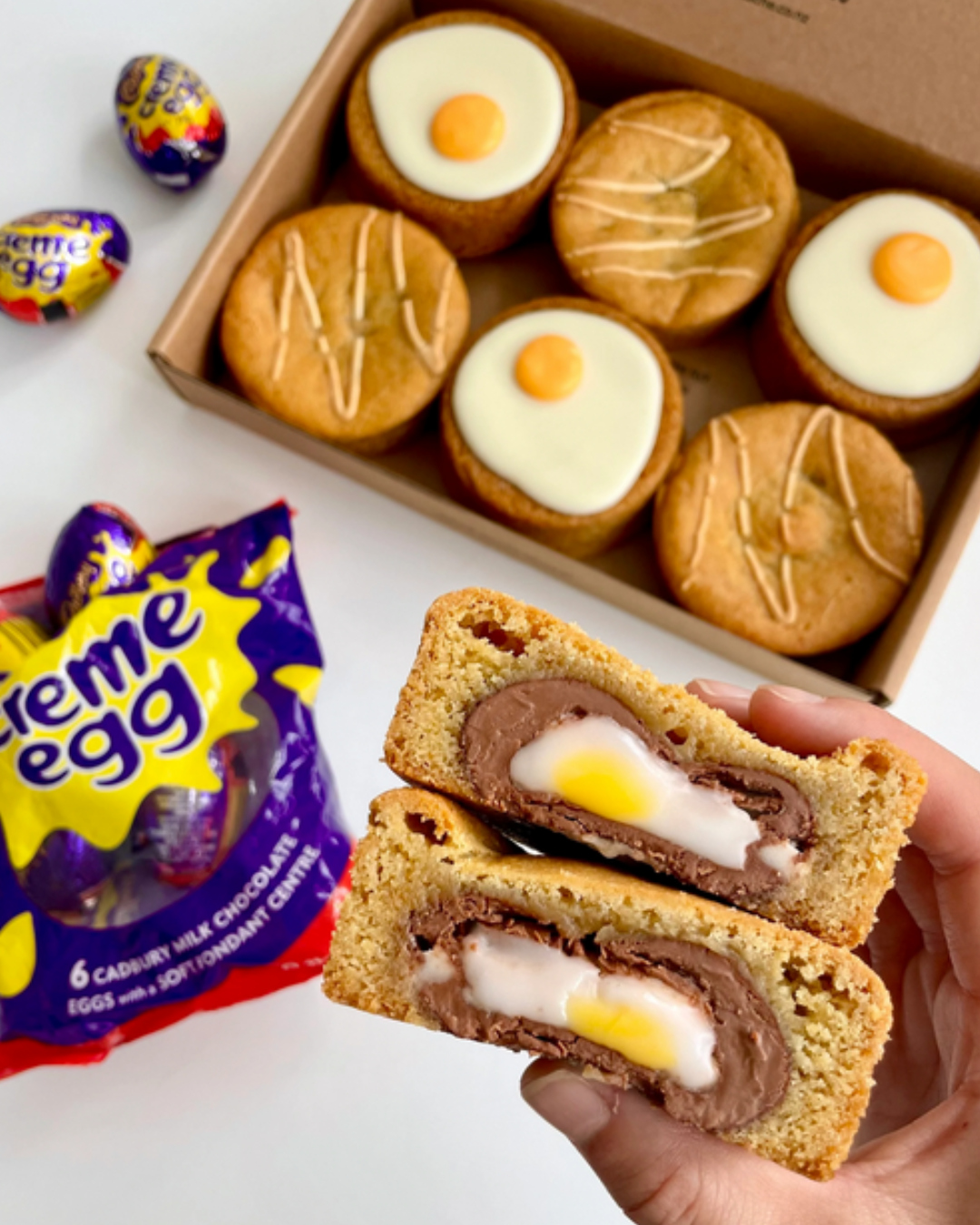 Moustache Milk & Cookie Bar
Orakei, Manukau And Online
Moustache always knows how to make our mouths water, and their Creme Egg Cookie Pies are no eggception (sorry not sorry). These babies are stuffed with an entire Cadbury Creme Egg, then topped with a white chocolate fried egg for the ultimate Easter treat. Hells yeah.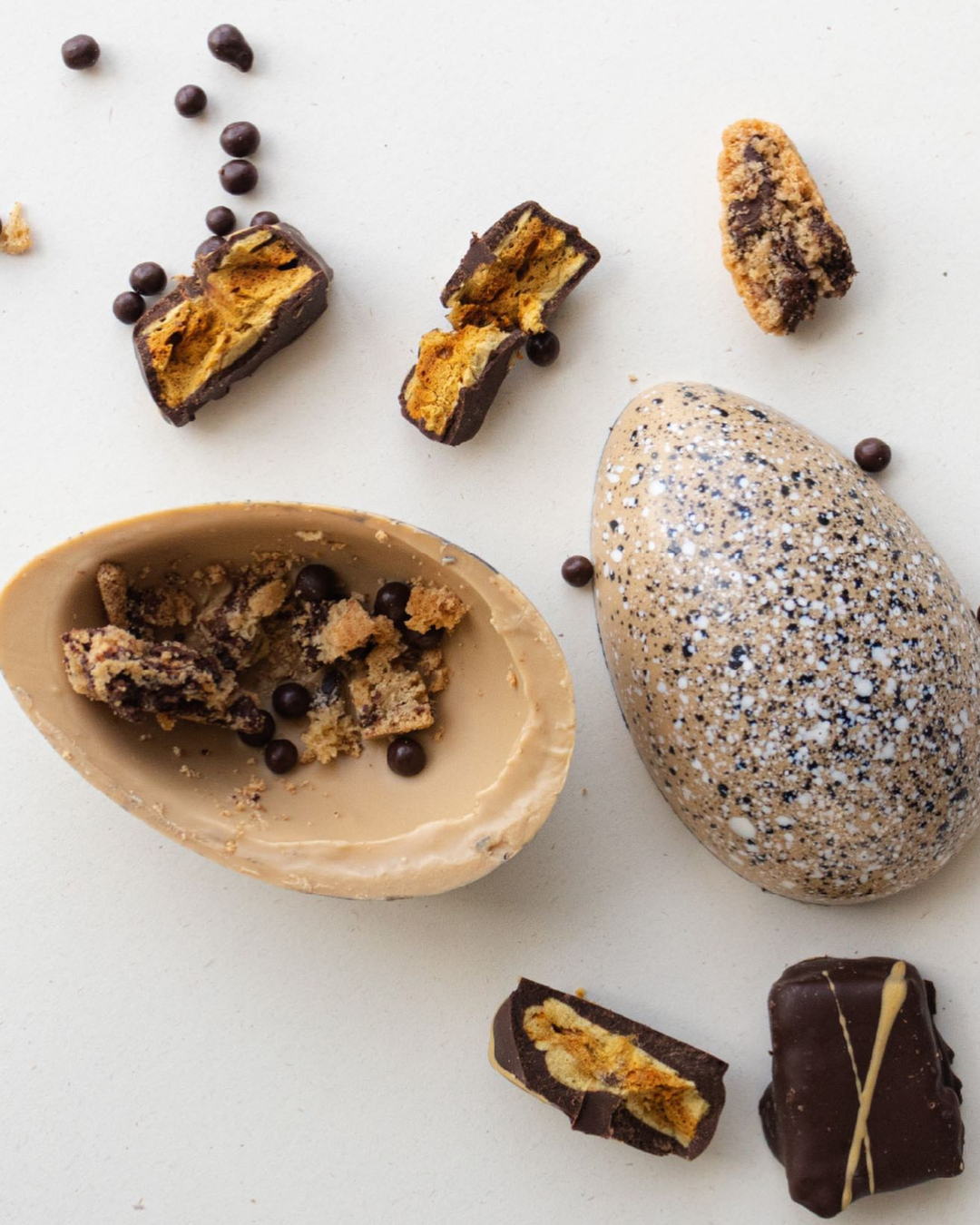 House of Chocolate
Beach Haven, Takapuna And Online
House of Chocolate certainly knows how to make Easter treats with the X-factor, including their coveted hand-painted eggs. Yes, whether it's speckled, splattered or sprayed, these contemporary choccy treats have been egg-citing Aucklanders since their inception several years ago, and again, look more like a work of art than something you'd eat. But make no mistake, these babies don't just look the part, they're also made from premium Vahlrona chocolate, and are hiding even more treats on the inside (think chocolate dragées, and mini bunnies).
Krispy Kreme
Auckland CBD, Manukau, New Lynn, Newmarket And Selected BP Stores
When it comes to doughnuts, Krispy Kreme knows no wrong. So when we heard they were releasing two all-new Easter treats this year, we were beyond excited. Think of all the things you love about Krispy Kreme, with a little sprinkling of Easter magic. Choose from the Easter Egg Nest, complete with choc coating, choc crème, choc sprinkles and the pièce de résistance, a speckled Darrell Lea Easter Egg, or the Choc Caramel Easter Egg—filled with caramel, dipped in milk chocolate ganache, then decorated with festive yellow and pink icing.
Devonport Chocolates
Devonport And Online
A choccy shop seems like a pretty good place to pick up Easter treats, right? Enter Devonport Chocolates, who are bringing us a smorgasbord of goodies this year including a gift box filled with 16 petite treats including white chocolate and raspberry eggs, and hot cross bun chocolates. Don't forget to grab one of their cutesy, Peter Rabbit-like bunnies to go with, or perhaps a Graffiti Egg à la Jackson Pollock. Sugar-free and vegan options are also available.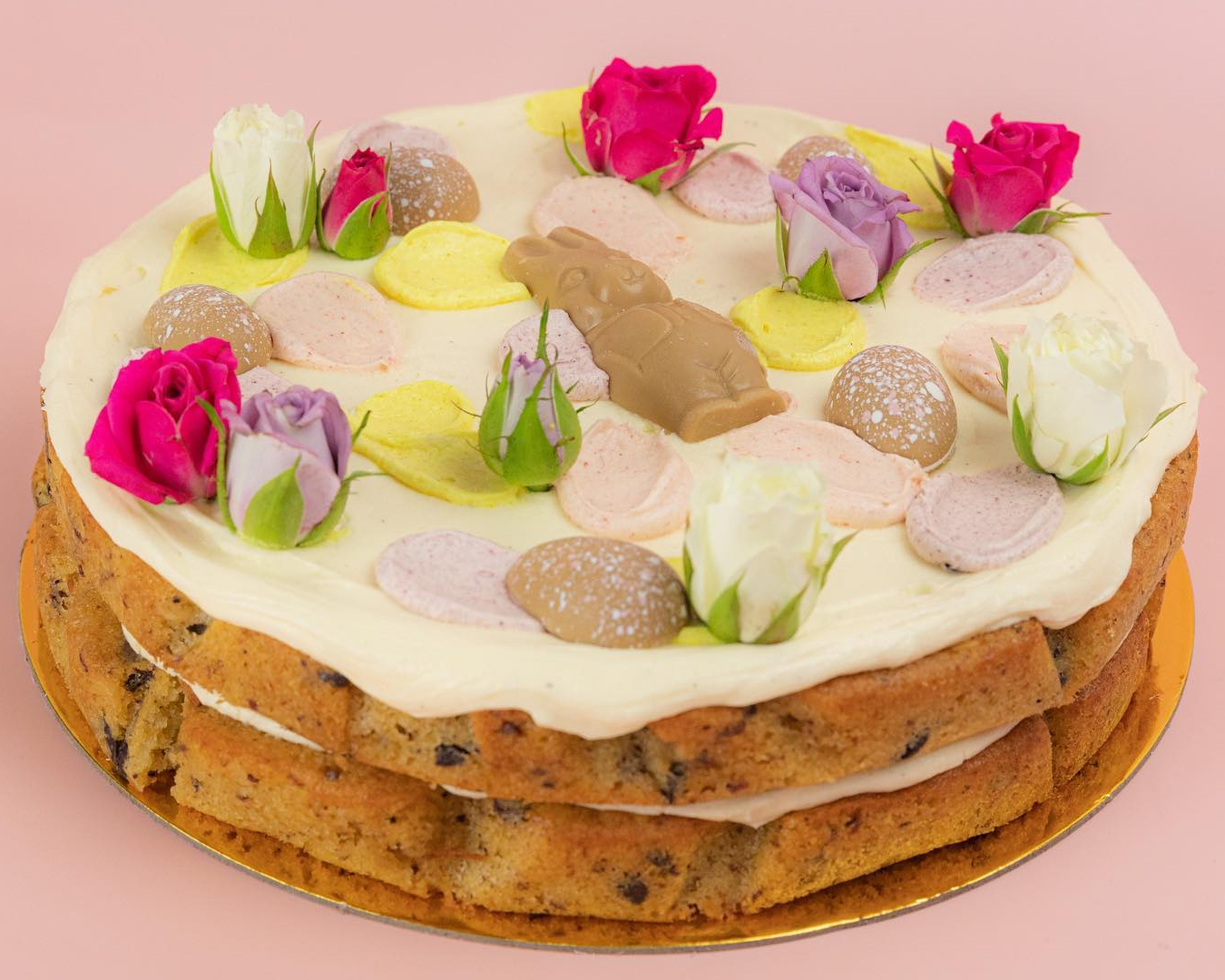 The Caker
Karangahape Road And Online
The Caker also has a
couple of treats
up its sleeve this Easter. First up is their famous Hot Cross Bun Cake, which takes a spicy, fruit-filled base and tops it with cinnamon cream cheese icing, dark chocolate ganache, chopped hazelnuts, Valrhona chocolate pearls, freeze-dried blackcurrant slices and a dark chocolate bunny. Next is their decadent Triple Chocolate Golden Egg Hunt Cake, decorated with speckled eggs, pastel smears, a roasted white chocolate bunny and The Caker's trademark roses (and don't forget about the surprise golden egg, hidden on the inside).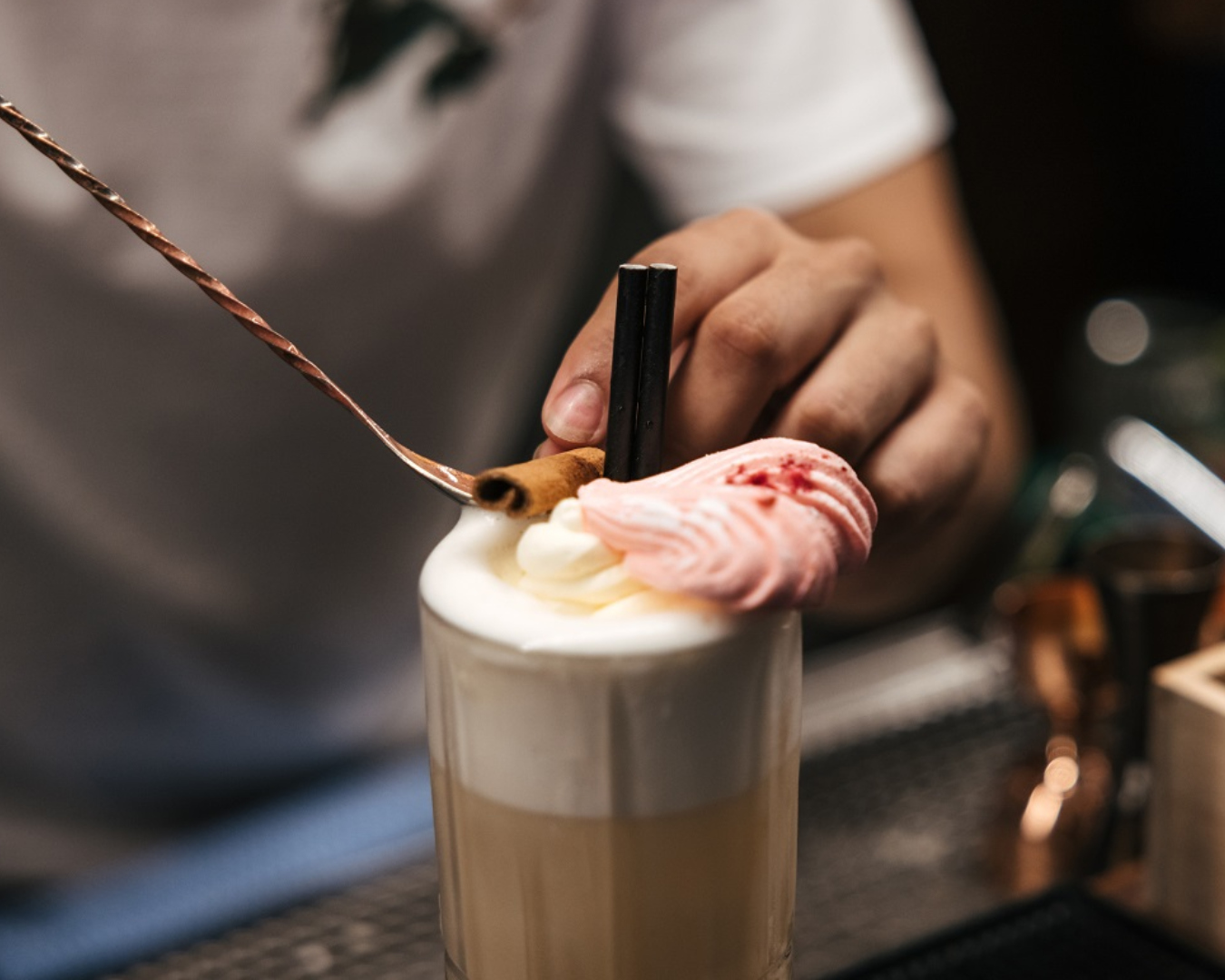 Our Land Is Alive
Auckland CBD
Hop on over to Our Land Is Alive and indulge in their aptly-titled Easter cocktail, the Bunny Buns. This tasty wee number is available for just three days only (April 15-17) but is totally worth checking out thanks to its intoxicating blend of Black Collar Vodka, almond milk, vanilla and spiced syrups, and hazelnut and almond liquors. We know how we'll be toasting the long weekend, hbu?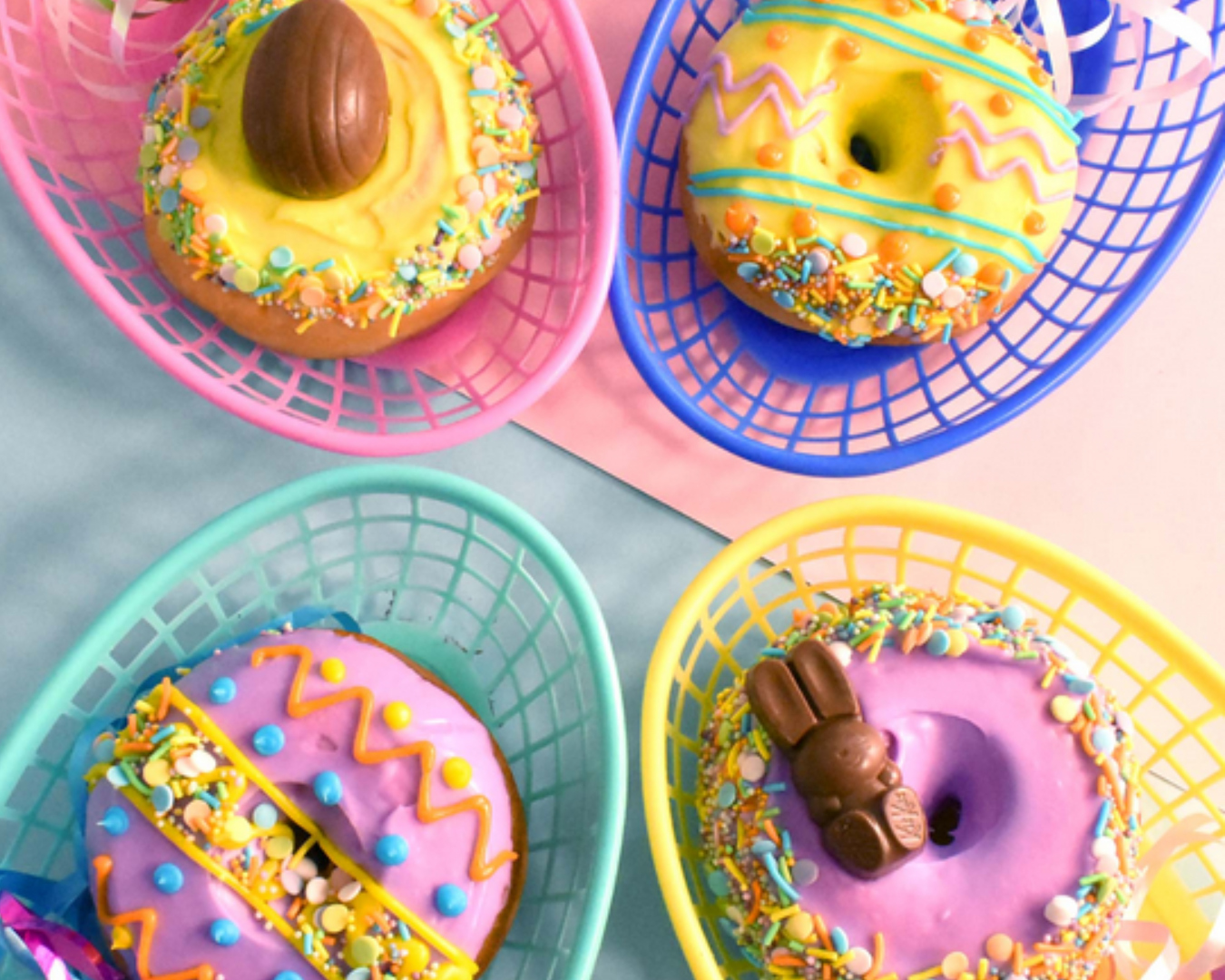 The Pie Piper
Eastridge, Karangahape Road And Online
Easter-themed donuts
are hatching over at The Pie Piper and guys, they're glorious. These cheerful-looking treats are sure to put a smile on your dial with their festive icing and confetti-like sprinkles, and obvs they taste delicious, too. Choose from Caramel Nest Egg, Easter Bunny, and Yellow and Purple designs.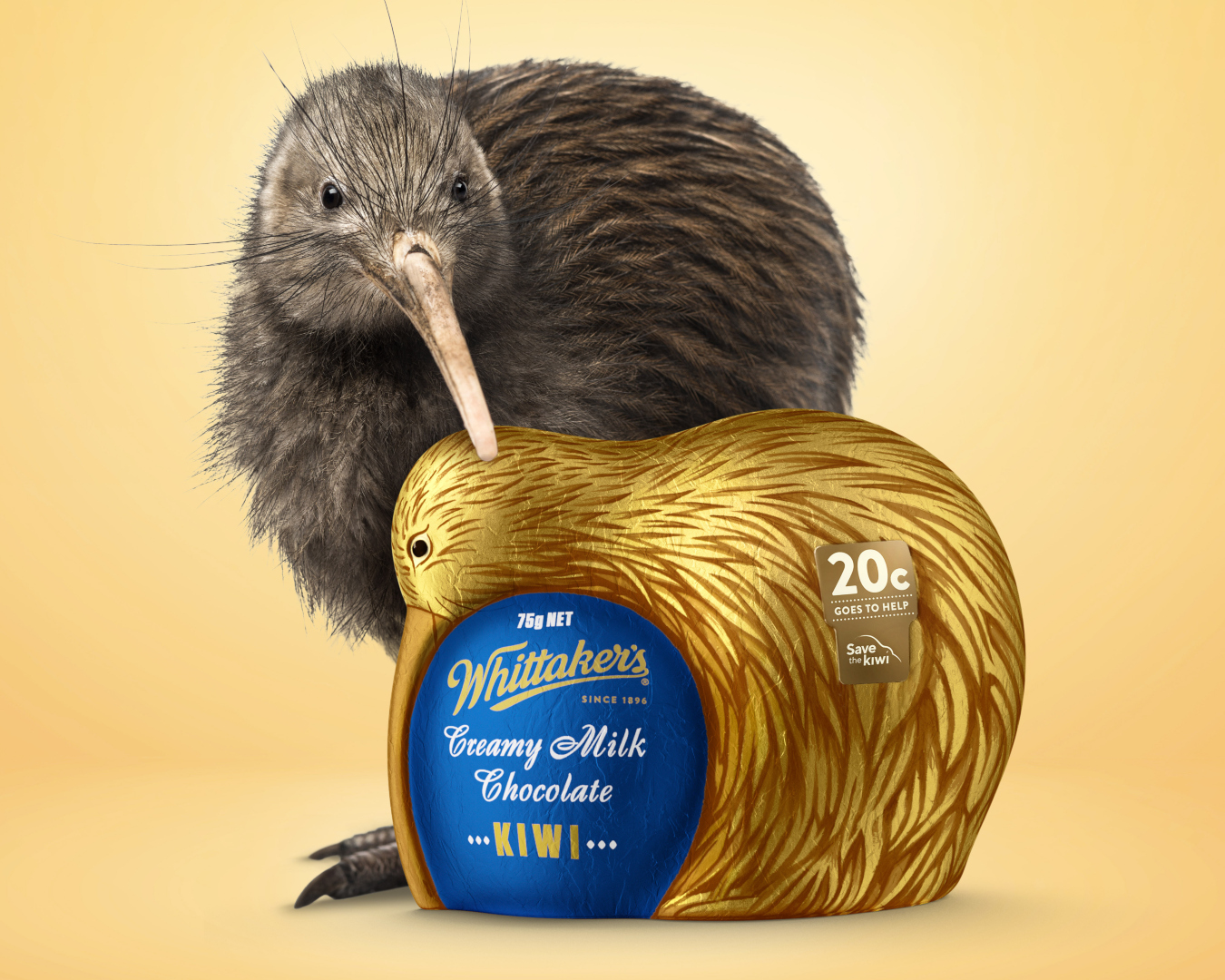 Whittaker's Chocolate
Selected Supermarkets
We love ourselves a bit of Whittaker's choccy, so when news of their Chocolate Kiwi crossed our desks this Easter, we knew we had to get one. Because not only does this treat taste incredible (how could it not, being made from either their Five Roll Refined Creamy Milk or 50% Dark Chocolate), it also supports a great cause with 20c from every one sold going to kiwi breeding programme, Kiwis For Kiwi.
Can't get enough Easter goodness? Here's where to find Auckland's best hot cross buns.
Image credit: fossickandforage for Giapo, Duck Island Ice Cream, Little Bird, La Petite Fourchette, Park Hyatt Auckland, Miann, Black Pineapple, Honest Chocolat, Moustache Milk & Cookie Bar, House of Chocolate, The Caker, Our Land Is Alive, The Pie Piper, Whittaker's Chocolate.