Now that the summer months are creeping in, this means one thing and one thing only—t'is the season for fish 'n' chips on the beach. Yassss! The nation's fave dish captures our hearts all year long, but there is something about digging into the savoury, salty goodness that is fish and chips after a hard day of basking in the sun—you just can't beat it.
Fish 'n' chips may sound simple, but here at Urban List, we like to keep things interesting so we've found a new spot that is anything but. Nestled into Mission Bay's strip, Fishboy welcomes punters with open arms and a menu that'll have you hooked.
Brought to us by the creators of FishSmith on Jervois Road in Herne Bay—the seafood extraordinaires certainly know how to dish up the goods. The menu proves that any-fin (pun intended) is possible as they offer a less conventional menu than your average fish and chippery. There's something for everyone, from fish finger buns, tacos, salt and pepper squid and for those that want something a little fancier, the teriyaki salmon and tuna tartare should do the trick.
We opted for a squid bun, which was the perfect combination of soft and crunchy. Filled with lettuce, tomato, relish and topped with miso mayo, this simple dish works wonders on the ol' taste buds. The battered fish tacos will go down a treat, whilst the teriyaki salmon salad is a light healthy alternative.
On the topic of healthy alternatives, how do you like your fish cooked? If fried fish ain't your style then no worries, grilled or crumbed options are also available.
There are cold refreshing beverages on hand to wash down all that grub, including the alcoholic variety. Okay now we're talking—choose from cans of beer from Urbanaut and Garage Project or treat yourself to a Soho wine or two.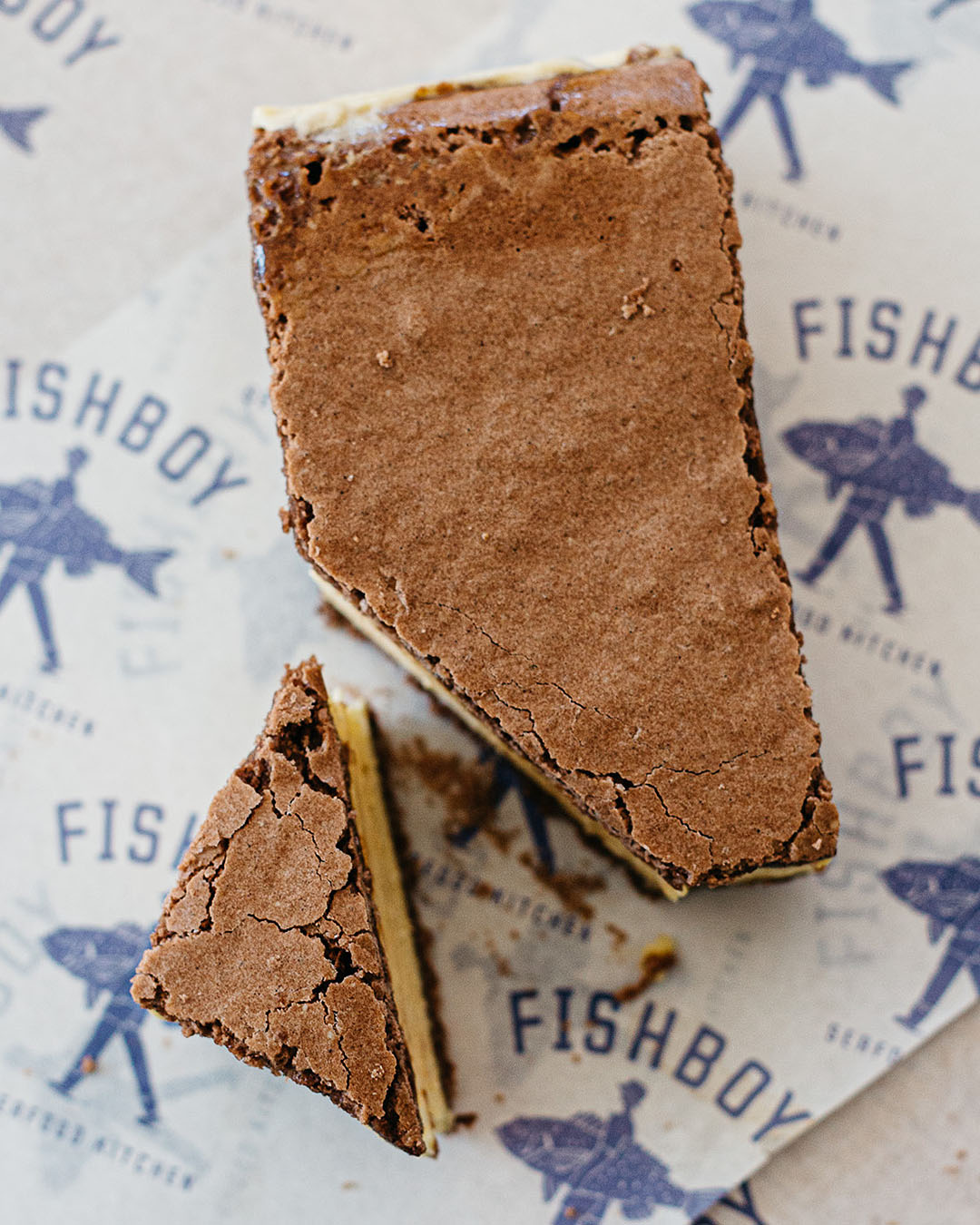 Oh, and we can't forget the chocolate and vanilla ice cream sandwich. This ain't no ordinary sarnie, wave goodbye to those flavourless wafers and dig into what can only be described as a rectangular macaroon. Wedged in between is a combination of two flavours, which change every couple of months.
Picture this— fish and chips in hand, a brewski in the other, the sounds of the waves crashing along the beach, the sun setting—can it get much better than that? We think not.
So, take the bait and go check out Fishboy—your new fave beach eats.
For more images and information, including opening hours, click here.
Image credit: Wono Kim