Living in Auckland is an absolute hoot and, just when you thought things couldn't get any better, it's about to become even MORE of a hoot. That's right, the city is about to be overtaken by massive owls doubling as pieces of art.
For 10 weeks, Auckland's streets will be home to 46 giant owls, decorated by some of New Zealand's most well-known emerging artists. Better yet, they'll be joined by 60 oh-so cute owlets decorated by students from Auckland schools—nawh!
How big is big, exactly? The vibrant owl sculptures are a staggering 1.65 metres tall, while the adorbs owlets are 90 centimetres tall. Yep, these guys won't be hard to miss.
The Haier Big Hoot will kick off on March 3 next year with the owls-slash-artworks placed on a trail around the city. Guided by a map, you'll want to trawl the city to find them all—it's like real-life Pokémon.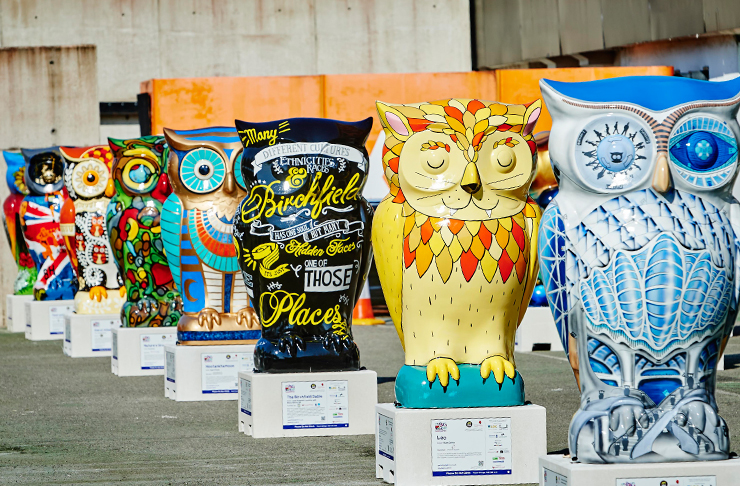 The project is brought to us lucky Aucklanders by Child Cancer Foundation and the international creator of Wild in Art. The public art exhibition will run for 10 weeks, before the owls are auctioned to raise funds for the charity—awesome, huh?
The Big Hoot will be Auckland's biggest-ever public art trail, with some of the nation's most talented artists are getting involved. You'll stumble upon pieces crafted by the likes of Dick Frizzell, Flox (Hayley King), Jeff Thompson and Peata Larkin.
Sounds like a pretty fun time, if you ask us. Owl see you there!
The Deets
What: Haier Big Hoot
When: For 10 weeks from Saturday, March 3, 2018
When: Various locations in Auckland-wide.
For more deets, click here.
Image credit: supplied