Market-fave Good Habit Ice Cream has just put down roots in an enviable position just opposite summer hotspot Heard Park in Parnell and the timing couldn't be better.
Starting out life in Grey Lynn Farmers Market in 2019, Good Habit owners and passionate advocates of damn good ice cream Henry and Kristen Cheung are bringing their brand of simple, minimally processed dairy-free ice cream to the masses, resulting in next-level, amazingly luscious creations that will get you hooked after one taste.
We know what you're thinking, oh vegan ice cream, all tastes like coconut right? Not so fast. Using only the most natural ingredients with no fillers or gum, they combine coconut milk with cashew—or organic black sesame milk for their spectacular Black Sesame flavour—which means you don't get that overpowering coconut taste. However, if that nutty flavour is your jam you should absolutely try a scoop of their decadent Chocolate Date creation which is one for the purists.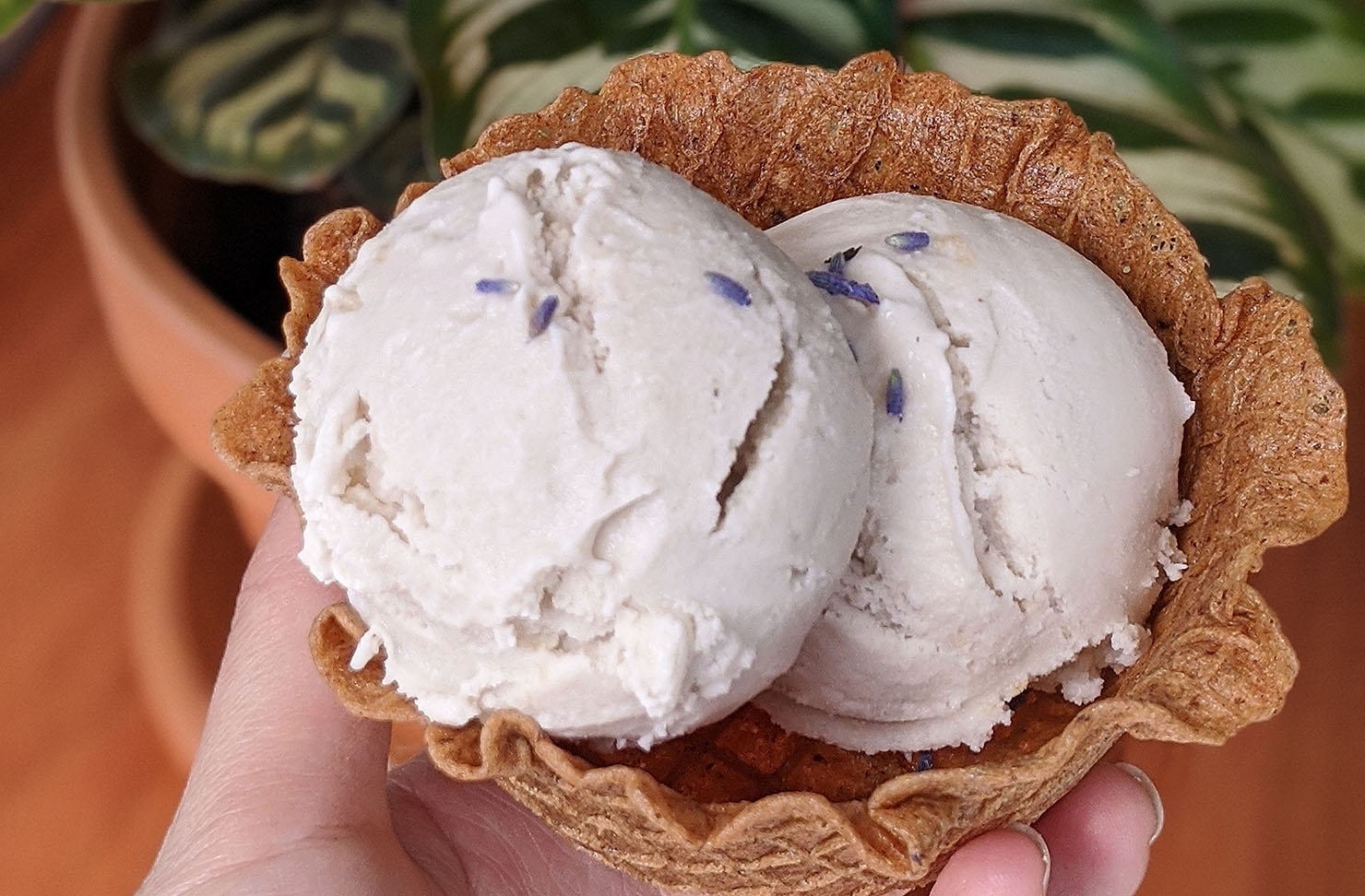 On the short but sweet menu expect the usual suspects of Maple Vanilla—simple yet moreish—and Chocolate Wasted—stuffed with house made gluten-free brownie pieces no less—but a quick look will tell you you're not in Kansas or more accurately, Seattle—The Cheung's former home—anymore. The American influence lies strongly with their PB&J flavour which wouldn't you know, actually tastes like peanut butter and jelly. Their Strawberry Balsamic also comes highly recommended, it's created from a beetroot-based ice cream then has in-house strawberry jam and balsamic glaze added. Delicious. If you're after something a little more leftfield, the coffee and banana flavoured Java Island is the one for you. Not forgetting the mint-chip brownie flavour which is the kind of deliciousness you need to order by the tub, we're calling it our fave of the bunch.
With a changing seasonal menu using only the freshest produce available expect interesting flavours down the track. Currently for spring you'll find a decadently fragrant lavender earl grey flavour and a light grapefruit rhubarb tonic flavour with slightly less thickness bringing it closer to a sorbet.
If you're looking to upgrade your ice cream eating antics we suggest the waffle cone, crunchy, GF goodness that you'll enjoy almost as much as the ice cream, which is available by the scoop (and yes, you can pick up your favourite by the tub(s) here too). Can't make it to Parnell? Find them on UberEats to have them delivered right to your doorstep. We should also mention the newly-installed ice cream guardian Frida who can be found for selfie ops outside the store, on loan from local artist Ali Ward from Corner Room Design.
If you're looking for a different ice cream experience, minus the guilt, it's time to make some Good Habits.
For more images and information, including opening hours, click here.
Image credit: Armelle Frimpong, Good Habit Ice Cream