It's happening, we're officially in summer mode right now. The clocks have ticked forward an hour and we're so ready for late afternoon cocktails and cheese boards. Whether it be at the beach, a friend's city view apartment or a chill backyard sesh, the season for socialising is upon us.
If you lack a certain flair when it comes to hosting people, don't stress, we've got you covered. Say goodbye to basic backyard barbeques, together with Mitre 10 we're bringing you eight essential home buys to level up a summer soirée with minimal effort (that won't break the bank either). Do it for your friends, and if not for them, do it for the 'Gram.
Pillow Fort Throwbacks
Who remembers pillow forts? We're bringing them back with extra style. Stock up on a set of eclectic outdoor pillows in fun prints that will not only withstand temperamental weather, but look cute doing it. Extra points for comfort.
Ideal for: chill Sunday gatherings.
Click here for our pick.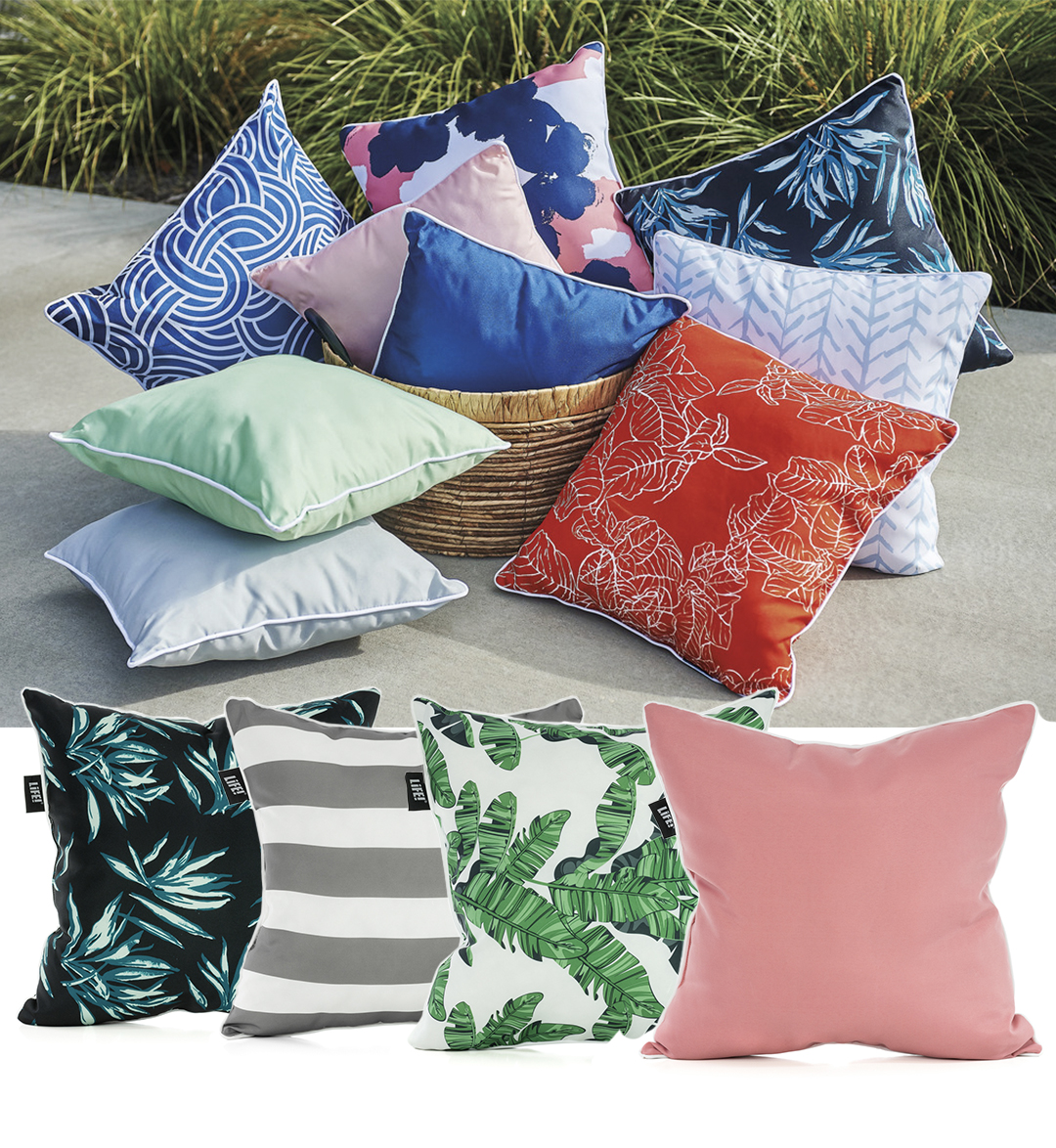 Glow-up The Garden
Turn your garden into a magical wonderland with fairy lights, candles or lanterns. They add just the right amount of cosiness for any event, and the perfect mood lighting when mid-afternoon drinks turn into late evening. Plus, they look fiiirree in the background of photos.
Ideal for: anything from a sophisticated soiree to a sundown snuggle.
Click here for our pick.
Cuddle Up
Bring the comfort of inside, outside with an outdoor rug. Pair with the cushions and candles above for a night in with bae or keep on hand when summer hasn't quite hit peak temperatures and your guests need a light layer.
Ideal for: summer nights with your SO watching movies under the moonlight.
Click here for our pick.
Egg Chair Or Throne?
Fancy those beach vibes in the city centre? A wicker egg chair is not just 'Grammable (think of the spinning Boomerangs!) but also super comfy. Embrace the Scandi style, liven up a small deck or corner space and watch your friends fight over the perfect possie fit for royalty.
Ideal for: summer evening chill sessions with close friends.
Click here for our pick.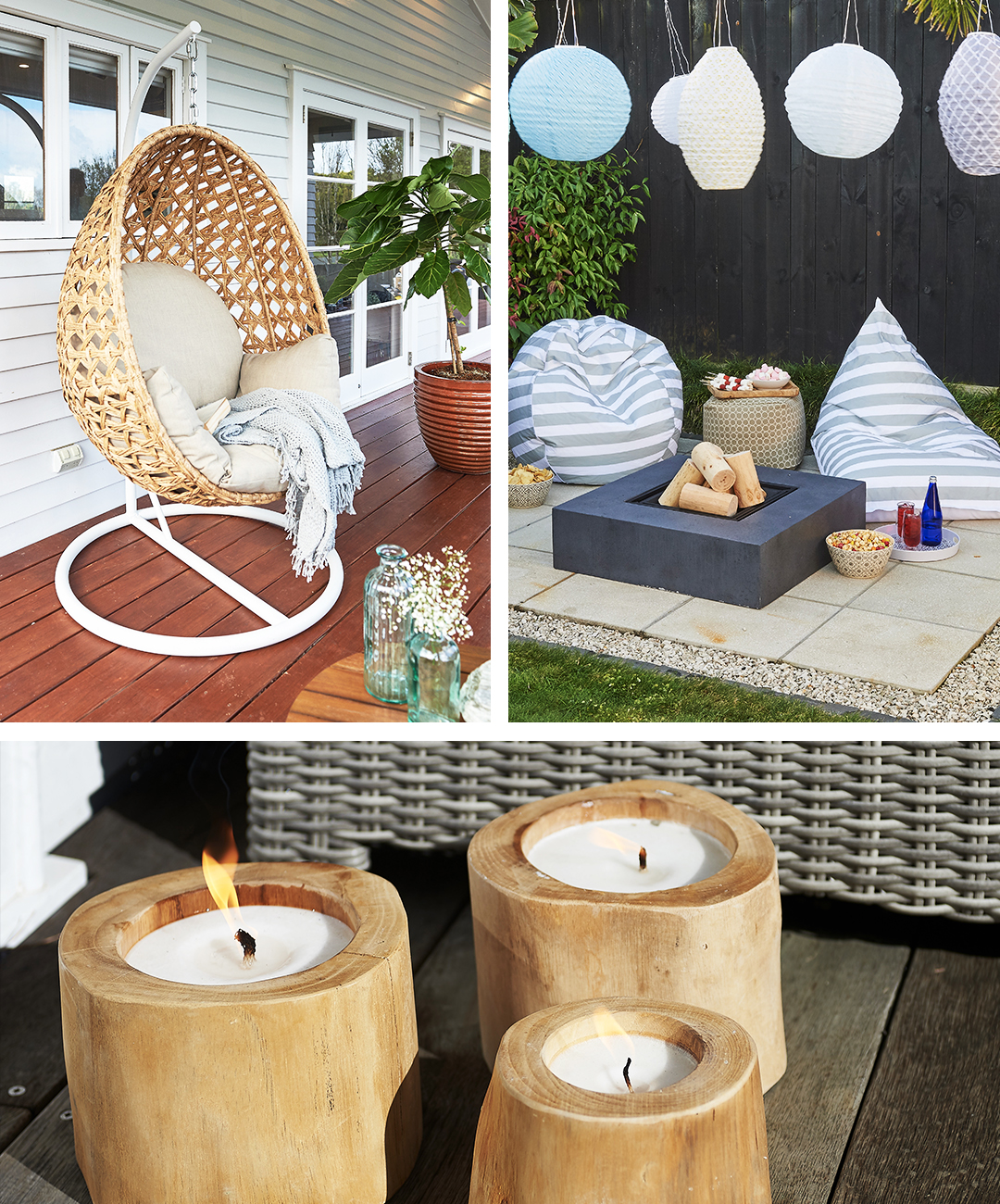 Break Out The BBQ
The way to people's hearts in summer is through a good old sausage sizzle. But we get it, a full on BBQ can be exxy, so why not opt for a portable barbeque that will fit no matter how big your abode is.
Ideal for: apartment living, glamping and beach getaways.
Click here for our pick.
Campfire Songs & S'mores
There's something super nostalgic about sitting around a campfire with friends, swapping banter and most importantly, s'mores. Get the fire going and the marshmallows toasting with a fire pit for summer.
Ideal for: an intimate backyard gathering (acoustic campfire songs mandatory).
Click here for our pick.
Dinner Party Dreams
Achieve the table setting of your dreams with the perfect base. Whether that be one long table, a round table or a smaller café style setting, find the platform that best fits your space and your intended guest list.
Ideal for: a sit-down dinner where you show off your culinary skills.
Click here for our pick.
Creative Cocktails
Nothing says summer like a fruity, fresh cocktail. With herbs plucked straight from your garden, you will be looking oh so sophisticated with a Blackberry Mint Julep or Blueberry Basil Margarita in hand.
Ideal for: Christmas cocktail parties or pre-drinks.
Click here for our pick.
Level-up your summer soirée skills with Mitre 10. They've got you covered with every homeware essential you'll need when it comes to hosting an epic party to remember.
Editor's note: This article is proudly sponsored by Mitre 10 and endorsed by The Urban List. Thank you for supporting the sponsors who make The Urban List possible. Click here for more information on our editorial policy.